Business & Pleasure Co. has taken the country by storm since breaking into the U.S. market. The company, founded by a pair of stylish Aussies, has a natural ease to it, with a 1950s-meets-modern-sensibilities aesthetic. "We definitely resonate most with those who have a love of vintage aesthetics—design of the days gone by—and frequent beachgoers traveling the nostalgic dream," says Ollie Edwards, co-founder of Business & Pleasure. The prints and patterns in its line of umbrellas, beach chairs, bags, and more feel fresh but rooted in a sophisticated sense of classicism. (We're partial to the block print pattern, exclusive to One Kings Lane.)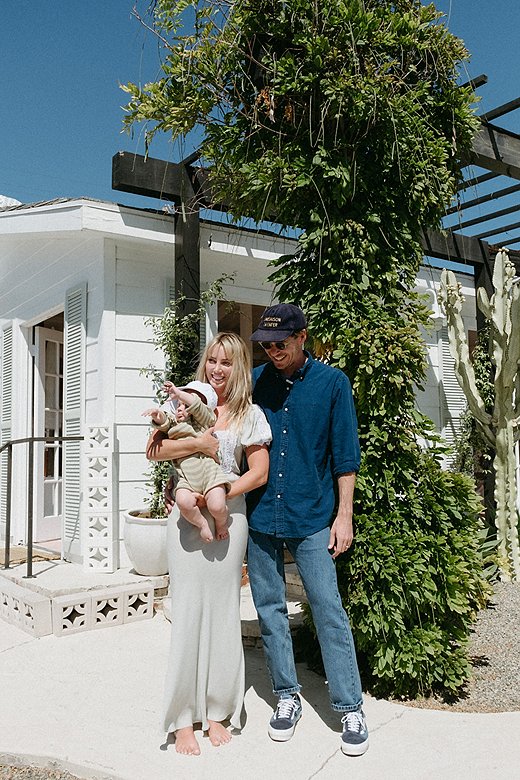 In celebration and pursuit of this ideal beach aesthetic, Business & Pleasure recently opened the Business & Pleasure Beach House in Laguna Beach, CA. "I actually used to live across the street from this beautiful building years ago," Ollie says. Back when the building was a nursery, Ollie couldn't help but admire the space. "I knew the building had such great bones. It has a very beachy feeling that represents B&P so well. All we needed was a little interior design." Enter Cydney Morris, the mind behind interiors firm The Foxalow and Ollie's wife. Cydney's work is a love letter to classic California breeze—just ask her client Margot Robbie.
Cydney's vision for the Beach House was simple: Use the color, prints, and patterns of the Business & Pleasure collection as the jumping-off point. Business & Pleasure umbrellas stand at attention, ready to be plucked from their stand and taken to the beach. Walls of chairs act as art, splashing the room with color and pattern. "We wanted to take into consideration all the different stripes and patterns," she says. "We did lots of creamy whites with neutral tones like terracotta and light pinks with hints of a pale green." Creamy colors played off natural, beachy textures to give the office a more layered look.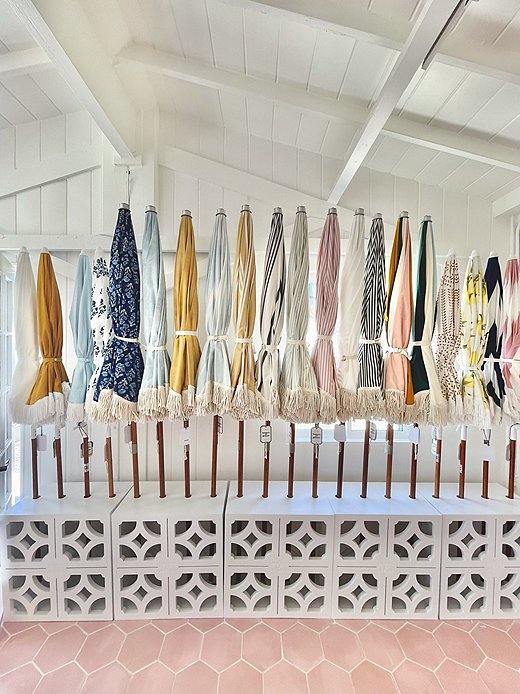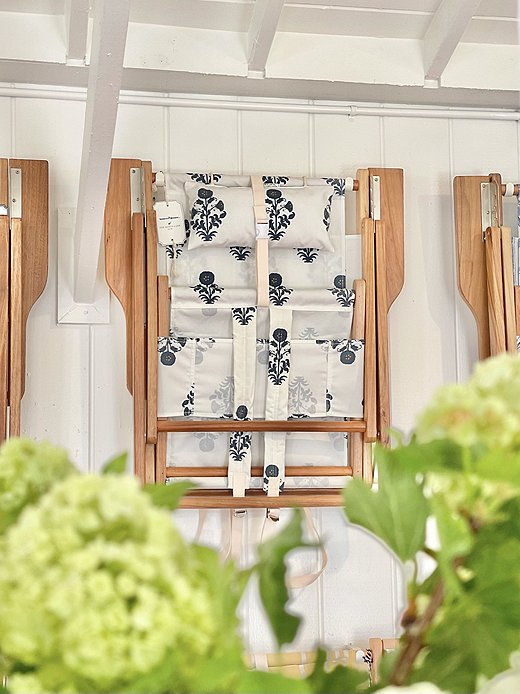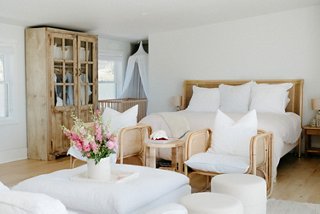 Just steps from the Pacific Ocean, the Beach House serves as a host of spaces—office, showroom, conference space—for the Business & Pleasure team. Cydney designed the space to fit whatever needs the team may have. The best part of the Beach House, though, is the outdoor space. "When we moved in, the first thing we did was move the conference room to the upstairs patio," says Ollie. "It certainly makes the more mundane meetings of the week all the more enjoyable by sitting under some B&P umbrellas with a beautiful ocean view and sea breeze."
Foxalow's Table Styling Guide
When the team isn't having their conference calls en plein air, the patio doubles as an amazing entertaining spot. Cydney, a veritable tablescape genius, used the patterns of the exclusive Business & Pleasure for One Kings Lane umbrellas as the inspiration for her latest table. "When using these beautiful umbrellas, I think a blue-and-white tablescape is best," she says. "We were thinking Capri on the beach with the lemons and bright white flowers and printed table settings. It's fun to teleport your dinner party to somewhere else when designing the table."
Cydney's Summer Entertaining Go-Tos
Her tablescape must-have: "Flowers, of course, but a cheese board as well. If you make a super-beautiful grazing platter, then it really sets the tone for a beautiful European-inspired setting." 
Her favorite summer menu: "We do a lot of pizza at our house but always make a big green salad with lots of lemon and herbs, lots of grilled vegetables, with spicy sauce drizzled on the top and natural white wines." 
Her biggest inspiration: "I've been collecting table setting gear for years, so I love to do something different every time. I love gardens, outdoor spaces, umbrellas, fountains, and feeling like you are escaping even if you're in the middle of a city. When designing a table, I like to transport my mind to somewhere else."