Artist Nadine Kalachnikoff, whose 3-D butterfly collages possess a whimsical sense of movement and color play, has lived one of those fantastical lives that make you question your own. She was born in Paris to a Spanish mother and a Russian father; she's called Dalí, Warhol, and Hemingway friends; and she's been married to famed Swedish interior designer Lars Bolander for more than 30 years. Today Kalachnikoff, who's as effortlessly glamorous as she is down-to-earth, and Bolander live in Palm Beach, FL, in a Dutch South African-style house he designed and built five years ago. The house, a four-bedroom marvel, is covered in art, filled with treasures collected on their travels, and as fabulously styled as you might imagine. Out back, Kalachnikoff converted one of two guest bungalows into her studio.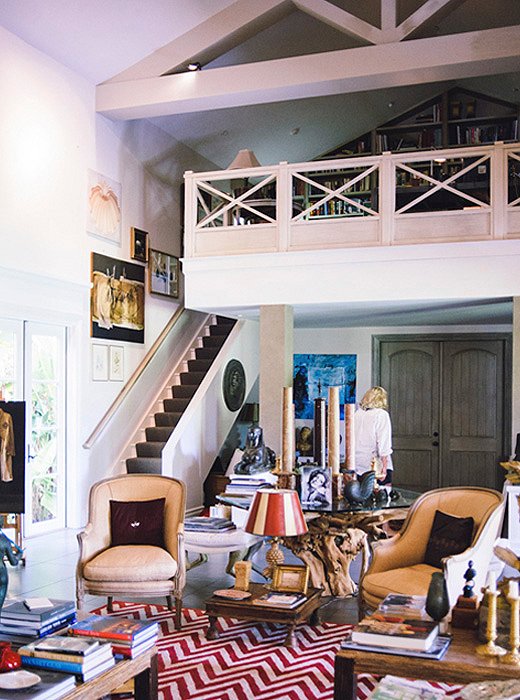 Inside Her Home
The couple's grand living room (that's a painting of Bolander on the right) shows off some of their finds from Bali, Thailand, Morocco, and South Africa. "Everything we own is out," says Kalachnikoff. "We love looking at our things and remembering where they came from. What's the point of buying something if you're just going to put it in storage?"
"I'm crazy about stripes. Lars and I both are," says Kalachnikoff of the bold red-and-white pattern that colors both her living room and the exterior of her studio.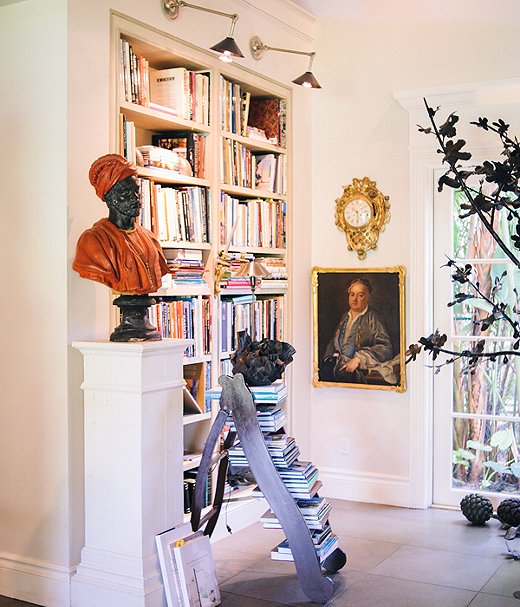 In this corner of the room, an English bust shares space with an Italian-made metal fig tree and some of the couple's immense book collection. "We're terribly enthusiastic," says Kalachnikoff. "If we love something, we'll buy it even if we don't have a spot in mind for it, but somehow it always falls into place."
"Lars and I both believe that your walls should be neutral. It makes the colors in your artwork, flowers, and books come out much, much more," she says. Their theory is tested in this hallway, where wood animal mounts from Spain and a Tibetan horse statue stand out against pale gray paint.
During the winters, the couple practically lives outdoors. ("It's hot as hell here right now," says Kalachnikoff. "Too hot to be outside.") They'll barbecue, then dine on this Balinese wood couch, which looks out over their pool.
Inside Her Studio
After working mornings in the couple's home-decor shop (one of two; the other is located in New York City), Kalachnikoff gets to her palm-tree-flanked studio around 3pm and "can easily stay there, working straight through, until 10," she says.
Kalachnikoff's butterflies—actually painted feathers from Shanghai—look as if, any moment, they might flit up, up, and away from the canvas.
Kalachnikoff uses these tools of the trade, from Jerry's Artarama, to bring her pieces to life. "For each piece, I tend to work in different shades of the same color, but I'm always looking for new colors to explore," she says. As to her chosen subject, "I'm fascinated by butterflies," says Kalachnikoff. "They mean a new life, a new horizon. And they're simply just fun—nice to look at and to live with."
To me, nature is so fantastic. Man hasn't invented anything better.