Artist Jen Wink isn't afraid to take chances in her work, including her largest-scale project to date: decorating the apartment she shares with her husband, two kids, and two rescue dogs in a circa-1830s building in downtown Manhattan. During the past 10 years, Wink, who "commutes" daily to her studio upstairs, has decorated their home by herself in a style that toes the line between eclectic and downright Zen. "I'm sensitive to my environment," says Wink. "If I'm in a clutter-free space, my mood is better, and I'm more inspired." But that doesn't mean there's not plenty of room for freewheeling touches like irreverent artwork, dashes of bright color, and even a dance-party nook.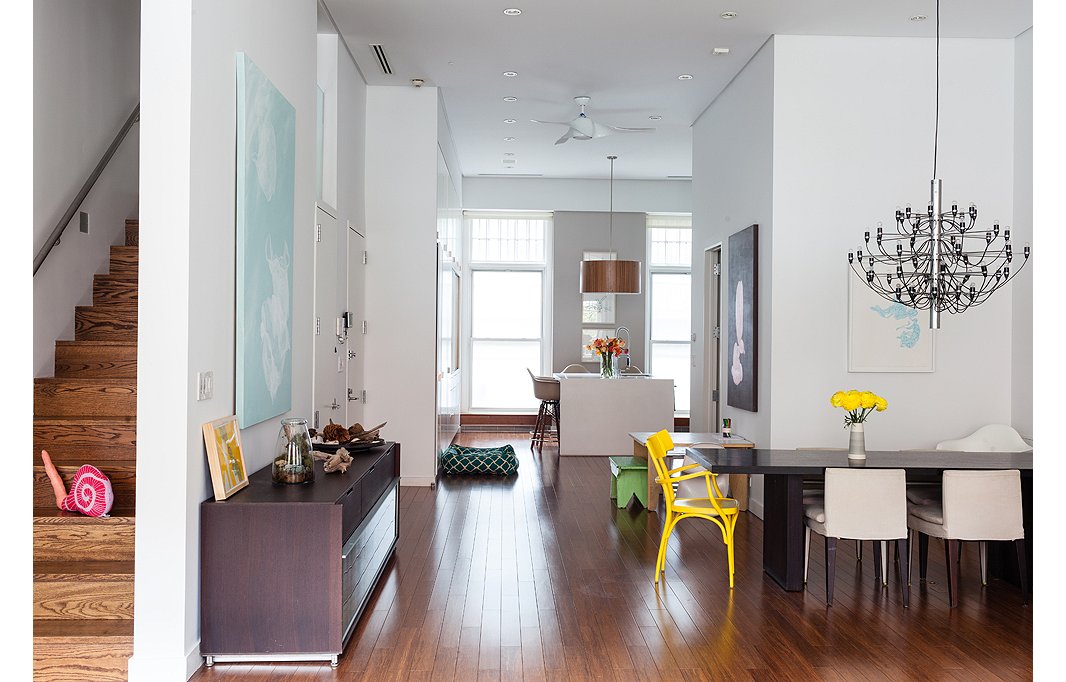 Lofty Aspirations
Architects helped reimagine the kitchen, living, and dining spaces so that they pour into one another, creating a light-filled great room. "I like to keep things fairly neutral and add in a bold, surprising piece here and there," says Wink. The standout in this room? Definitely the single, banana-yellow chair.
Great Wide Open
Nothing is too precious in the open-plan living room, where historical details share space with contemporary furnishings. An overdyed green rug and tons of plants, including a tree named Snerp by Wink's kids, create a natural feeling in the middle of the city. "From 9 am to noon the light is incredible," says Wink. "It looks like a beautiful urban oasis."
Mantelpiece Theatre
Propped on the home's original mantel are paintings by Wink. "My apartment serves as a rotating gallery of my work through the years," she says. Wink thinks the photo of her son's feet when he was a baby (taken by her daughter) is "the most inspired and beautiful piece of art in the whole house."
After some bad purchases over the years that favored aesthetics over comfort, I've learned to walk away from itchy fabrics and rigid, boxy upholstered pieces.
Toy Story
A corner of the living room is used as an around-the-clock kid zone. The wood storage cabinet overflows with toys during playtime, and the baby-blue Modernica chair—in the family for 10 years—becomes a calm reading nook at night. "This is where we snuggle and read Elephant and Piggie books before heading upstairs to bed," says Wink.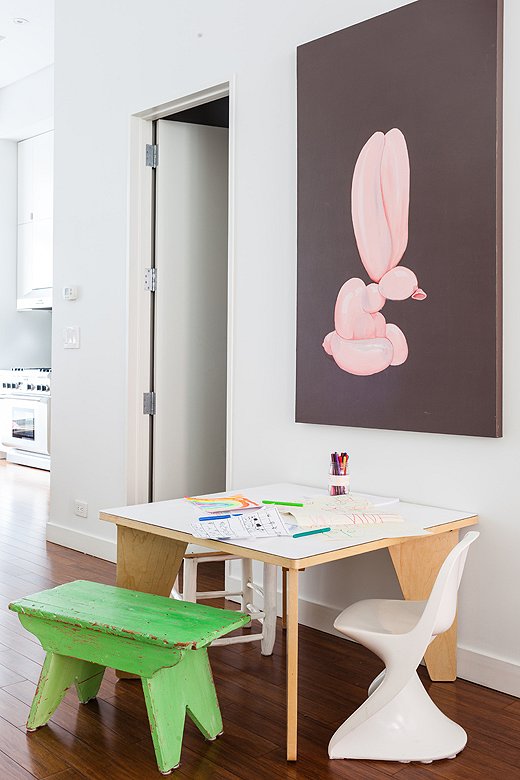 Arty Party
Between the kitchen and the dining area, a balloon bunny painting by Wink watches over a favorite family spot. "This is the hub of all activity in our home," says Wink. "I sit on the green bench with my coffee each morning and again every night before bed while the drawings, lists, comic strips, puzzles, portraits, and stories pour out of my kids."
Heart of the House
Modern yet inviting, the kitchen has practical touches such as easy-to-clean white Corian countertops and an entire wall of storage. Neutral gray tiles from Heath Ceramics create a beautiful backsplash while open shelving support cooking oils, framed artwork, and a curiosity or two. "These objects have been collected over a lifetime, and each has a story to tell," says Wink.
Pretty Powder Room
The downstairs bathroom, with its all-wood counter and sleek circular sink, gets a pop of color from a vintage bird print and fringed orange towels set out in linen baskets.
Sweet Dreams
In the master bedroom, mushroom-gray paint and subdued Area bedding give off a sense of calm. The couple brought the wall forward to disguise an intruding soffit and create an inset shelf perfect for displaying family photos and special pieces of art. Lately the guitar, which Wink picked up years ago when she was taking lessons, has been getting some attention from her daughter, who's learning to play.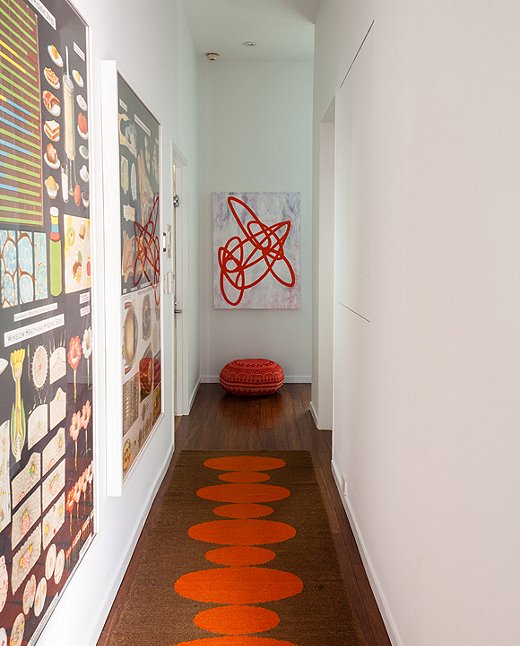 Graphic Content
Hallways can become neglected spaces, but this one—connecting the master bedroom to the kids' rooms—has chic pop-art appeal thanks to vintage biology posters, a fun pouf and one of Wink's paintings at the end of the tunnel.
Home should be a place of ease, comfort, and fun. I like to keep it real and only put out objects that have a purpose or special meaning.
Kids Ahoy
Wink's five-year-old son's bedroom is a riot of color and pattern. "I made the flags out of felt during a particularly productive 'crafty mommy moment,'" says Wink.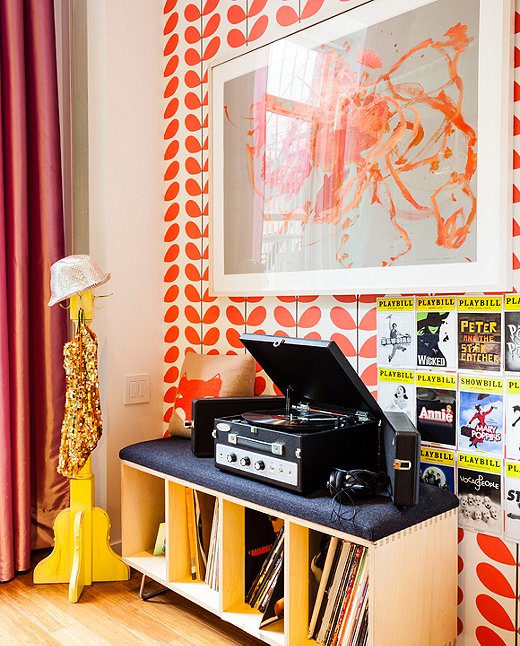 Dance Dance Revolution
"It's pretty much a never-ending dance party in here," says Wink of her nine-year-old daughter's bedroom, outfitted with an awesome record nook. Orla Kiely wallpaper and a painting done by Wink's daughter as a tot both show off bold tomato red, a favorite shade of Wink's that appears throughout the house.
In the Studio
Wink's studio is perched on the apartment's top floor, creating a natural live/work separation. She tacks works in progress to walls covered in Homasote, an inexpensive raw building material. The camouflage bean bag by Fatboy is "where the dogs sit and give me their 'bored face' all day long," says Wink.
The Artist
"I'm in my studio every chance I get these days," says Wink. Brightly colored supplies and art books surround her while she works on her latest series: geometric form paintings.
I look into this basket and see endless possibilities.