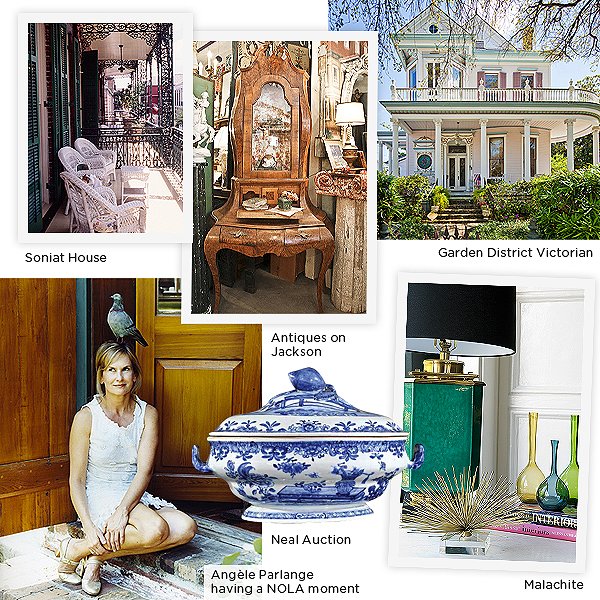 This itinerary was painstakingly crafted to blow your socks off. So begins the letter that Alexis Traina, the glamorous San Francisco-based creative director of Napa Valley's Swanson Vineyards, wrote her pals about the trip to New Orleans she'd planned for them. Among the enthused travelers was none other than our very own co-founder Alison Pincus, who's been tight with Alexis for years. Also joining the gang, though already on the ground, was writer and interior designer Angèle Parlange, a longtime friend of Alexis's who grew up on a plantation two hours north of NOLA and recently moved back to the Big Easy from New York City.
So, in proper laissez les bons temps rouler spirit, we decided to share Alexis, Alison, and Angèle's picks for hotels, restaurants, shops, and fun in some of New Orlean's coolest spots, from the 24/7 jamboree that is the French Quarter to the romantic oak-lined lanes of the Garden District.
Shop
Antiques on Jackson
Housed in a roomy space off Magazine Street, this shop makes antiques fanatics of all stripes feel like they've died and gone to heaven. "You can always find something unexpected," says Angèle. "But it's more that Maria, the owner, has a great eye and good prices."

Ann Koerner 
Angèle loves Ann's shop, in a shotgun house on Magazine Street, because she has "well-edited, beautiful pieces, plus she's delightful." While there, Alison spied a few treasures that she didn't take home—but seriously considered! "As a history lover, this one chair instantly made me think of another place and time, and I spotted a table that would be perfect for a big, fabulous group—a table like this has been on my punch list for quite some time."
Malachite
New kid on the block Malachite (whose sweet tagline is "semi-precious finds for the home") was opened in late summer 2012 by interior designer extraordinaire Melissa Rufty. "She has such flair, and you never know what you might find," says Angèle. "I want it all!"
Neal Auction Company
If you time your trip right, be sure to hit this auction house, which Angèle adores for the "wonderful estate sales" it holds six times a year at its Magazine Street gallery. Plus "the staff is both knowledgeable and nice," a clutch combo for rookie bidders a little unsure with the process. Its next sale is slated for February 23-24, so get your auction paddle ready.
Eat
Galatoire's
At this Bourbon Street grande dame, waiters wear tuxedos and bow ties, the menu dates back more than a hundred years, and Friday lunch is, well, an event complete with confetti-dappled floors and feather boas that somehow end up draped around the necks of women and men alike. "It's such an unbelievable experience," says Alison. "You're drinking and eating all kinds of French-Creole food like soft-shell crab, shrimp rémoulade, eggs Sardou, and oysters Rockefeller and drinking champagne and Sazeracs," says Alexis. "It's one of those old preserved traditions of the South."
Port of Call
On the edge of the French Quarter, this neighborhood joint with a fishing net strung across the ceiling and sailing artifacts—life preservers, ship wheels, nautical maps—on the walls "looks like some cool old dive bar," says Alexis. But it has a secret: "Alexis brought me here, saying that they make the best burger in all of New Orleans," says Alison. "And it wasabsolutely amazing."
Casamento's
"A fantastic find," is how Alexis characterizes this "outrageous very, very old-school oyster depot." It's a pint-size place on Magazine Street, done up with tons of tiles on the walls, counters, and floors and only a handful of tables to its name. "They do oysters every which way," says Alexis. "In po'boys, grilled, raw, and more."
Domilise's 
"For po'boys, you have to go to Domilise's," says Alexis. The eatery is no more than a hole-in-the-wall tucked into a yellow clapboard house in Uptown, but its sandwiches are a New Orleans institution. Each begins with a slab of Leidenheimer French bread that's dressed with mayo, lettuce, tomato, pickles, and Crystal hot sauce or mustard and then piled with goodies such as fried shrimp or oysters, hot-smoked sausage, or roast beef. And there's no better sidekick for a po'boy than a Barq's root beer.
Stay
Soniat House
"From the moment we pulled up, I couldn't stop taking pictures," says Alison of this atmospheric French Quarter hotel, spread among a trio of 1830s Creole town houses, that brims with style (and sass)—think balconies edged with lacy ironwork and delicious four-poster beds. "Everything there feels very luxurious and Old World; it's incredibly charming," she says. And while the breakfasts of homemade biscuits and chicory coffee are dangerously yummy, don't overdo it, as Alexis warned her guests, because in this city, "lunch is as memorable as dinner."
Windsor Court
As far as luxe hotels go, this downtown high-rise—the "plushest hotel in town" per Angèle—ticks all the right boxes: classic good looks, attentive concierge, spoil-yourself spa, and gourmet grub (the high tea, with truffled-egg and lobster-salad sandwiches and scones with Devonshire cream and raspberry preserves, is legendary). Still need convincing? The property has, according to Angèle, an utterly amazing art collection, which you can scope out aided by a free audio tour, available upon request.
International House
This sexy boutique spot, two blocks from the French Quarter, comes off as effortlessly cool in an "I just threw these pieces together" kind of way. "The International House is owned by a friend," says Angèle, "and has a hip but decidedly New Orleans vibe." Case in point: The hotel slyly winks at its surroundings with a shape-shifting altar in the lobby that pays homage to both Catholic and voudou holidays. Rooms are more boudoir than business, kitted out with touchy-feely fabrics like velour and damask.
Explore

Garden District  
No trip to New Orleans would be complete without a jaunt around the Garden District, where louche old mansions call to the imagination from behind ornate cast-iron fences. "We took a carriage ride around the neighborhood," says Angèle, "and before we set off I ordered mint juleps to go from Coquette—a wonderful restaurant." As for the local gal's favorite house? "I have many, but one is 1315 First Street," says Angèle. "Not only is the architecture outstanding, but it's owned by a good friend who throws the best parties. Sometimes she greets you at the door with a tray of milk punches [a heady Southern concoction of milk, sugar, vanilla extract, and brandy or bourbon]."
Audubon Park 
Designed by landscape architect Frederick Law Olmsted, the gent behind New York City's Central Park, this green space is "spectacular," says Angèle. It's an urban oasis of fountains, lagoons, and wildly romantic moss-festooned oak trees. "It's fun to ride the streetcar from downtown all the way up to the park," she says.
Frenchmen Street
Go to New Orleans and know this: You're going to spend nights (plural) out on the town. It's part of the city's never-ending anything-goes charm. And on this street, specifically in the blocks near Washington Square Park, live music reigns. "There's lots of jazz and rockabilly," says Alexis. "We had a blast at both Snug Harbor, this really famous jazz club, and The Spotted Cat Music Club, which is a little more gritty, but so fun."
Napoleon House
In a French Quarter building that dates to 1797, "this bar," says Alexis, "is so decadent and beautiful. There's nothing in it that's remotely modern. It's architecturally pure." Some claim that the moody, dimly lit drinkery just might be America's best bar. We'll leave that up to you to decide, Pimm's Cup (its signature drink) in hand.
Battle of the Beignets
Warm, puffy, fried with love, and dusted with powdered sugar, beignets (a cross between a French pastry and a doughnut, sans hole) are the dessert de rigueur in New Orleans. And here are two cafés, one favored by Alexis and one by Angèle, that do them deliciously. Whichever one you choose, the winner is clear: you.
Café Du Monde  
The grand-père of beignet cafés, this shop on Decatur Street has been turning out the delectable doughy pillows alongside café au lait or rich chicory coffee since 1862. "You go there late-night, after dinner, and they're just perfect," says Alexis.
Mondo Café  
This, acclaimed local chef Susan Spicer's eatery, gets Angèle's vote. "It's not a coffee shop but a restaurant, and her beignets are the best I have ever tasted. Ever."