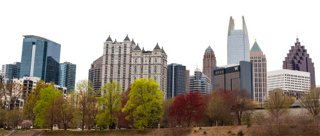 Design darling Lee Kleinhelter, who owns Pieces, the impeccably styled Buckhead interiors boutique, loves living in Atlanta (get a load of her ridiculously chic condo). "There are so many cool neighborhoods," she says. "Virginia Highland is amazing. Inman Park has hip restaurants. And Buckhead is growing and changing." Here, like a fab tour guide, she spills all her favorite spots—from a soul-soothing blues bar to a food truck whipping up Southern food with a twist.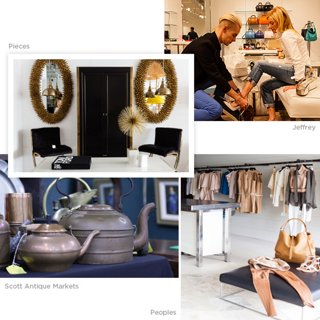 SHOP
Scott Antique Markets
According to Kleinhelter, this "fancy flea market" has some of everything from vintage jewelry to architectural salvage. Most of the goods are housed inside two enormous buildings, with a few vendors filtering out onto the pavement. "It takes place on the second weekend of every month and is a ritual for many people," she says.
Peoples
"Peoples is just amazing," says Kleinhelter of the renowned clothing boutique next door to her own shop. "It's run by a mother-daughter team who were the first in Atlanta to sell high-end lines not found in department stores. They have an incredible following because they know just what to pull for customers—and they don't even have a website!" The store's spare, industrial-chic space ensures that the focus remains on the clothes, beautifully crafted pieces from a roster of designers that reads like a fashion-world Who's Who: Chloé, Stella McCartney, Sonia Rykiel, and others.
Pieces
Ask Kleinhelter and she'd say she has three children: her stepdaughter, Madison; her son, Holden; and her boutique, Pieces. It's a bit easy-breezy Hamptons, a bit Palm Beach glam, and always, always well edited. Which is not to say the selection is lacking, as you could very easily walk in with a black-and-chrome rocking chair in mind and walk out with a foo-dog lamp under one arm and pushing a brass bar cart with the other. "There are just three of us," says Kleinhelter of her tight-knit team, "but we completely redo the store every month—around a color or a pattern—and there's always something new."
Atlanta Decorative Arts Center
Recently opened to "civilians" (aka nontrade professionals), this eye-popping collection of home-design showrooms is "an amazing place for inspiration," says Kleinhelter. "You'll encounter gorgeous decor lines you've never been exposed to." Take note: It has an epic sample sale—think the most drool-worthy goods up to 80% off—every spring, the only time you can actually shop the floor. In 2013 the blowout falls on May 3-5.
Morgan Kylee
Step inside this chic Buckhead boutique, and you'll immediately be digging the vibe: a buffalo painting on the wall flanked by leafy candelabras, a Moroccan rug on the floor, and decorative curios mixed in among the gorgeous apparel and accessories pulled from lines including Ace & Jig and Issa. "It's a little younger, slightly edgy, and so fun," says Kleinhelter.
Jeffrey
"If I'm going to splurge on a pair of shoes," says Kleinhelter, "this is my go-to." The salon has clothing too, but the sandals, heels, and wedges—oh my!—are the showpiece, and if you've got a Carrie Bradshaw-size shoe obsession, you'll feel like a kid in a candy store. Jeffrey part deux lives in Manhattan's Meatpacking District.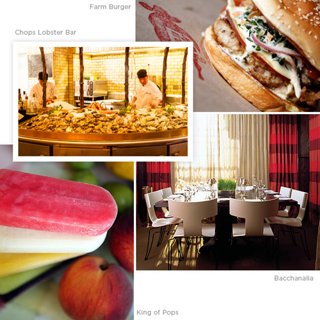 EAT
Souper Jenny!
"Every day there's a line outside the door," says Kleinhelter, but the wait's worth it. "Jenny's always at the farmer's market, and everything she sells is farm-to-table fresh, healthy, and tastes great." You're bound to feel right at home amid the hustle and bustle and homespun decor, which is a comfy hodgepodge of different styles of chairs with photos crowding the walls. As for what to order? "She does an awesome kale salad, the split-pea soup is amazing, but her signature dish is her dad's turkey chili," says Kleinhelter.
Farm Burger
The Buckhead location of this hamburger joint, with rock-and-roll on the stereo and seats at communal farm tables, is Kleinhelter's "new favorite place, and I'm not even a burger person!" Go for one of its "blackboard burgers" like the No. 5, with bacon-pimento-onion marmalade, goat cheese, and arugula, or build a burger from your choice of nearly three dozen fixins'. And it's a house rule that every meal must start with an order of its chicken-pot-pie fritters (not really, but it should be—they're just that good).
Chops Lobster Bar
"An old-school staple" is how Kleinhelter characterizes this fine-dining eatery, where turf is the focus in the steakhouse upstairs, but surf reigns supreme in her favorite section downstairs. Sit at the bar under the vaulted ceiling, order a cocktail, and share a dozen oysters before your main course. "They make a great martini," says Kleinhelter, "and Kevin [her husband] loves that they serve Fuller's Vintage Ale, which is apparently hard to find."
Bacchanalia
In an old meatpacking plant, tucked behind Star Provisions—the artisanal kitchen and culinary market of your dreams—this prix-fixe restaurant is all about small plates bursting with fresh flavor combinations: a crab fritter with Thai pepper and grapefruit; quail with pears, leeks, and mushrooms. "Don't pore over the ingredients—just taste," says Kleinhelter. "Your mouth will be having a party."
Freckled & Blue
Call it Southern meals on wheels: This cheery white, blue, and orange food truck slings "traditional comfort food with a twist," including beer-can barbecue chicken sliders, catfish tacos, and deviled eggs topped with bacon-jalapeño pimento cheese. Check its website to find out where the truck will be parked, or pop into its brand-new perma-location in Smyrna, an Atlanta suburb.
King of Pops
The King of Pops is so (cleverly) named for a reason: Popsicles of all flavors—blueberry cobbler, grapefruit-mint, pumpkin pie—are served out of an umbrella-shaded stand that sets up shop in spots throughout the city. "For a while they were parking in our lot," says Kleinhelter, " so I've tried a few. And my favorite is definitely the chocolate sea salt."
DRINK
Johnny's Hideaway
"If you end up here," says Kleinhelter, "your next stop is the Waffle House!" The dive, "in a strip mall where you wouldn't expect to see a bar," has low ceilings and a mixed bag of patrons. "Some people are 80 years old, others are in risqué clothing, and then you hear that George Clooney came here," she says. "They play old-school music like Madonna, the disco ball comes down, it's such a scene and so random, but so fun. Everyone ends up at Johnny's. You should have gone home, but you ended up at Johnny's."
Northside Tavern
"Northside is a hole-in-the-wall with great blues," says Kleinhelter. This Westside fixture, the kind of place where you drink beer and wear whatever, doesn't look like much from the outside—it's a low-lying concrete building under a billboard—but inside you'll find a soul-filled space that feels like you just stumbled into one of the best secrets in Atlanta.
Smith's Olde Bar
Another locals-favorite spot for live music, Smith's is part pool hall, part intimate concert venue. "Really, really good rock-and-roll bands play here," says Kleinhelter. Wondering who? Maybe you've heard of the Kings of Leon or David Bowie. Bands hold court in the 300-capacity music room upstairs, while the downstairs bar is an atmospheric place to grab a drink or two if you don't want to commit to a full-on concert.
Delta Classic Chastain Park Amphitheater
This alfresco theater, which Kleinhelter is "a huge fan of," is part of the city's largest park. On Wednesday, Friday, and Saturday nights you can take in a show featuring anyone from Simon & Garfunkel to the Gipsy Kings to Martina McBride. "It's beyond cool to be sitting outside, and on most nights you can bring along a picnic and wine," says Kleinhelter.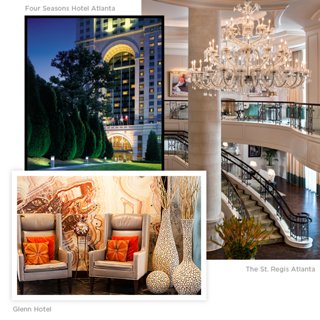 STAY
Four Seasons Hotel Atlanta
"This," says Kleinhelter, "is an Atlanta staple. It's where all the celebrities go." Inside the gleaming Midtown high-rise (a superb jumping-off point for museums and the Atlanta Botanical Garden), a soaring lobby clad in peach-tone marble leads into light-filled rooms with tufted leather headboards and plush chaise longues. "It somehow manages to be over-the-top and understated all at once," says Kleinhelter, who loves to drop by on occasion for a cocktail in the wood-paneled lounge, which is styled like an upper-crust old-boys' club. If you imbibe one nightcap too many, there's no better antidote the next morning than the hotel's signature Red Velvet Pancakes.
The St. Regis Atlanta
Kleinhelter and her hubby have checked into this gracious hotel near their condo in the heart of Buckhead for little staycations "when the grandparents are in town," she says. "We've actually chatted with people at the bar staying there, and they're like, 'We live right down the street too!' The beds are amazing, and so is the service—what more do you need?" If the serene, sophisticated rooms, awash in sea green and neutrals, weren't reason enough to come, the pool "piazza"—ringed with red-and-white-striped lounge chairs and serviced by Evian-spritzer-wielding butlers—definitely is.
Glenn Hotel
With its rad rooftop bar and design-forward decor (a chandelier festooned with antique keys hangs in the lobby; faux grass edges the hallways), "the Glenn is cool," says Lee. "It was one of our first boutique hotels. Plus it's downtown, so if you're coming in for a concert or to go to the aquarium, you have easy access. Our traffic can be frustrating to say the least." But the best part is that this hotel, affordable as it is stylish, will leave you plenty of dough for shopping.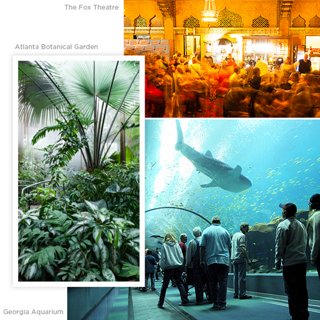 EXPLORE
Georgia Aquarium
"You can stay for 30 minutes or the entire day," says Kleinhelter of the city's magnificent water world, the largest on the planet, with dolphin shows, exhibits ranging from bright tropical fish to albino alligators, and a moving sidewalk that sweeps visitors through a tunnel with whale sharks and manta rays overhead. "It takes your breath away," she says.
The Fox Theatre
Sitting inside the auditorium of The Fox, which opened on Christmas Day 1929, "feels like you're in the midst of a Moroccan city," says Kleinhelter. "Look up, and you'll see stars." Under that cobalt-blue starry, starry night you'll watch shows like Sister Act or The Book of Mormon or listen to musical performances by The Postal Service or LL Cool J. You can also simply come by for a tour, which takes place on Mondays, Thursdays, and Saturdays.
Atlanta Botanical Garden
According to Kleinhelter, any visitor to Georgia's capital should lose an afternoon to these gardens. There are ponds topped with glorious water lilies, serene Japanese gardens complete with a teahouse, and unreal collections of hydrangeas, roses, and orchids. "During the holidays, they cover the trees in lights, play holiday music, and serve hot chocolate and cocktails," says Lee. "It's so much fun."
Swan House
Built by cotton-brokerage heirs in 1928, this Renaissance-Revival-meets-classical mansion sits at the back of sweeping manicured grounds. "It's open for tours, and it's really unbelievable," says Kleinhelter. You'll have a blast wandering through the foyer, hall, library, and bedrooms imagining yourself the well-heeled owner of the house.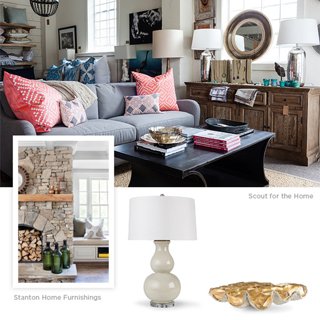 Design Shops One Kings Lane Loves
You already know that we are die-hard Pieces fans, so here are three more great home-decor boutiques that should definitely make your must-hit list if you've got a trip to the ATL on the horizon.
1) South of Market for antiques from France and Belgium and characterful lighting.
2) Scout for the Home for contemporary furnishings that walk the line between homey and chic as well as for small gifts.
3) Stanton Home Furnishings for sophisticated furniture, a mishmash of old and new, for every last room in your house.