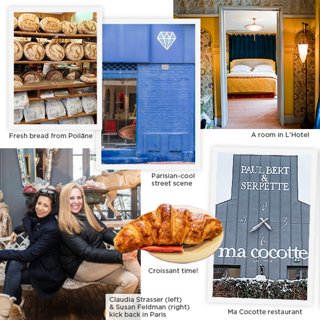 Earlier this year, One Kings Lane co-founder Susan Feldman took a trip to the City of Light with Claudia Strasser, author, owner of the online boutique The Paris Apartment, and all-around Parisian flea-market fanatic. "I've been more times than I can count!" Strasser says. Together they dove into the city's best markets and sifted through centuries-old warehouses to bring you a fabulous collection of one-of-a-kind finds. That is, when they weren't sipping coffee in bustling cafés, popping into fashion-forward boutiques, and singing along in underground cabarets.
Just for you, we've gathered a few of their favorite things in one of the prettiest places on the planet.
SHOP
Colette
Of course this whimsical design darling, with a cult following for 16 years now, is a must-stop to see what goodness it has up its sleeves. On any given day its mix might include surfboards, cleverly packaged candy, limited-edition candles, and a new women's line from some fabulous up-and-coming designer. "There's a crazy range of prices, and always a souvenir or two to pick up," says Susan.
Hermès
Stop by the newer Left Bank store of the French luxury-goods house, "even if you're not planning on buying anything," says Susan. In an "architecturally magnificent" Art Deco building, it's a sight to behold, with beautiful window displays and a fresh-flower stand out front.
Merci
"Merci is awesome," says Susan of the forward-thinking, three-floor boutique in a former fabric factory. "They have home decor, paper products, clothing, fragrances, and everything is displayed in such a fun, inspirational way. There's also a restaurant, perfect for grabbing a little afternoon snack."
Muriel Grateau
The überchic designer, nicknamed the Queen of Tableware, sells haute-fashion linens and dinnerware ("both high-glaze and matte finish," says Susan) from a jewel-box boutique on the Left Bank.
EAT + DRINK
Aux Trois Mailletz
In the vaulted stone basement of this Latin Quarter bar-slash-restaurant is a cabaret hideaway that really gets going late at night. "It's such a scene," says Susan, "with performances and everyone singing and dancing till the early hours."
Café de Flore
Sit at this famed bistro, a quintessential Parisian experience, and watch Paris unfold before you cinema-style. "I could go here every day," says Susan. "It's amazing for breakfast and fun at the end of the night for dessert. They just have really simple, traditional French food in an amazing atmosphere."
Chez Janou
At this bustling, boisterous bistro in the trendy Marais district, you might be rubbing elbows with the patrons at the table next to you, but the homey, Provençal offerings—duck, stuffed zucchini, tagliatelle with escargot—"is well worth it," Susan says.
Ma Cocotte
Designed by Philippe Starck and decorated entirely with flea-market finds, this new brasserie is straight-from-the-fridge cool. It's "a utopia in the middle of Serpette market," says Claudia, and is a draw for hip Parisians even when they're not shopping the markets.
Pierre Hermé
"It's no secret, but the macaroons at Pierre Hermé are worth the wait in line," says Susan. "Get an assorted box because you'll want to taste all the flavors."
Poilâne
This well-loved boulangerie turns out some of the city's best bread—fresh, crusty round loaves—and "these apple tarts that are to die for," says Susan.
Rech
"Delicious. Fabulous," is how Susan characterizes this seafood brasserie, part of the Alain Ducasse empire. It's in an airy white space that's as fresh as a summer's breeze.
STAY
Bel Ami
Susan's a fan of the well-tailored and contemporary Bel Ami for its "great location" just blocks from the heart of Saint-Germain. "It's chic, sleek, and a decent price. Totally recommended."
Caron de Beaumarchais
With its wood-beamed ceilings, floral drapes, chandeliers, and period paintings, this petite Marais hotel "feels like you're staying in someone's home," says Claudia.
L'Hotel
This boutique bohemian spot in Saint-Germain, infamous because Oscar Wilde died here, has a vibey lounge-style bar, one-off rooms ("so fun!—every room is decorated differently," says Susan), and a underground hammam pool you can reserve for a romantic rendezvous.
Paris Perfect
"I love staying in Parisian apartments," says Claudia. "You can cook for yourself and come and go as you please." And the digs offered by Paris Perfect top her list because "they have great service—if you have a problem, they'll solve it—and good amenities, from CNN to air-conditioning."
Pavillon de la Reine
The romance-alert level is red at this vine-covered former mansion off the Place des Vosges in Le Marais. "It's pricey but the perfect place to get away for a special weekend," says Susan.
To check out more of Susan's pics and keep up with her amazing travels, follow her on Instagram.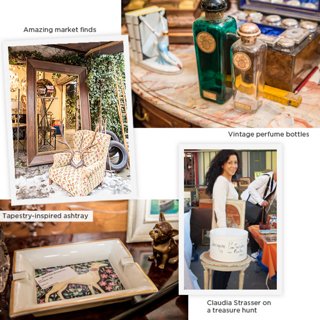 FLEA-MARKET FUN
The Clignancourt flea, officially called Le Marché aux Puces de Saint-Ouen, is "one of the city's oldest," says Claudia, and it's her absolute favorite. "It's huge, like a small city, and within it are submarkets, each holding tons of different vendors." Here are five of her favorite Clignancourt submarkets, plus tips on haggling.
Paul Bert
"Think of a Parisian flea market, and this comes to mind," says Claudia. "It's the most quintessential, with winding streets, hanging vines, and all these little storefronts with items spilling outside. It's good for furniture, chandeliers, mirrors, and the time periods range from midcentury to Louis XVI. My friend Stephane Blanc is a third-generation vendor here with really authentic old pieces. He'll have music playing and be pouring champagne—embracing the joie de vivre. Meet him and you'll feel like you've got the whole Paris experience."
Serpette
"Next to Paul Bert is Serpette, which is indoor with more high-end stuff. Here you'll find brands like Louis Vuitton and Hermès. It's a little more chichi."
Jules Vallès
"It's a little less polished but really authentic. Expect an eclectic mix of art, textiles, and old books—it's thick with stuff to sift through. One of the vendors has tons of gorgeously restored old mirrors."
Vernaison
"Even tinier and windier than Paul Bert, this feels like a fairy-tale section. The items are teeny-tiny too: silver, lots of fabric, tassels, paintings, brass, crystal. There's some furniture of course—there's furniture everywhere—but the focus is on decorative items. Don't miss Sophie Atlan's space—she takes old pieces and reimagines them beautifully."
Dauphine
"Across from Vernaison, Dauphine has got it all from ephemera to maps to lighting to big furniture. It's all indoors, with a few nice places to eat, so it's a great place to go if it's raining."
Bargaining Tips
"France is all about pleasantries, so showing the vendors respect is one of the best ways to score a deal. Say merci, be polite. Dealers usually price very fairly, and while they expect to negotiate a bit, they won't usually give you something for 50% off."
"It's always good to go at the end of the weekend because people want to sell out, so they might be more willing to drop their prices a little lower."
"Haggling is easier when you have two or more items you'd like to purchase. Combien? means 'How much?', and Combien pour le deux? means 'How much for both?'"
Let Claudia guide you personally or virtually through the flea markets, with her shopping day trips or fabulous digital app, Keys to the Fleas.