When it comes to planning the best weekend getaway from the hustle and bustle of New York City, nothing beats the Hudson Valley. Only a couple of hours from Manhattan, you'll find yourself in an area rich with history and architectural charm, stunning vistas, and the best kind of relaxed weekend shopping imaginable: antiquing!
Scroll through some of our favorite Hudson Valley spots below, and discover everything you need for the perfect weekend escape.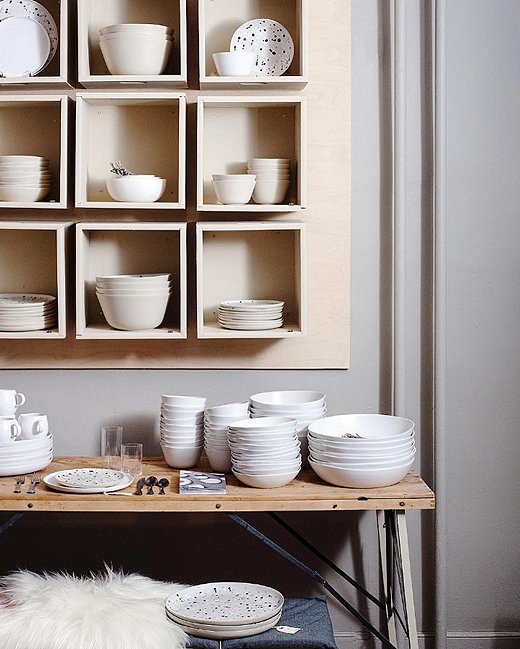 This beautiful store (with an equally beautiful Instagram feed!) is a must-visit for any home goods fanatic. The store's eponymous collection of linens, dinnerware, and glassware was—in the words of founders Nick and Paul—"created on the concept of city style in combination with country living" and has something for everyone.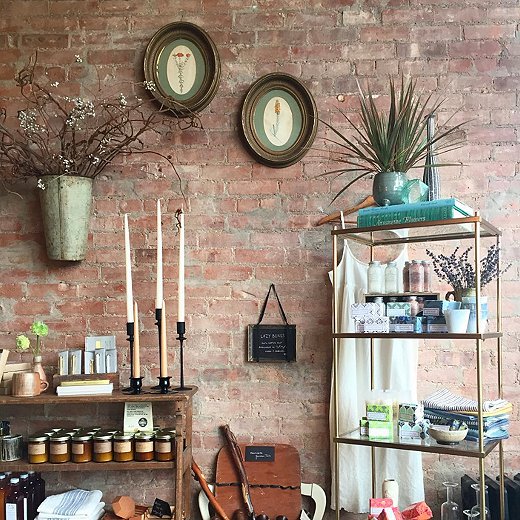 If fresh florals make you weak in the knees, Hops Petunia will have you feeling as if you've died and gone to heaven. Amanda and Erica Riha "love the boutique vibe of Hops. Every time [we go, we] walk out with new ideas." Brimming with bright blooms and ceramics made in New York, skincare and botanical lollipops (!), this sweet new store is truly a delight for the senses.
Turn off the GPS and get a little lost on the picturesque country roads on the way to Gaskins in Germantown. Because nothing's better than the long pretty way.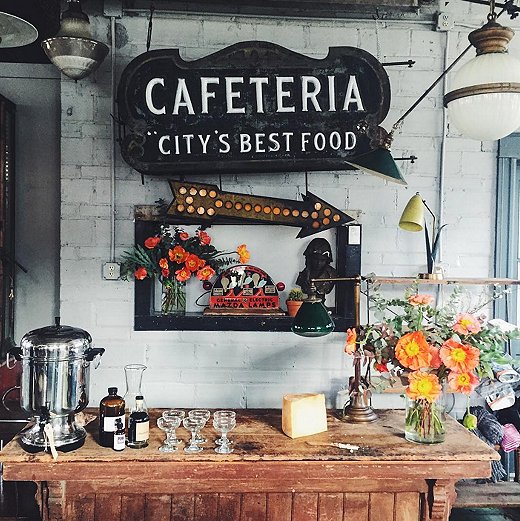 After moving from Brooklyn to Germantown a few years back, Luddite Antiques has become one of the best under-the-radar treasure-hunting spots in the Hudson Valley—and it happens to be perfectly situated "right on Main Street in Germantown," says artist Katie Lobel.
Known for a highly curated, eclectic, and often whimsical mix of finds, this charming shop is open on weekends, though you can call ahead for a weekday appointment.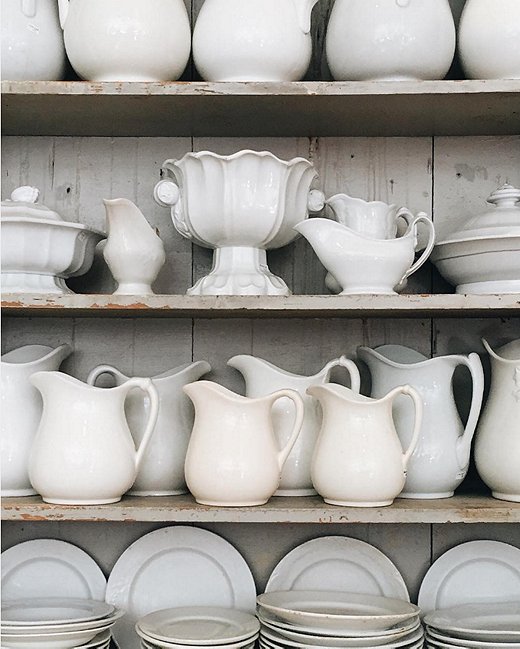 This sophisticated shop is filled with owner Jocie Sinauer's hand-selected treasures from all over Europe, though her exquisite selection of Swedish, French, and Belgian antiques is what makes Red Chair on Warren a destination for Europhiles from far and wide. 
On a recent trip from Montreal, Mick Côté "stumbled upon Red Chair on Warren and spent nearly an hour looking through the antique offerings in the gorgeous store."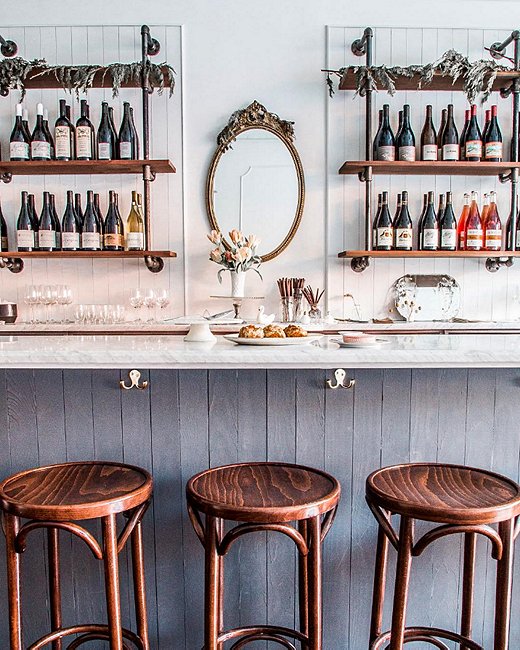 After a long day on the road, Brunette is the place to unwind with a world-class glass of wine—and a few tasty snacks!—in what is by far one of the most Instagrammable restaurants in the region. 
According to Interior Stylist and Hudson local, Anthony D'Argenzio, it also makes "a mean cheese plate" that we think would pair perfectly with one of its special summer flights of rosé.
We love Brunette Wine Bar! This cozy little gem has some seriously beautiful interiors.
This retrofitted diner in downtown Hudson combines the fun, retro interior vibes we love with extensive credentials that qualify its 21-page menu as the first-ever Animal Welfare-approved restaurant in the world. What does that even mean? "It means the burger is equal parts responsible, clean, and delicious," says Alex Center. In fact, besides doing good, this farm-fresh burger also tastes so good, it's the first postwedding meal Alex and his wife ate last fall!
The building has this incredible blue exterior that's really striking from the street and immediately draws you in.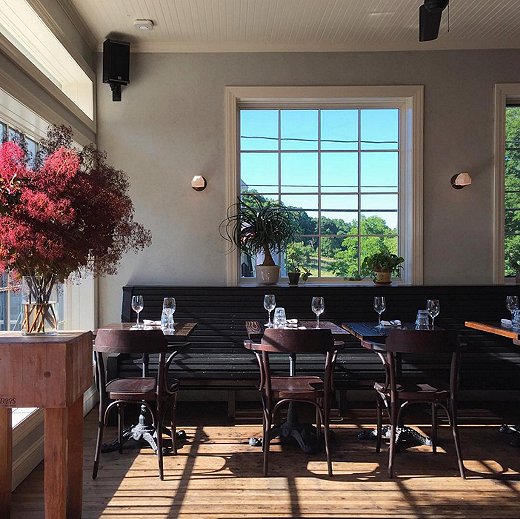 Gaskins—After more than 10 years of working in some of NYC's most-renowned restaurants, the husband-and-wife duo behind Gaskins took to downtown Germantown to open their first restaurant together. Expect a healthy mix of fresh and indulgent fare, served in an interior that's "well appointed with rustic furnishings and plenty of fresh florals from local purveyors."
Pro tip from Michael Traynor: "Come early (they open at 5 pm) to catch a bit of gorgeous sunlight that fills the space!"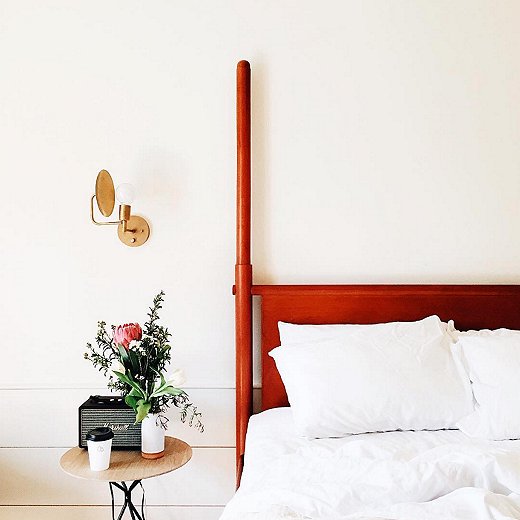 The perfect mix of modern amenities and contemporary cabin appeal, the 27-room Rivertown Lodge is "the most delightfully design-driven hotel, in an old movie house," says Lauren Wells. It also happens to be the place to go for large groups or couples who want to move beyond the usual hotel and Airbnb offerings in downtown Hudson.
Check out the carefully curated collection of branded souvenirs at the counter if you want to take a piece of the weekend home with you.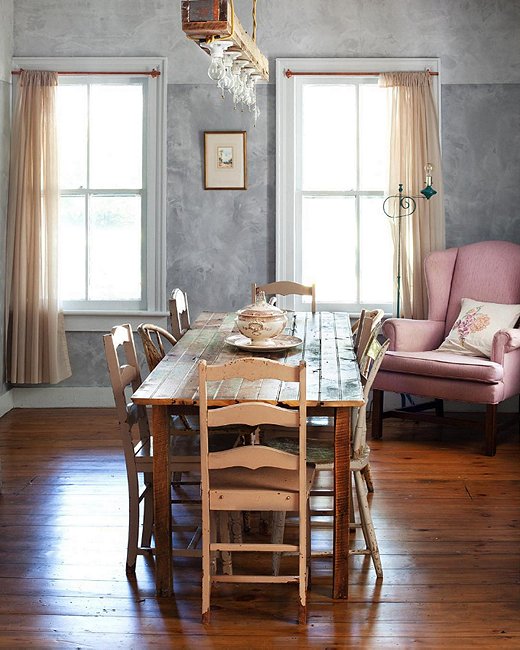 Renovated and designed by the dynamic duo behind One Kings Lane favorite Jersey Ice Cream Co., this modern pastoral farmhouse is destined to become a go-to in Freehold for years to come. Go ahead and swoon over the perfectly imperfect Venetian plaster walls, pops of pastels, and sprawling grounds, complete with a swimming hole and a bonfire pit.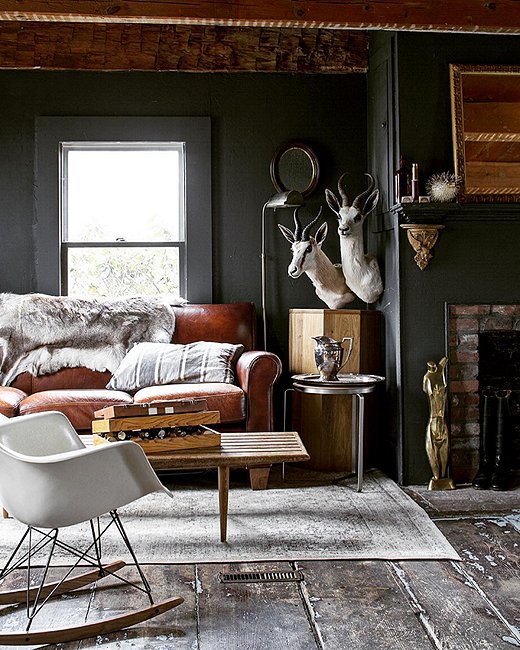 If you're after a truly authentic rustic cabin experience, Audrey's Farmhouse in Wallkill is just what you've been looking for. Impeccably designed, with each corner more photogenic than the next, this pet-friendly (!) lodging is the stuff Instagram dreams are made of.
Get your camera ready to snap every detail, from the lush atrium to the elegant dining room with an intricate plaster frieze.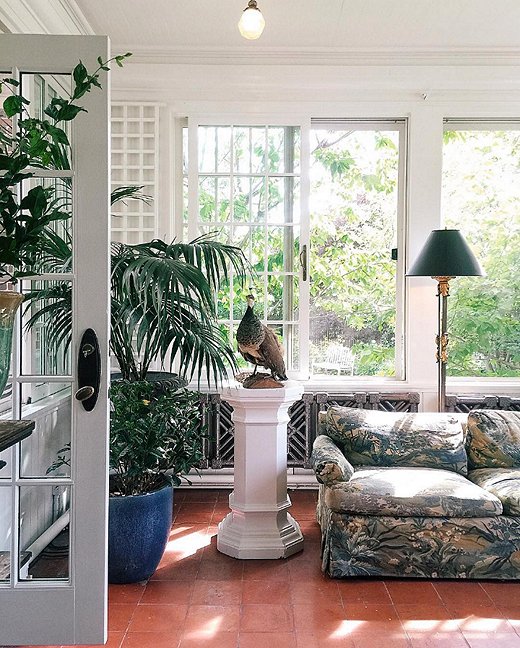 As One Kings Lane's own Rosie D'Argenzio says, "Even if you aren't staying at The Inn at Hudson, a walkthrough is a must for any design or architecture aficionado." Built in 1906, this historic mansion and its five guest rooms have been lovingly restored to impeccable detail.
Another tip from Rosie: "If you do have the pleasure of staying at the B and B, word on the street is breakfast is divine!"
Looking to get away even farther? These spots are outside the Hudson Valley but totally worth the drive: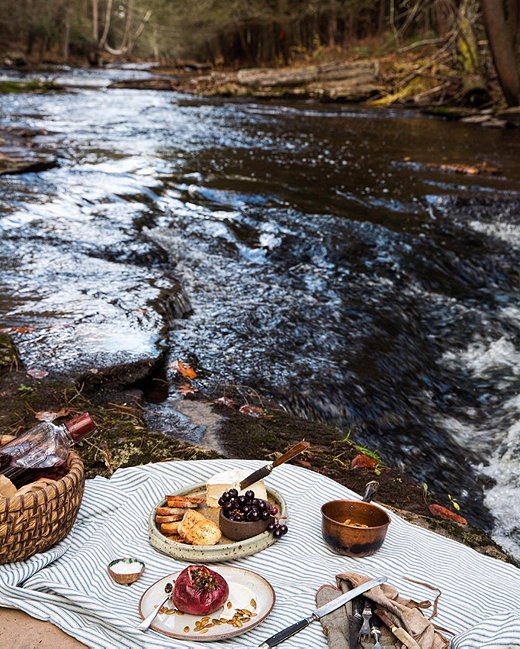 Immerse yourself in the natural beauty that the area is famous for, and get outside for a riverside picnic! The upstate experts from And North "love visiting the beautiful town of Narrowsburg in the western Catskills" and recommend finding a picturesque spot to spread out alongside the Delaware River for a lovely, lazy afternoon in the sun.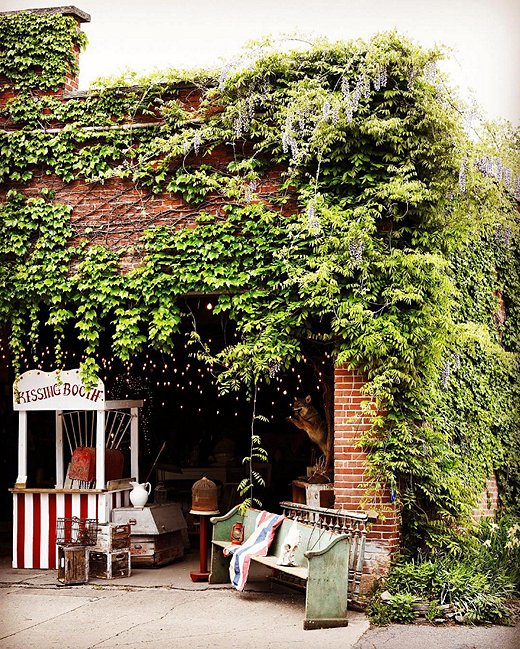 If you didn't already get enough antiques, head on over to the treasure trove that is Maison Bergogne. Founded by French artist Juliette Hermant, the experimental space showcases "the particularity of this very local area" through Juliette's dedication to "sourcing—almost exclusively—decor, salvage materials, and oddities from the Catskills." The shop also houses Juliette's interior design business and a soon-to-be bar and café, Fish & Bicycle.