We asked some of our favorite print and digital editors to rearrange their spaces around a single item: a magazine rack. Knowing that these well-read design buffs fill their homes with endless editorial inspiration, we thought it was the perfect challenge to have them choose from our selection of magazine racks to help wrangle their ever-accumulating print collections.
See (straight from their gorgeous Insta feeds) how each of them styled their new piece, and snag some expert-approved reads along the way!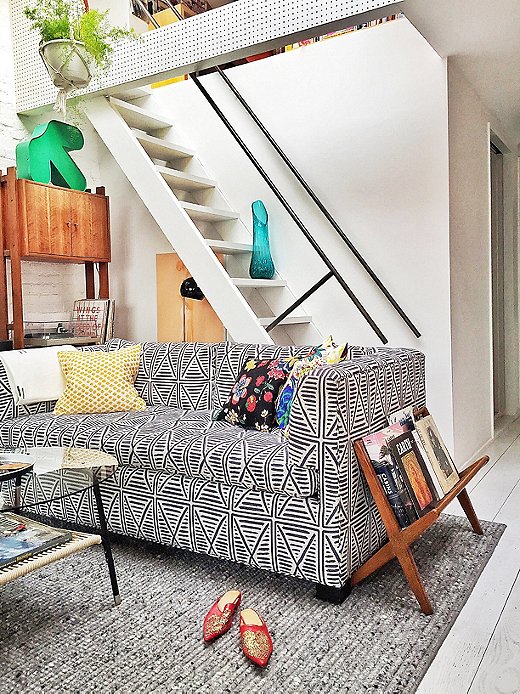 Why did you choose this particular magazine rack for your space?
"I'm just a big fan of Danish design in general, from textiles and architecture to furniture and lighting. This piece felt really timeless and adaptable to me—the design is so simple and elegant, it has the flexibility to work in a lot of situations and with a lot of other styles."
What made you choose to place this vintage Danish piece next to your ultramodern patterned sofa?
"I tried this rack out in a few different spaces—from the guest room to the hallway to here. It works really well in all of them, but I love the accessibility from the sofa, as well as the fact that you see this cool array of graphics and periodicals as soon as you walk in the door. That makes me happy."
Now that you have this rack placed handily next to your sofa, what are a few reads we might find in it?
"I always have a mix of vintage magazines on hand, as well as my weekly reads: The New Yorker and New York magazine. Other than that, I like to rotate in interesting design books and biographies, which I reference a lot for work and writing."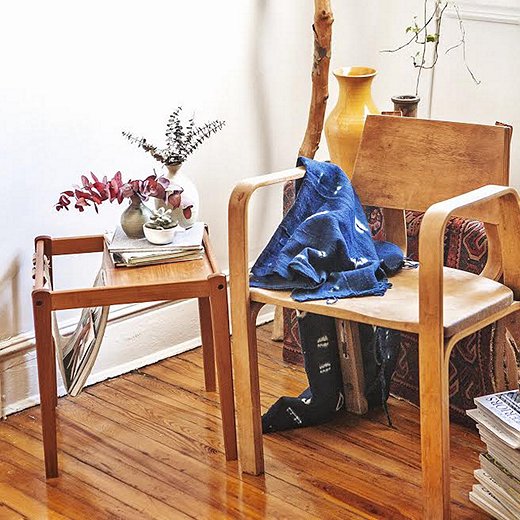 Sean Santiago, Design Editor and Creative Director 
Why did you choose this particular magazine rack for your space?
"I love mixing the clean lines of Mid-Century Modern furniture with a more alt-Brit bohemian sensibility, all inverted through this rural Tuscan lens. My tastes aren't necessarily very modern, and I love spaces and objects that show use and wear—chipped plates, patinated vessels, rough textiles. I loved that the actual pouch for the magazines is a very worn linen… it adds this really understated dimensionality to the piece."
This magazine table is a near-perfect match for your vintage chair—is that why you chose to place them together?
"I kept it fairly straightforward in terms of placement. I have it in a corner—a reading nook—where it sits at a nice height next to my Thonet armchair, which I actually found on the street. I love small tables like this that are so pragmatic but really add to a space; they're not just this thing that sits there."
As someone in the design world whose interests include art and culture, what are a few favorite reads?
"As an editor, founder, and publisher of a magazine I feel like I am constantly buying magazines—I have stacks and stacks of them! My current picks would have to be Pin-Up, The World of Interiors, and of course my own magazine, Cakeboy, which allows me to interview artists and culture-makers in the LGBT community—a nice foil to my day job covering furniture… not that I don't love furniture!"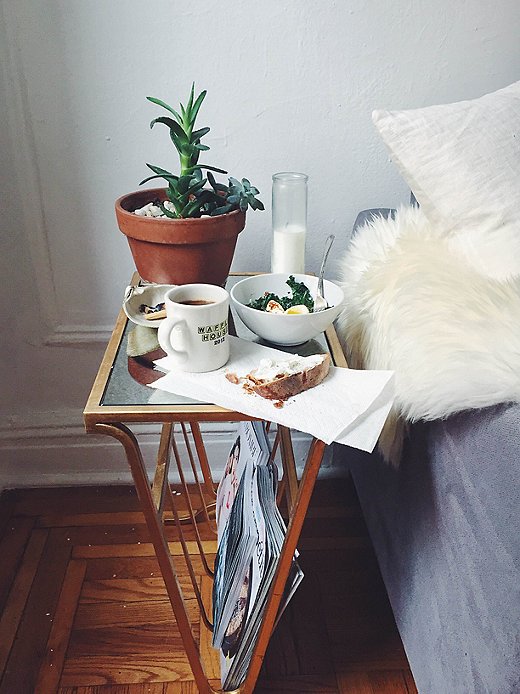 Alison Roman, Senior Food Editor at BuzzFeed
Why did you choose this particular magazine rack for your space?
"I love anything with gold accents, so this table especially spoke to me. My apartment is on the smaller side, so it's important that any new furniture I bring in be multifunctional (I know, so nerdy). I love that in addition to providing some much-needed storage for my rotating reading materials, it doubles as a side table."
What makes this magazine table so much better than a standard side table next to your sofa?
"I wanted to place the table where the reflective top would catch some light, so the spot next to my couch near the window was the perfect place. I've always loved the idea of having a little nook, and having this magazine rack in the corner topped with a few of my favorite things finally fulfills my nook fantasy. Turns out, you CAN have it all!"
You're obviously a huge foodie—can you tell us a few of your favorite reads for the restaurant world and beyond?
"I read a lot of magazines and am especially into smaller publications for my 'leisure reading,' as I like to call it. I recently picked up Ambrosia at Kitchen Arts & Letters and am in love with the images inside. And because I'm a 30-year-old woman who lives in Brooklyn, I've also got Bon Appétit, Cherry Bombe, The New Yorker, New York magazine, and The Gentlewoman."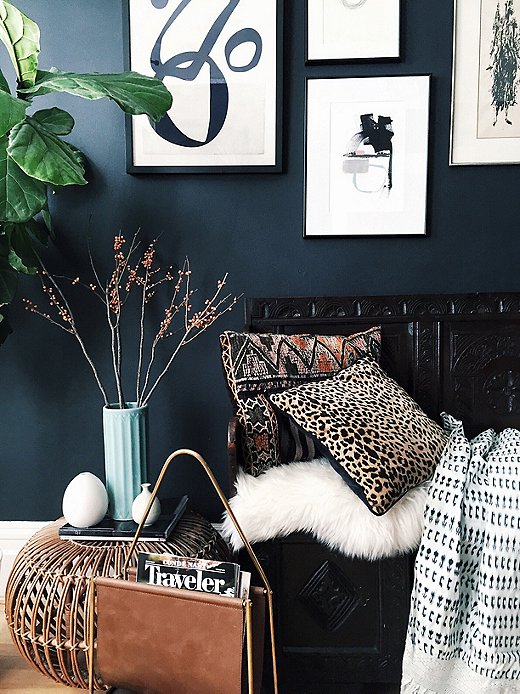 Kelly Lack, Content and Community Lead at Spot
Why did you choose this particular magazine rack for your space?
"I'm a big leather and brass fan. We have a leather chesterfield sofa, a couple of leather chairs, a leather pillow… This magazine rack fits right in with what we already have going on. Despite its classic materials, the silhouette of this rack is actually supersleek and modern, which feels fresh and also means it can work in multiple locations. Stylistically it will complement, not fight or upstage, what it's sitting next to. And the nifty handle lets you easily pick it up and set it next to whichever chair you happen to be occupying at the time—meaning whichever chair my cat has not already staked out."
You have a lot of moody hues in your living room that pair beautifully with the warm leather. Is there another reason you chose to place this rack here?
"I placed it in my living room because that's where I tend to have piles of magazines. So now I'll just stick my magazines here, instead of stacking them on the floor! I have a ton of leather and brass, but I prefer to spread it out a bit, which is why I didn't set this rack right next to our sofa—it would've been a little too same-same. And as you can see with that black wall and mostly white art, I like a little contrast."
You know everything about travel. What are some good publications to check out for someone with an incurable case of #wanderlust?
"I'm a travel editor by background, and since I started working at Spot, I've gotten deep in the travel game again. I follow all the bigger titles: Condé Nast Traveler, Sunset, Travel + Leisure, Afar… I also pore over gorgeous indie titles—Boat, Tiny Atlas Quarterly, Cereal, Collective Quarterly—that are doing really special stuff, often on a shoestring budget. Their photography is so dreamy and immersive you get totally transported when flipping through their pages."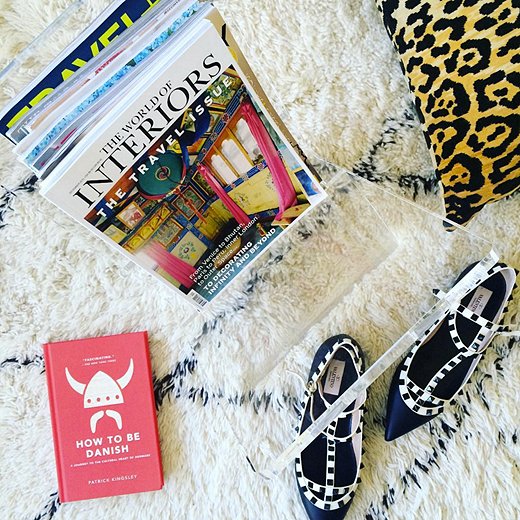 Katie Armour, Travel and Design Blogger
Why did you choose this particular magazine rack for your space?
"I love all things midcentury, so this Lucite magazine rack was right up my alley. We live in a small space, so the clear acrylic was ideal for our home—it makes a stylish statement without taking up too much visual space."
Is there a particular piece you already owned that you wanted to pair with this magazine rack?
"I placed my magazine rack in our living room on top of my favorite reproduction Moroccan rug—another happy One Kings Lane purchase! The mix of the minimalist acrylic with the bohemian rug is so much fun."
We know you have a big move coming up. What are you reading right now that gets you excited for it?
"We're moving to Copenhagen next week, so I'm currently addicted to travel magazines. Some favorite titles include Afar, Cereal, Condé Nast Traveler, and Travel + Leisure."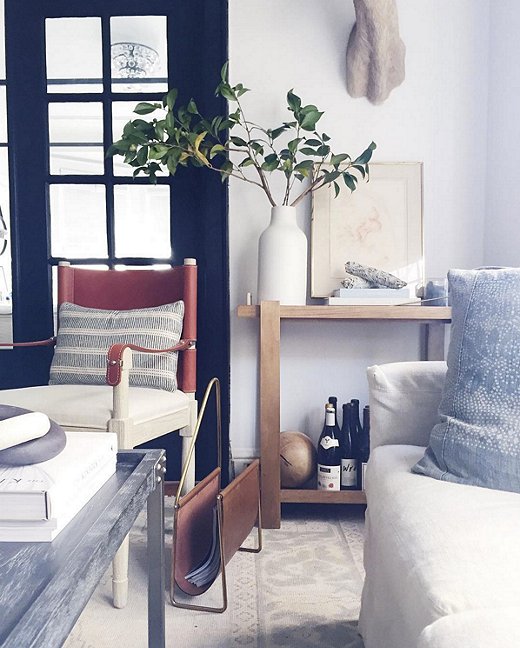 Crystal Palececk, Editor in Chief of Rue 
Why did you choose this particular magazine rack for your space?
"I love the vintage feel of this Mid-Century Modern-inspired magazine rack. The sleek lines speak to my streamlined aesthetic, while the architectural silhouette makes it a beautiful decor piece. Plus, as someone who gravitates toward cool colors in the home, I'm always challenging myself to find new ways to add warmth to my space. The warm tones of the leather and brass are the perfect counterpart to all the blue hues in our living room."
You already have a brass-and-leather chair in your living room—was it a no-brainer to place the magazine rack there?
"This magazine rack works perfectly next to the campaign chair by Palecek in our living room. The scale was just right, and I love the way the two leather tones play off each other."
You're a new mom and the editor in chief of a design magazine. What are some good reads for both interests?
"I always look forward to new issues of domino, House Beautiful, and Elle Decor magazines. But I'm also a lover of books. Right now, I currently have Daring Greatly (self-help), The Wealthy Barber (financial), and Caring for Infants with Respect (parenting) in rotation."