In case you haven't noticed, we here at One Kings Lane love a good party. We recently threw our annual holiday bash in The Studio for all our favorite influencers and Instagram pals, complete with bites, bubbles, selfie walls, and sweet DIY wreath kits. And let's just say it was a smashing success.
Read on for party tips straight from our holiday fete, and see what our guests and some of Instagram's brightest stars loved most. We guarantee there's more than a few fun ideas to steal for your own year-end gathering at home! #MyHolidayStyle
Make a Grand Entrance à la @laurenlcaron
Decked with a fresh magnolia garland, vintage mudcloth stockings and a made-for-Instagram wreath gallery wall, it's no surprise that the most photographed vignette of the night was The Studio's show-stopping fireplace. Create a 'grammable moment of your own at home by emphasizing a mix of cozy textures and adding plenty of lighting to ensure a warm and inviting glow.
Deck the Walls à la @aclykes
One of the most photogenic highlights of the night? Our decked-out selfie walls, each adorned with a different holiday decorating essential (ornaments, greenery, wrapping paper). Even if you aren't assembling a photo backdrop at home, you can still get the look by styling your space with a bold mix of ornaments in solid primary colors, gilded stripes and graphic patterns.
Bust Out the Bubbly à la @peakoftreschic
No party is truly complete without some sparkling sips, so we treated our guests to some carbonated creations using the all-new Veuve Cliquot Rich, and trust when we say there wasn't a dry glass in the house! Learn how to make these chic champ-tails yourself in a few simple steps below.
Champagne and Pomegranate Cocktail Recipe

Step 1: Place 5 ice cubes in a large wineglass.
Step 2: Add 1 spoonful of pomegranate arils (for Rich Blanc) or 2 sprigs of fresh rosemary (for Rich Rosé)
Step 3: Top with chilled Veuve Cliquot Rich Blanc or Rosé!
Show It All Off à la @ingridabram
A bowl full of ornaments is one of our go-to simple holiday touches that make all the difference, but the display above served double-duty as decor and as finishing touches for our DIY wreath kits! Recreate the festive spread at home by gathering a rainbow-hued assortment of extra ornaments in silver or crystal punch bowls and place anywhere you need a little more color and holiday cheer.
Create a Cozy, Convertible Space à la @levi_higgs
One of the often overlooked parts of party planning? Preparing enough seating options to accommodate extra guests. To make sure our guests felt at home, we pulled in a mix of chairs, poufs, and stools that could easily be moved around if guests wanted to sidle up to the sofa (or get prime access to one of Chef Deena's delectable nibbles for the night!).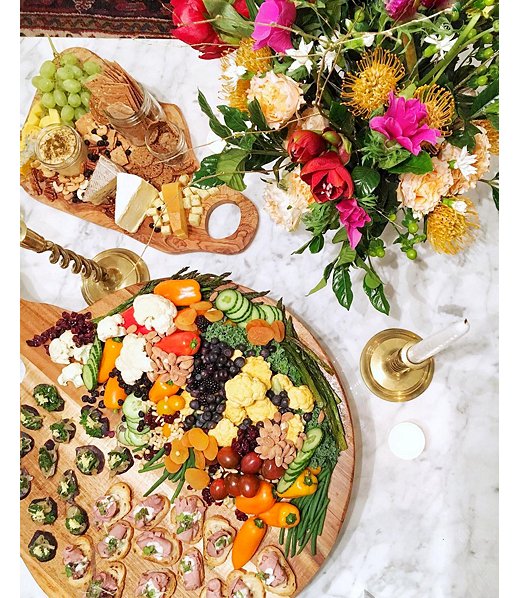 Craft The Ultimate Party Cheese Board à la @lindsacal
Whenever we want party food in The Studio, we turn to the savvy culinary experts at Charcu by Chef Deena. Their bountiful seasonal boards are delicious show-stoppers. Here, they  let us in on how to recreate one of their signature servings at home.
Charcu by Chef Deena's Signature Party Board
Start with… a color scheme, an oversized serving board, and mason jars of varying sizes
Assemble… seasonal fruits and veggies in blocks of color, while layering in greens, a selection of cheeses (soft, hard, stinky, and creamy), and a variety of crackers. Then add a mix of mason jars filled with olives, nuts and dried fruits.
Garnish… with edible flowers and small bites, like pink peppercorns or sunflower seeds, for that extra-special touch.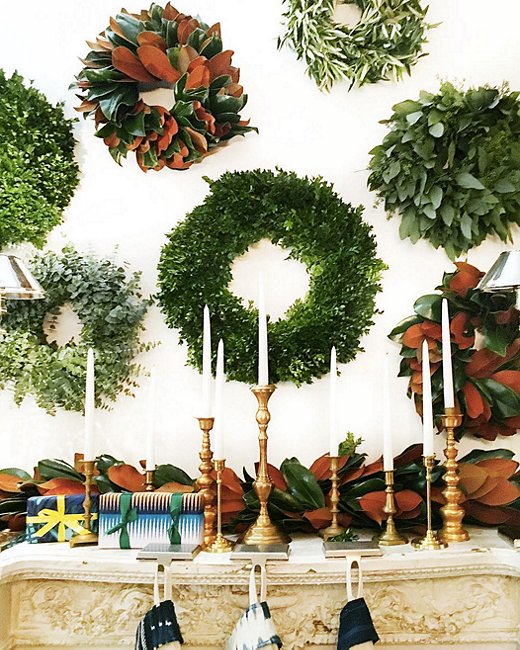 Embrace the Classics à la @ananewyork
When it comes to styling for the holidays, we find ourselves looking to favorite timeless decor ideas, like wreaths arranged gallery-wall style. It's a slightly more modern take on classic Christmas greenery and a fun way to festoon the fireplace. Or try taking your greenery to other parts of your home with these brilliantly easy ideas.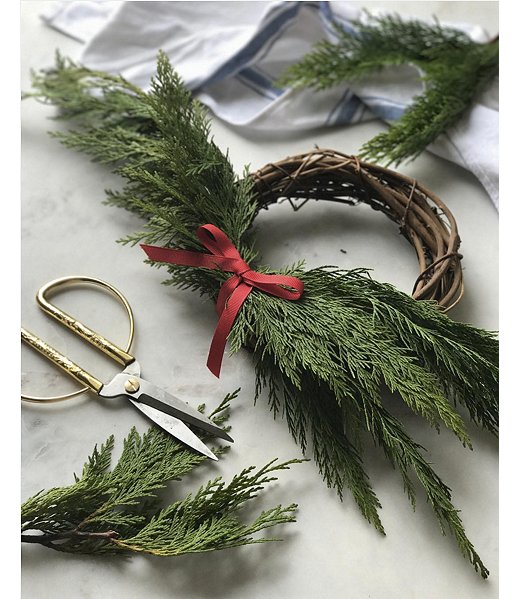 Get Your DIY On à la @thialaurain
How to keep that festive feeling going once you get home? A little bit of DIY crafting time with our wreath-kit gift bags! Add some jolly Christmas music, a glass of eggnog, and you can easily create a whimsical wreath like the one above—made by yours truly—using the directions below.
Mini Holiday Wreath DIY
Step 1: Attach four sprigs of greenery with floral wire to the bottom third of a wreath form, positioned in opposite directions.
Step 2: Add in pops of color by attaching festive accents (we love mini ornaments or kumquats!) using floral wire.
Step 3: Layer in finishing touches such as decorative ribbons or textured vines.