California wine country is a bucket-list trip for many. Those sun-kissed, vine-covered hills, those wine-drenched afternoons, those dream hotels that seem to get everything right. It's breezy, carefree, and elegant—and just the right amount of indulgent.
For one of our favorite San Francisco-based bloggers, Ashley Kane of Brunch on Chestnut, wine country is like a second home. She daycations there frequently, making a weekend out of it as often as possible. "I feel so lucky to neighbor wine country," she says. "From the quick scenic route from San Francisco to the moment you arrive, surrounded by nature, to sip wine—there's nothing like it."
Here she opens up her little black book of wine-country favorites, sharing insider tips for where to stay, eat, taste, and shop across Napa and Sonoma.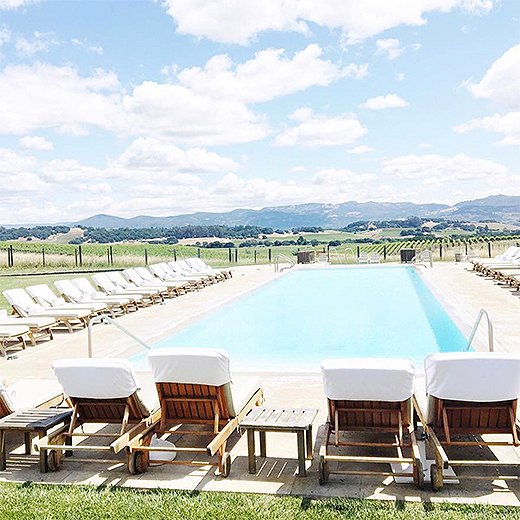 Carneros Resort & Spa
"All hail Carneros," says Ashley of this effortlessly chic Napa resort. "Rooms" are stand-alone, California-casual cottages; the onsite restaurant, Farm at Carneros, is worth the trip alone; and the huge pool is one of Napa's best. "Carneros is 100% worth the hype and saving your pennies for," Ashley says. "My boyfriend and I agree it's the most beautiful and relaxing place we've ever stayed."
Meadowood
Backed by a pine forest and fronted by a croquet lawn, the main house of this St. Helena estate is as tiered and white as a wedding cake. "Not only is it absolutely beautiful, but it's so quaint and cozy," says Ashley. The restaurant boasts three Michelin stars, and "the spa is a must."
El Dorado Hotel & Kitchen
Simple, sleek, and right on Sonoma's historic central plaza, this hotel is an "amazing spot for a walkable weekend to many cafés, restaurants, and shops," Ashley says. Book a room with French doors opening onto a private patio, and log a few laps in the saltwater pool before cooling off with a poolside cocktail (there's plenty of wine in your future).
Farmhouse Inn
True to its name, this is the inn of your farmhouse aspirations, all white linens, natural woods, and homey ease, with a lush Russian River Valley location. "If you stay here," says Ashley, "don't forget to have breakfast in the garden courtyard."
North Block Hotel
"When you've got Thomas Keller cravings," Ashley says, "this is your spot." The modern boutique hotel in Yountville has only 20 well-appointed rooms, and Kellerdom—Bouchon Bakery, Ad Hoc, and The French Laundry—is just a short walk away. "While here, I also always tell people to visit Hope & Grace, a tiny little gem of a tasting room."
Scribe Winery
With a palm-lined entry road, a crumbling century-old hacienda, and young, chic owners, Scribe is the it girl of Sonoma wineries: oh-so cool and dripping with je ne sais quoi. "Scribe is our second home over spring and summer," Ashley says. "If you asked me my ideal Saturday, it would be spent right here with my boyfriend, Matt, and our pup, Scout, having a picnic with fresh veggies and fruit from their garden, locally sourced cheese, and a crusty baguette."
Alpha Omega
To be named for the Greek alphabet's beginning and ending is fitting for this St. Helena winery, since your day might well begin and end right here. "Grab a sandwich to go from Carneros Deli, and enjoy the stunning property while sipping wine alfresco by the fountains," Ashley advises. Come early to secure a table.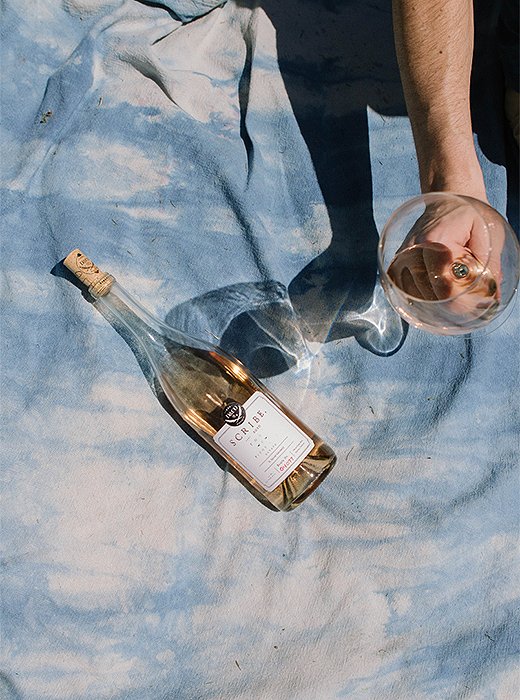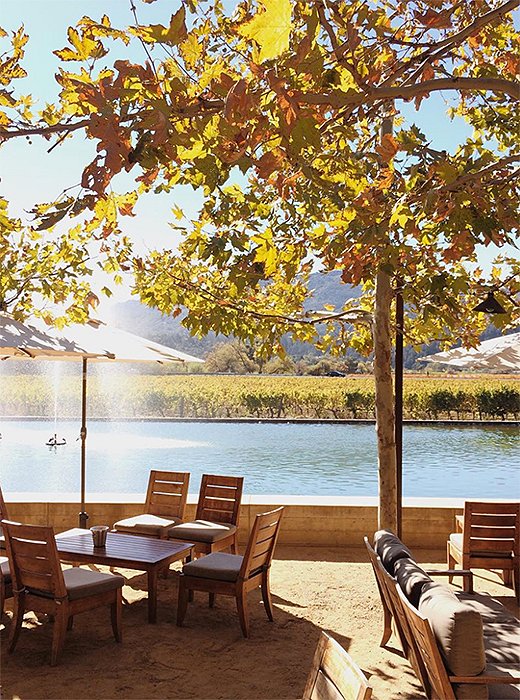 Duckhorn Vineyards
Oenophiles, take note: Ashley calls St. Helena's Duckhorn, a handsome estate house surrounded by gardens, "the epitome of a perfect Napa tasting experience. Try to get a seat on the wraparound patio; you'll feel like you're in a Nancy Meyers film." Merlot's the pour you want here.
Odette
Along Napa's less-traveled Silverado Trail, Odette's tasting rooms and outdoor spaces play to those with "a discerning eye for design," while its organic wines mean that nursing a buzz has never felt healthier.
Boon Fly Café
You can't miss the mod red-barn building that holds this down-home restaurant with maybe the hottest tables in town for breakfast. Whatever your order—griddle cakes, green eggs and ham, or "their must-try famous doughnuts"—make sure it's accompanied by a spicy bacon Bloody Mary.
Bouchon Bakery
Legendary chef Thomas Keller's French-style Yountville bakery is a morning must for coffee and pastries, according to Ashley. Think buttery croissants, rich monkey bread, and sink-your-teeth-in pretzel rolls.
The French Laundry
Dubbed "the best restaurant in the world" by everyone's favorite bad-boy chef, Anthony Bourdain, Keller's most famous restaurant is tucked inside a charming two-story cottage that dates to 1900. Dinner here, a nine-course tasting menu characterized by fresh ingredients and culinary innovations, is less meal, more event—one that's racked up three Michelin stars. "It's a book-months-in-advance kind of place," says Ashley, "but well worth the wait!"
Ad Hoc
"Thomas Keller should be the mayor of Napa!" Ashley declares. Ad Hoc is his back-to-basics spot, a favorite of locals where the family-style menu changes daily and might include hanger steak or soft-shell crab. Thursday through Saturday, its little sis pop-up, Addendum, serves boxed lunches of buttermilk fried chicken, barbecue pork ribs, and pulled-pork sandwiches and sides.
Bottega
Tip #1: "Snag a seat on the patio." Tip #2: "Don't even try to save room for dinner when the bread comes out—it's heavenly!" A candlelit dinner at this Yountville Italian restaurant is pure romance—and decadence, from the truffled brown-butter ravioli to the smoked duck breast.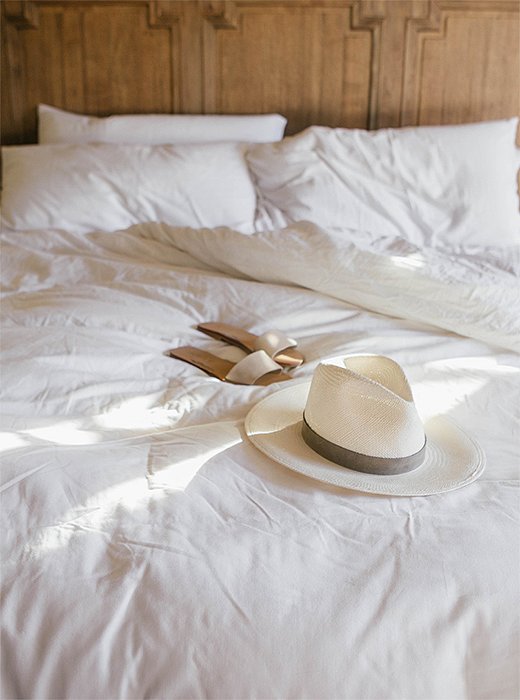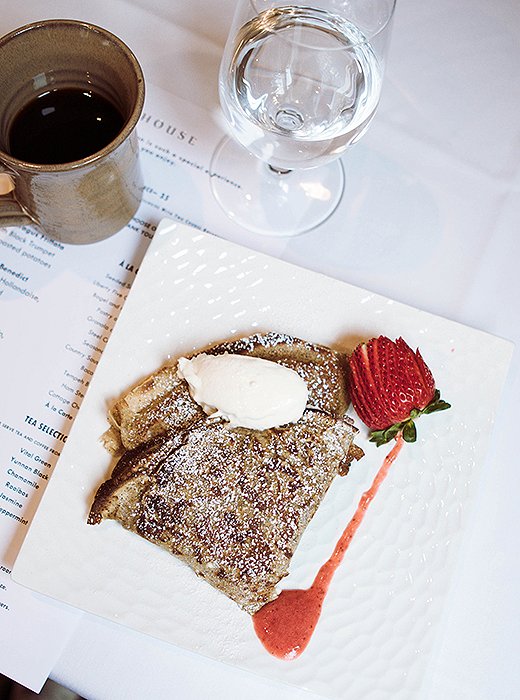 Oakville Grocery
This bright-yellow market (with a can't-miss "Drink Coca-Cola" mural on one side) is the oldest continually operating grocery store in California. It's one of Ashley's favorite stops when she wants to grab a panini on her way to a tasting or when she's in need of a new bottle of olive oil for her kitchen counter.
Oxbow Public Market
A something-for-everyone marketplace, Oxbow is "an experience," says Ashley. "Come when you have some time to unwind and explore a bit. You'll find unique vendors that house locally sourced food and a couple of eclectic home-goods shops. We like to pop by Hog Island Oyster Bar or sit down for pizza and rosé at Kitchen Door."
I like to keep things simple when packing for wine country. Everyday basics, a dress or two, and my favorite accessory: a straw hat.