Allow us to introduce you to the other Woodstock. Not the New York namesake of the legendary music festival of 1969, but the bucolic historic town in Vermont where everybody knows your name—or will soon. Picture: Gilmore Girls' Stars Hollow. (And it's a mere 20 minutes from Vermont's exquisite Twin Farms resort, one of our favorite New England getaways.)
We keep catching peeks of Woodstock on Instagram, thanks in huge part to our pal Briana Lyons, the brains behind creative studio and shop The Yellow Note (and Instagram account @theyellownote). She lives in Glens Falls, NY, about an hour from the Vermont border, so she and her husband often hit Woodstock for day trips, overnights, and long weekends: "I love the historic homes, the picket fences lining the streets, the river winding through town, the backcountry roads with covered bridges and big old barns." Not to mention that Woodstock is "one of the friendliest towns we've ever been to," she says. "We love hearing locals' stories—what it was like growing up here or what brought them back after spending years away."
We asked Briana for a few of her own Vermont stories, including the places she loves to stay, eat, shop, and grab a 'Gram.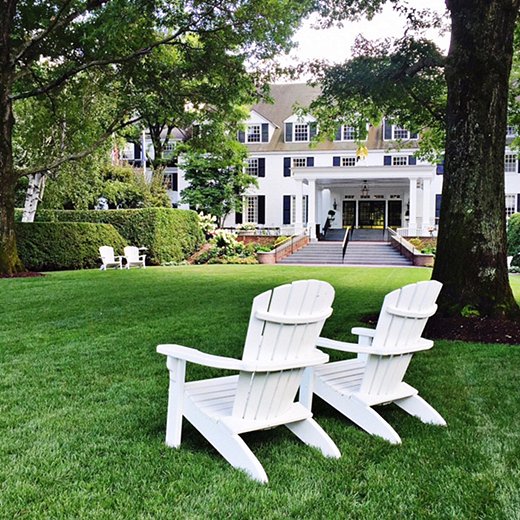 The Woodstock Inn
When Briana overnights in Woodstock, she frequently drops her bags at The Woodstock Inn. Built by Laurance and Mary Rockefeller but charmingly low-key (no pinkie-up drinking here), it's a classic with "antique-filled rooms—some with fireplaces and four-poster beds," Briana says. During the summer, you'll want to cannonball into the outdoor saltwater pool, play vintage games in the game room, or snag one of the Adirondack chairs on the front lawn. "We always grab glasses of rosé or cold beers and camp out," she says. And when winter rolls around, the massive fireplace in the lobby lounge is "like a warm hug"—especially when spiked cider is involved.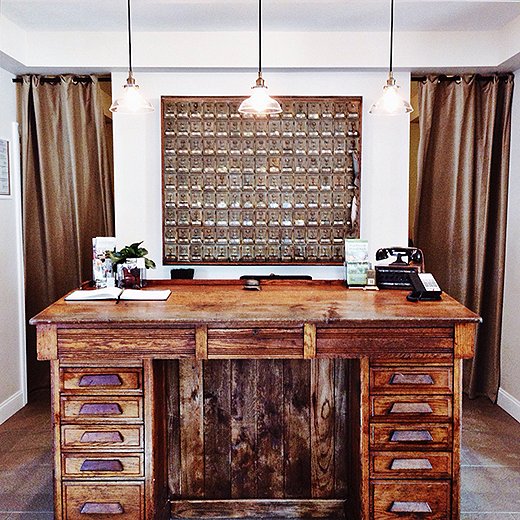 506 on the River Inn
A bit out of town, the 506 is primed for folks looking for something more relaxed. "Down the sloped lawn, that's the Ottauquechee River—right there," says Briana. Once inside, the photo ops just don't stop. This place has mastered the mix: vintage scores, retro Americana, modern accents. "The antique hotel desk is backed by vintage mailboxes holding room keys," Briana says. "And the lounge has an antique bar, leather sofas, and a fireplace, all very cozy-cool."
Where to Eat
The Mill at Simon Pearce
"We love it here!" says Briana of the famed glassware company's restaurant set right on the Ottauquechee River with a view of a waterfall and a covered bridge. Key? "Snagging a table right on the window," says Briana, who orders the Vermont cheddar soup every single time—brunch, lunch, or dinner. After dining, catch a glassblowing demonstration where the artisans "are kind enough to answer all your questions."
Red Rooster
"Bright and airy," this Woodstock Inn eatery is "definitely our favorite breakfast spot," says Briana. "Everything's good." She and her husband have also been known to grab an order of its rich tomato soup and melty grilled cheese after a morning bike ride. And conveniently, "it's where the hotel bar is too."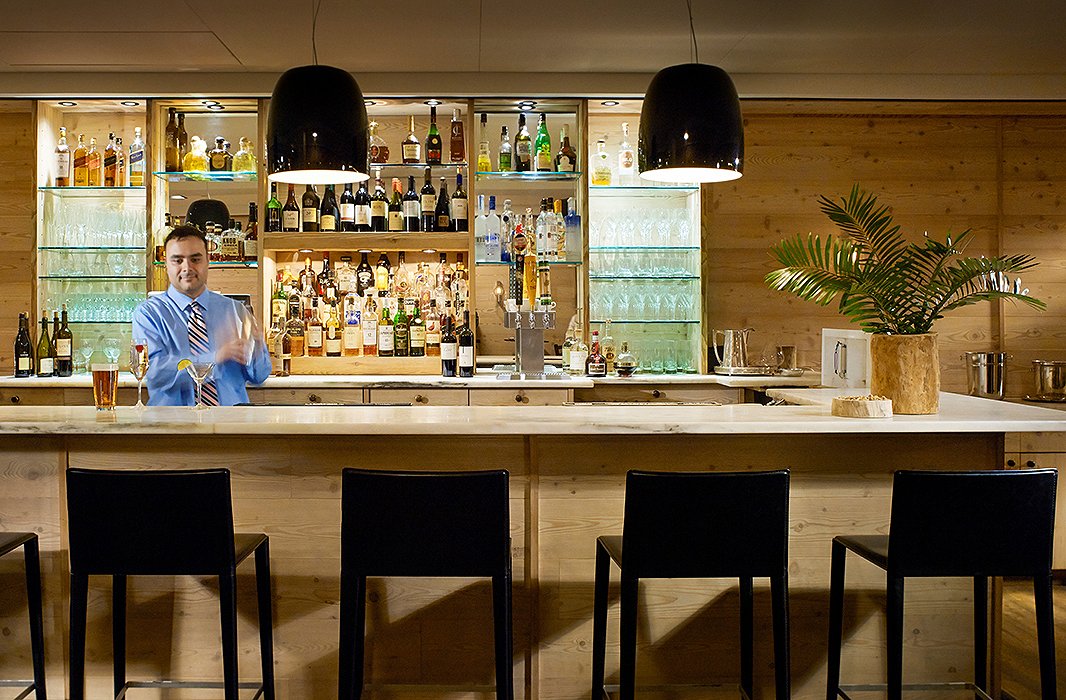 Richardson's Tavern
The yin to Red Rooster's yang, Richardson's (also at the Woodstock Inn) is "dark, candlelit, and very cozy," tempered by a patio for dining alfresco (the way we were meant to eat come summertime). It's comfort-food central with a menu heavy on all those dangerously delicious drenched-in-butter-and-cheese things that vacation is best for—think cheese fondue, cast-iron mac and cheese, lamb shepherd's pie, and hearty stews.
The Village Butcher
This old-school butcher shop and deli does coffee and freshly baked muffins and doughnuts in the morning and is "the place for sandwiches" when midday rolls around.
Bentley's
Covered in antiques and old photos, "this is a spot," says Briana of the Cheers of Woodstock, whose motto is "Never changing but always something new." While it's "jam-packed with road-trippers in the summer and skiers in the winter," it's the "regular watering hole for locals too."
Farmhouse Pottery
Get your cameras ready, shutterbugs. Fifteen minutes inside this shop and you'll nab a hundred shots, plus a berry bowl, a match striker, a sauce boat, and a mug for your mom. "Yesssss—love," says Briana. "I want one of everything when I go in here." On her to-do list is signing up for one of its date-night workshops featuring a private pot-throwing lesson jazzed up by mimosas.
F.H. Gillingham's Vermont General Store
A shrine to artisanal, made-in-Vermont foodstuffs, this 130-year-old shop is "one of those places you walk into and walk out with everything you didn't know you needed," says Briana. We're talking maple syrup, sparkling wine, jams, snacks, cheese, candies—"all the Vermont goodness that you could ever want," complete with old-timey signage and picture-perfect packaging.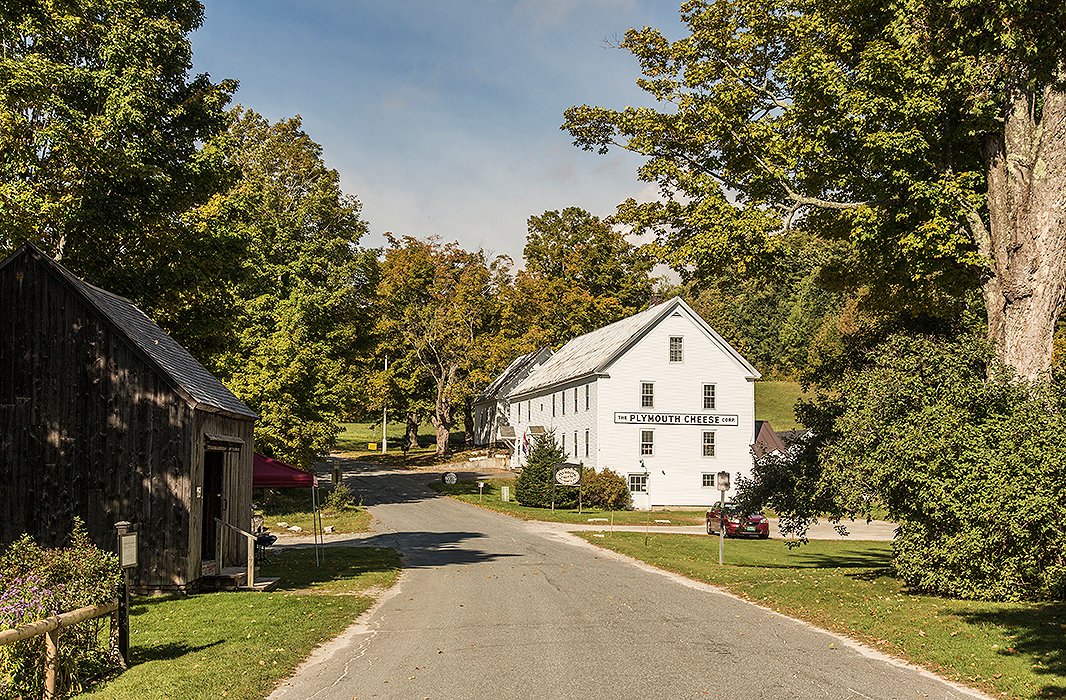 Plymouth Artisan Cheese
On a recent trip, Briana and her husband took a new-to-them back road and found themselves in an adorable town: Plymouth Notch ("the birthplace of Calvin Coolidge!"). Fifteen minutes from Woodstock, this pint-size historic hamlet holds a whitewashed cheese factory providing an in-depth schooling in all things cheese via tours and tastings. That's a diploma we could get down with.
Woodstock Farmers' Market
On their way out of town, Briana and her husband always stop here to grab "an armful of goodies for ourselves and something for our families as a thank-you for watching our dogs." And while the market stocks local veggies, the couple tends to "gravitate to the baked goods," from Swiss-apple-almond tarts to blueberry-maple pies, all locally made.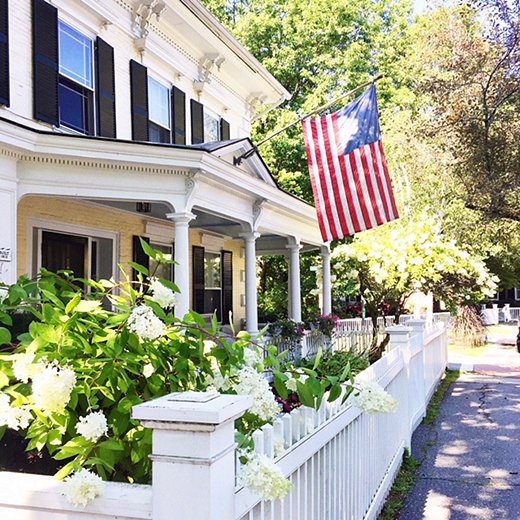 Biking
The Woodstock Inn has cruiser bikes up for the grabs, so Briana and her husband take leisurely morning bike trips, pulling over to snap pictures of houses in town and farms on back roads (their fave: Old River Road). "I take the same picture of the same houses over and over throughout the seasons," she says. "Summer is tulips, lilacs, and hydrangeas. Fall is all about foliage. Winter is green contrasted with snow."
Hiking Mount Tom
So close to town it's practically a resident, Mount Tom is a solid lazy-man's hike—you won't break a sweat, but you'll still feel deserving of that second glass of rosé. "From the top you can see out over the town and the covered bridge."
Quechee Gorge
Trails lead to the bottom of this lush ravine, the deepest gorge in Vermont, where the Ottauquechee River has snaked a path over many a long year. Route 4 passes directly over it—pull over and peep over the side. "Looking 100 feet down and feeling the wind rushing past makes you feel alive," Briana enthuses.
Long Trail Brewing Company
"It's always fun to have a beer in hand and dip your toes in the river," says Briana, hence the soft spot in her heart for this "casual-cool" brewery serving up house-made brews and pub-style bites right on the Ottauquechee.
I take the same picture of the same houses over and over throughout the seasons. Summer is tulips, lilacs, and hydrangeas. Fall is all about foliage. Winter is green contrasted with snow.
I love the historic homes, the picket fences lining the streets, the river winding through town, the back-country roads with covered bridges and big ol' barns.