About 10 years ago, Harold Koda, curator of the Costume Institute at the Metropolitan Museum of Art, approached Iris Apfel to do a special exhibition of her storied accessories collection. The exhibition, which also included some of her fabulous couture clothing, turned Iris into a fashion superstar overnight. Today she is even better known as a fashion icon than for her past life as a decorator and designer.
We can't help but collectively swoon over her uncanny ability to flaunt the most outrageous look with serious grace and effortless elegance (if only we could be so naturally bold!). Below, we gathered just a few of the reasons nobody can top Iris when it comes to accessorizing.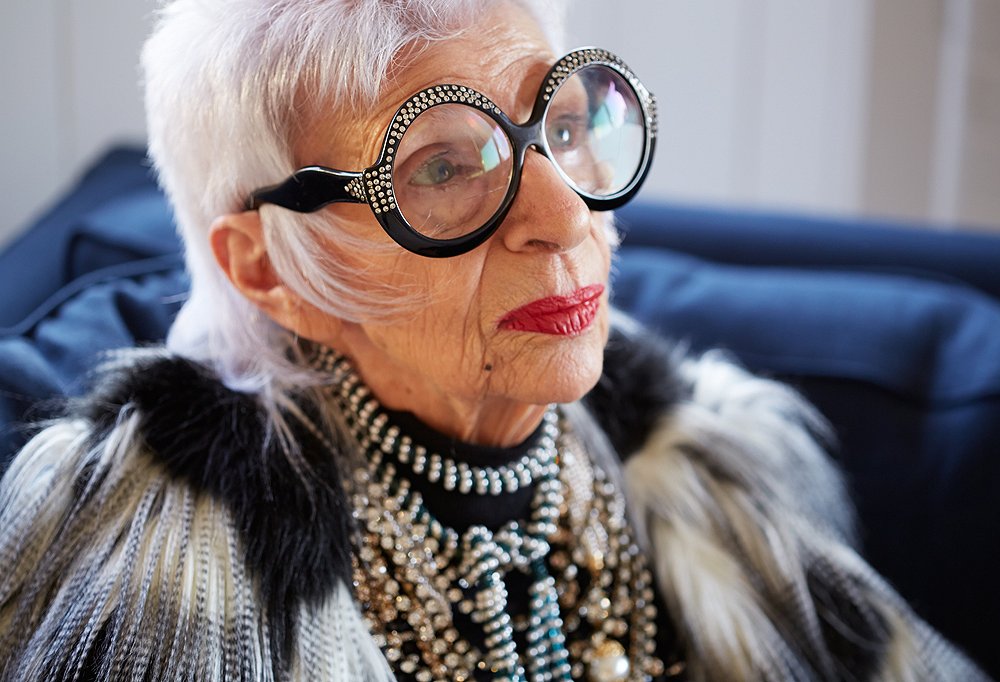 She taught us sunglasses can be a style statement.
When she needed glasses she went big, and as a result, those supersized spectacles are her trademark accessory (she showed up at our shoot with three pairs!). Collecting myriad styles over the years, she's taught us that when you find something that works for you, buy it in multiples.
You have to look in the mirror and see yourself. If it feels good, then I know it's for me. I don't dress to be stared at, I dress for myself.
She always makes overdoing it look chic.
Think that one statement choker is going to turn heads? Think again. Iris gets noticed because she can layer like nobody else. Her advice? Start with a classic, solid base (in this case, a black cashmere sweater) and build from there.
My mother knew if you bought a couple of really good architectural outfits and put your money into accessories, you could create a million different looks. She taught that to me, which I think was invaluable.
She rocked the arm party before it was a thing.
And you thought it was a modern-day social media phenomenon. Bangles are a hallmark of Iris's look. Starting with a few pairs, equally distributed on both arms, she adds on in complementary colors, always finishing with the smallest cuffs at the wrists (to keep the rest of those hefty bracelets from slipping off).
I think jewelry can change an outfit more than anything else. Transformation, punch, individuality: One or all of the above are why you should wear jewelry.