Red barns in green fields, lighthouses and rocky shores, white clapboard houses surrounded by peak fall foliage: Whenever we're craving a little New England charm, we head straight to the Instagram account of Jackie Greaney. After spending 10 years in New York City—and escaping on weekend trips to New England every chance she got—Jackie and her partner, Paul, moved full-time to Maine to launch their own creative studio. "We wanted to be in a place that offered a bit more space, fresh air, and creative inspiration," Jackie says. "Nothing clears the head like a morning walk on the beach."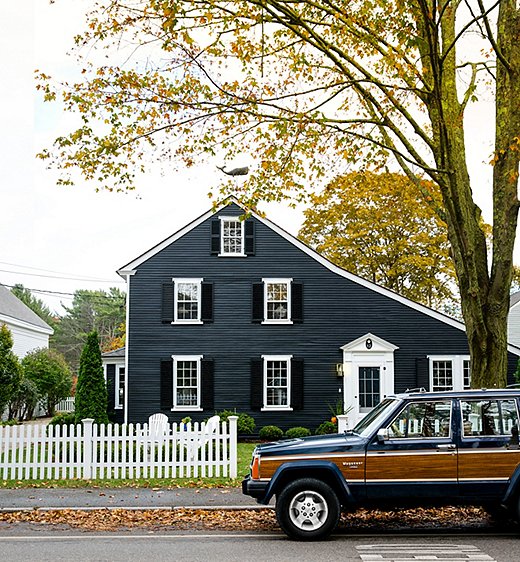 From their home base in Kennebunkport, Jackie and Paul (and their adorable black Lab, Poppy, the star of many a photo on Jackie's feed) love touring neighboring towns and states in their '86 Wagoneer—and fall is one of their favorite times for exploring. "When you live in a destination town, which many of New England's towns are, there can be quite the momentum in the summer. Labor Day rolls around, and it feels like everyone can just exhale," Jackie says. "But it's funny, even though I talk about fall slowing down, Paul and I can't sit still during foliage season. There's always a sense that somewhere there are trees peaking now and if we don't go we'll miss them! The prettiest things about New England—its architecture, country roads, farm stands, covered bridges, marinas—just look even more spectacular when they're surrounded by orange and yellow trees or accessorized with pumpkins and mums."
We asked Jackie to craft us a list of Kennebunkport fall favorites—plus a few of her must-dos for other times of the year too.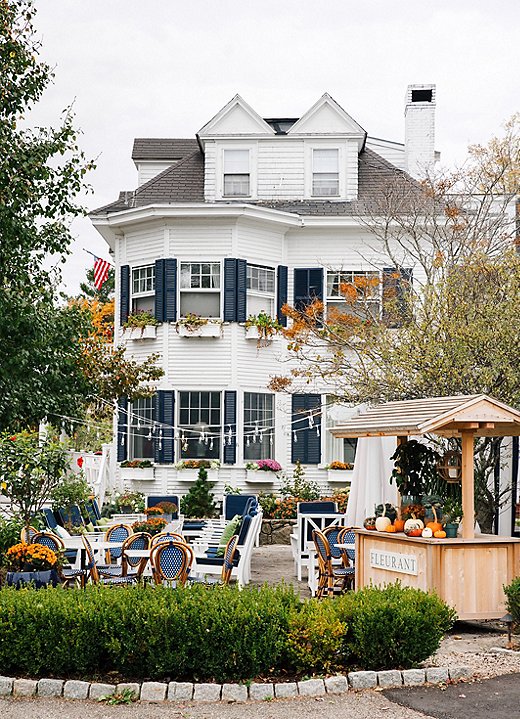 The Kennebunkport Inn
Built in the 1890s as a tea merchant's mansion, The Kennebunkport Inn "is a year-round favorite because it's located right in the middle of town, walking distance to all of Dock Square's shopping and dining," Jackie says. "In warmer months, the hotel has two outdoor spaces for cocktails and bites as well as a Supper Shuttle for farther-out restaurants so you can order that bottle of wine and not worry about driving."
Hidden Pond
Jackie describes this 60-acre resort as "summer camp for adults," though kids are welcome too. Each of the resort's cozy cottages and larger homes "has the trifecta of vacation perfection: a fireplace, an outdoor shower, and a screened-in porch." Not to mention access to the resort's multiple fire pits, garden, two pools, "and a spa that's built up in a tree house! Best part: The beach is just a bike ride away."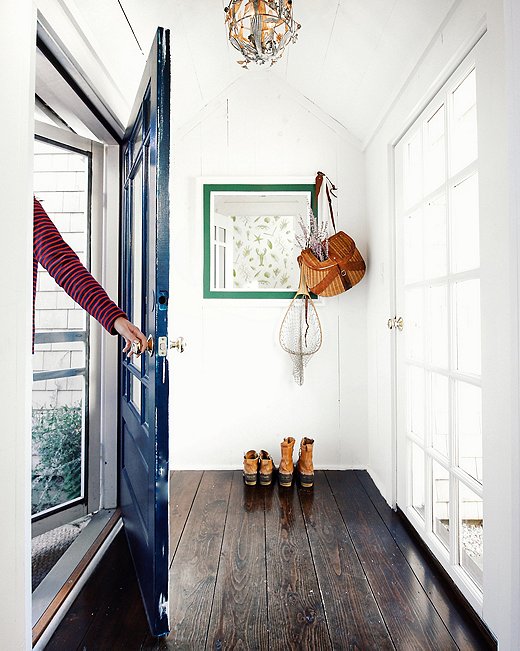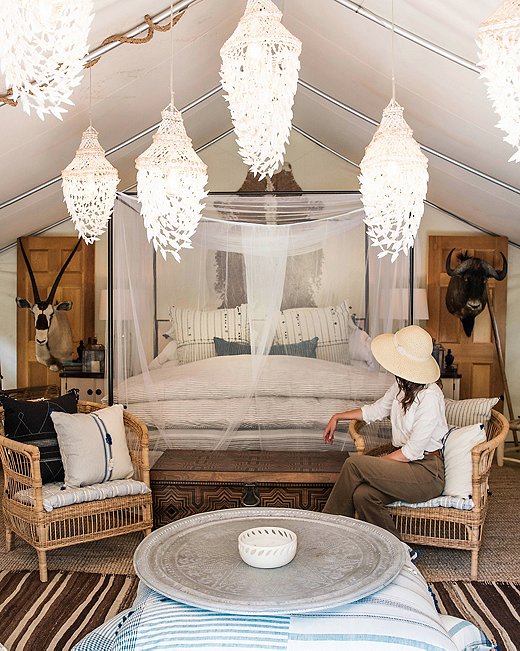 The Cottages at Cabot Cove
Guests at this charming spot stay in one of 16 private cottages, each with its own decor scheme. "In the mornings, a little breakfast pouch with fresh pastries, fruit, cheese, coffee, and juice is delivered on a hook outside of your door along with the daily paper," Jackie says. Guests also have access to the hotel's rowboats and kayaks.
Sandy Pines Luxury Tents
For a true "glamping" experience, Jackie recommends this collection of "luxuriously outfitted" canvas tents. "Paul and I love Blixen's Oasis, which, with its safari vibes, feels like something from the movie Out of Africa." A general store on-site stocks glamping essentials, from s'mores fixings to puzzles to beer and wine.
The Tides Beach Club
At this hotel, located on the legendary Goose Rocks Beach, grab a cocktail and snag one of the yellow rocking chairs on the ocean-facing porch. The private balconies of the top-floor rooms are "maybe the best place in Kennebunkport to watch the sunrise."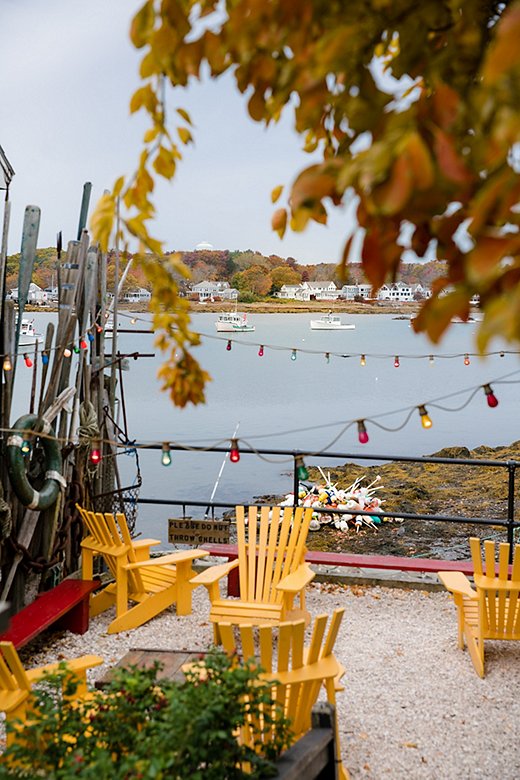 Musette
This Kennebunkport restaurant is a go-to for locals. "The decor is simple and clean but cozy—lots of booth seating—and the food is reliably delicious, three meals a day," Jackie says. "We especially love their BYOB dinner, which makes a meal filled with dishes like oysters, seafood cakes, and roasted lobster feel very affordable. We'll even mix fancier cocktails at the table with our friends, and the servers are always happy to accommodate with plenty of ice and glasses."
The Ramp
"It's hard to beat the views at the Ramp," says Jackie of this bar-restaurant located at the end of a working fishing pier in Cape Porpoise Harbor. Outside, it's covered in colorful buoys; inside, with vintage sports and political paraphernalia. "Grab a Dark and Stormy, some fried clams, and a yellow Adirondack chair and watch the fishing boats come and go."
Boulangerie
"The slogan for this place is 'a proper bakery,' and I'm not sure there's a better way to describe it," Jackie says. Picture croissants, scones, and breads "as good as any you'd get in Paris," all baked fresh (with local Maine butter, of course) in an old barn that was relocated to downtown Kennebunk. Try the "everything croissant," filled with cream cheese and topped with everything-bagel seasoning.
The Clam Shack
A quintessential Maine lobster shack, the Clam Shack is "known to have the best lobster roll in New England," Jackie says. "They'll ask you if you want 'mayo, butter, or both'—say both! For those who care less about lobster, it's also a great place to get fried scallops, fish sandwiches, and fresh fish to go. Oh, and if you look to the right of the shack there's a little path that will take you to some great waterfront bar seating right over the river."
Earth at Hidden Pond
"Probably the most delicious, creative food in the Kennebunks," says Jackie of this "farm to fork" restaurant. "Paul and I are practically addicted to the roast chicken for two and the rice noodles with lobster, and we love to order coffee and dessert to the huge fire pit outside at the end of our meal." Just don't forget to look up: A preserved apple tree hung from the ceiling serves as a sculptural chandelier.
Rococo Ice Cream
House-made, small-batch, and often experimental ice creams are this shop's specialty: Think banana red hot, Earl Grey pepita, Maine whoopie pie, and spicy rocky road. Can't pick a flavor? "The staff is more than happy to let you sample them all," Jackie says. "When you finally choose a scoop, be sure to order it on a house-made pretzel cone!"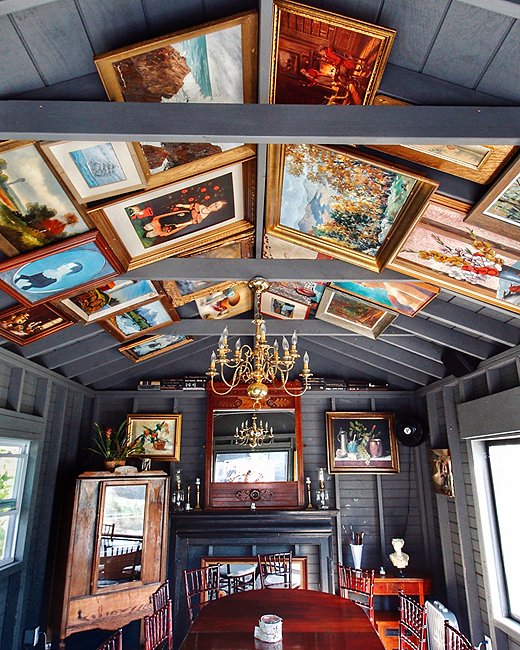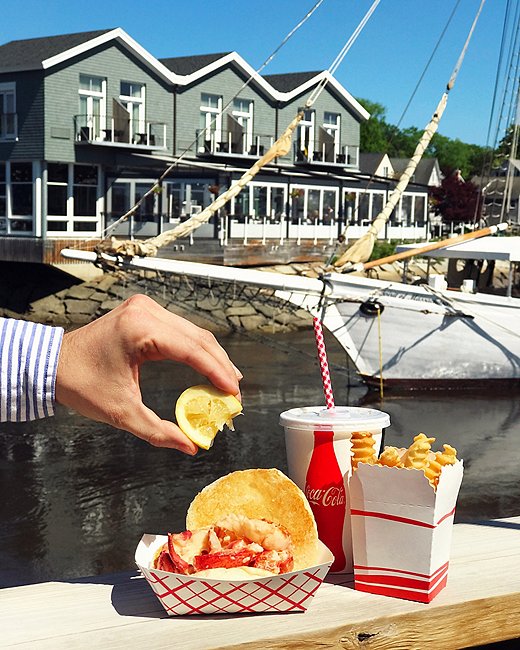 Antiques on 9
"So much more than just antiques," this shop offers a medley of furnishings old and new—"all displayed in a pleasing, collected way that makes things extra covetable," says Jackie. Far-flung finds such as ginger jars and kilim pillows sit alongside model boats, antique flags, and other Americana favorites.
Daytrip Society
This Kennebunkport shop (and its kid-centric sister, Daytrip Jr.) "manages to sell gifty, didn't-know-I-needed-it items in a tourist town while completely avoiding feeling like a tourist shop," says Jackie, who pops in frequently for stationery and gifts for her nieces and nephews. It's also a visual treat, as the shelves are arranged by color.
Farm + Table
Owned by a husband-and-wife team, this "big red barn" in Cape Porpoise stocks "beautiful linens and local woodwork like driftwood whales and locally salvaged barnwood cutting boards," says Jackie.
The Old House Parts Company
"The name says it all—but this isn't your usual salvage shop," Jackie says. "There's no need for much digging or hunting: These old house parts—and this place really has any part that you can imagine—are organized with librarylike precision. I'm talking about never-ending collections of doors and windows that are cataloged by size down to the quarter inch. There are also unique pieces, like entire dismantled butler's pantries that have been salvaged from Kennebunkport's oldest homes. If you aren't looking for anything superspecific, you'll leaving wishing that you were—because these are the guys who could find it for you!"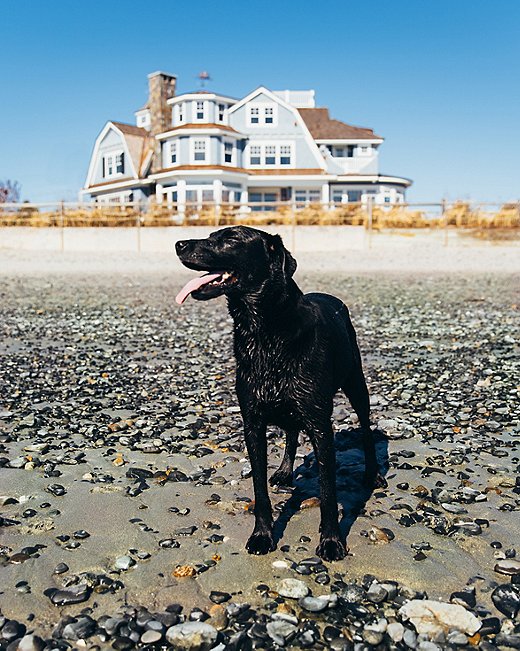 Parsons Beach
This off-the-beaten-path beach is one of Jackie's local favorites. "We didn't know it existed until months after moving here," she says. "When you drive to the beach down a long tree-lined road, you pass a horse farm, which has horseback-riding sessions available for morning gallops on the ocean during the off-season." Another plus: Nearly all the area beaches are dog-friendly, even during the peak summer months.
Snug Harbor Farm
At this nursery-meets-shop-meets-farm in Kennebunk you can get up close and personal with the resident animals, including chickens, peacocks, and even miniature ponies. After picking up herbs and topiaries at the greenhouses, be sure to stop by the farm's store, which is "filled to the brim with New England-made treasures, from tabletop items to pet supplies to handwoven linens."
Boat Trips
To really see the area, take to the water. "Paul and I love to take our canoe out in the Mousam River or go sailing." Visitors can book a two-hour cruise on the Schooner Eleanor, a 55-foot, locally built gaff-rigged schooner: "It's a wonderful way to see the Kennebunk coastline from the water."
Vinegar Hill Music Theatre​
"In the summer and fall this black-timber barn turned theater hosts a range of musicians and comedians," Jackie says. The pro move? Getting a drink from the open-air garden bar before heading in to catch the show.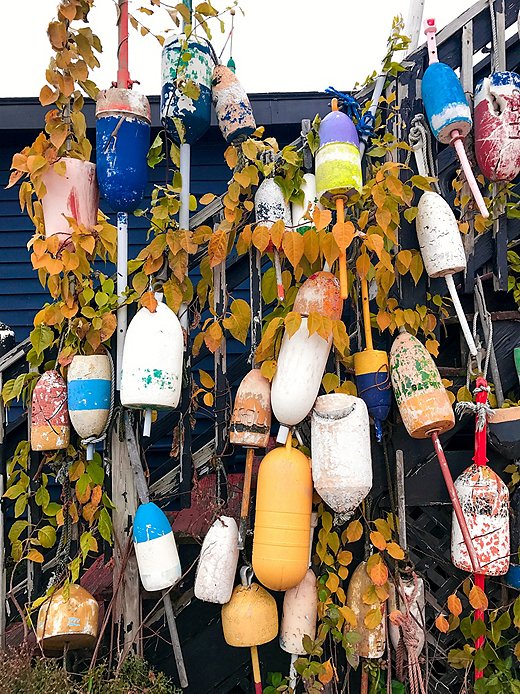 For those seeking the perfect Kennebunkport photograph…

Cape Porpoise Pier
"Lobstering boats, a pier full of dinghys, buoys, a lighthouse, and old fish houses across the harbor: This spot is quintessentially Maine, and with the tide changes, light, and fog variations, no two photographers will see it alike," says Jackie.
Ocean Avenue
"Paul and I could never tire of the architecture in the Kennebunks," Jackie says. The pair head to picturesque Ocean Avenue to scope out grand old captain's homes right along the water. Complete with benches, this street is also an ideal spot for a picnic with a view.
Goose Rocks Beach
"There's something about the light here that is otherworldly—a photographer's dream," Jackie says. "The sand is as fine as baking flour and at sunrise or sunset reflects a pink-and-purple sky. Timber Island just offshore seems to keep waves small and also makes for a lovely wooded backdrop in your oceanscape."
For those visiting in summer or winter…
The Kennebunkport Festival
During this June festival, "Maine's top chefs team up with local homeowners to host intimate dinners benefiting the festival's charity of choice," Jackie says. "It offers a rare opportunity to dine in some of the Kennebunks' most beautiful homes."
Christmas Prelude
"This town loves celebrating holidays and events with festivals and parades, and the Christmas Prelude celebration is probably the king of them all," Jackie says. Kennebunkport "does it up big with lobster-trap Christmas tree lightings, festive trolley rides, craft fairs, and Santa arriving on a lobster boat. My favorite is the Christmas Tree Tour, which is a tour of six to eight local houses all dressed up for the holidays."