With the long, warm days and flowers in full bloom, it was the perfect time for fashion designer and entertaining guru Jenni Kayne to host a Los Angeles garden party with It-girl interior designer Athena Calderone. These two aesthetically minded pals (who also happen to be behind two of our favorite blogs: Jenni for Rip+Tan and Athena for Eye Swoon) put their heads together to dream up beautiful decor and a menu to match. Naturally we couldn't wait to see what they cooked up. Read on to drool over the day and crib some of Jenni's top entertaining tips.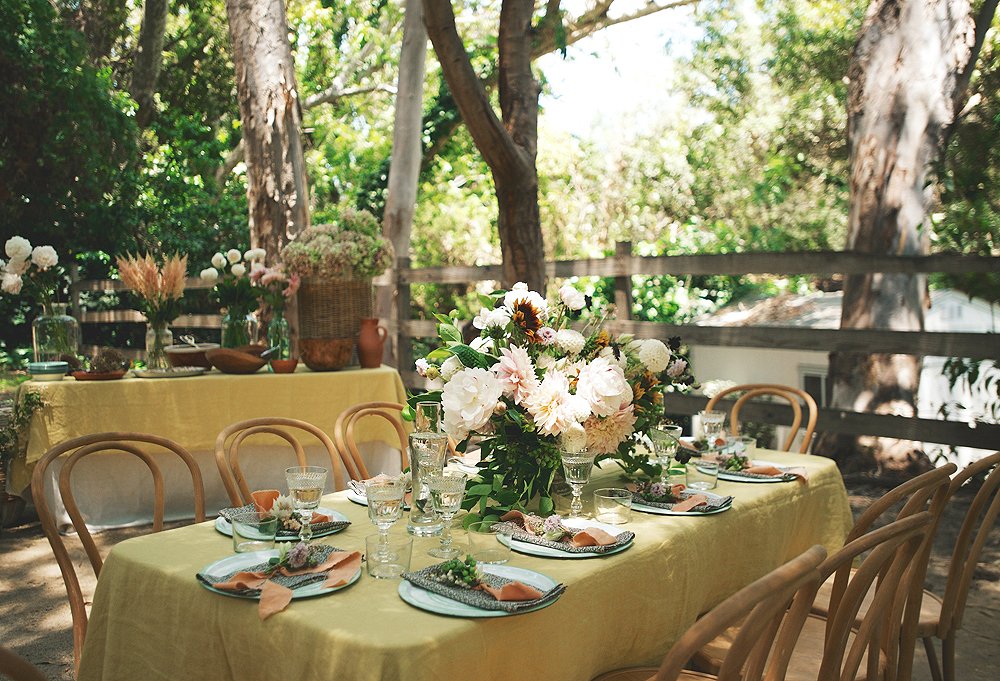 Approach the Event Holistically
The best parties, whether black tie or backyard barbecue, consider the interplay between the locale, decor, food, and florals to ensure a cohesive vibe throughout with no one aspect coming off as too formal or too relaxed. For materials, Jenni and crew leaned on wood, rough-luxe linens, and terracotta, which perfectly tied into the alfresco setting, garden-fresh centerpieces, and light, bright, family-style food.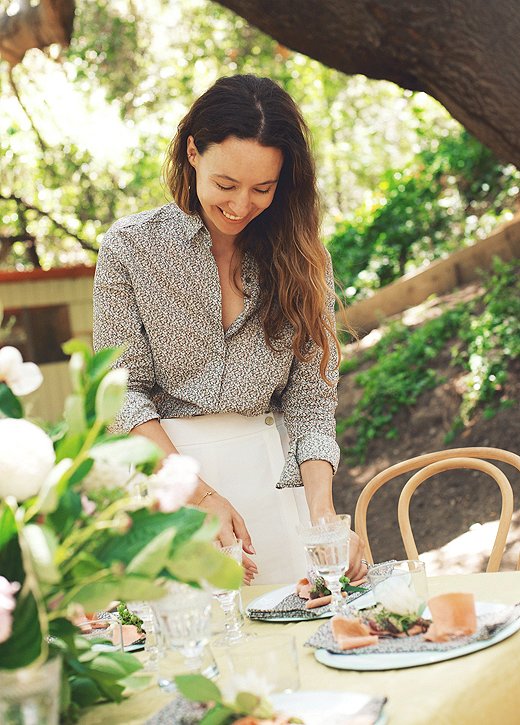 Deal with details early.
Planning thoughtful details ahead of time lets you keep your focus on entertaining. "I always make the first cocktail for my guests and then make the ingredients and instructions available to them," says Jenni (left). "That way, you avoid playing bartender and can focus on your guests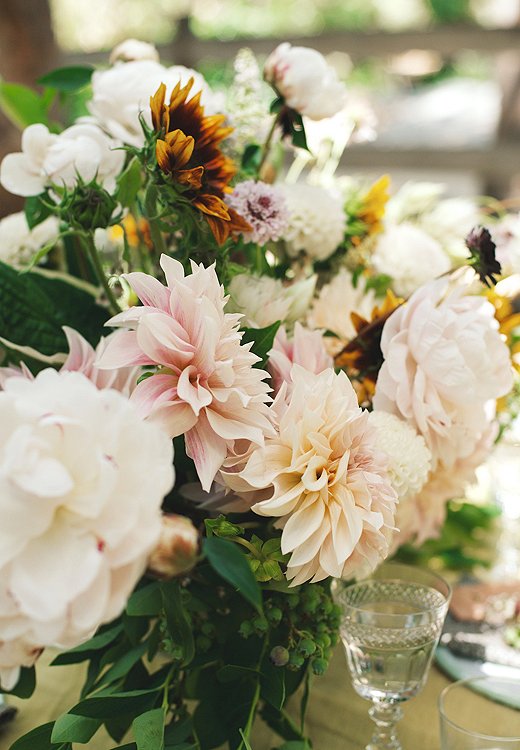 Let the setting dictate your florals.
When dining in a casual-chic garden setting, it's all about perfectly imperfect flowers that have an effortless just-picked quality. Kristen Caissie from Moon Canyon added character to the tables with her understated yet inspired arrangements of dahlias, roses, and sunflowers.
Mix and match to create a timeless look.
The gals pulled off richly layered place settings by balancing new pieces (Variopinte enamel plates and sleek stemless Spanish wineglasses) with a few oldies but goodies (vintage crystal glasses from One Kings Lane and Jenni's favorite mismatched antique flatware).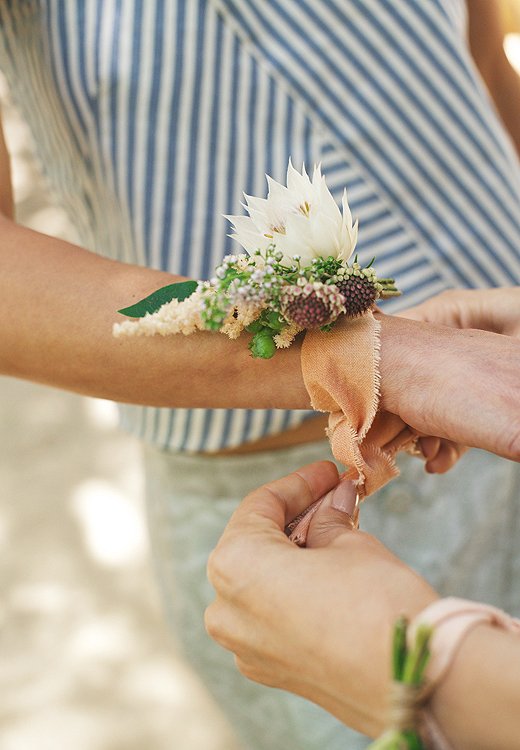 Let details pull double-duty.
As an extra-thoughtful addition, little flower bundles were tucked into napkin rings at each place setting so that they could later be worn as delicate corsages, modeled above by Jenni and Athena. Talk about the perfect party favor!
Use your "entertaining" pieces every day.
Rather than pulling out party-only pieces, Jenni set the serving table with items she uses daily in her home as kitchen storage and countertop decor. Here, petite baskets hold the silverware, while big terracotta pitchers were set out for self-serve water.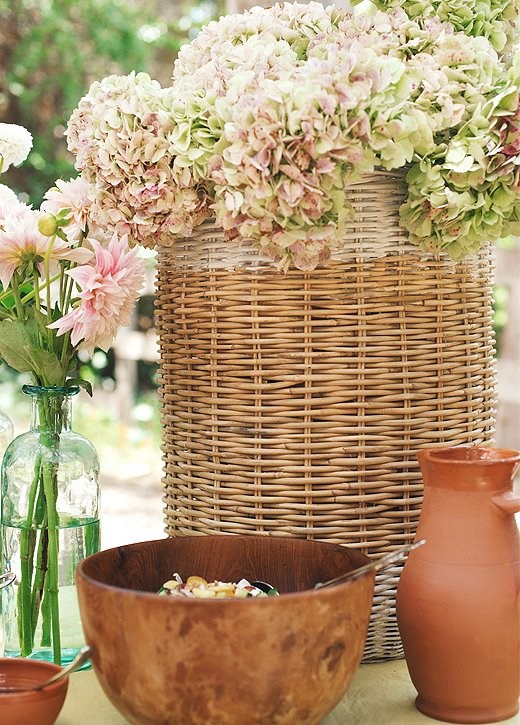 Consider accents' scale.
These tall hand-painted wicker baskets held clouds of hydrangeas and riffed nicely off the more horizontal serving platters. Plus their whitewashed color-blocking perfectly complemented the rustic, tranquil backyard of actress and blogger Shiva Rose, who was kind enough to offer up her space for the afternoon.
Don't play server.
The food, from a seasonal salad to avocado toast topped with watermelon relish, was set out buffet-style so that the ladies could help themselves. Jenni and Athena also filled vintage glass decanters with water and set them on the table to make refills a cinch.
Get made in the shade.
When entertaining outside, Jenni always makes sure to seat people away from direct sunlight. "Plenty of shade is key," she says, "for ensuring that your guests enjoy the outdoors in comfort. The right lighting and atmosphere add so much to the mood of an event."