When New York-based interior designer Jenny Wolf's clients downsized from a big house in Massachusetts to a three-bedroom, three-bath apartment in the celeb-studded Chelsea Mercantile building, they hoped to retain that suburban feel in their new home. "We wanted to create this very comfortable yet sophisticated living environment," Wolf tells us. The result is a space that "feels like a house, but it's in a tall New York City building." Making that dream a reality took a yearlong gut renovation—Wolf and her team reimagined everything from the baths to the decor.
One of the biggest transformations in the apartment was the kitchen, which Wolf described as "horrible" before the design process began. "It had honey-colored, old '90s-construction cabinetry," she says. Wolf's firm designed custom millwork with X-panel detailing, which was painted in Farrow & Ball's soothing Pigeon hue. For the countertops, she selected honed Carrara marble; for the backsplash, a soft milk glass. "It's a very functional, practical surface for a backsplash," Wolf says. "It wipes down very easily."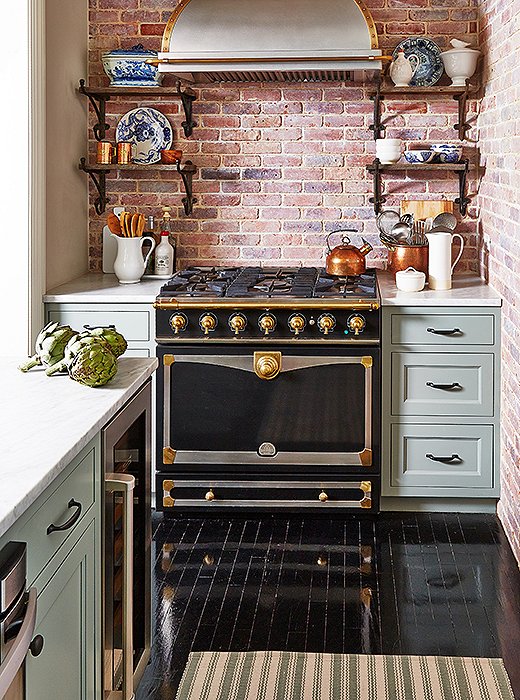 3 Decorating Ideas to Steal
1. Faux antique exposed brick. The kitchen's exposed-brick walls look original, but in fact they're a new addition. "The husband was really into this Manhattan loft living, so I actually incorporated the brick," Wolf says. "We faux-finished it to make it look old, like it had been there for 100 years."
2. Ebonized hardwood. Wolf did retain the kitchen's original hardwood floors, but she modernized them with a dark ebony stain.
3. Salvage open shelving. The homeowner discovered the antique brackets in an architectural-salvage shop; Wolf had reclaimed shelves fitted to them and used them as open shelving by the stove.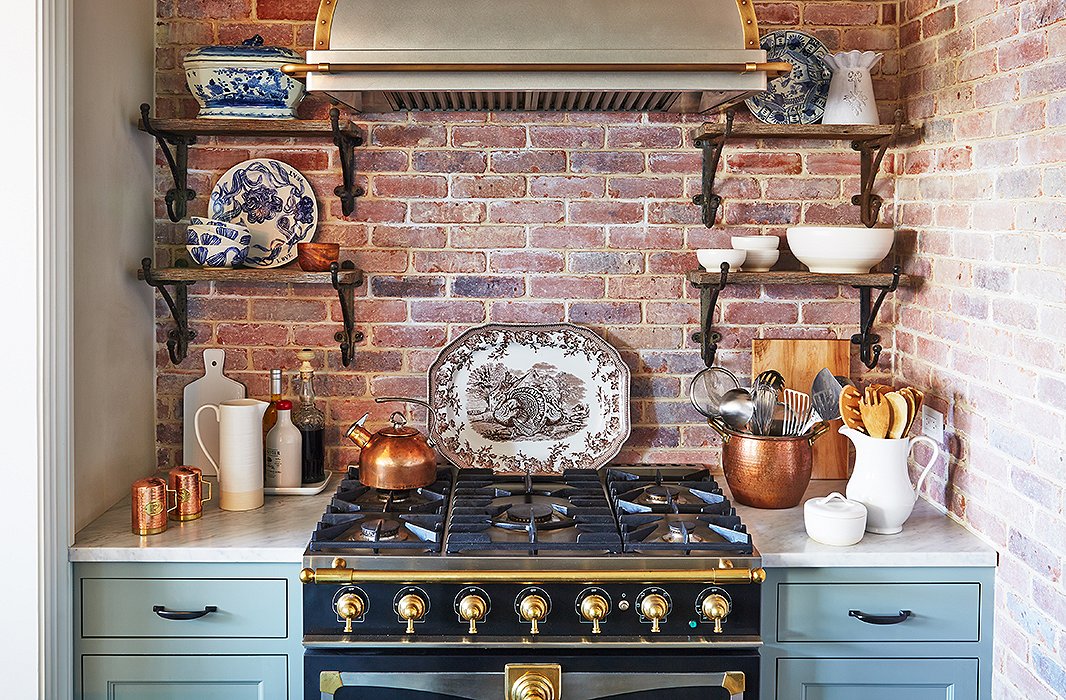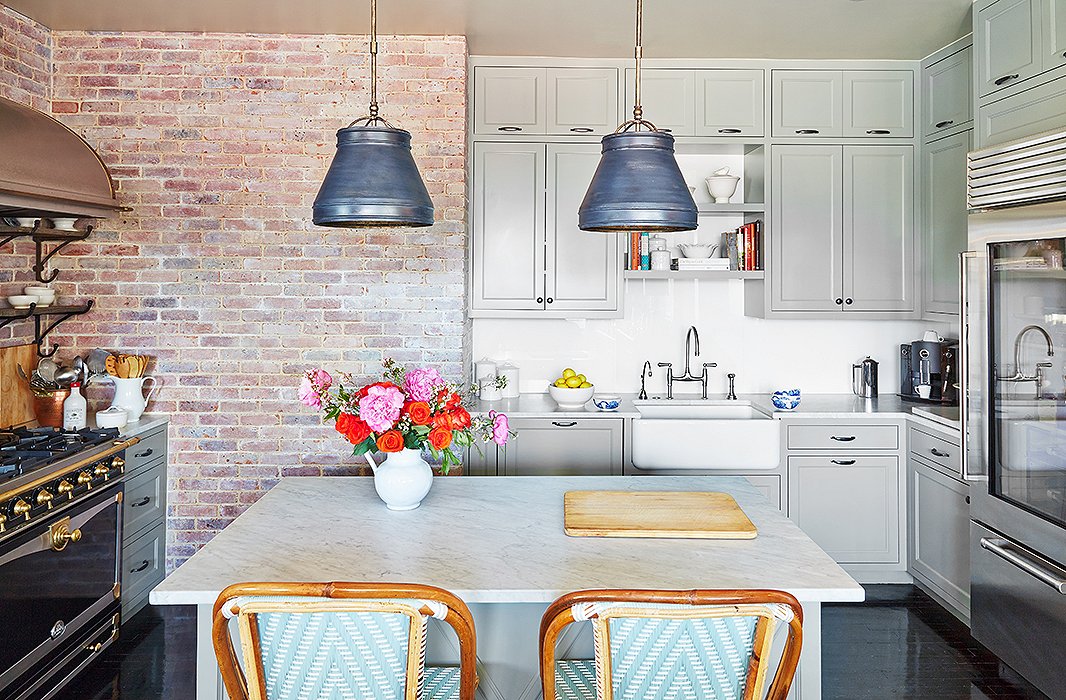 "The Sub-Zero fridge that has a glass door is something most people wouldn't dare to have," Wolf says. "It was a major request from my client and something she really wanted. She is organized enough to keep it neat."
Wolf delineated the kitchen from the adjacent living and dining rooms by framing it. "It was all part of the dining room, but I made it so that it had a cased opening, so it was its own little thing."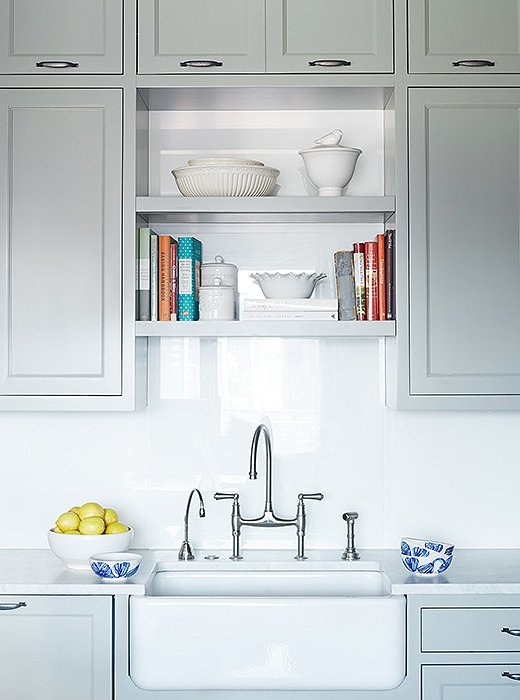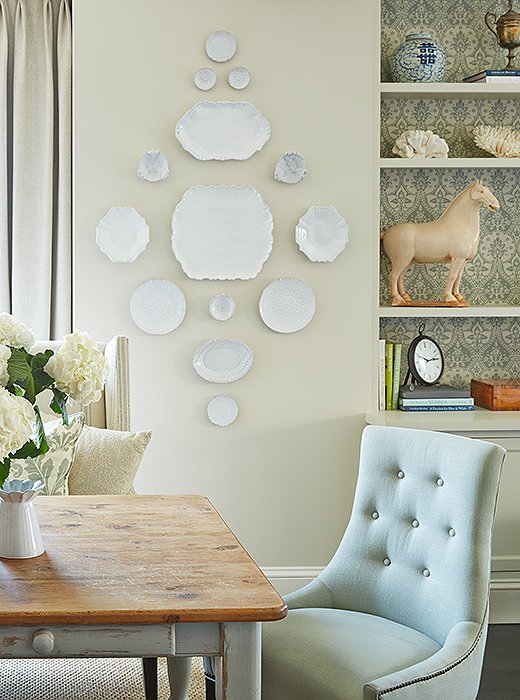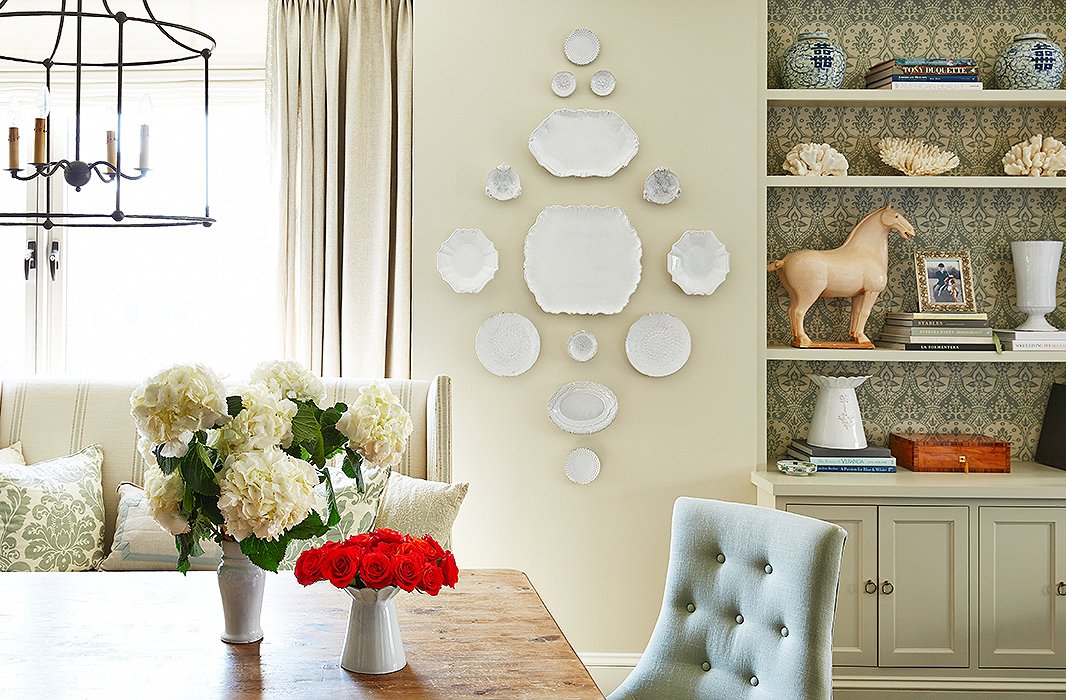 Jenny Wolf's Top Kitchen Space-Planning Tips
1. Choose appliances first. "The appliances really help with not only the functionality of the kitchen but also resale value," she says. "That's where we start, then we build the cabinetry around it."
2. Strategize storage. "Storage is really important. In Manhattan, because we are so limited, I try to go as far up to the ceiling as possible to maximize storage."
3. Make it a place people can congregate. "You want people to be able to move around the kitchen and enjoy the space. This island, for example, allows for movement and really became a space everyone can enjoy. We may have compromised a little bit of storage, but it's a more livable space."