Let's face it: The phrases "layer on texture" and "add texture" often come up when designers talk about decorating. But it's not always clear what they mean, let alone how to apply this advice to your home.
To help break it all down, we turned to nomadic makeover mavericks Tara Mangini and Percy Bright of Jersey Ice Cream Co. Though they aren't your typical designers, they are masters at using bold textures in their dreamy interiors—shaggy rugs, warm woods, lots of pillows and quilts. If you don't know Tara and Percy, hop on their inspiring Instagram and you'll see what we mean.
The M.O. of the designing couple, who launched their trailblazing company in 2010, has been to live in the spaces that they ultimately renovate and decorate, often with vintage pieces discovered at flea markets, custom-built furniture, and of course, plenty of wallpaper, plush pillows, bedding, and natural materials.
Step inside one of their latest ventures, a family's enormous vacation home, and get their tips for decorating with texture to gorgeous effect.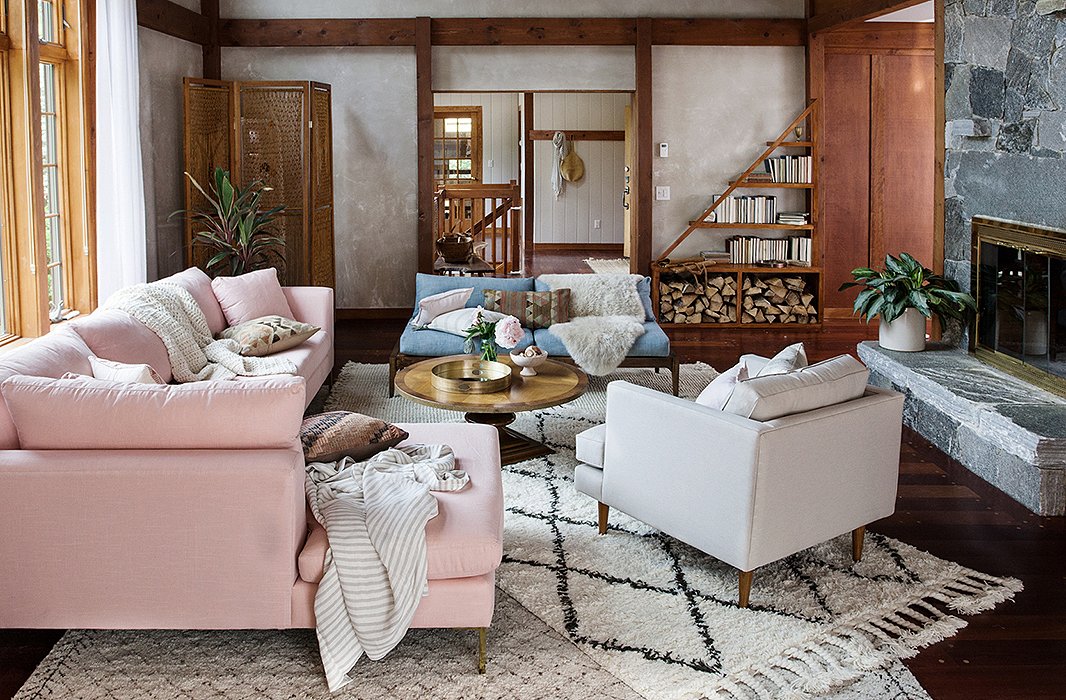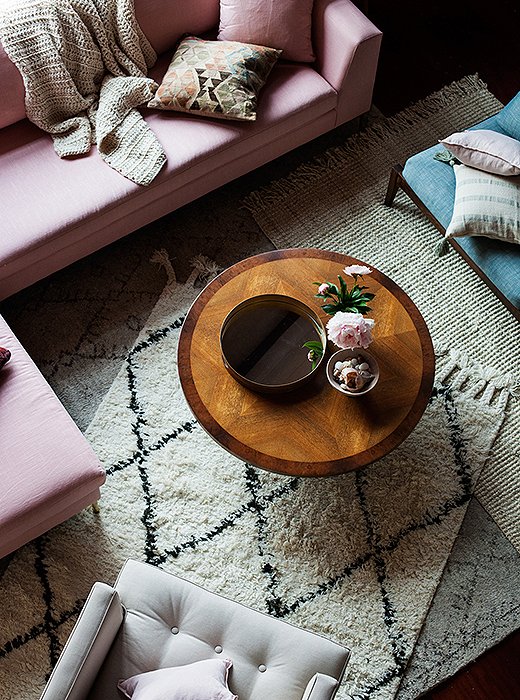 Lesson No. 1
Layer Rug on Rug on Rug
Tara opted for a trio of layered rugs in the living room to define the seating area; the rich textures also make the floor a focus. Together, the mix of shaggy and woven rug textures help balance out the dark wood floors, the stone fireplace, and the wood beams. "The edges felt too hard, so we needed some fringe to set it all off," says Tara of her rug choices. Additionally, the rugs provide a neutral backdrop that helps to amplify the pastel tones of the pink sectional and the blue sofa.
Try a similar approach to layering rugs: Start with a large Moroccan to span a living area; contrast it with a tightly woven fringed rug; then top it all with a shaggy Moroccan for a fluffy finishing touch.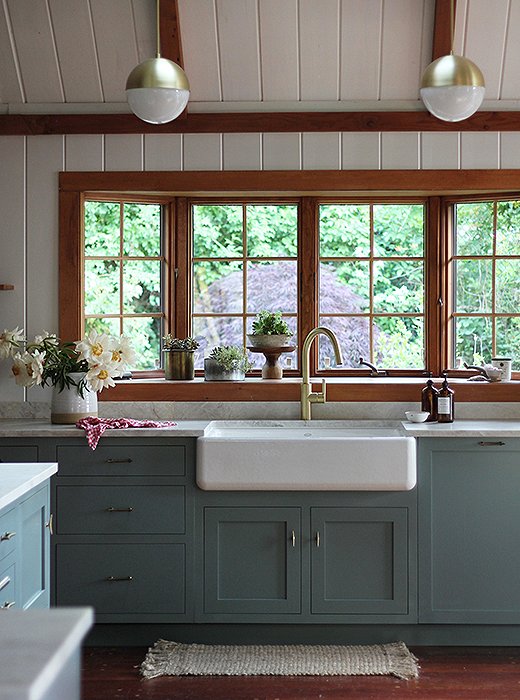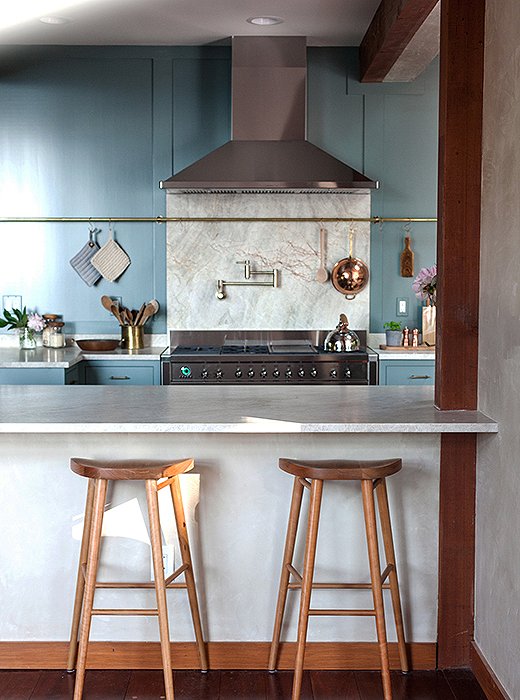 Lesson No. 2
Opt for Natural Materials
From warm woods to stone, natural materials with subtle textures are a signature of Tara and Percy's designs. This is most prominently (and beautifully) showcased in the home's airy kitchen and master bath.
For the kitchen, "we ended up finding these quartzite countertops," explains Tara. "They have these deep cuts through them, so when you run your hands through you can feel this amazing texture." The striated stone also bounces light beautifully, which adds to the open, uncluttered feel of the space. To play off the stone's rich grooves, Tara and Percy brought in cozy textures, from the richly grained wood stools and utensils to a nubby mat and striped linens. The result is a wonderful mix of sleek, warm, and soft that creates an inviting vibe.
Tara and Percy balanced similar textures in the master bath, in part by revamping a vintage wood dresser into a sink vanity. The wood's grain instantly warms up the pristine space and its plaster walls. A knotty bath rug and linen cloths add the ideal touch of softness.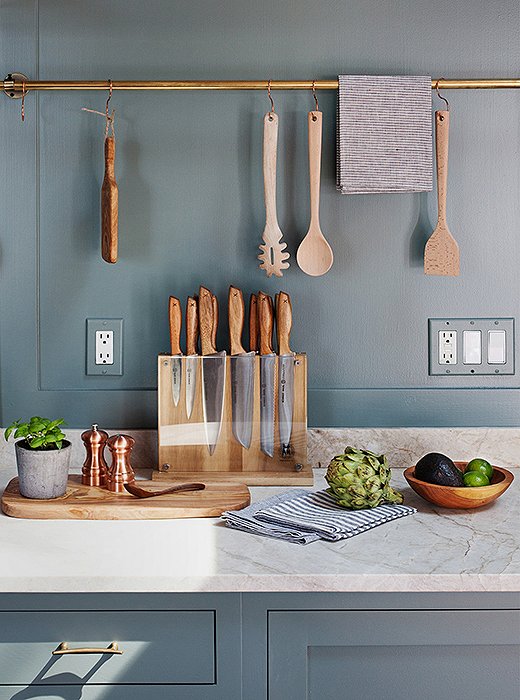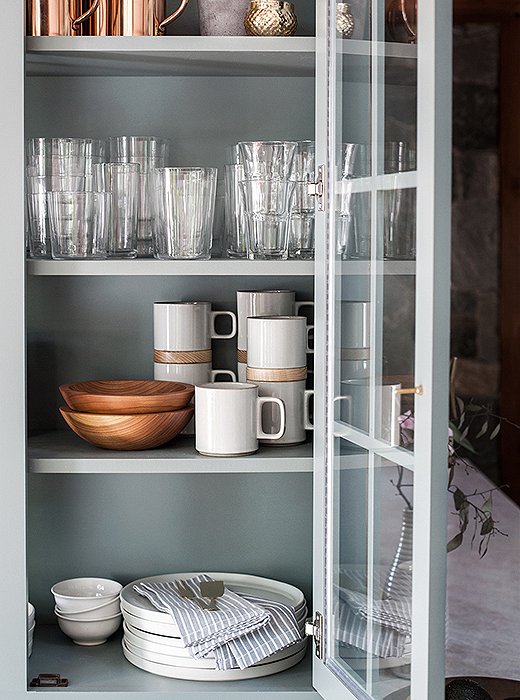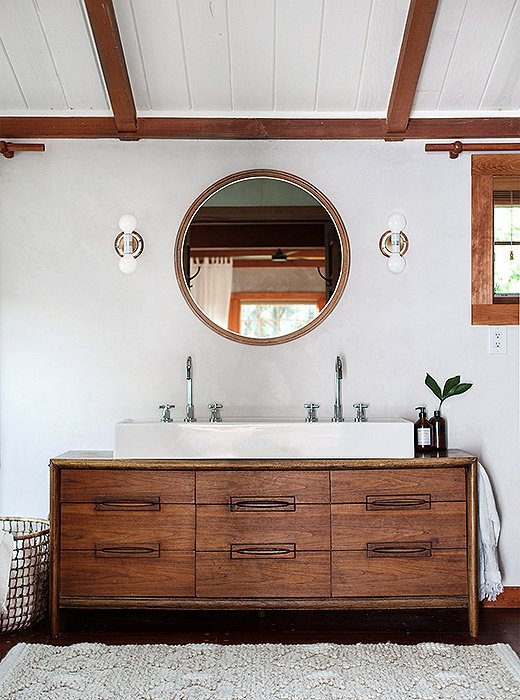 We always go to plaster because we just love the feeling that it brings, and it's really reflective of the light. And it has so much more texture than just paint.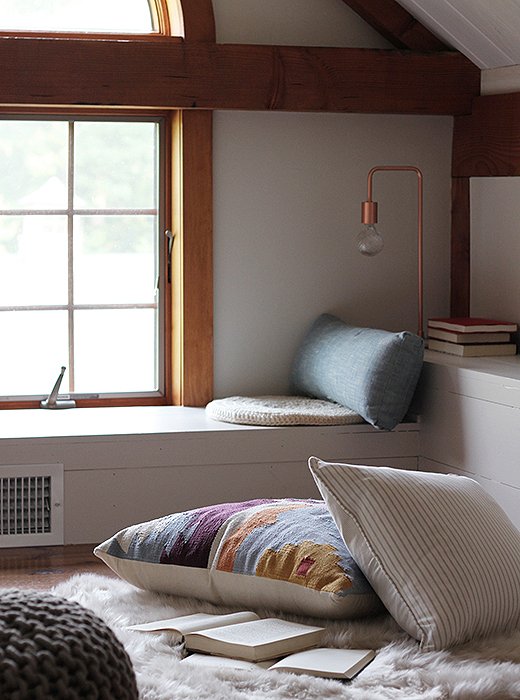 Lesson No. 3
Pile on Pillows, Knits, and Other Soft Touches
The top floor of the home serves as a hideaway aerie, and with its low ceilings, it was the perfect lounge spot for the family's four children. "We just wanted it to be a little space for the kids more than anybody else," says Tara, who brought in kilim pillows, fluffy sheepskins, and a knitted ottoman to create a haven of coziness. The decision to skip chairs and tables in favor of easily movable floor lounging means the room offers ample space for more-active play.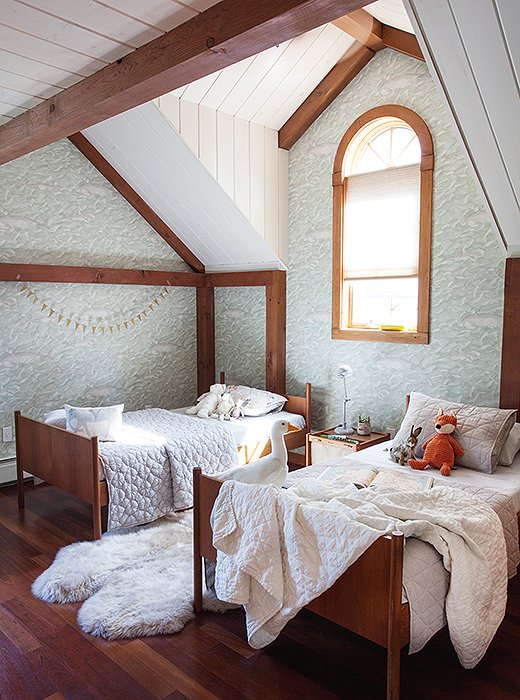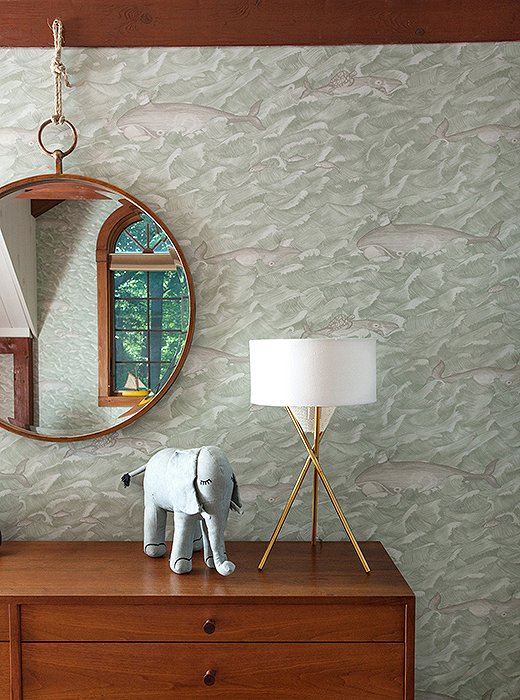 Lesson No. 4
Add Visual Texture with Wallpaper
Tara and Percy struck a balance between kid-friendly and sophisticated by covering a children's bedroom in a fun wallpaper by Cole & Son. With their printed whales and turtles, the walls now provide a subtly shimmering seascape backdrop. "It's from their Fornasetti line, and it's the perfect kids' line that's not too kiddy," says Tara. In a nod to the fantastical theme of the wallpaper, plush huggable toys were brought in for a perfectly charming way to round out the room.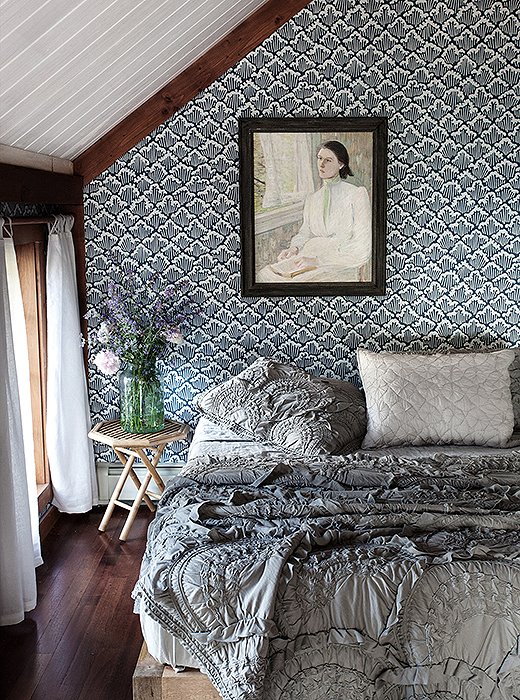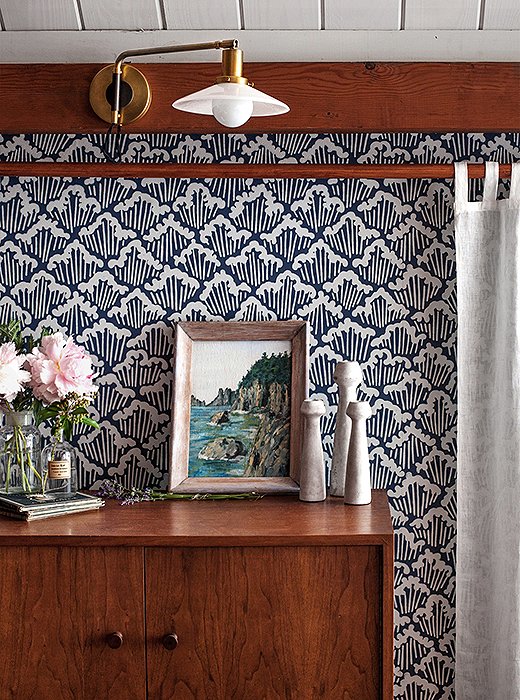 Lesson No. 5
Play Up Texture with Bedding
As a way to add richness and warmth to their bedroom designs, Tara and Percy often rely on beautiful quilts and wonderful bedding. It was no exception for the various sleep spaces in this home, from the simple blue quilted blankets Tara draped over kids' bunk beds to the lavish linens she brought in for the guest room.
"My first thought was to just do white, but I know white bedding sometimes disappears, so I went with the more gray tones, which became really sweet," says Tara of the heavy layers of textured bedding she chose for the guest room. The wavy ruffles of the linens have a luxurious effect and blend seamlessly with the Farrow & Ball Aranami wallpaper. "The pattern felt so beach-inspired but not beachy," Tara says. The result is a room that's at once transporting and cocoonlike.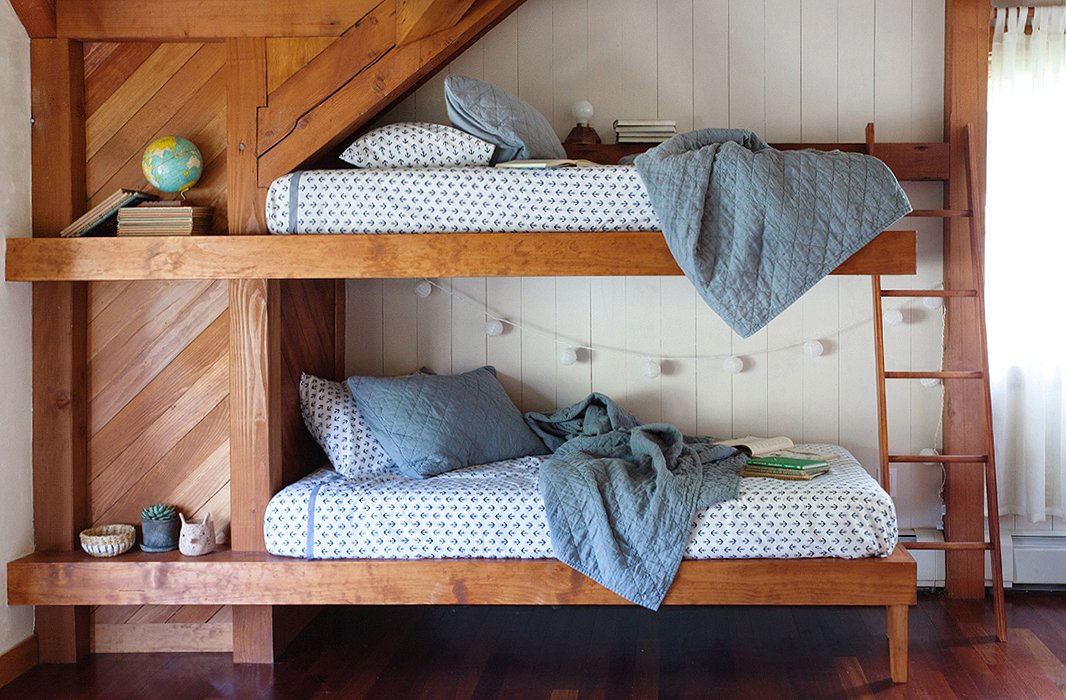 We thought a lot about textures from the beginning. And a big challenge was that the house itself wasn't this old, fun house with tons of character that we were reviving, but it was a new construction that we were trying to infuse with character.