My Style
My Astrological Sign is: Scorpio
Most Inspired By: Nature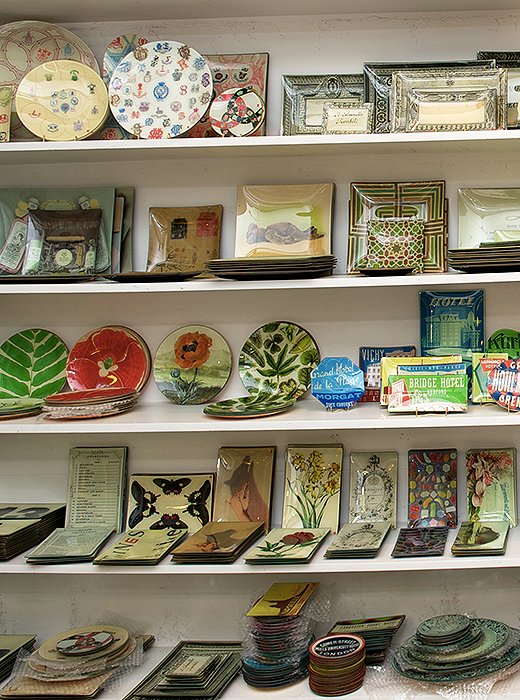 My Favorites
Movie Interior: I Know Where I'm Going!. In the movie there's a house in Scotland that's very lived in with chintz, some maps, lots of animals, and everyone's in cozy wool sweaters.
Album: I listen to the '80s French film Diva soundtrack in my studio over, and over, and over.
Museum: I love the Isabella Stewart Gardner Museum in Boston. It's really more a pretty house surrounding a garden with some nice art.
Style Icon: My aunt Louise Minasian was a childhood inspiration. I can't say who is iconic to me. Mother nature?
Cocktail: Margarita on the rocks with salt
Hotel: The Beldi Country Club, Morocco
Hostess Gift: Linen napkins by Libeco-Lagae
I think of them [decoupage] as a collection of specimens and I wanted them to look like imperfect fragments, even though they're reproductions.
My Resources
Fabric: I have been shopping the Paris flea markets for antique ticking, which I am now hoarding and hopefully using for some furniture or pillows.
Lighting: I guess I am a one stop shop…
Florist: Polux Fleuriste, NYC
Caterer: Susan Simon Says, NYC
Favorite Local Shop: Paula Rubenstein, NYC
Favorite Shop Abroad: Merci, Paris
My Decorating
Favorite Paint Color: Clunch, Farrow & Ball
Favorite Room to Decorate: The living room is the one I move around the most.
Favorite Pattern: I like florals, polka dots, and stripes.
Decorating Cheap Thrill: Rearranging over and over. It's like living in a new place.
Favorite Decorating Trick: Candles
I draw a lot of inspiration for my work from nature and from the sea—I'm a New England boy