Josh Yöung is a man of juxtapositions. In a family of athletes, he became an artist and then an interior design icon. In a world of classical design, he looks for the modern edge. His style is driven by the experience, not just the look. It encompasses a point of view that is at once wholly of today and entrenched in the details of the past. It feels dynamic and fresh, stately and grounded. Together his spaces and his artworks feel unique and yet of a shared visual universe. 
"I've been painting and drawing since I was five or six," says Josh. His parents encouraged him to explore his passion, setting up a studio in the basement of their Pennsylvania home. When he was 19, he ran off to Italy to study art. "Milan is really where I started to form my eye and technique," he says.
Like Josh, Milan encompasses contrasts. The Celts founded the city in 400 BC before the Romans took hold of it in 222 BC. It has seen more than two millennia's worth of change, yet it manages to stay at the forefront of the design world. Among Roman ruins and Renaissance remnants, modern buildings rise and industry marches on. "To be amongst that and to not be influenced as a creative would be next to impossible," says Josh, who finds harmony in the tension there.
The six years he spent living and studying in Milan set him on a path from which he's yet to veer. "Cities like Florence and Rome are so anchored and dependent on the past. Milan embraces the path and looks to the future at the same time. That's the keystone of who I am as a creative."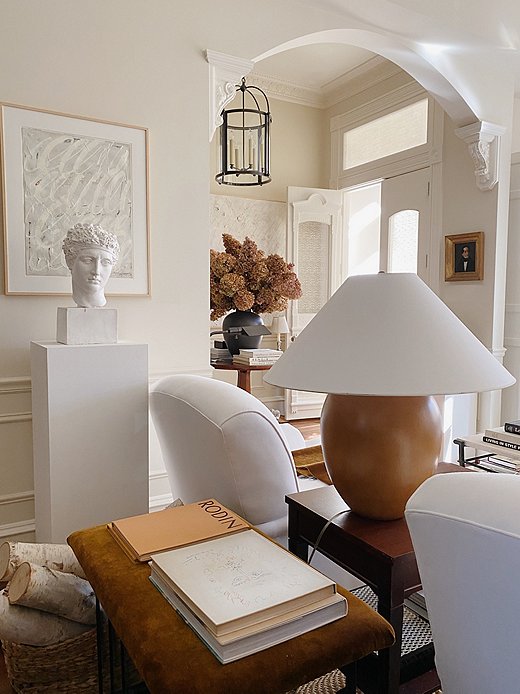 A simple splash of paint was all it took to launch Josh's career into the stratosphere. You've undoubtedly come across a work from his extremely popular portrait series. Ariel Okin featured it in her room at the 2018 Holiday House NYC. Oprah called it out in the September issue of her magazine that same year.
The series features stately portraits that could have passed as Old World works—except for the slash of color across the eyes of each subject. They all have names reminiscent of the European elite: Sebastian with his white stripe across the eyes, Conrad with red, Paloma with a bright pink dash. "When you first look at a portrait or meet someone in the street, you make eye contact. So by eliminating that element, it really jars you. It makes the photo feel current and relevant," he says. In other words, it's another juxtaposition of the classic and the contemporary.
Josh's ability to make the ordinary feel relevant is where his talents truly lie. "I love taking old work elements and mixing them with modern techniques," he says. His portrait series is the clearest example of that, but you'll find it throughout his oeuvre. Tonal works filled with texture have become his signature. He layers paint on top of paint, creating mesmerizing abstractions along the way. "I want my work to have depth and a sense of historic reference," he says.
Josh's move into interiors was an accident. "When I was creating my website and my studio, I photographed my artwork within my home, having absolutely no intention that people would even notice," he says. "I thought they were going to focus fully on the artwork." And while many people did home in on the art, "I [also] drew in a completely different audience who wanted to see what was behind the canvas."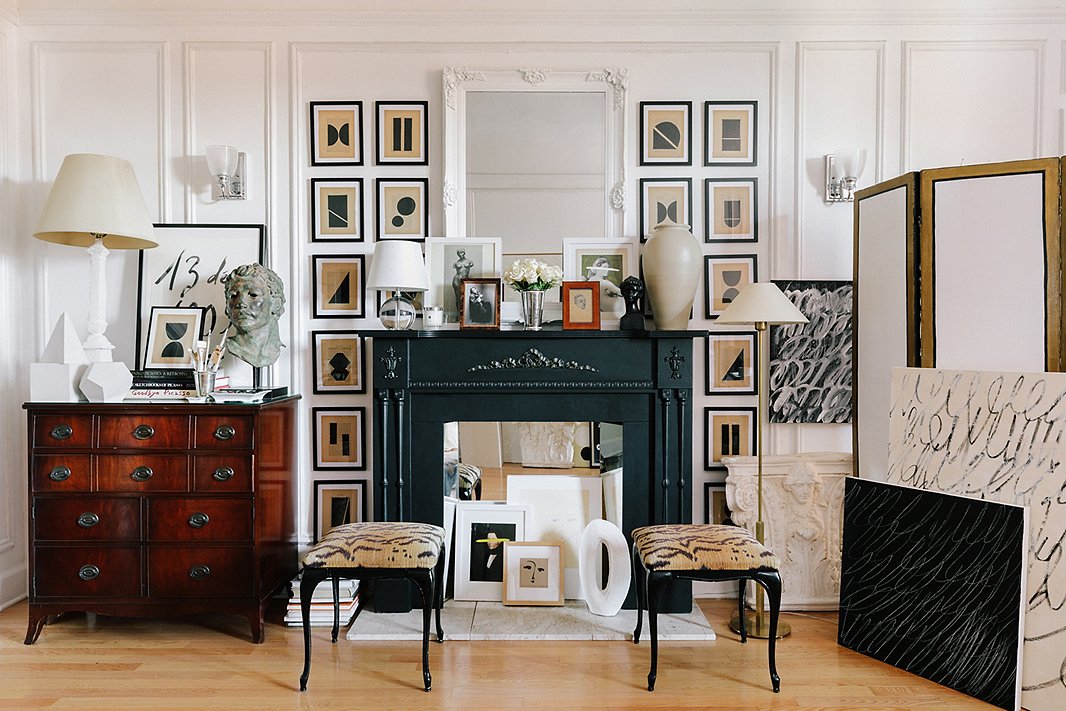 Behind the canvas is much like canvases themselves. Josh's interiors are an extension of his works. "There's no coincidence that both my art and my environments have a neutral palette," he says. "They're interconnected." 
His latest project is the restoration of his Washington D.C. townhome, purchased just last year amid the COVID-19 pandemic. The atmosphere feels dreamy; light wafts through the windows of his living room and plays off the delicate white furnishings. "Your home has to have a sense of calm," says Josh, "whether you live in a mansion or a 500-square-foot apartment."
His home features shades of creamy whites with pops of bold black, and he finds freedom within that strict color palette. "Staying within a tonal moment really allows me to hyper focus on textures and silhouettes," he says. Luxurious linens and sumptuous velvets add layers of texture to the home, while the silhouettes of antique pieces play off the modern shapes in his art collection. He creates that harmonious tension he so loves by placing his 18th-century antiques next to his more contemporary pieces. Each space reads like a careful curation of Josh's creation, with books on Picasso, Michelangelo, and John Derian scattered among furnishings from One Kings Lane and Ralph Lauren. Everywhere you look, hidden layers can be found. It's a scavenger hunt of his own devising. 
"When people are within my space, they hardly ever make eye contact, because they're constantly looking around the room, which I love because they're discovering new things and are visually stimulated," he says. Viewers are invited in to spend time investigating the layers, unfurling a bit of his creative story one moment at a time. "I find similar things happen with my work. I love that journey, and I want to create it on the canvas and in my home."