We recently popped by the cool Los Angeles Craftsman home of indigo artist Maya Slininger. The maker behind Juniper & Fir, she creates all her intricately dyed fabric in her sunny backyard before turning it into pillowcases, blankets, and woven and macramé wall hangings in her home studio.
She watches horror movies while crafting and has a tattoo of an Eames chair on her leg—so naturally we couldn't wait to find out more!
So indigo dyeing is actually something you do on the side—what's your day job?
"I'm in visual merchandising—designing retail displays and building sets—for Free People."
How do you balance essentially having two jobs?
"Really I just burn the candle on both ends. I do my indigo at night and on weekends, during any free time I have."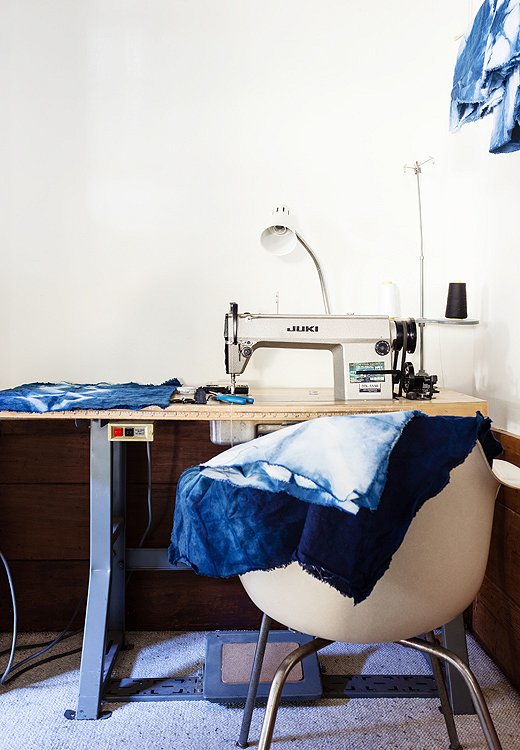 How did you get into indigo dyeing?
"I've always made things with my hands, and while stitching, weaving, and craftwork are second nature to me, indigo was a bit of an accidental discovery: About two years ago, I heard about it from a friend of a friend. I contacted him for a lesson, and once I did it for the first time, I was totally hooked. I've since been drawn to shibori dyeing in particular, its cultural history and process."
What is shibori dyeing?
"I do a method of shibori called itajime. Raw fabric is washed, folded, pressed between wood, and then dipped in a dye vat.The dye reaches the fabric in a particular pattern, then I pull it out to let the dye 'breathe.' Air is what actually transforms the piece to its indigo state. This process can take up to a few hours, repeating it every 15-20 minutes until my desired color is achieved."
There's a childhood magic to dipping a cloth in dye and having it come out a different color.
What differentiates your work from that of other indigo artists?
"A lot of indigo artists are doing traditional shibori dyeing, which results in more-organic patterns. With my work, there is actually more structure to the patterns—they're modern and geometric and don't feel quite so much like tie-dye. I also incorporate indigo into the other things that I do like weavings and macramé."
How would you describe your personal style?
"A little bit vintage and a little bit tomboy."
Did you grow up sewing?
"I've been sewing since I took a home ec class in the eighth grade. I'd make clothing and stuffed animals and do clothing repairs for my family. I loved it—anything I could sew, I would."
Your current studio is in your home—how do you make it work?
"Well, I live with my boyfriend, Mike, and we've only been in this house since the beginning of August. But we each have separate work spaces—he's a screenwriter—which is key. We have this unspoken rule that if one of us in our studio, the other person doesn't go in there. Otherwise we'd just distract each other and never get anything done."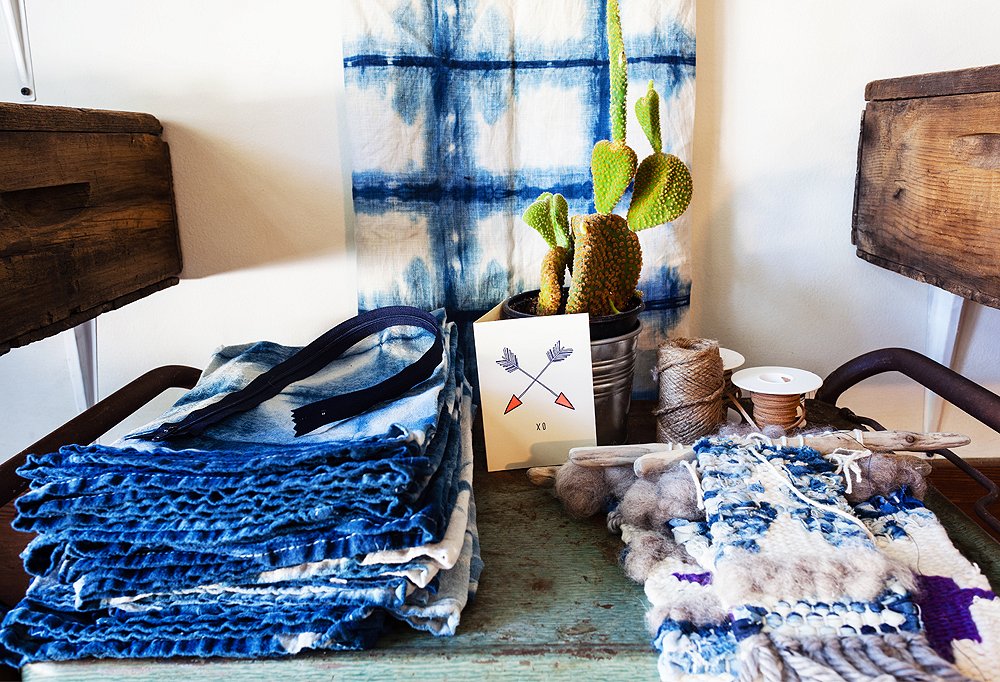 Do you listen to music while working?
"I actually watch movies—endless amount of movies! Weaving and macramé require sitting in one place for a long time, and movies hold my attention and keep me focused, even if I'm not watching them but just listening. Horror movies are my favorite. I'm a classics girl, a big Alfred Hitchcock fan—I love Rear Window and Rope. I also recently watched the original The Changeling. That one is really good with a surprising twist!"
How does living in Los Angeles influence your work?
"There is this hidden nostalgia to Los Angeles lingering behind all the day-to-day business that really influences my work."
There's this ease about Los Angeles that reminds me to think simple, create beauty with minimalism, and to enjoy the palm trees.
Are you an early bird or a night owl?
"Definitely a morning person. I wake up by 7 daily. I feel much more creative in the morning and love starting with a fresh mind and clear head. By the afternoon, my brain is like, 'Okay, I'm done.'"
Is there one tool you couldn't live without?
"My industrial sewing machine, a Juki. I'd been working on my grandma's old Singer—which I still use for little projects here and there—but I needed something tougher for the big stuff."
What's your favorite item in your studio?
"My recycled-crate shelves that hold all my rope and fabric and trimmings. It's like organized chaos. And from an interior design perspective I like the way they warm up the room, making it less harsh and utilitarian."
Are you currently experimenting with any new techniques?
"Right now I'm experimenting on mandala shapes and stitched shibori. It'll be exciting to see where I can take them and how I can make them my own."
Each design is a fingerprint to me—I take pride in sketching out an idea, experimenting in the process, then sharing the result with others!
Have you decorated with any of your own pieces in your home?
"Not really—everything I make goes out the door! There's one weaving I never finished that's hanging on the wall of my studio. I'll probably never go back to it, but it works as is."
What type of furnishings do indigo pieces play well with?
"They look great against any crisp white areas, like on a bed or a couch or against a sheepskin throw. They also work well paired with leather or rich, dark wood. It makes the blues pop."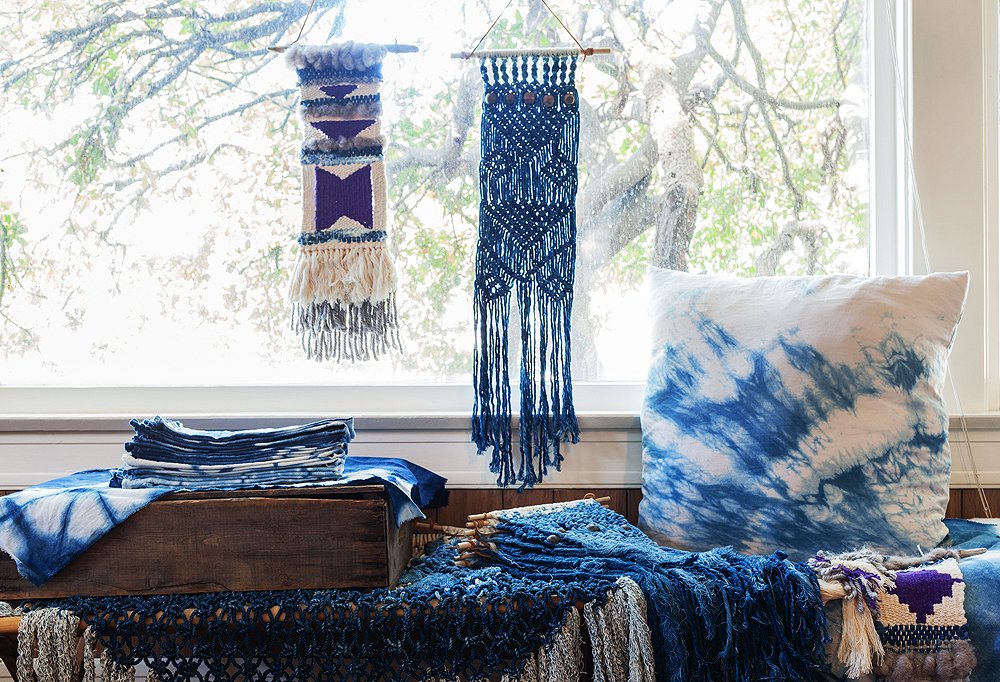 Are you drawn to a certain decade?
"The '60s—definitely. I'm influenced by both mod and a lot of the folksy style from that era. I mean, I do macramé!"
Any artists whose work you really admire or reference?
"I love Saul Bass, the graphic designer and filmmaker. Even though much of his work is 2-D, I really connect with his approach and his ability to convey an idea through shape and color. I'm also a big fan of California craftwork of the '60s and its revival in recent years—friends and contemporaries like Sally England and Maryanne Moodie are making some really exciting work. Also there are some other great artists out there working with dyes, like Niki of Lookout & Wonderland, whose work and dedication to the art always inspires me."
Sometimes the most satisfying creative successes are ones you haven't planned for!