Whether it's a color-rich, patternful decorating idea we wish we'd dreamed up or a gorgeous Instagram shot of Technicolor blooms, Justina Blakeney has an eye for all things cheery, lush, and unequivocally charming. Her phenomenally popular blog, The Jungalow—a nickname for her boho, plant-filled bungalow home—is one of our go-tos for wildly fun inspiration.
With her first book, The New Bohemians, launching on April 14, Justina is busier than ever, splitting her time among designing, styling photo shoots, blogging, and hanging out with her daughter and hubby. So when she invited us over to her eclectic L.A. work studio, we jumped at the chance. Check out her ever-changing work space and our inspiring chat with her below.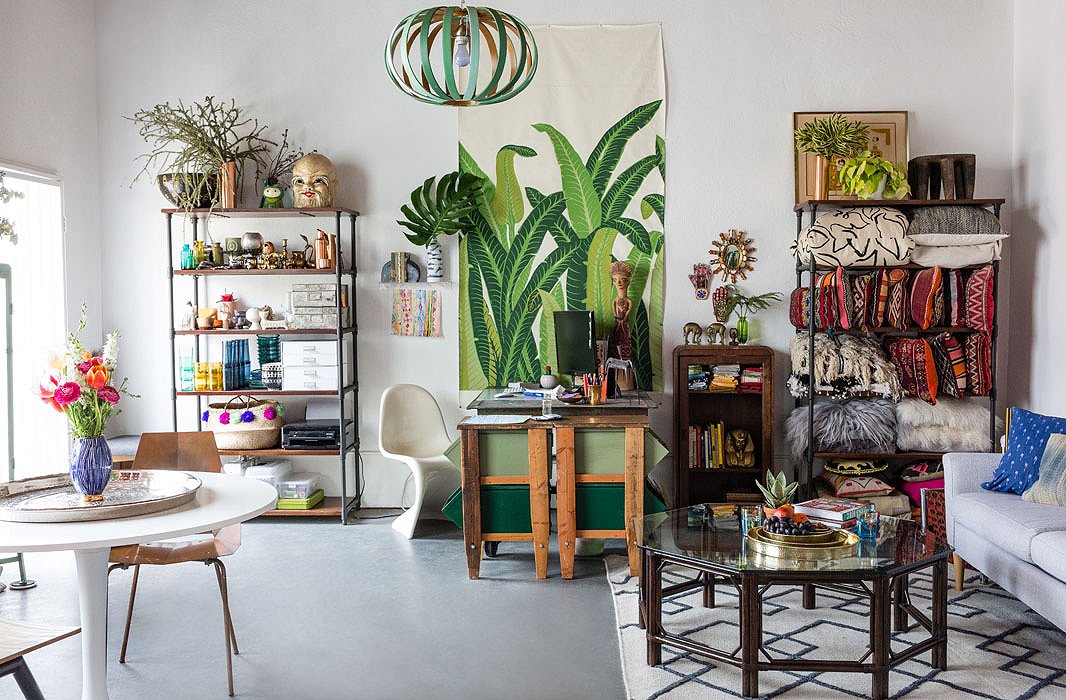 Walk us through a typical day in your studio.
"I get here around 8:30 A.M. I have two assistants, but the days I'm here by myself are my creative days. I'm sitting, drawing, painting patterns—things I do better when I'm by myself. My husband and my daughter often stop by, since they're just a block away, and I'll take little breaks and we'll all hang out here. I leave the studio around 5 or 6 P.M. and spend the evening with my family. We always have dinner together. I usually prepare my daughter for bed around 7:30 or 8—and then spend three or four hours preparing the next morning's blog post or finishing up whatever I didn't finish during the day."
So would you say you're an early bird? Or more of a night owl?
"I'm kind of both. I'm a little bit of a workaholic, but I think when you are running a small business in order to further a cause or finish writing a book, you kind of have to hustle and get it done."
Are you good about getting out for lunch, or do you tend to work through it?
"When my assistants are here I usually go out for lunch. I really like eating out; I consider it a splurge, but it refreshes me. We drive to a nearby restaurant or café and have lunch. We go to Sqirl a lot, or we'll go downtown to Little Tokyo and have ramen. There are so many great little spots to eat around here."
Is there a story behind that gorgeous palm print?
"My grandmother had a jungle-print wallpaper in her old house that I remember marveling at as a little kid. When I was living in Brooklyn there was this cute little vintage shop—closed now—run by two prop stylists. I mentioned that I was obsessed with botanical prints and to let me know if they ever came across a good one. They called one day saying, 'We have something we think you'll like!' I popped by, and they had these four vinyl panels, which said 'Disney Polynesian Hotel' on the side. I bought them all, and this is one! I've used them in homes that I've decorated and in my home. They announce jungalow!"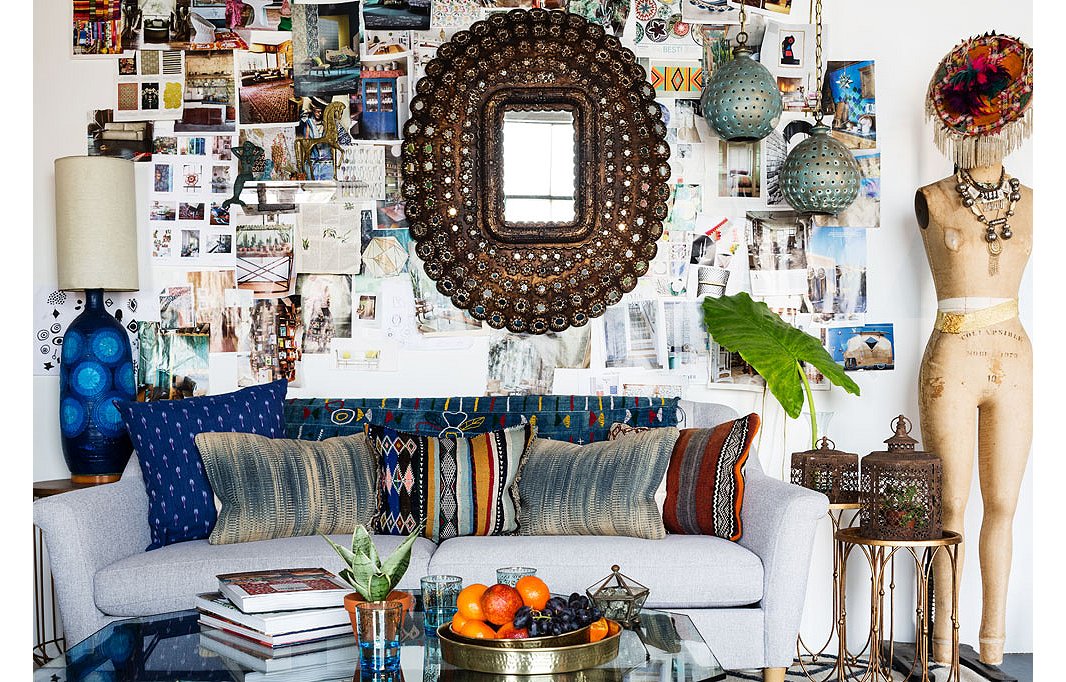 Tell us about your inspiration wall!
"I'm obsessed with Pinterest, but I've also had all these binders with magazine cuttings that I'd been collecting since college. When I got this studio, I finally had the space to put them all up. I don't like to think of it as an inspiration wall so much as wallpaper. That's why I love the idea of putting a mirror in front of it. It works cohesively as a crazy funky pattern, and each item is also individually inspiring."
Who would you say is your ultimate style icon?
"Frida Kahlo definitely comes to mind. Stylistically I absolutely admire the way she lived, how she dressed, and her home decor. Her whole lifestyle I think is just so beautiful. I love Peggy Guggenheim for her quirk, and I definitely bring a lot of that quirk into a lot of what I do. I also really love the way Jonathan Adler plays with color."
What's your current Instagram obsession?
"There are so many people I look at: Dabito is a constant source of inspiration, for me and I pretty much just hired him from his Instagram to photograph my book. I love Whitney Leigh Morris and what she's able to do with her tiny cottage. I also love Kim Genevieve. She's local with a great eye, and she has a love of plants and flowers like I do. And I absolutely love Lani Trock. There's something really feminine and romantic about her space that makes me feel relaxed. She has that presence when you meet her in person too: calming and whimsically sexy."
How did you come to have such an amazing pillows and textiles collection?
"I had a pretty mean collection to begin with from flea markets and trips I had taken over the years. But I doubled my collection after I photographed Marika Wagle in my book. She has this incredible collection of kilim pillows, and I was just obsessed with everything she had. A few months after the shoot, she emails me and tells me she opened an online store and that if I wanted anything I should let her know. I bought every single pillow! I had to hide them from my husband, who was done with me bringing so much stuff into our house, so I kept the box hidden under the stairwell until I got this studio space!"
I like to bring in items that stimulate senses other than just sight—things that you touch, things that you smell, things that you hear.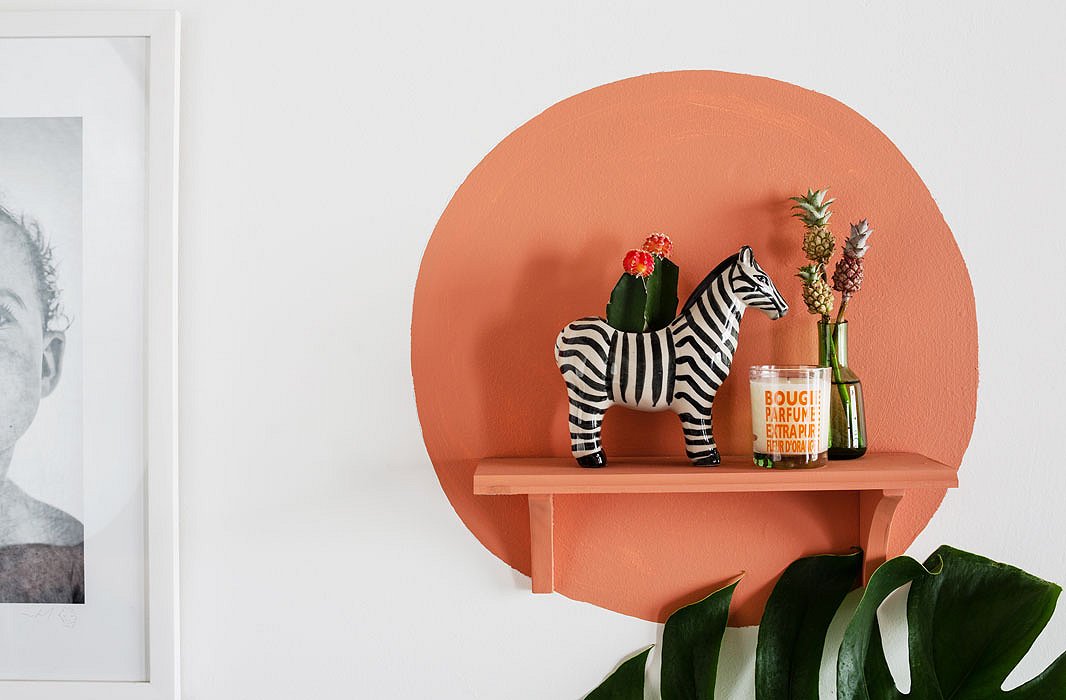 Tell us about your signature painted shelf display.
"I have so many different tchotchkes. I have so many different things that are oftentimes in cabinets or out of sight, and they make me happy when I look at them. And that's really what the spot is for—to bring out a moment of humor and happiness and highlight the things that I'm in love with at the moment. Because of my jungalow vibe I like to mix handmade objects, vintage items, and vessels for plants and flowers."
Do you have a favorite piece in your studio?
"That changes a lot. I pick and choose favorites all the time. Right now I'm really happy with my peacock mirror. It's something that I've wanted for so long. I have two ceramic vases from the Italian ceramicist Gambone. He's such an amazing man and such a visionary. When I look at those pieces it really excites me."
What do you do when you hit a creative roadblock?
"I try to get out and go on a hike or to one of the museums around. But I often find that even just going for a walk around my neighborhood can get me out of a creative black hole. I can be inspired by something as simple as an amazing collection of plants that are just overlapping each other. Instagram has also been an amazing tool for me just for getting out of creative roadblocks. Not only can I keep my eyes open for something unusual that I feel is inspiring, but I can also take a picture, edit it, post it, and share it with the world and get immediate feedback on it. That's just been a really great tool for me creatively."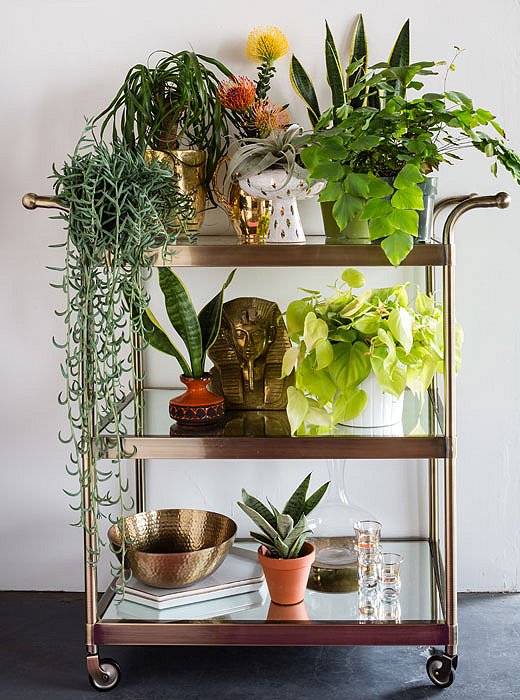 Any favorite local haunts?
"I love going to Lawson-Fenning, and right next door is the coffee shop Lamill, so I hang out on that little street a lot in Silver Lake. There's a renaissance happening on Echo Park Avenue. There's a really fun cactus store that recently popped up called Hot Cactus L.A. Also on that block is a clothing and home-accessories boutique I love that I helped put together called Tavin. It's super-boho with a fun collection of stuff. I also love Echo Park Lake. They have a little café there now, and I often go get coffee, sit on the lake, and just space out."
You have such a unique take on plants and flowers. What's your philosophy on decorating with them?
"Think of plants as sculptures. And contrast the harsh with the soft—here, for example, I have the mother-in-law's tongue in the back with the spears that stick straight up, and then I added a fluffy, very loose plant in front along with the fishhook succulent that spills over. I love that overgrown lush wild feel. I'll also use vintage or unexpected vessels to contrast the greens and make it more lively and fun."
What's your favorite spring flower?
"I love so many kinds of flowers, so it's hard to pick just one, but I do love ranunculus. I'd pair them with something a little more loose and wild, like jasmine. I also like to pair different colors of ranunculus together because their colors—those deep reds, the oranges, the yellows—are so vibrant. Combining all of them together with a really loose jasmine would just be amazing."
Do you have a favorite piece in your studio?
"I have to say ever since I painted that hutch pink I've been a little obsessed with it. It's just one of those things that I never would've really done at my home, because my husband probably wouldn't have been into a pink hutch in the dining room. But it makes me really happy when I look at it."
You're so good with color—what shades are you loving for spring?
"Right now I'm just really gravitating toward the way coral looks with aqua. Big time. I think one way to think about it is a terracotta planter with a sage green inside—that's the color combo I'm talking about. It's a very earthy palette, but at the same time there's something very bright and intoxicating about the combo. It's like they're meant for each other."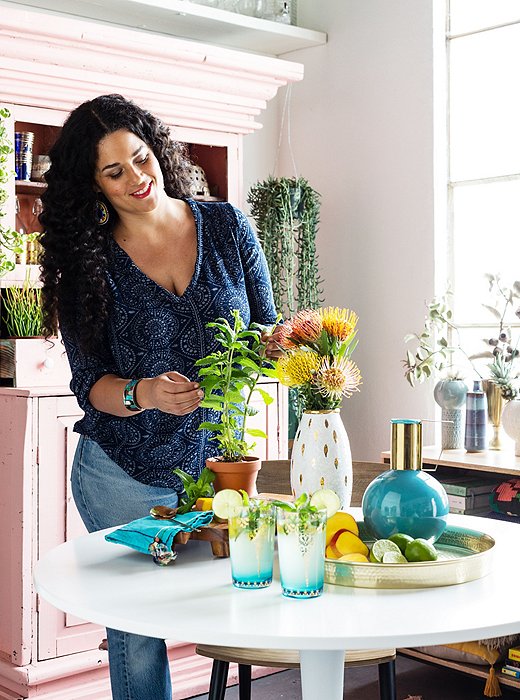 What has it been like starting your own business?
"It felt very natural for me in the sense that I've always had an entrepreneurial spark, like the lemonade-stand girl. I never really felt totally comfortable working for others. I think that while sometimes it's scary financially working for myself, it was never really an option for me to do anything else. I'm the 'follow your own heart' kind of person, and I've been doing that for a long time."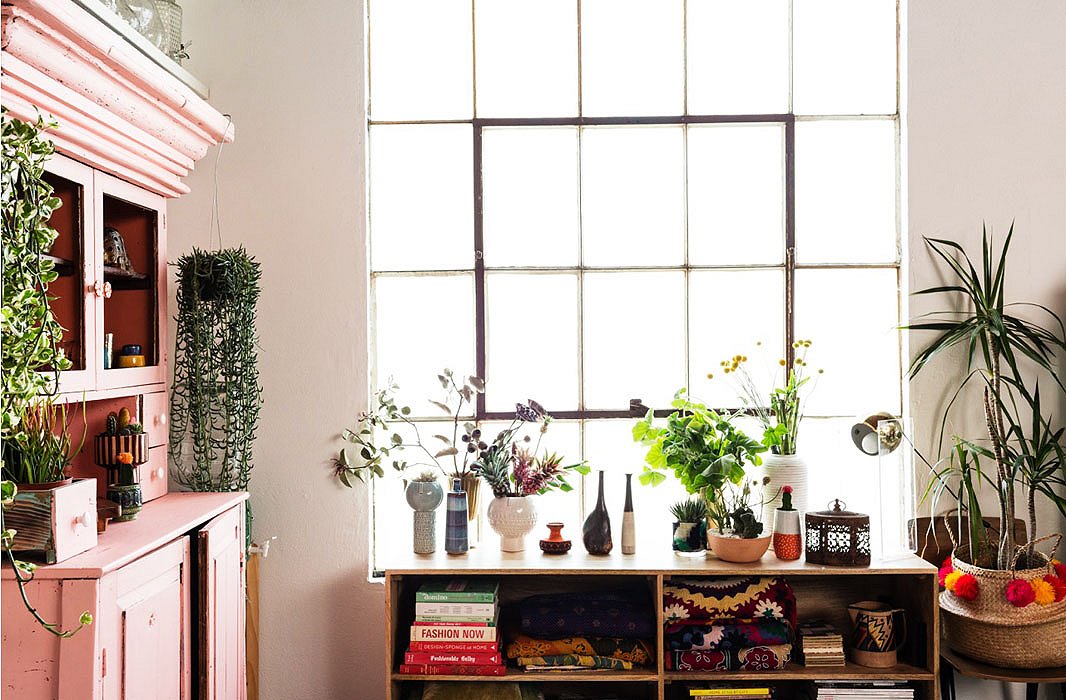 Being a working mom, how do you find a work-life balance?
"That's something I struggle with on a daily basis. I don't work on the weekends, just to spend time with my family. My husband is a stay-at-home dad, so often they'll come visit me here at the studio, and sometimes we'll go on midweek adventures. And we also do bath time and bedtime together every night, so that's really special. I also manage to fit in a visit to the spa about twice a month. And I even bring my daughter, since they allow kids there!"
Do you also set aside time for the hubby?
"We're actually so lucky because both of our families are here in Los Angeles, so it's been really great. My daughter spends a lot of time with her grandparents, so when she's there, Jason and I will sneak in a date night. We go to a nearby café or restaurant, or make dinner and have a glass of wine on our patio, or have movie nights."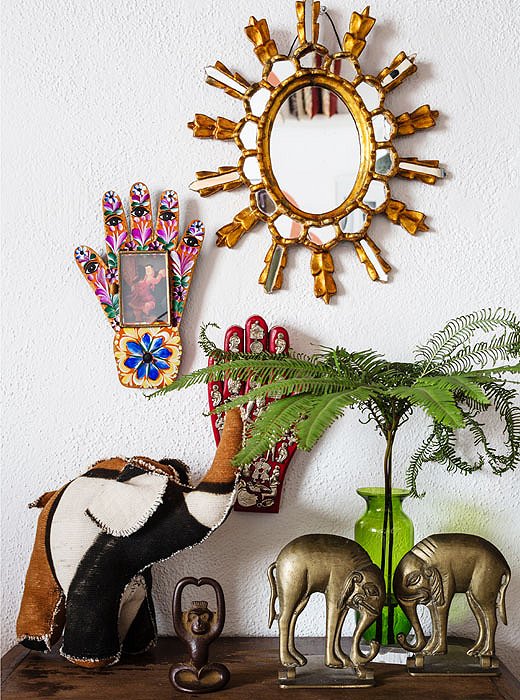 Are you working on any exciting projects right now?
"I'm designing a line called Justina Blakeney Home, which is the next step in my business that I've always been wanting to do. I'm also doing a lot of illustration work—I just did a piece for The Washington Post magazine. A lot of the work I do with plants and flowers has really been resonating, and I've been getting a lot of commissions for my illustrations from newspapers and magazines. I have a project called Face the Foliage where I make face portraits out of leaves and flowers, and I'm working on a book that encompasses that as well. So I have a lot of fun creative projects brewing that don't come out for a while. That's kind of the nature of the beast."
What are you looking forward to this spring?
"I'm really looking forward to my book coming out. It's a huge project culmination for me. I've been working on it for two years. So I'm just so excited to share it with the world and have people hopefully be inspired by it. I'm so into instant gratification—blogging every day, Instagram, and all that—but this was such an epic project, and I can't wait to see how people are going to feel about my book and use it. Aside from that I think it's just really nice to be in spring mode, being outdoors more, and being inspired by what's around."
If I look at something and it's something I love, it doesn't matter if it's old or new. It's just about a certain magnetism that a lot of items have—a sense of soul and a sense of beauty.