It's no secret we have a major design crush on star stylist and blogger extraordinaire Justina Blakeney and her lush boho style, which is nowhere better showcased than in her L.A. studio and eclectic bungalow home. So we couldn't be more excited that her first home-design book, The New Bohemians, rounds up the best boho-chic homes from all over.
A colorful and endlessly inspiring cover-to-cover read, the book dives into Justina's vision of the 21st-century bohemian. From the dreamy homes of 20 stylesetters across the country (including Justina's own L.A. "jungalow") to easy DIY projects, The New Bohemians is our new favorite coffee table book for home inspiration. Below, six stylish spaces with a uniquely boho take straight from the book, plus our Q&A with Justina about how it all came together.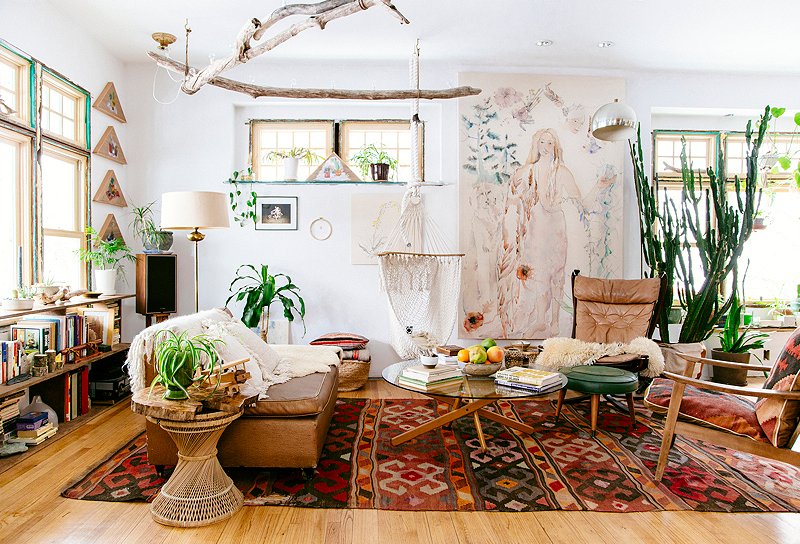 Tell us what inspired you to create The New Bohemians?
"Today people are using their homes in different ways—they're really more a hub for creative endeavors, not just a place to eat and sleep anymore. And there's a certain creativity that's being manifested in the way people are decorating now. They're bringing things home from different places around the world and mixing cultures in ways that are really novel, unique, eclectic, and specific to this time. That's where the idea was born for the book."
What's most exciting about the book for you?
"The bohemian vibe is very enigmatic and doesn't come naturally. The look is so layered and rich, it can be paralyzing if you just look at a picture. It was really important to me that the book wasn't just all about inspiration and beautiful photos, but there had to be an aspect of accessibility. At the end of each home tour there's a section called 'Adopt an Idea,' where I take some of my favorite aspects of the home and tell readers how they can achieve it in their own home, whether it's a styling tip or a secret source."
There's a certain creativity that's being manifested in the way people are decorating now. They're bringing things home from different places around the world, mixing cultures in ways that are really novel, unique, eclectic, and specific to this time.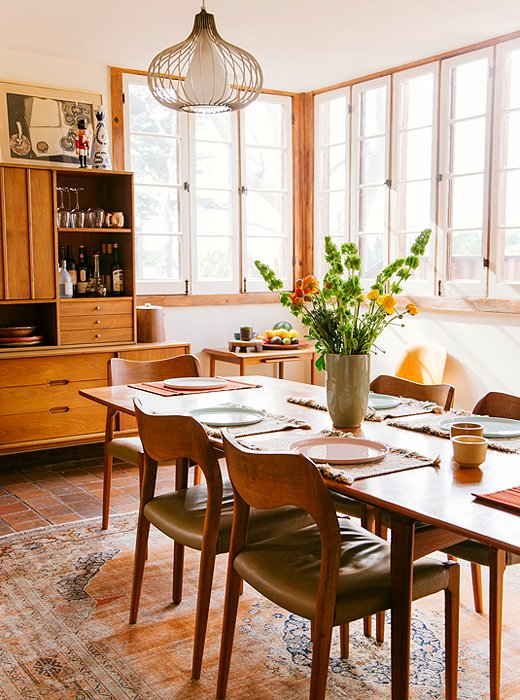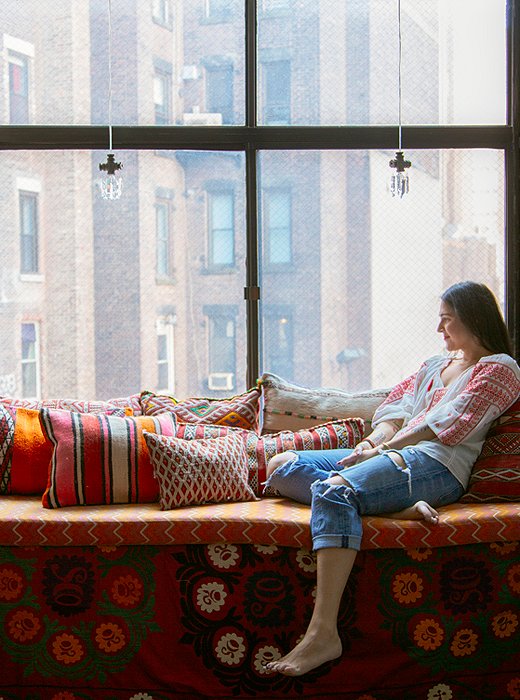 How did you find all the homes that are featured?
"I started out with six or seven homes I knew I wanted in the book. Then I did a callout on my blog and Instagram and received hundreds of submissions. I ended up picking two of the homes from submissions that were sent in. The other homes me and my team found scouring Instagram mostly.
"We looked at hashtags, and we went on crazy Instagram mazes looking through people's feeds to see if they had pictures of their homes if we knew they had a cool boutique in Portland or something. If it was fit we sent them an email. That's how we found all 20 of the homes."
How many cities do the homes span?
"We shot in Los Angeles, Berkeley, Joshua Tree, Portland, Las Cruces in New Mexico, Dallas, New York City, and Brooklyn."
Was there any home that particularly blew you away?
"Every single home had something really special. But if I had to give specifics, it's the rainbow house featured in the 'Maximal Bohemian' chapter; it's Louise Ingalls Sturges and Tyler Hammond Brodie's place. It was one of the most inspiring places, let alone homes, I've ever been. It's like a playground for adults. It's so cluttered and so maximal, but it's so beautiful, and everything is organized in the spectrum of the rainbow. Even though it's so busy and so crowded, it's like living in a prism."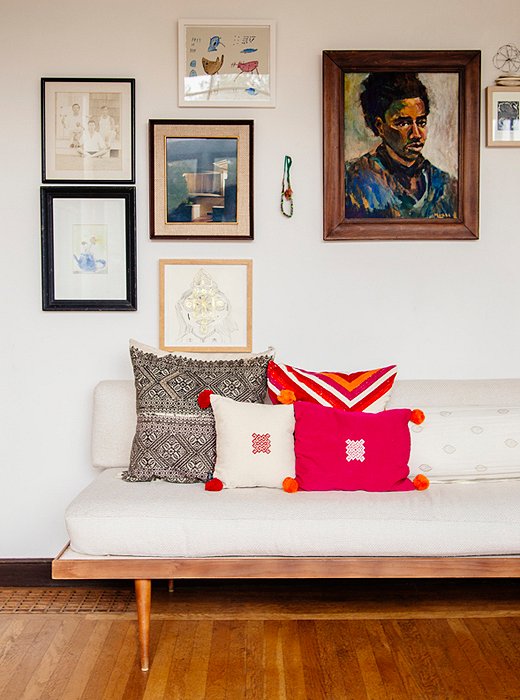 How did you come up with your DIY projects?
"It was interesting because I was having to make these projects as I was shooting the homes. Mostly it would be a lightbulb moment when I was at a house—I'd have an idea inspired by something there. I'm not the most handy person in the world, so I wanted the projects in the book to be something that someone with my level and skill could create without needing help from their superhandy cousin."
What was your most memorable moment while making the book?
"This was a real journey. It took us two-and-a-half years, and I think the high point was definitely in the collaboration with my photographer, Dabito. We're really good friends, and we became even closer traveling around the country to style and photograph these homes and meet the homeowners. I loved every minute of going into these people's homes, having lunch with them, and learning from them."
Any low points?
"We had a lot of funny misadventures. We shot this one house, and two days later we realized we had accidentally deleted all the shots when we'd shot another house the following day. So we lost the entire house and had to go back and shoot it all over again. Luckily it belonged to a friend of mine. The second time we shot it, though, my friend's sister, who's an artist, happened to be there and said we could shoot her house too if we wanted to. We weren't anticipating it but ended up shooting her sister's house too. So out of that mistake we got a whole extra chapter."
I joked with my editor throughout the process that I want this to be a bohemian bible.
Looking back, is there anything you would have done differently?
"I would've liked to have gone to more places geographically. I tried to get a really diverse group of people featured in the book, but I think one thing I would like to do for a next book would be to have a richer demographic—people in other parts of the country, different ages, and just a wider group of people who represent this bohemian style."
What are you hoping people will get out The New Bohemians?
"My dream is for this to be a handbook that people go back to again and again to adopt the ideas and do the projects. It was about making all the collected homes more accessible to someone who likes the style but doesn't necessarily know where to start and create the look in their home. I joked with my editor throughout the process that I want this to be a bohemian bible."