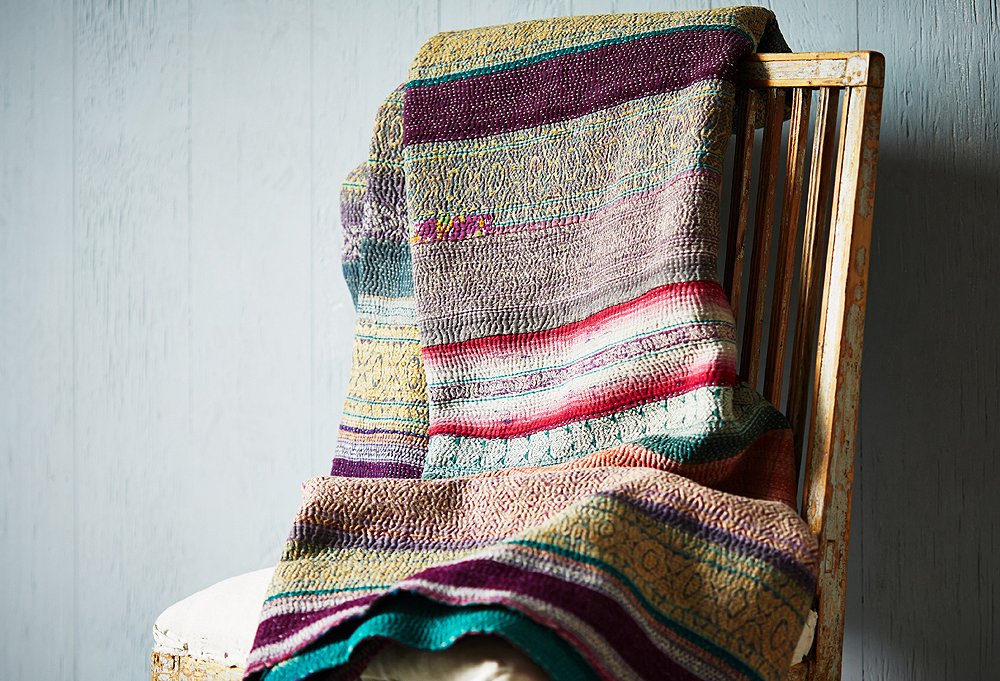 Why we love them: Bright, happy colors! Wildly intricate hand-stitching! An exotic place of origin! What's not to love? One of these South Asian blankets will add just the right amount of oomph your home needs in the sunshiny months ahead.
Where they're from: Kanthas originate in Bangladesh and the eastern states of India, where women stitch together layer upon layer of old saris and tossed-aside cloth scraps to create thin throws used as blankets and cushions.
How you say it: KAHN-taa
Where you've seen them: Some of our favorite boho blogger babes such as Justina Blakeney have amassed an enviable collection of kanthas, which show up laid, draped, and folded in effortlessly cool ways around their equally enviable homes. Scroll down for an easy-to-replicate DIY project Justina dreamt up using one.
Fun fact: Kanthas sport different patterns on each side, and who doesn't love a good two-for-one deal?
Naturally, as quilts, they're overnight sensations. But blanketing your bed is not all they can do. Below are four more reasons you should covet a kantha.
They Drape Beautifully Across Sofas. 
Laying a kantha over the arm of your couch or love seat adds temporary color and pattern to your living room and ensures that you have a light cover at the ready when popcorn and a movie come calling. Take it a step further by actually tucking a quilt around your seat's cushions to give it an instant update without all-new upholstery.
They Make Top-Shelf Tablecloths.
Prettily patterned and thin enough that they won't make drink glasses wobble, kanthas are like the cornerstones in the building blocks of a festive table setting. Spread one across your entire table, or fold it in thirds as a runner under big platters of food you'll pass family-style. And it (almost) goes without saying that they make vibrant picnic blankets for alfresco gatherings.
They're Perfect as Pillow Covers.
With their poppy prints and bright colorways, kanthas were made to cover throw pillows. You can buy pillows already clad in kantha fabric, or take a quilt to your local seamstress and have it sewn into pillows. Toss a few on the floor with an oversize cushion and—voilà!—a kid-level lounge pad fit for a laid-back adult.
They Dress Up Accent Pieces.
Some ottomans and benches come already upholstered in kantha fabric. But if you're the hands-on type who loves nothing more than a crafternoon, do what one of our favorite bloggers, stylist Justina Blakeney, did and stitch up a slipcover of your own, an especially nice touch alongside a creamy white couch. Check our her blog for the full how-to.
I love pairing kanthas with midcentury pieces to warm up the clean lines, layering them on beds to create rich pattern, and leaving a pretty folded pile in the living room so that we can pull them out when we're lounging on the couch.