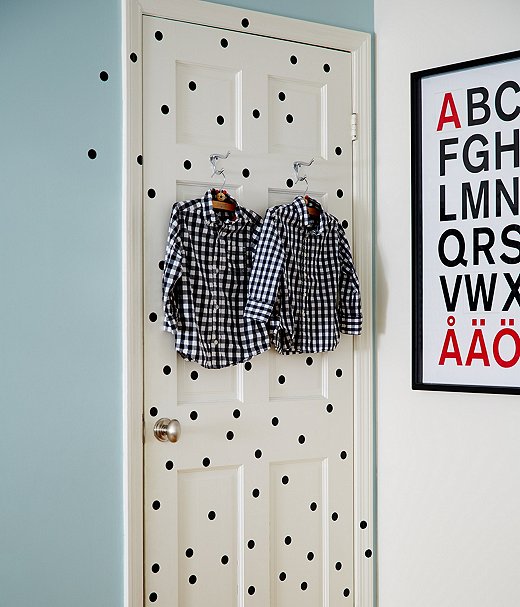 A while back I was at the home of former OKL-er Elana Frankel doing a painted stairs project (you can check it out here), and between coats of paint, we gave the bedroom door of her two sons a little upgrade. Although you can use precut stickers for this project, I wanted to be sure mine were 100% removable, so I opted to make my own. Besides, it's fun to be able to control the color and shape you use.
Here's What You'll Need:
• Removable sticker paper
• 1-inch hole punch
First, settle in somewhere comfy to punch holes. To give a standard-size door a decent covering you'll need close to 100 circles, but it goes surprisingly fast. You can add them just to the door, but I wanted it to look as if I threw them at the door, so I placed a few outside the door frame as well and varied the space between them. Voilà! I love how graphic (and strangely sophisticated) the black dots look against the white door.
Tip: If you want to push the envelope here, you can break out a pencil and a tape measure and get creative with any number of colors and patterns.
I'd love to see what you're making! Share your weekend projects on Instagram using #WeekendDecorator or follow me @mepflug to see more projects.