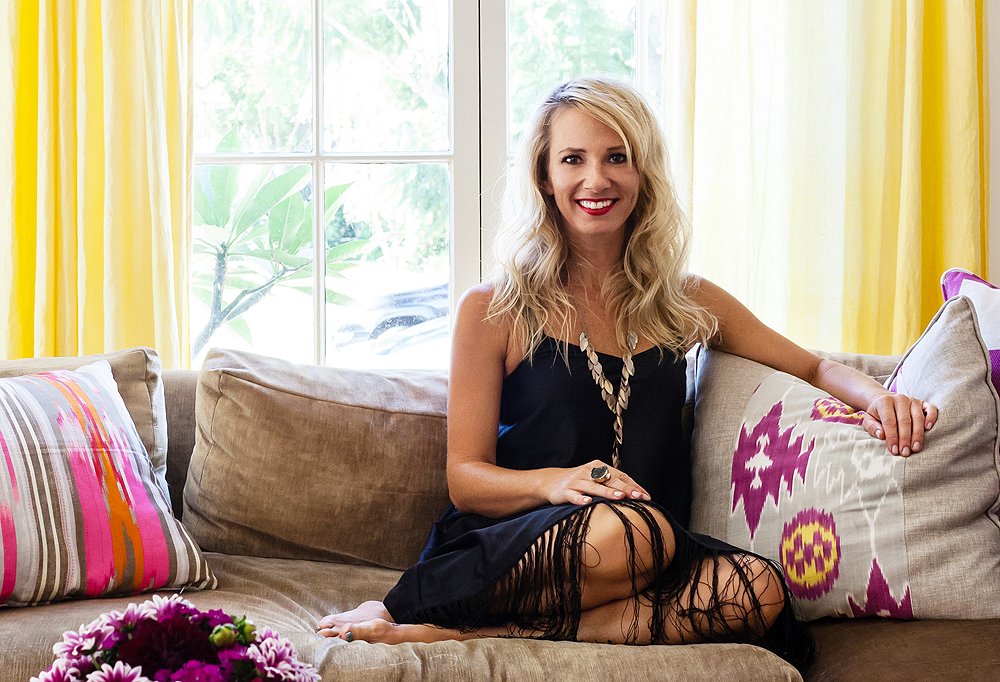 Kim Salmela has been designing, in one form or another, for her entire professional life, from being a creative director for Prince (yes, he of Purple Rain and unpronounceable symbol) to owning decor shops in her native Minneapolis, to starting her eponymous upholstered-furniture line, all while taking on interior-design clients when time permitted.
Her design sense has shifted and streamlined over time, but she has always ("and will always!" she says) possess an unabashed love of color and print. Her fearless and fun approach to mixing, matching, and seeking out pieces with soul is, unsurprisingly, showcased nowhere better than in her own home. The 1920s cottage, itself a mash-up of Craftsman-style built-ins, a midcentury fireplace, and French lead-pained windows, appealed to her for its bright, beautiful light and party-ready backyard. During the four years she's lived there, she's filled it with eclectic pieces pulled together in an effortlessly joyful way. "Life is short. Honestly. You should just walk into your home and be happy. There are no rules. That's the rule."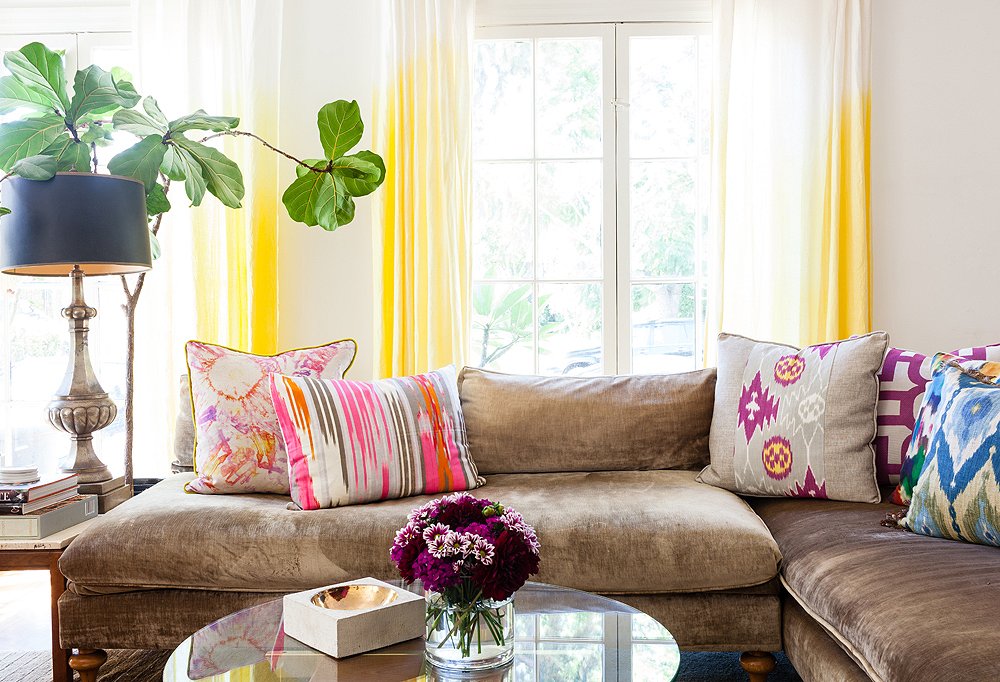 The Living Room
"When I'm designing," says Kim, "I ask people, 'What's the mood you want to feel when you enter this room?' For me, I wanted my living room to be uplifting. I wanted to smile when I walked in." She achieved this mood-boosting vibe with white linen curtains she dyed ombré yellow to "give the room a glow," a mix of pillows in collected vintage fabrics so bright they shout rather than whisper, and an oh-so comfy sofa she had custom-made. "Sometimes I work backward," says Kim. "I designed that sofa for this space, then ended up putting the same design in my furniture line because it was just so comfy and useful." All these elements resulted in her favorite room in the house. "I frequently eat dinner at the coffee table, curl up on the sofa to watch movies, and too-often work there at night too."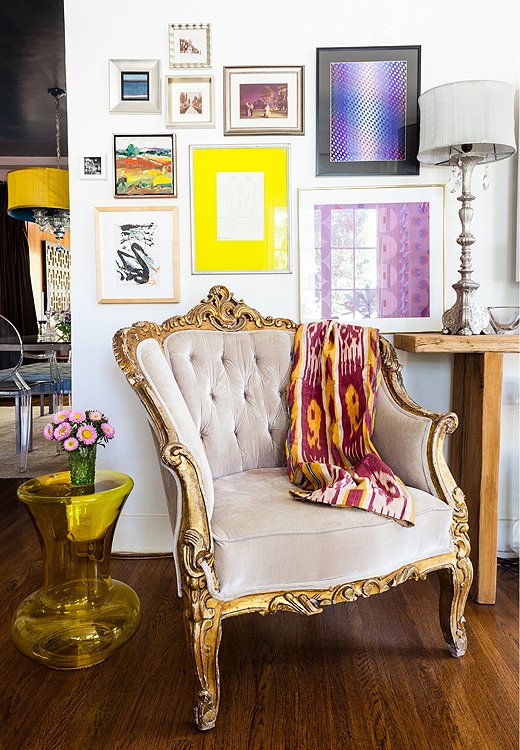 Good design withstands time regardless of color or pattern.
The Dining Room
Smack in the middle of the house, the dining room came with two design challenges: It's a highly trafficked pass-through to other parts of the home, and it gets very little light. Kim tackled these shortcomings by opting for benches that can be tucked under the table and sticking with mainly glass and Lucite furnishings. "They almost make up for the lack of light," she says. The exception? A "big, monstrous" Asian-style armoire she uses to stash her eclectic tableware collection, which includes everything from Moroccan tea glasses to Limoges china.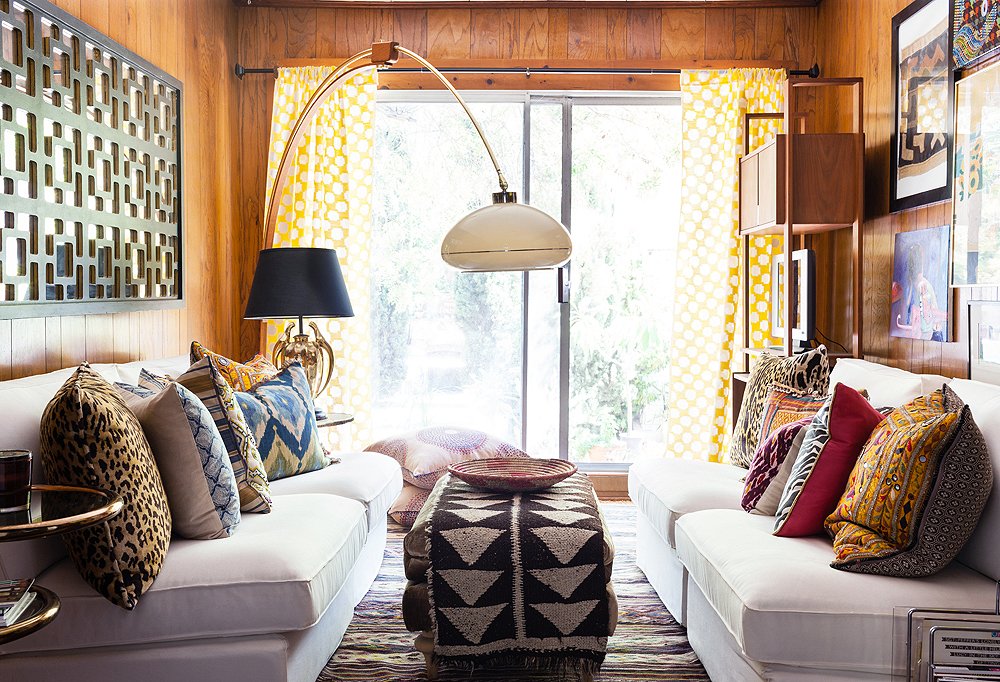 The Den
"When you're trying to land on a seating arrangement, you need to consider the function of the room," says Kim. "Lounging? Entertaining? Having intimate conversations?" She wanted the pint-size room off her kitchen to function as a kick-back lounge pad, so she kept the retro-cool wood paneling ("I loved the cheesiness!"), added in a chunky sisal carpet, and found her seating solution in twin sofas from Ikea. "They're the perfect example of how I decorate," says Kim. "A mix of high and low." An arc lamp creates added intimacy without blocking sight lines.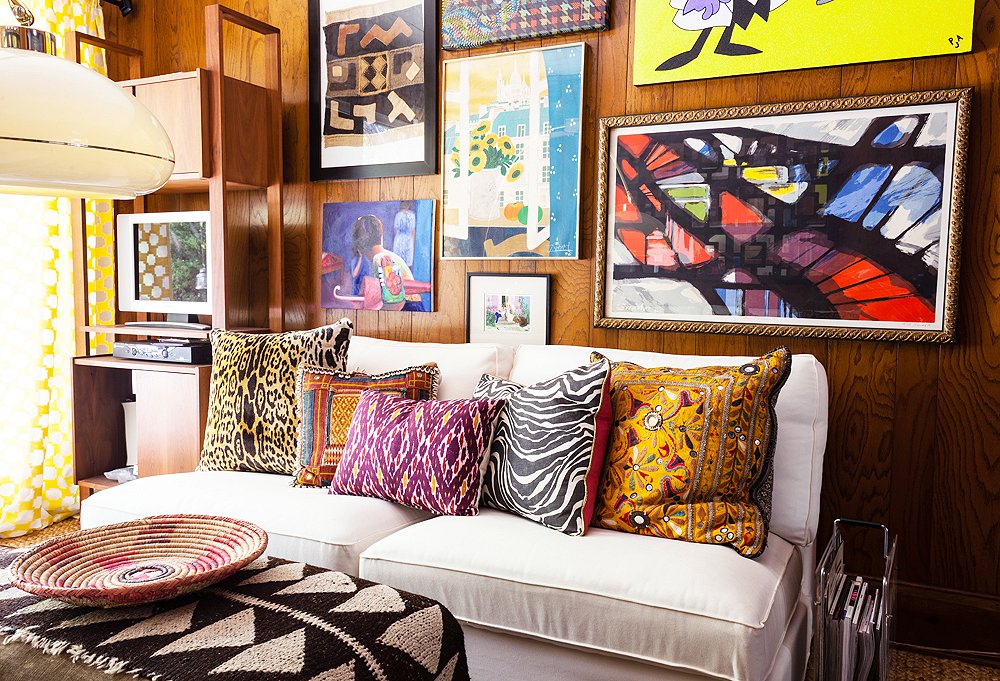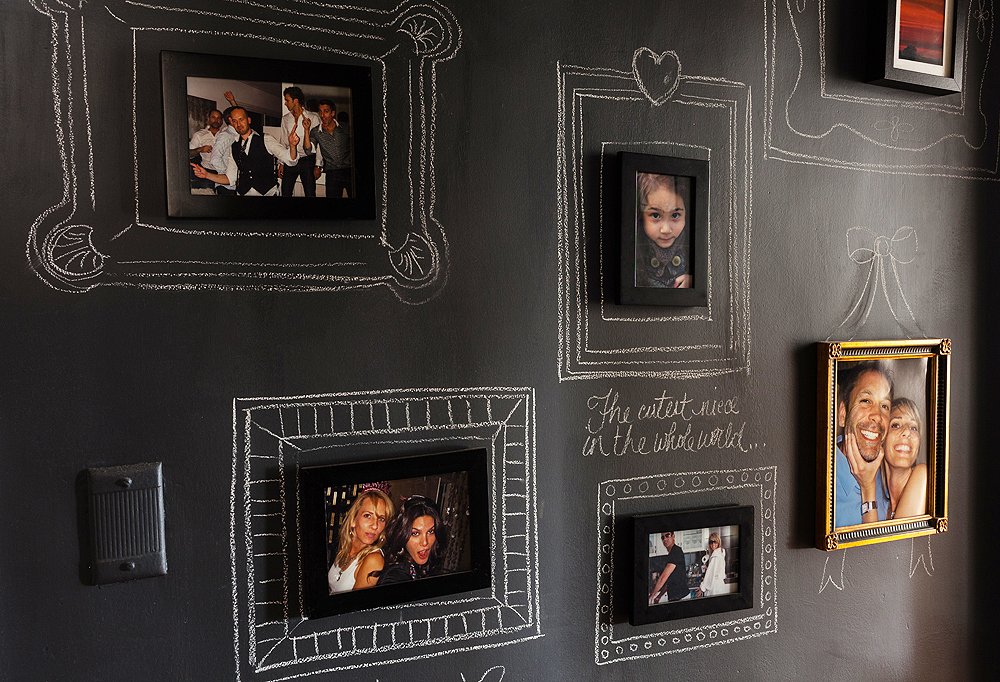 The Hallway 
The day after losing her computer on a plane (and not having her photos backed up), Kim woke up, dug through her closets and drawers, and found about a dozen prints. "If that was all I had left, I wanted to make it a true statement," she says, so she painted her hallway with chalkboard paint and drew on elaborate chalk frames. A container of chalk nailed to the wall lets visiting friends play Picasso when the mood strikes.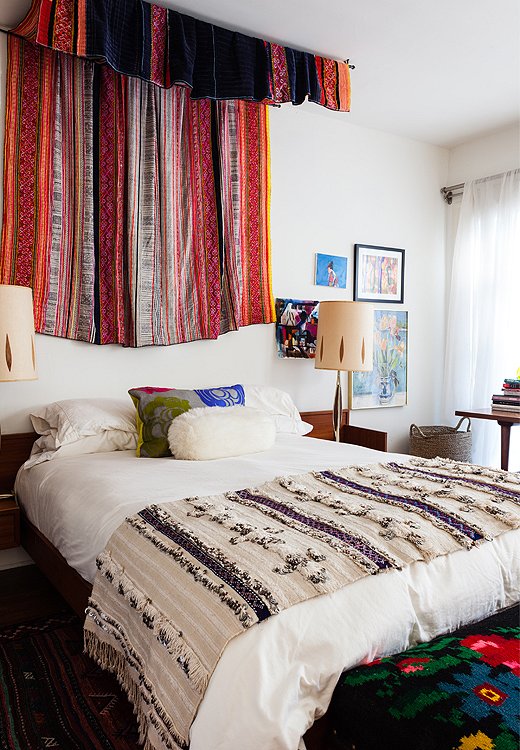 The Master Bedroom 
In earthquake-prone Los Angeles, hanging art above your bed is a risky idea. To keep herself from being smacked on the head with falling pictures and to balance out her low-profile platform bed, Kim instead opted to create a "canopy" by hanging from the ceiling with two curtain rods a textile she brought back from Thailand. "It frames the bed and instantly creates this huge presence," she says. A Moroccan wedding blanket adds another layer of texture without introducing another color to the vibrant bedroom. "You always need those quiet moments," she says.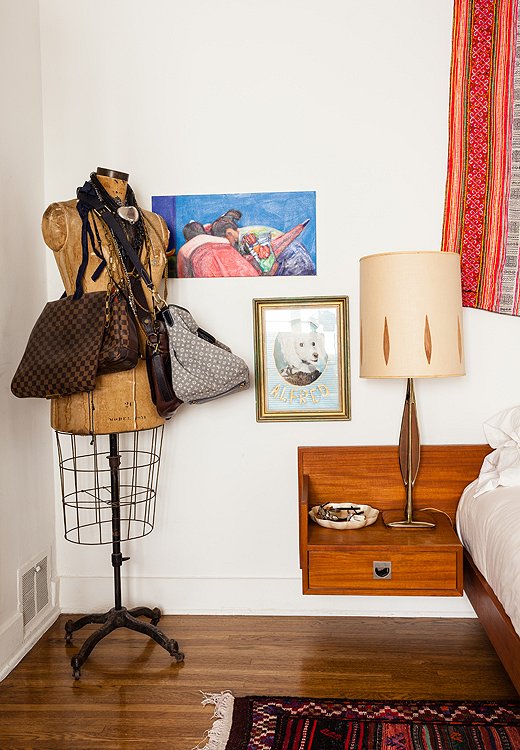 Masculine next to feminine. Inexpensive next to expensive. Contrast creates the best design and highlights the beauty of each piece. If everything is all one style, you look around the room and nothing stands out.
The Guest Bedroom 
"I decided to go in a different direction with this bedroom, since it's such a small space," says Kim. "Really, I treated it like most people treat a powder room." She opted for masculine, traditional colors, which stand out in cool relief from the rest of her light-filled home. Thanks to its sloped shape, the couch (designed by Kim and sold in her line) can double as a daybed—versatility that's key in a small space. Paintings in bold primary colors break up the linear wallpaper and finish the look.
The Patio
A consummate hostess, Kim entertains frequently. Whether a casual catching-up-with-friends night or a proper dinner party, "we almost always end up outside," she says. "Six of us will be wrapped in blankets and squished up on the daybed." She's covered that daybed in a suzani, one of her favorite ways to switch up the look of her seating without reupholstering, and topped it with a pile of pillows so that it feels like a continuation of her home.