In a quiet room in the dreamy 1926 cream-brick Wisconsin farmhouse she shares with her husband and baby son, Kristen Leigh Baker creates striking wall hangings from feathers artfully hung from driftwood with suede twine. They are modern, boho, textural, and coveted by every last person on our staff, so we were thrilled to get a closer look at her process, dig into her inspiration, and learn that when it comes to a love of feathers, we're, well, birds of a feather. "I've always been enamored with feathers," says Kristen. "Not only are they stunning, but they're resilient. They're light and delicate but strong enough to weather a storm."
Check out her inspiring studio and snap up one of her gorgeous pieces below.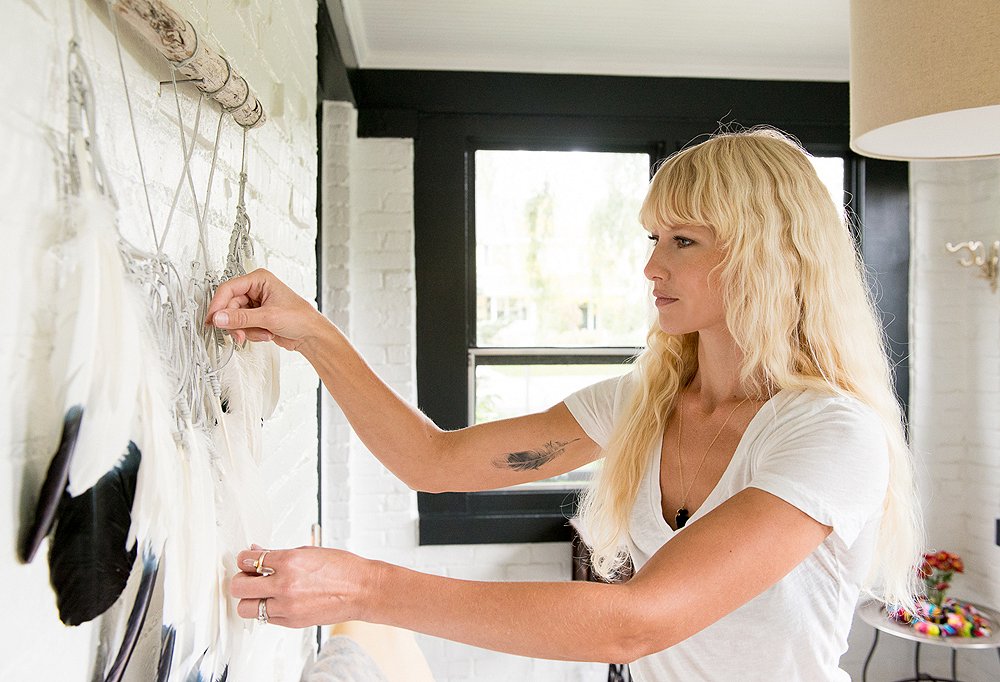 Tell us about your background!
"I've been a makeup artist and hairstylist for 14 years. I moved around the country for about 10 years working in L.A., Miami, and New York, and then—never say never!—ended up back in my home state of Wisconsin."
Have you always been a creative, artistic person?
"Yes! Ever since I was little. I would sit in front of toys or tchotchkes and draw them. And I was always the one to move the furniture around in our house growing up. I would put my little legs up on the wall and push the sofa with all my strength."
When did you start creating your wall hangings?
"Last year, we had a miracle happen to us—and I don't use that term lightly! We adopted a beautiful baby boy we named Weston. I took the past year off to be with him, which turned into an extremely creative time for me, and that's when I started making them."
Of all the materials in the world, how did you decide to work with feathers?
"I've always felt a connection to feathers and their spiritual meaning. I even have a feather tattoo! I don't consider them a trend because they're of nature, and are therefore timeless."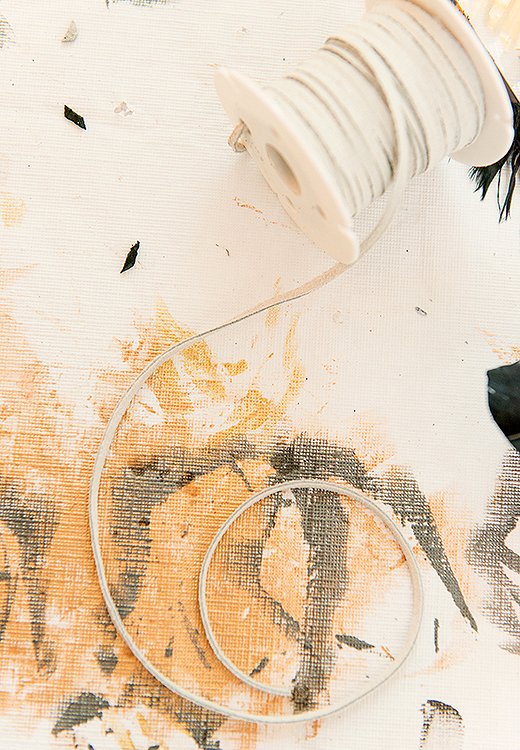 How did you land on doing wall hangings?
"I wanted to dream up a modern approach to them—something other than a dream catcher. My wall hangings are an interesting alternative to framed artwork and add a textural element to a room. They can stand alone or be grouped together on a wall."
How do you balance doing hair and makeup with crafting your wall hangings?
"I'm loving making them so much that I've backed off on hair and makeup. I book about two weeks a month of that and spend the rest of the time with my feathers."
How would you describe your personal style?
"A little bohemian. A little rock and roll. A little edgy."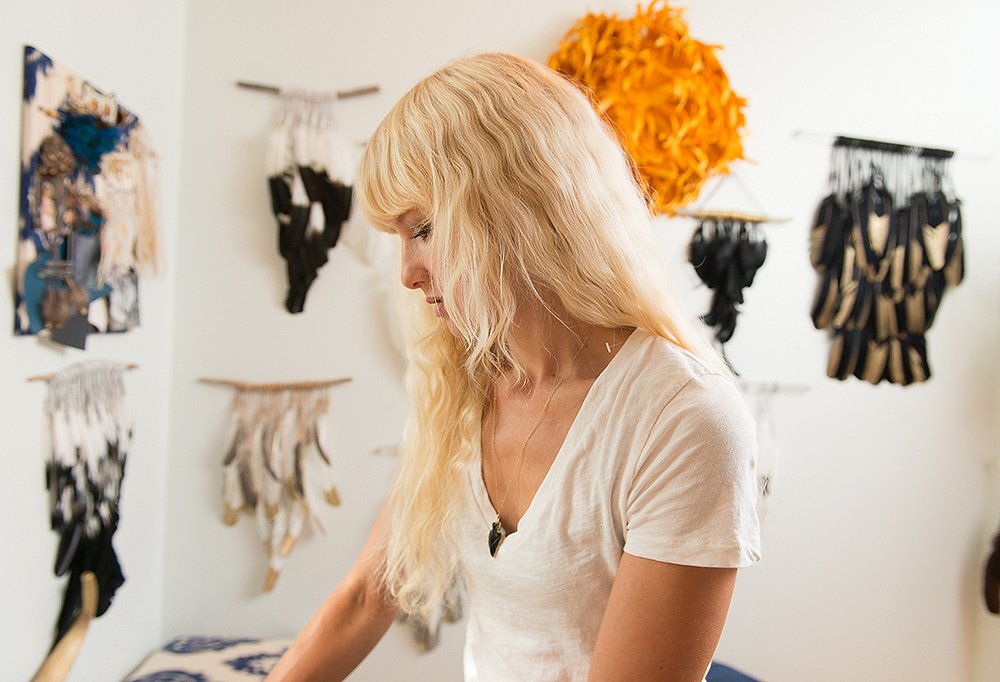 Your studio is in your home—how do you make it work?
"My studio is basically just the one room in the house that was available! It was my office. It's small, quaint, but just enough for me right now."
What's your favorite thing in your studio?
"The window, which overlooks our side yard with giant willows and magnolia trees. It's so serene, and it sets the mood for a peaceful state of mind. When it's calm, I'll work with the window open, but otherwise it has to be closed or my feathers get blown all over the place."
How have you decorated your studio?
"I keep a few things in there that mean a lot to me. I have vintage photos of my parents and of me and my sister when we were little. I've got a goofy statue of a dog with a bobble head—it's just a toy that makes me smile. And some artwork that I've done and some from friends."
Do you listen to music while working?
"Sometimes I like it quiet. But other times I like something mellow like Radiohead. I have a little Jambox that I love."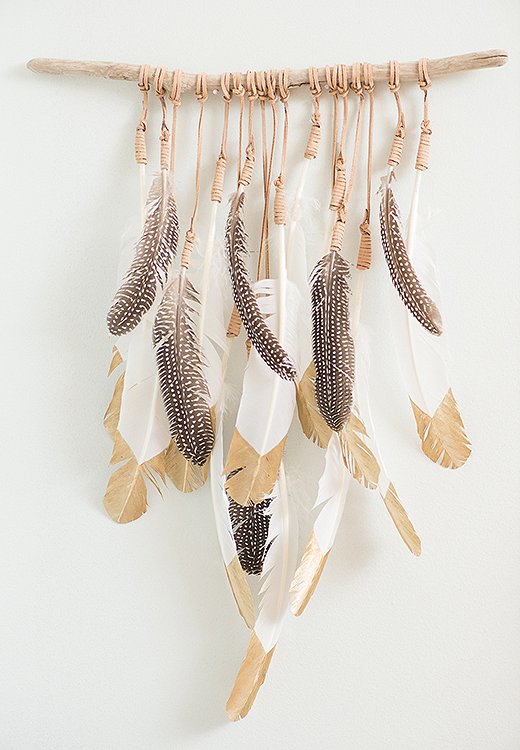 What kinds of feathers do you use?
"Turkey, New Guinea hen, duck, peacock, Indian roller. They're all sustainably sourced byproducts or naturally molted."
Before you started doing your wall hangings, did you collect feathers?
"Yes! If I go horseback riding and I see a feather, it's like a treasure to me. I've had people bring me feathers too because they know I love them. They're all over my house in decorative bowls and under glass domes."
Are you more of an early bird or a night owl?
"Naturally I'm a night person, but the baby forces me to be a morning person!"
When do you feel the most creative?
"Lying in bed at night when I can quiet my mind and just let it wander. I keep a little sketchbook on my nightstand to capture design ideas that I think up then."
Why do you love working with your hands?
"That feeling of creating something. Manipulating it. Sculpting it. Turning something into something really and materializing it. And feeling the feather. And working with a soft, supple suede. All the different textures. It feels grouding too.
What kinds of decor do you think your pieces pair well with?
"I'm dying to see them hung on beautiful wallpaper. Something drippy and custom-feeling like Calico or Eskayel."
Is there anyone you'd love to have one of your wall hangings?
"When I made the black-and-gold-painted piece that's hung on Lucite. I thought of Kelly Wearstler or Jonathan Adler. They both have that amazingly edgy style."