When you buy a home just steps from the Pacific Ocean, so close that the waves serve as a lullaby, you want to be sure that the rooms make the most of the views. But the owners of this particular home in La Jolla, CA, also wanted it to be a haven where they could relax with their kids and grandkids.
"Everything needed to be pretty durable," says designer Chris Barrett, who with Drexel Patterson of Island Architects transformed the three-story home over a two-year period. "They have many, many, many grandchildren."
The proximity to the ocean was another reason durability was a priority. "You want to make sure that anything that's going to be near the ocean air can handle it," Chris says. "Even inside, the sun is really brutal. We used a lot of performance fabrics, and not just for the grandkids."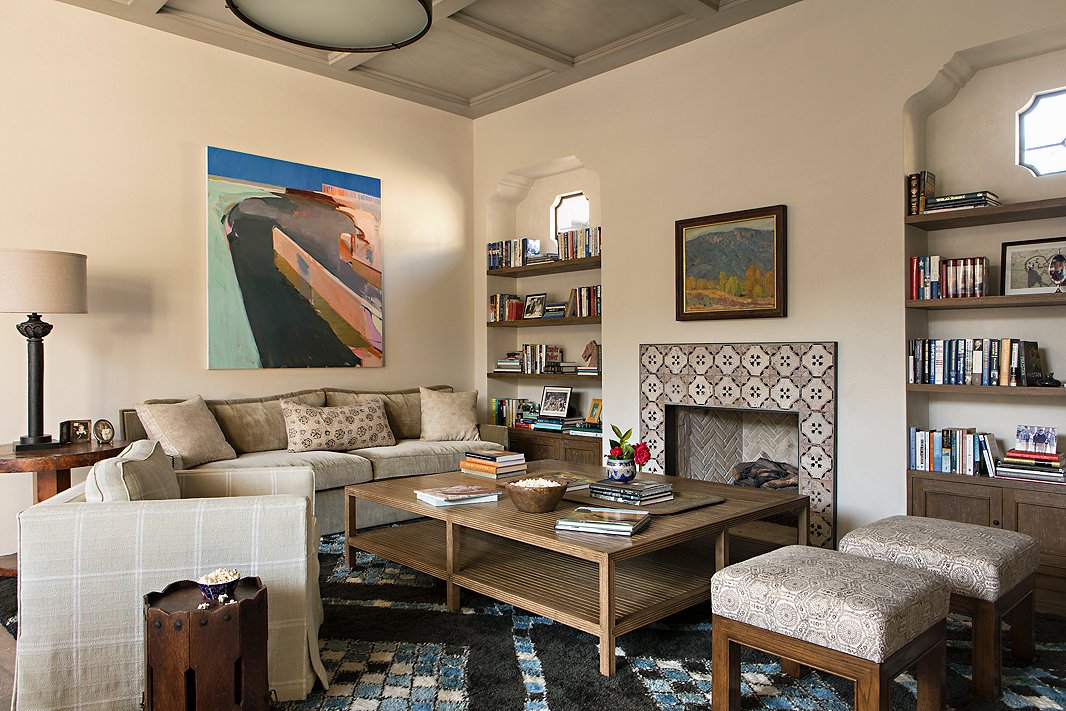 Even as the homeowners "wanted it to be easy, casual, accessible, they also wanted it to have an air of sophistication," Chris says. To achieve that, Chris and team made sure the home retained a Spanish Colonial feel in keeping with the area's history. "We didn't want the house to look new," she says—hence the antique front door, the vintage ceiling beams, the oak floors. But they didn't want the home to look dark and heavy either, as can be the case with Spanish Colonial, so to complement the plethora of windows overlooking the ocean and the courtyard, Chris opted for white walls and light neutral furnishings. 
Blue, a favorite color of the homeowners, accentuates the neutral tones in just about every room, not only tying the spaces together but also making the home appear to be an extension of the surrounding sea and sky. The mohair rug in the family room, for instance, has blue squares that pick up similar tones in the artwork; the blue stripes of the sofa upholstery in the open living room echo the blue of the spatterware and tiles in the adjacent kitchen.
Those tiles are among the Moorish touches throughout the home. Others include an occasional table in the main bedroom, the floor tiles in that bedroom's en-suite bathroom, and antique majolica tiles in the bathroom by the pool. Given the influence of Moorish design on Spanish Colonial, "it just seemed appropriate," Chris says.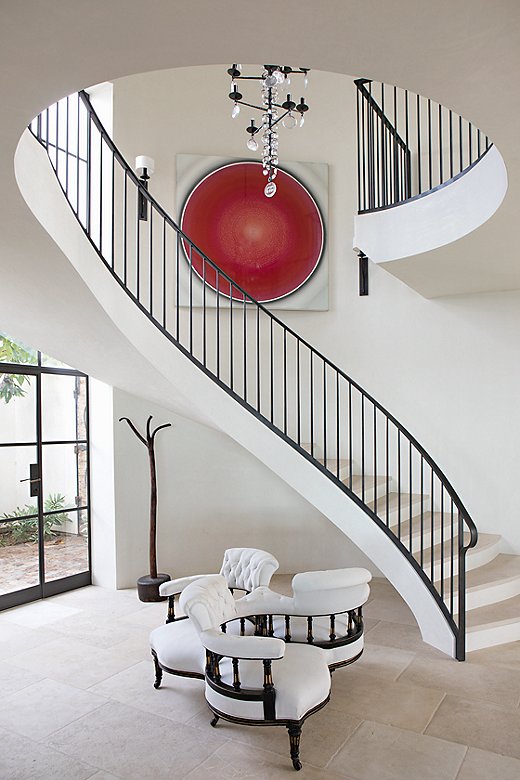 Appropriate does describe this home to a T: The durable and comfortable furnishings are appropriate for a family with kids and grandkids; the sandy palette is appropriate for a house overlooking the ocean; the nods to Spanish Colonial style are appropriate for a residence in Southern California. At the same time, that word doesn't do the home justice in the way that serene, inviting, and beautiful certainly do.