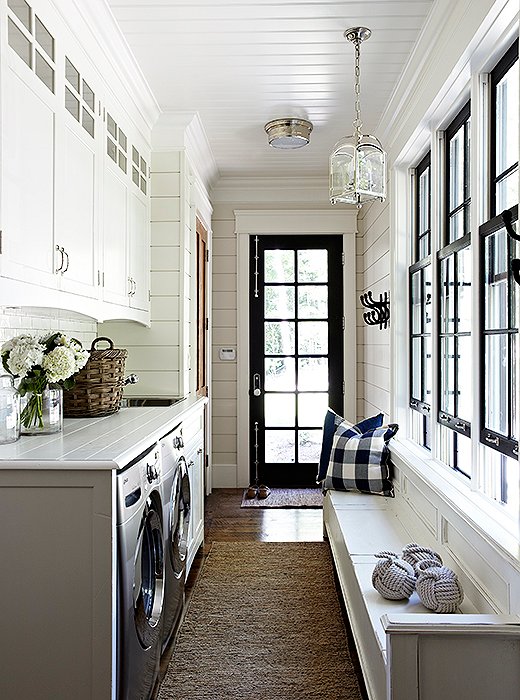 1. Consider It a Cozy Checkpoint
More often than not, the laundry room feels like an isolated space off to the side of the home. Instead, turn it into a welcoming checkpoint, as in this long passage where the laundry space doubles as a mudroom. A simple sisal rug serves as a durable catchall for dirt and mud, while a few indoor and outdoor pillows cozy up the banquette to be a perfect perch for kicking off and putting on shoes—while also providing extra space to unload or organize laundry. Look for seating and rugs that can stand up to high traffic along with inviting accents that lend warmth.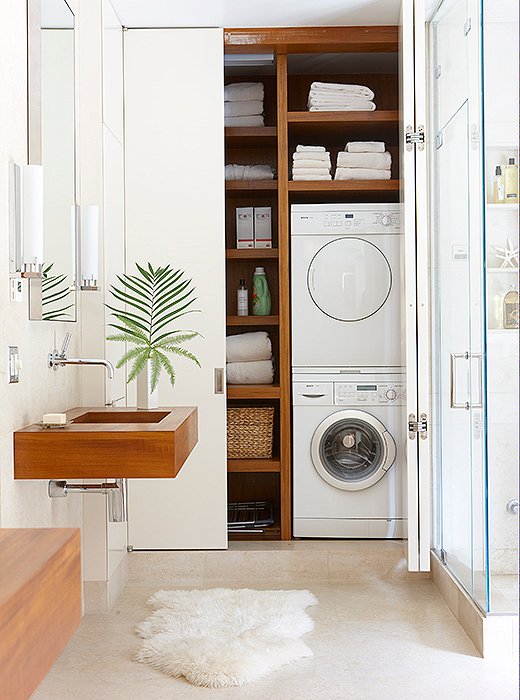 2. Make It an Extension of Your Bath
Create an all-in-one space for pampering and laundering by tucking away your washer and dryer within your bathroom. It can make for a seamless setup, as in this sleek bath: The laundry closet doubles as storage for extra linens and towels, and dirty clothing can be tossed directly into the wash. A folding or sliding door here is key for when you want to luxuriate in the bath without thinking about chores—cue the gleaming fixtures and the chic sheepskin rug.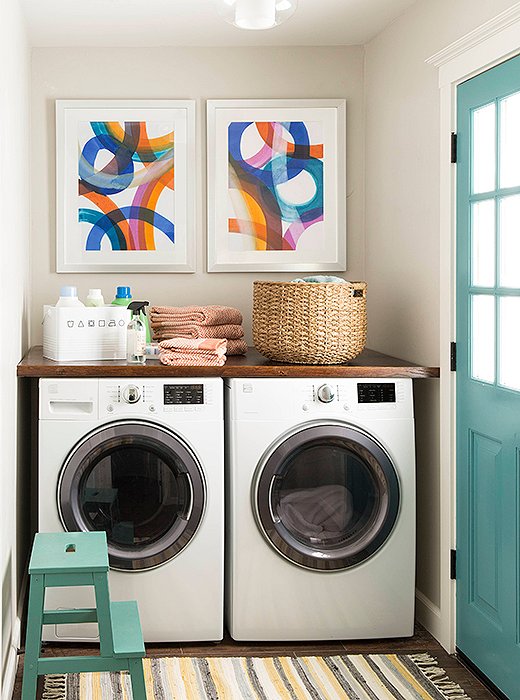 3. Small Space? Go for Big Color
If your laundry room is pressed for space, open it up by infusing it with vibrant colors. Big art on the walls and a lively rug underfoot can dramatically change the mood and atmosphere of any compact utilitarian space. With art, opt for something graphic and colorful that can add impact to the space, then pick a rug that draws from the art's palette. For a pop of color you can easily add and remove, pull in a painted stool—also a perfect place to rest a full basket of laundry.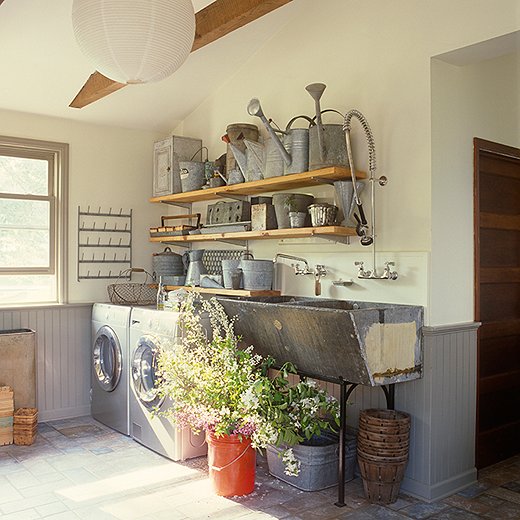 4. Think Outside of (Just) Laundry
If possible, station your laundry room adjacent to your gardening storage and potting area, so that soiled gloves and aprons can go straight into the wash without being carried through the rest of the house. Vintage watering cans and garden accessories with patina prove wonderful juxtapositions to the sleekness of modern laundry appliances.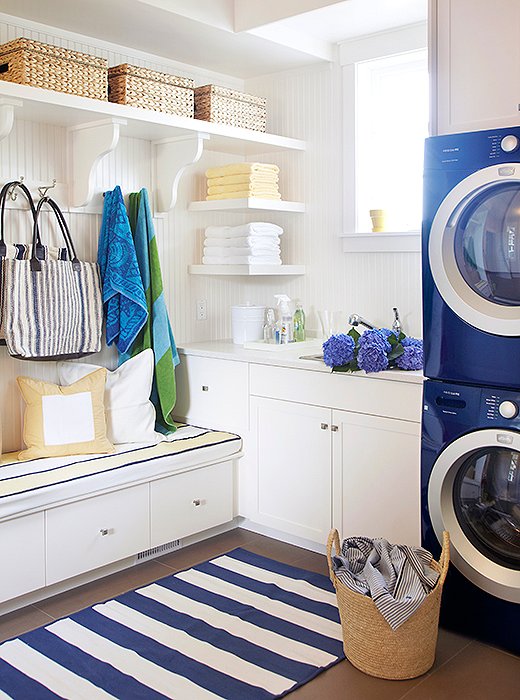 5. Cheer It Up with Stripes
Adding simple striped accents can do wonders to enliven a white laundry room. Start with a bold two-tone striped rug to anchor the space and add color from the ground up. Be sure to keep to a tight color palette, as in the blue, white, and beige in this laundry room; the effect is a crisp look that soothes rather than overwhelms.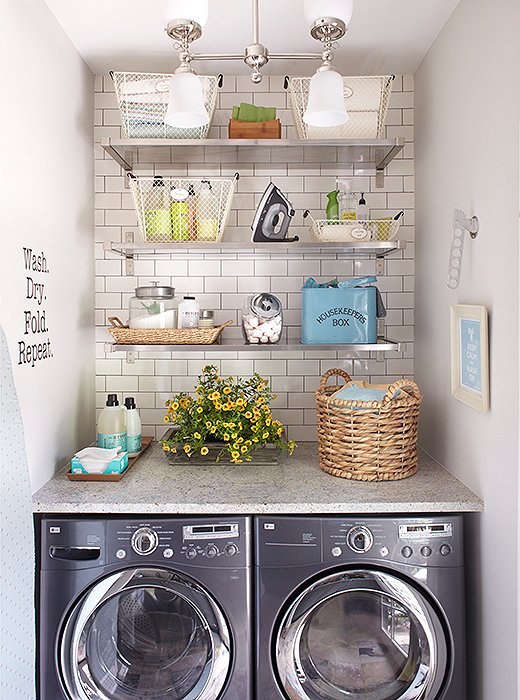 6. Show Off Pretty Organization
A stylishly organized laundry room can be the quickest way to make this function-first space feel more inspiring. Particularly in a small room, consider open shelving above your appliances to maximize vertical storage space. We say skip the linen baskets and go with clear or wire containers instead. This way, detergents, soaps, and other laundry essentials can be prettily contained but easy to spot.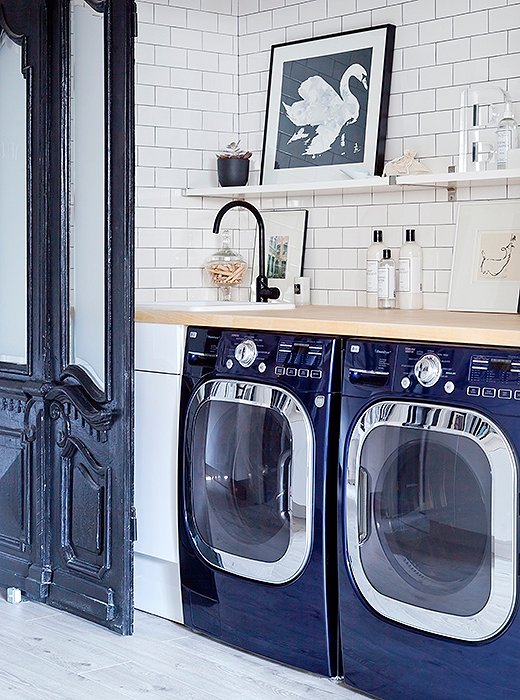 7. Lean Into Artful Finishing Touches
Let's face it: The laundry room tends to be overlooked when it comes to decorating. But there's no reason it should be. Perk up the space with personal touches such as favorite art, lush plants, and striking objects, as in this subway-tiled laundry closet. A curated display of things that inspire you is certain to make washing, drying, and folding feel much less like a chore.