When Lauren Weisbarth and her husband moved their family of four into their newly purchased Los Angeles home, they realized they needed a little help decorating. "We knew what we wanted—something young, fun, bright, and energetic with a beachy vibe—but we had absolutely no idea how to get there on our own." Luckily, Lauren knew just who to turn to: her big sister and One Kings Lane co-founder Alison Pincus, and interior designer Hillary Thomas. With this stylish duo by her side, Lauren transformed her house into a polished, yet family-friendly haven full of lively touches, from killer bamboo-trellis wallpaper in the dining room to a cute kids-only spot in the kitchen.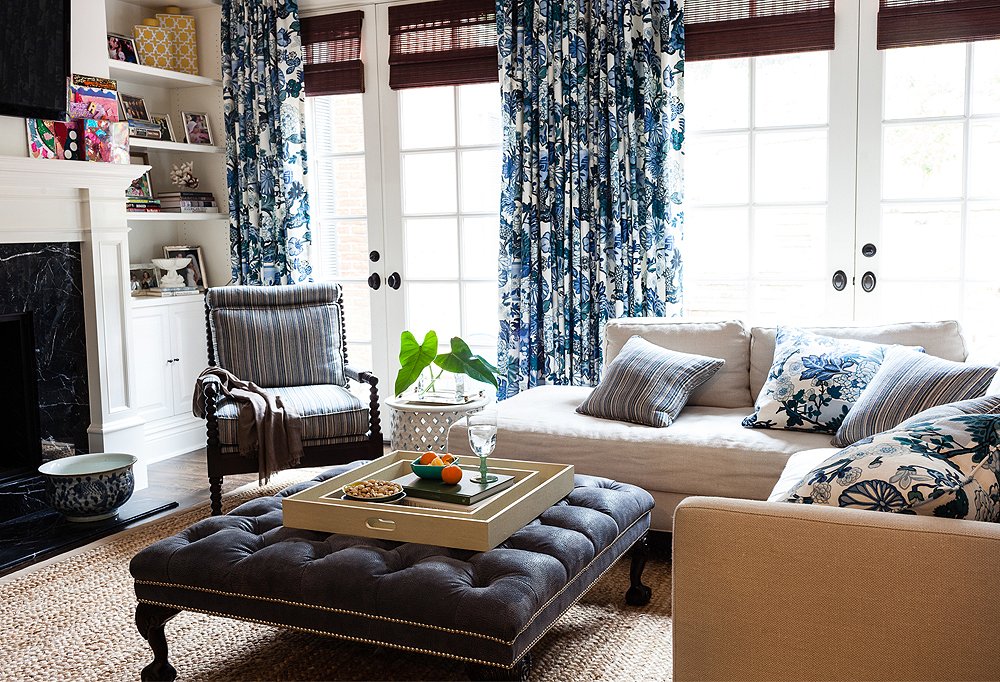 Pattern Play
"The living room is the hub of the house," says Lauren. For the space, she and Thomas channeled a beachy, Hamptons-meets-Malibu look by combining a small stripe with a large floral pattern in the same cool blue and repeating the two patterns for throw pillows, upholstery, and the room's statement-making curtains. A tufted ottoman has the soft edges needed for active kids. Off all the furnishings in the room, the sectional was the one thing that initially gave Lauren pause. "I was worried about getting a white sofa, but Hillary told me about Fab-pro, a company that treats your upholstery, and it's totally worked out."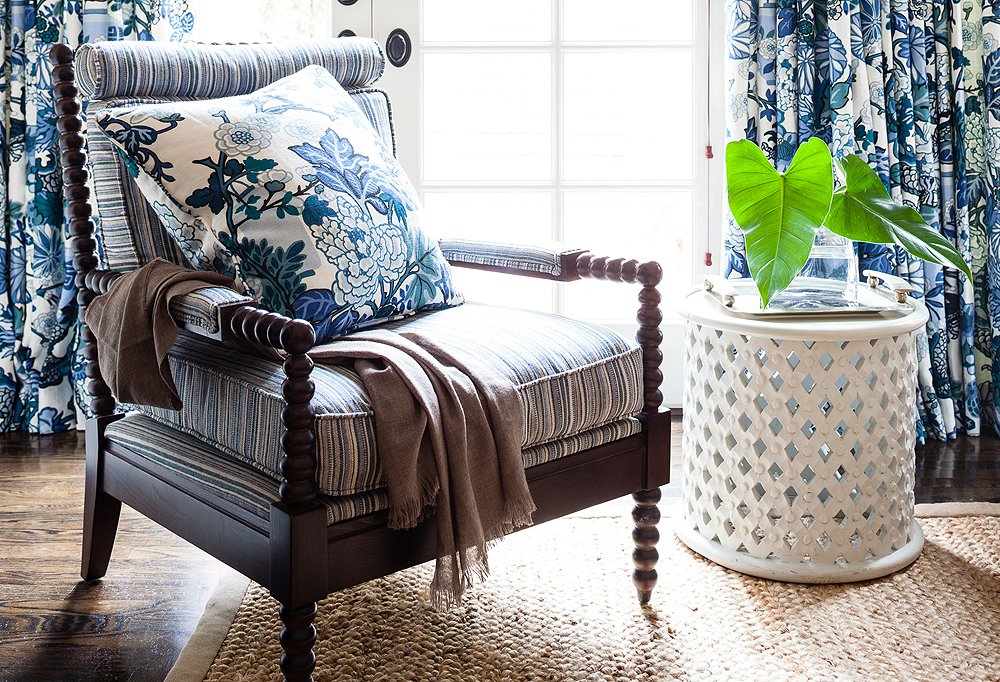 A Place to Gather
"I'm not a big cook," offers Lauren readily, "but the way I was raised everyone came together at mealtime and I wanted that for my family." Luckily her kitchen, which opens up to the living room, is natural place for the family to congregate: "I can have my son with me while I'm getting dinner ready and still see my daughter playing nearby." Though Lauren always dreamed of having an all-white kitchen, "the previous owner had the base of the island painted turquoise, and we actually loved the pop of color." Wanting something slightly more subdued, she and Thomas swapped the turquoise for a deep cerulean.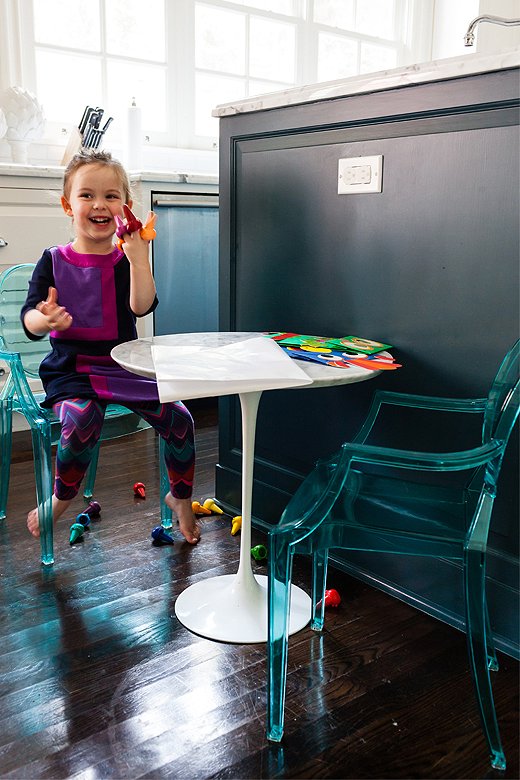 My husband and I really wanted a space that reflected the casual life we lead but was sophisticated at the same time.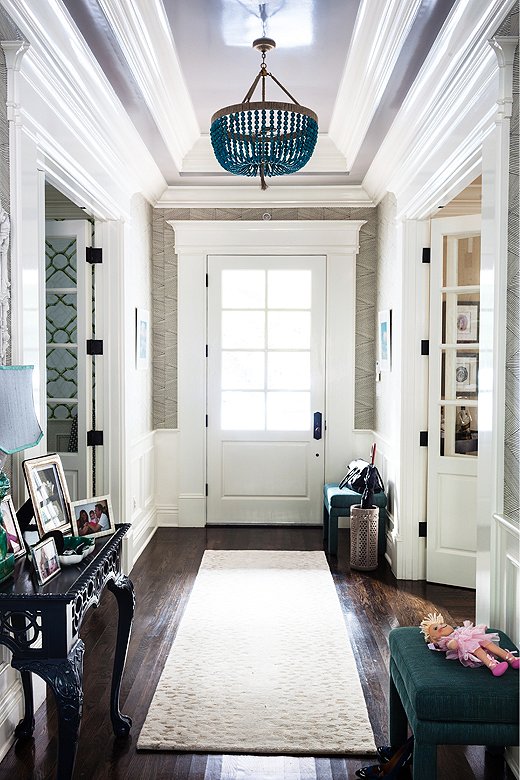 Making an Entrance
The entryway is another of Lauren's favorite spaces, and with all the gorgeous details it's easy to see why. "The gray-lacquered ceiling and dark aqua chandelier work so well together," she says. The walls are covered in a graphic, neutral wallpaper that at once draws the eye in but has a restful effect on the overall space. Two blue ottomans tie back to the color of the chandelier above and provide spots for slipping on shoes before heading out the door. The entryway's plush runner in a tone-on-tone leopard print provides yet another glam note.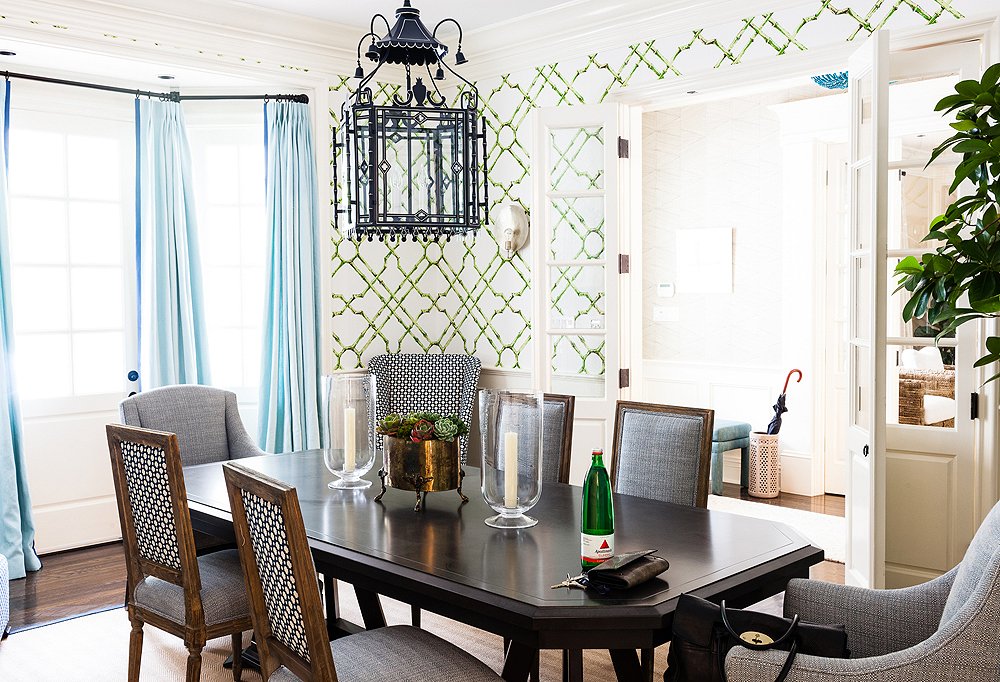 Bold Moves
"We wanted one eye-catching element in each room," says Lauren. For the dining room, that meant bamboo-trellis wallpaper. Upholstered chairs ensure guests stay comfy throughout the meal, and French doors help contain noise so the adults can chat late into the night without disturbing sleeping kids. Like both the kitchen and living room, the dining room features a few calculated hits of blue: powder-blue curtains and a bold lacquered sideboard. Lauren found color continuity one of the biggest takeaways from working with Thomas. "Before decorating this house, I would never have thought to make each room tie into the next."
Before decorating this house, I would never have thought to make each room tie into the next.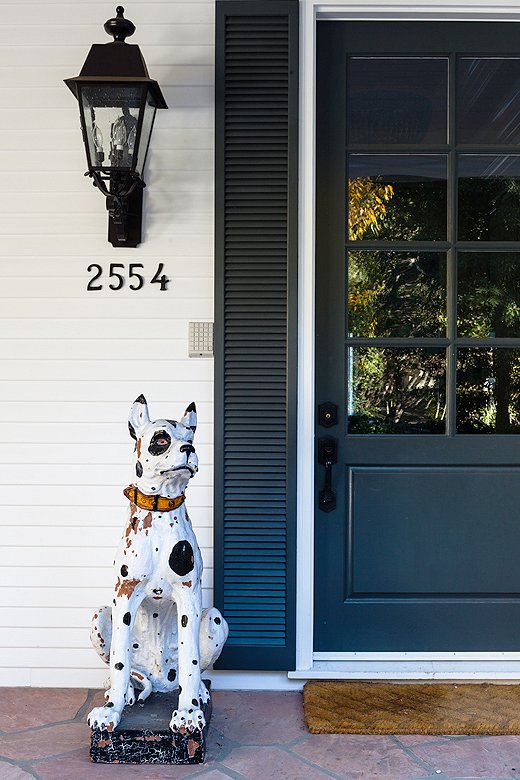 Next I want to tackle our bedroom and the kids' rooms. The experience of working with Hillary and my sister taught me so much, I may even try to do them myself!