Moving into an Atlanta high-rise wasn't always the plan for interior designer Lee Kleinhelter and her husband, Kevin, but after unexpectedly selling their previous home while Lee was in her third trimester, the couple needed to move swiftly. "We didn't have a lot of time, but sometimes that's when the best things happen," she says. A few weeks later, the couple took up residence in The Sovereign, a high-end mixed-use tower in the city's posh Buckhead neighborhood.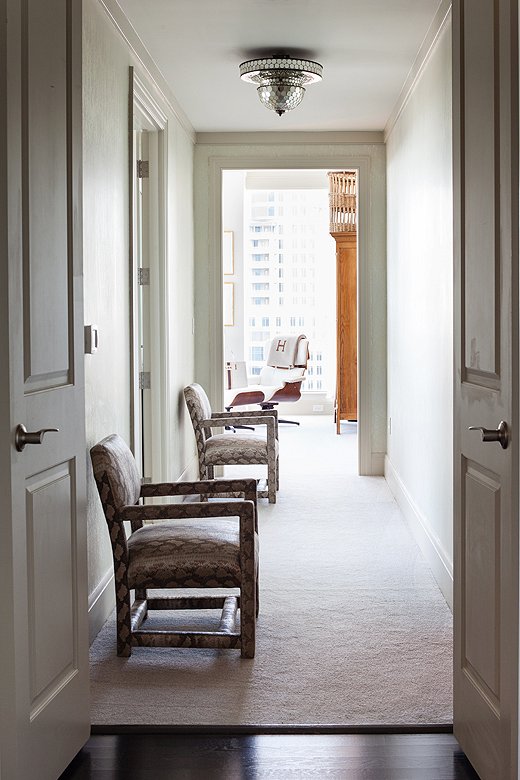 Luckily, Kleinhelter had a great decorating resource at her disposal: her chic, celebrated Buckhead design shop, Pieces, which stocks one-of-kind restyled vintage furniture, modern lighting, and playful accessories. With an eye for well-curated interiors, she transformed their three-bedroom, two-and-a-half-bath condo into a calm, cool family home that complements their stunning views from floor 33.
"Pieces is absolutely my style—modern, unexpected, fun, bold, and chic," Kleinhelter says. So it's no surprise that nearly everything in her home is pulled from her shop, including the vintage metallic-python-print chairs in her hallway. "Sometimes it's because something broke in shipment, but usually it's because I've fallen in love with it." One exception is her faceted light fixture, a vintage piece she stumbled across. "It was one of those finds I couldn't let go of," she says. "So I put it in the hallway to the master. It works great with the silver birch wallpaper and adds just a bit of glitz."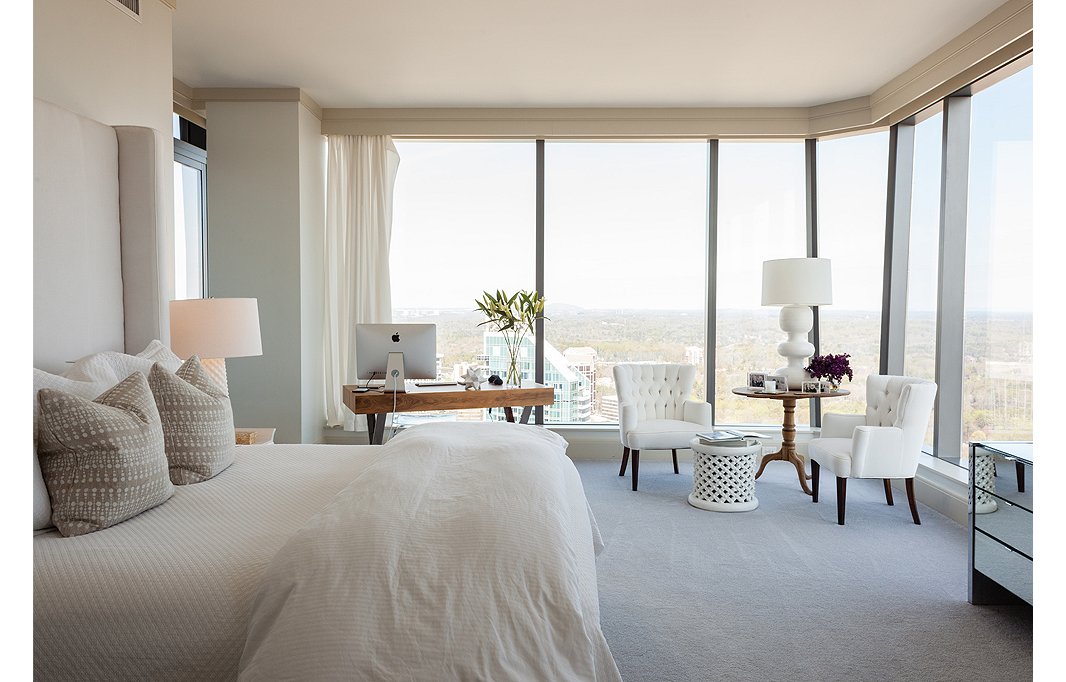 Room with a View
"The master bedroom is my favorite because the view is amazing," says Kleinhelter. "The space is so white, and there are so many windows you almost feel like you're on a cloud." To accompany the vista, she chose neutral and reflective elements like mirrors, natural woods, chrome, and textured whites.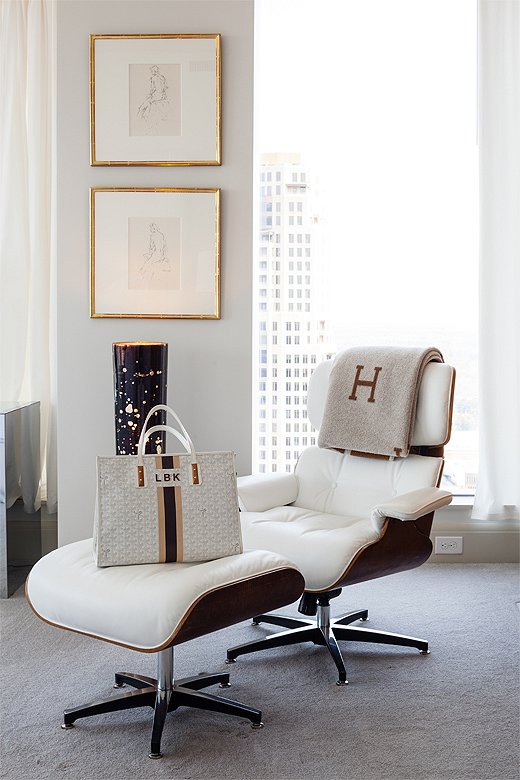 Easy Does It
"I like things to be simple and not too busy—well edited," she says. "I just use what works in that particular story." In this quiet bedroom corner, it's a white Eames lounge chair and ottoman, a wool Hermès blanket, and a sleek black cylinder lamp flecked with gold leaf.
Mix Master
In the dining area, a vintage mirrored folding screen, its trim repainted in white, reflects some of Kleinhelter's favorite furnishings: vintage chrome round-back dining chairs that she had reupholstered in a silver speckled hide. "It's more about balancing a mix of materials than approaching it like a formula. You just have to know when enough's enough." Echoing the curves of her dining chairs, Kleinhelter's custom wood table contributes a clean, contemporary look. "It's casual enough to eat every meal from but also special enough for holiday dinners."
You really don't need to have so many rooms in a home; it's all about brainstorming storage solutions and determining what it is you really need.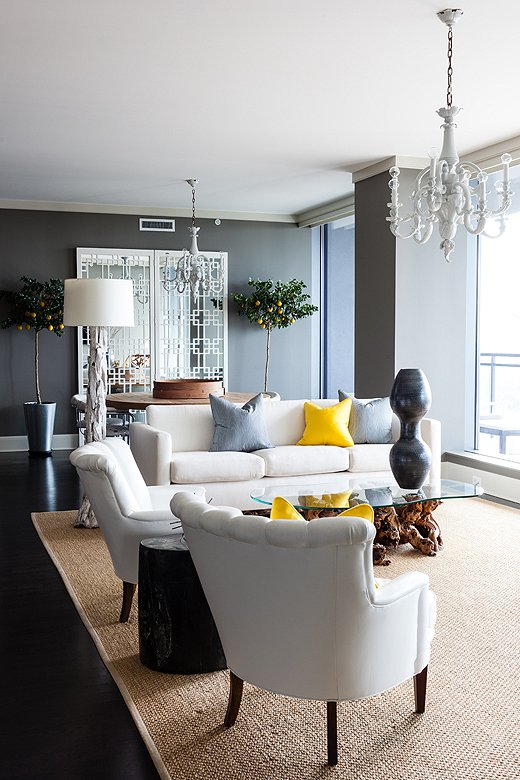 The Great Wide Open
In the open-plan living and dining area, "pulling the spaces together" is what makes them feel larger, Kleinhelter says. She created cohesion with a rich gray hue (Pratt & Lambert's Woodwitch 2299) matched to the kitchen's grout and anchored the space with pair of porcelain Italian chandeliers from Pieces. To contrast with her deep walls, Kleinhelter brought in a sprightly pair of lemon trees. "They add just the right touch of yellow to brighten up the dining room," she says. "It's fun and lighthearted."
Color Blocking
A white baroque headboard, a black vine pendant shade, and a Jonathan Adler initial pillow were just the ticket for Kleinhelter's 14-year-old stepdaughter, Madison, who requested an all black-and-white bedroom. "We threw in a punch of fuchsia to make it less serious," says Kleinhelter.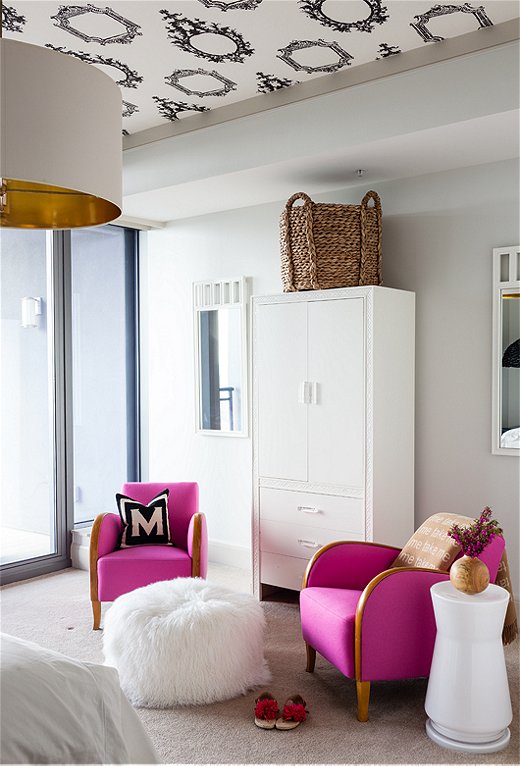 Mirror Mirror
Wanting to do something playful in Madison's room, Kleinhelter installed Schumacher's Go Baroque wallpaper on the ceiling. "It's an easy way to work in some pattern without taking over the entire space," she says.
Ready Made
Kevin Kleinhelter, a builder and contractor, was off the hook for renovations because the unit came complete with top-notch amenities and finishes, as evidenced in their gorgeous kitchen with its chrome backsplash and rich cabinetry. In the two weeks before they moved in, the pair painted, installed wallpaper, and crossed a few cosmetic touches off their to-do lists.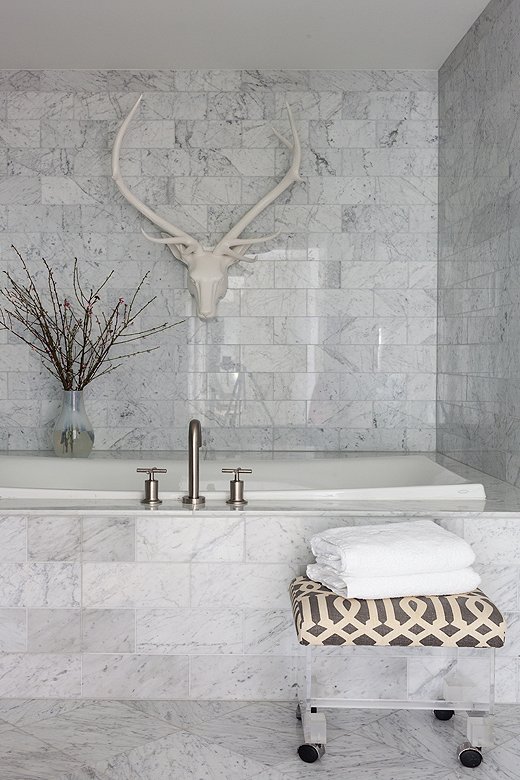 Clean Up Act
A bathroom with floor-to-ceiling Carrera marble left little for Kleinhelter to do, so she subtly infused the space with her signature style, hanging a resin trophy head on the wall and introducing a pop of pattern in a Lucite stool cushioned with Schumacher's Imperial Trellis.
Au Naturel
Eschewing traditional nursery colors in the bedroom of her three-and-a-half-year-old son, Holden, Kleinhelter instead chose an earth-tone backdrop—sea-grass wallpaper—that will easily transition with him as he gets older. "It's the perfect texture to make the space feel larger than it is. And since his room is one we pass all the time, it needed to blend in with the rest of the house."
Playland
Kleinhelter admits that living in a mixed-use high-rise isn't normal for Atlanta, but the family enjoys its benefits. "Holden rides his bike down the elevators. He goes in the kitchen of the bistro downstairs for cookies after dinner. And our dog gets more attention from the valet guys than ever before."
People always ask what is it like to have a family in a high-rise. I guess for Atlanta it's not the norm, and that's what we like. It's low stress, everything is taken care of, and there's less space to manage. However, we will always be building, designing, and moving. Our next project is already on the horizon.