The creativity of fashion designer Lela Rose seems to know no bounds. Not only is she the go-to designer for brides and all women in search of festive frocks, she also happens to throw a mean party. As her new book, Prêt-à-Party, proves, her gatherings have the kind of guest-centric sensibility that ensures you'll not only be treated to a beautifully designed table and a lovingly crafted menu but have a total blast to boot!
Here, she guides us through hosting one of her endlessly inventive parties, which happens to be perfect for fall: a couples' cook-off! May the competition be fierce and the fun unforgettable.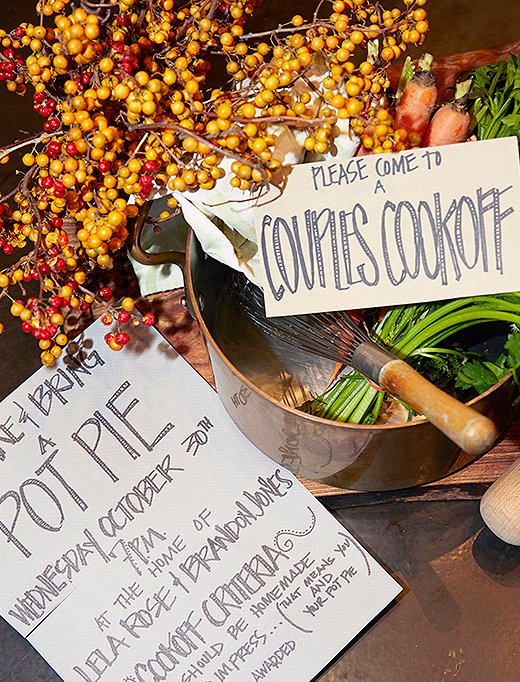 Choosing the Theme
Lela's parties always have a theme. "I can't start planning an event until I have that first spark of inspiration, but once that happens, I run with it—whatever it is—and build the rest of the party around that first idea." In this case, it involved couples and competition. "I'd hosted several game nights in the past, but I chose a cook-off this time because I thought it was a perfect way to get couples invested in the meal and to add an extra element of challenge-driven fun," writes Lela. The guest list consisted of her most competitive friends who also happened to love to cook and get creative.
For the invitation, which was a photograph she printed and mailed to guests, "I created a cooking-themed tableau in autumnal colors with a saucepot, whisk, and vegetables. The dress code for this party was 'dress to impress… that means you and your potpie,' to emphasize the importance of presentation."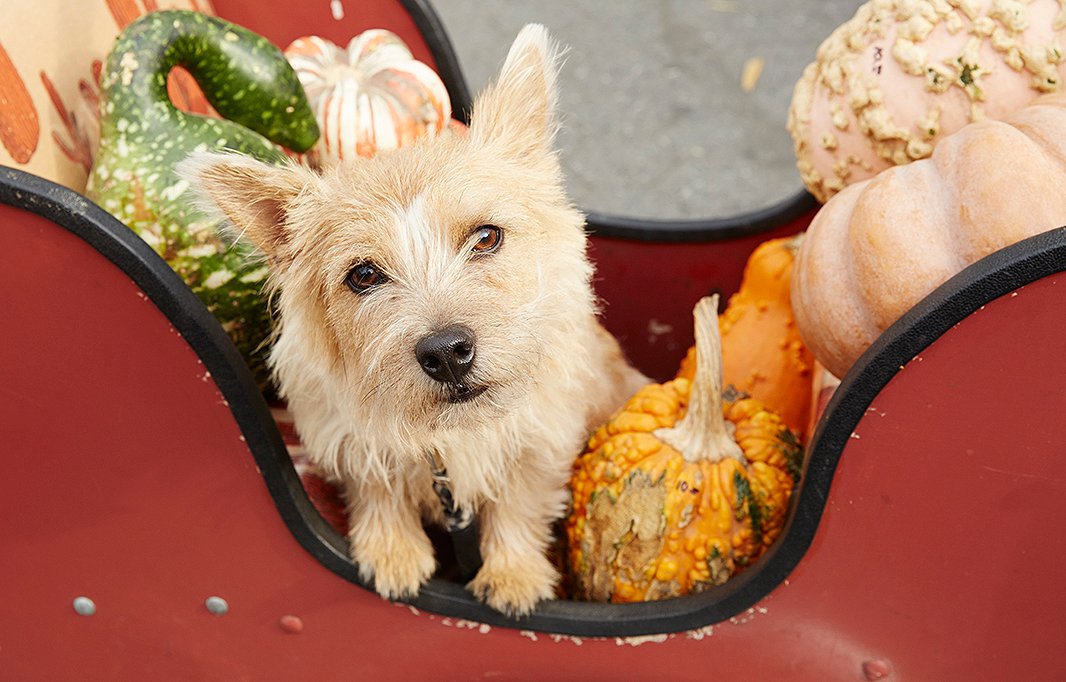 Preparty Shopping
"We held the dinner on a Wednesday evening," writes Lela. "Wednesday is the biggest and best day at Manhattan's Union Square Greenmarket and when I do most of my shopping. The morning of the dinner, I biked to the market and filled up my baskets with a cornucopia of colorful autumn produce that later made its way into pies, canapés, and table decor."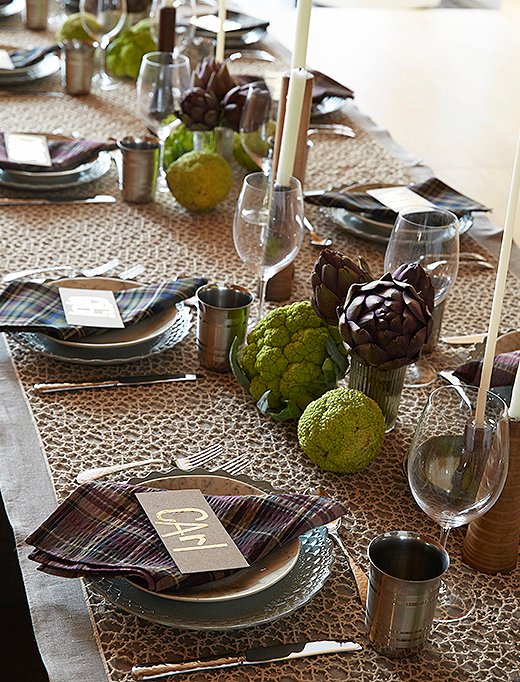 Setting a Seasonal Table
When it comes to the dinner table, Lela relishes the unexpected: "I'm always looking for ways to set the table with something other than flowers, and fall vegetables, with their rich colors and interesting textures and shapes, make great decorations for a hearty autumn meal." Bunches of purple artichokes, tied together with a bit of twine and placed in vases, add color, as do the scattered green veggies Lela picked up at the market.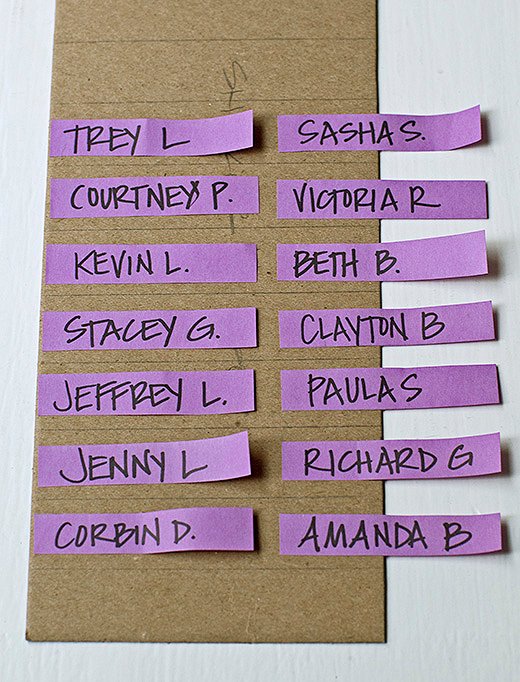 Assigned Seating
For Lela, a seating is not something to be left to chance. "No matter how casual the gathering, I make a seating chart whenever I host a dinner party," she writes. Not surprisingly, she's thinking only of the comfort of her guests. "Planning out the seating might seem fussy, but having everyone know where to sit actually makes things more comfortable for guests and smooths an often awkward dinner-party moment."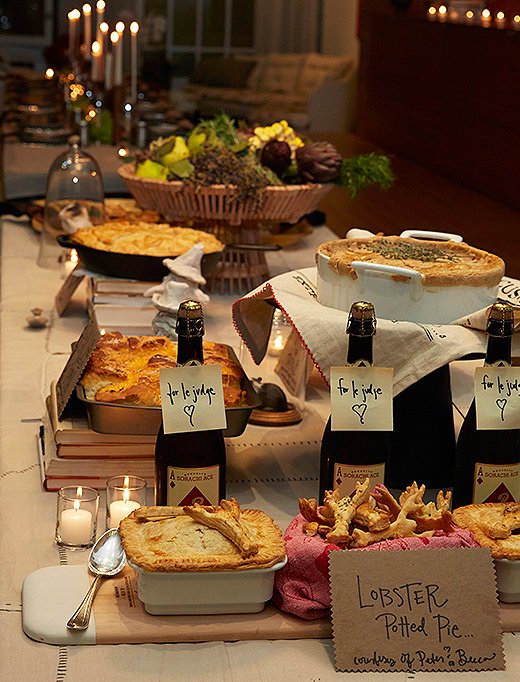 Healthy Competition (and Prizes!)
As the guests filed in and dropped off their potpie offerings on the buffet table, Lela started them off with drinks and canapés until everyone had arrived. "While the contestants sat down for a salad course, the judges went to work, tasting each potpie and scoring it on presentation, taste, and originality," writes Lela. She came up with fun prizes, which included a "Winner Winner Chicken Dinner" herb crown for first place. Guests then got to sample the competition's dishes before the winners were revealed. "When the rankings were announced, we were all laughing so hard that not even the fifth-place couple—who received boxes of candy and a note suggesting that next time they skip making dinner and catch a movie instead—seemed to mind."
This playful approach to hosting is what Lela loves most. "This party perfectly expresses my philosophy that you don't need an occasion to create your own fun. The theme, the contest, and the seasonality came together in a single party simply because I wanted them to."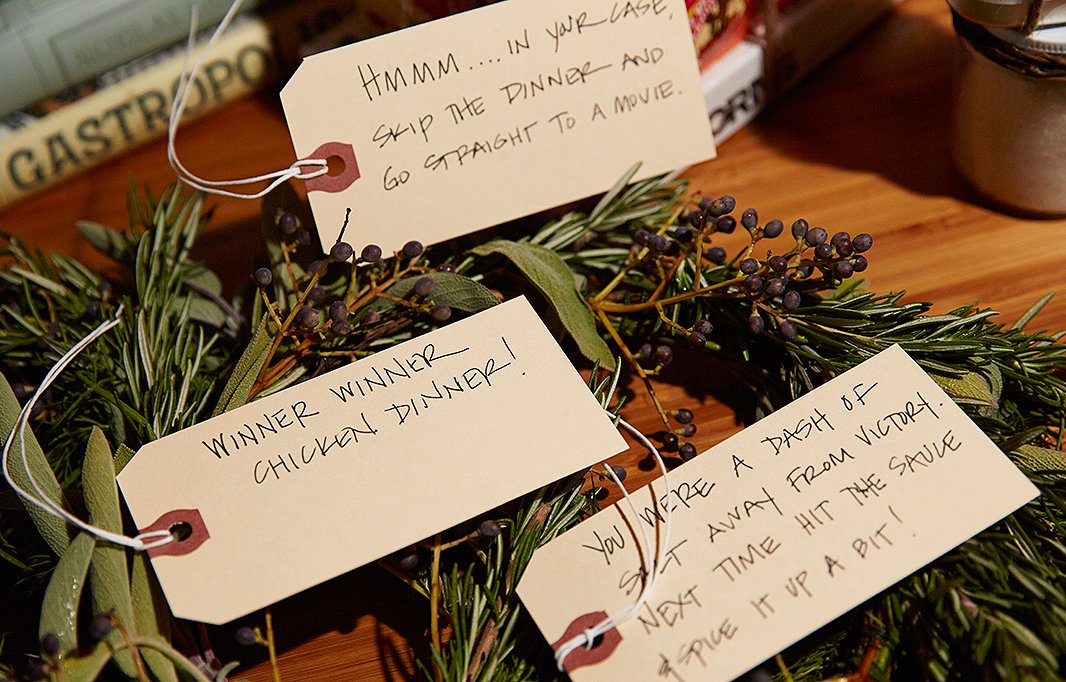 For me, putting on a party is a time to play.
Lela's Tips for a Tasty Cook-Off
1. Fall is a great time of year for a sit-down dinner party with friends. The produce is colorful and vibrant, guests are in the mood for hearty home-cooked meals, and friends are excited to see one another after summer vacations.
2. Competition is a great way to spice up a gathering. And I firmly believe that if you're going to have a competition, you need to have prizes. And judges. A cook-off is an easy party to throw together on a weeknight, because everyone helps with the meal.
3. Guests cannot survive on potpies alone. No matter what dish you choose for your cook-off, round it out with a salad or side. But don't go crazy with the hors d'oeuvres—you want people to save room for the main event.
4. The invitation said "dress to impress." This was a challenge, not a suggestion. My secret weapon: matching my oven mitts to my outfit.
Fall is a great time of year for a sit-down dinner party with friends. The produce is colorful and vibrant, guests are in the mood for hearty home-cooked meals, and friends are excited to see one another after summer vacations.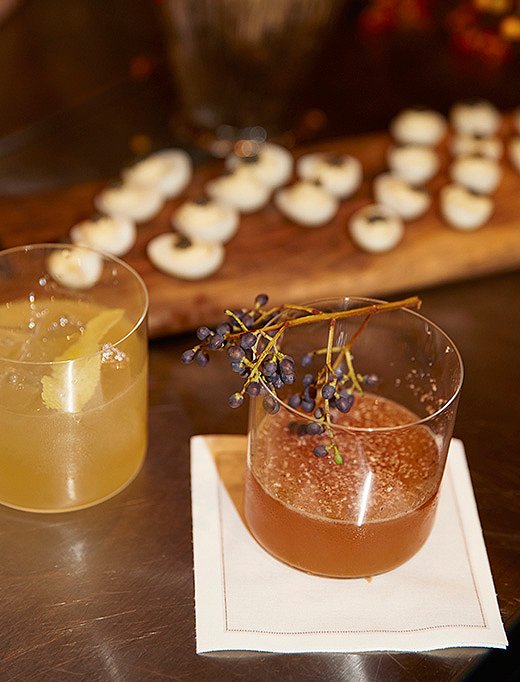 Spiced Apple Snap
Serves 8
For ease, the ingredients in this festive fall drink are mixed in a pitcher, then shaken just before serving. Snap liqueur is an artisanal spirit flavored with a variety of ingredients including blackstrap molasses, ginger, cloves, nutmeg, cinnamon, and rooibos tea. It's available at fine liquor stores.
Ingredients
Cider syrup
3 cinnamon sticks, broken in half
4 whole cloves
4 star anises
3 whole allspice berries
½ teaspoon ground mace
1 quart apple cider
Cocktail
2 cups hard cider
1 cup fresh lemon juice
1 cup cider syrup
1 cup Snap liqueur
1 cup calvados or Armagnac
Ice cubes
8 lemon twists, for garnish
For the cider syrup:
Combine the spices in a spice grinder, and pulse on and off until coarsely ground. Pour the cider into a large wide pot; add the ground spices, and bring to a boil over high heat. Simmer until reduced to about 1 cup (the consistency should resemble that of maple syrup), about 45 minutes to 1 hour. Let the syrup cool completely. (The cider syrup can be made up to 1 month ahead; pour into a bottle or a jar, then cover and refrigerate until ready to use.)
For the cocktail:
In a medium pitcher, combine the cider, lemon juice, cider syrup, Snap liqueur,  and calvados or Armagnac for the cocktail base. (The cocktail base can be made 1 hour ahead. Cover and keep at a cool room temperature.) For each drink, measure ¾ cup of the cocktail base into a shaker and fill with ice. Shake vigorously. Pour the drink into a rocks glass, along with the ice from the shaker. Garnish with a lemon twist.