Christiane Lemieux has always been at the forefront of design. Her résumé reads like a highlight reel of industry innovations. She was the brain behind DwellStudio and The Inside. She has written three books that cover everything from the design world to the changing role of entrepreneurs in the modern business landscape. When she founded Lemieux et Cie, Christiane wanted to bring her love of design history and appreciation of modernism to the forefront. Her first collection of rugs, produced with family-owned rug company Momeni, exemplifies her "sculptural yet functional" aesthetic. 
With Lemieux et Cie, Christiane focuses on the relationship between designer and artisan. The rug collection references Coptic textiles, Tuareg mats, Berber rugs, and nui shibori, a resist-dying technique that uses stitches rather than bands or folds."The entire line is an exposure to many cultures and techniques connected by a common thread," says Momeni design director Katy Repetto. "The dusty palette and indigenous-inspired qualities restore and honor the human hand."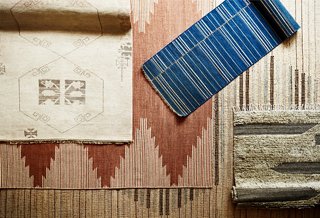 Meet the Collection
The collection available at One Kings Lane comprises a few key archetypes broken out into 26 pieces, all of which draw from that global viewpoint. Momeni's "ability to translate our archive of design and help execute on a decade of design was unparalleled," says Christiane. Each piece is handcrafted from natural materials such as leather, jute, and undyed wool.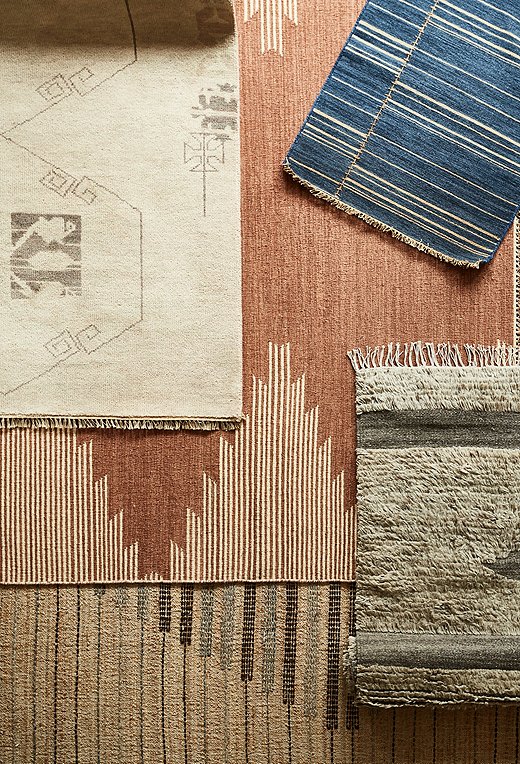 The Raffalla: Pieces in the Rafalla collection honor the abstract beauty of a stark landscape. They are handmade with undyed wool and inspired by shaggy Tulu rugs.
The Metlili: Imbued with a sense of movement, the Metlili collection nods to the imperfections found in all handcrafted textiles. These rugs are handwoven of wool and finished with an antique wash that mutes colors and ages the material.
The Doukkala: Inspired by traditional Moroccan pieces and hand-knotted of wool, these rugs feature a hand-shorn pile to create a sense of organic irregularity.
The Kouang: Dusty palettes and faint patterns are the hallmarks of the Kouang collection. Each piece feels as if it were discovered from a hidden stall at your favorite antiques market.
The Gurara: This archetype was inspired by artist Constantin Brâncusi. Sculptural patterns, simple shapes, and a weathered palette evoke the sense of a maker's touch.
The Moghar: These handwoven jute flat-weaves use subtle gradations of color to create an elevated basic. These pieces are built for layering.
The Argan: With a reverence for symmetry and simple geometric motifs, the Argan collection is inspired by traditional African mud-cloth patterns. Each piece is handwoven of jute and wool.
The Tugart: The Tugart is a modern twist on traditional Tuareg mats, which were crafted to withstand everyday wear. This interpretation weaves together leather and jute to ensure graceful aging.
The Tézah: Basics become elevated in the Tézah archetype. Constructed of handwoven recycled leather, these rugs play on the wild beauty of organic textures.
The Duar: Christiane cites shibori textiles and Scandinavian flat-weaves as the inspirations for these rugs.