"Working Women Wednesday" is a series in which we profile leaders in their field, shedding light on who they are and how they've achieved success.
Ave Home founder Lisa Rickert speaks on the phone with the kind of voice that makes you feel confident everything's going to be okay. She is decisive, clear, and considered. At 13 she took her first job, sweeping hair from the floor of her parents' New Orleans salon, and is quick to correct me when I reference Steel Magnolias. "It was nowhere near that genteel," she says, going on to paint a picture of the French Quarter in the '90s when edgy was in and over-the-top hair extensions were everything. It's an unexpected beginning when you consider the European-inspired furniture her company manufactures today but one that sheds light on the grit that's enabled Lisa to make her company a success. Below, we learn more about the woman making quality pieces fit for every home.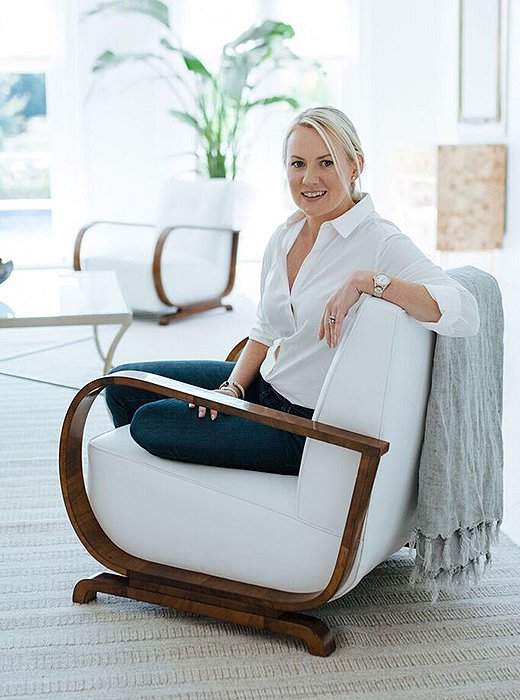 When did you discover what hard work is?
When I was a teenager I remember taking the city bus down to help out at my parents' salon: things like washing hair, sweeping floors, answering phones. Looking back at that time now, I think that's when I learned not only about hard work but also discipline. Most of my friends only had to worry about their social lives, but I had to get up and go to work on a Saturday. No matter how late I was up the night before, I would get up, go to the bus stop, and truck it to work. I'm so appreciative of what that experience formed me into as a businesswoman.
I'm guessing you learned a lot about people at that job.
I got to learn so much about the people who worked there as well as the people who came in to get their hair done. I would open up, and I would run the front desk, so I learned so much about greeting and the importance of pleasing the customer. And I developed relationships with them. I'm 35 now, and I'll still run into clients of mine around the city, and it's like we saw each other yesterday, and we always stop to reminisce.
I'm curious about your best practices with respect to communication. Is a phone call better than an email?
You can't carry someone's voice or tone through an email. Emails are fine for certain tactical information—here's your order and your tracking number—but when it comes to checking on someone, it's so important to pick up the phone because it helps establish a connection. Sometimes our first reaction is [a text or an email] is less intrusive, but really, picking up the phone is by far the most effective and the most personal way of getting in touch with someone.
I'm always striving for balance, whether it's emotional or spiritual, because you have to take care of yourself in order to be your best.
What's your office like?
Right now I'm sitting in my home office, and I have a lot of crystals and stones on my desk, which is from our Carlyle collection. On the walls I have paintings that symbolize me, like a lion, because I'm a Leo. The walls are white. I'm very much a black and white and gray person, and I'm also the type of person who needs a clean and balanced work space to concentrate and be creative. Everything's pretty organized.
When you sit down at your desk in the morning, what's the first thing you do?
I sit down and check my email. Today there were about 50 unread emails at the start of the day.
What time do you call it a day?
I struggle with being able to turn it off. I do try to stop between five and eight and be a mom. I have two kids, who are 6 and 11, who need my time, but after they're settling in for the evening my laptop is back open and my phone is in my hand and I continue to work until I call it a night.
How do you define your role?
I'm the founder and CEO from a business perspective, but I'm one of those lucky people who can think using both the right and left sides of my brain, which allows me to also serve as creative director and designer. Then I have a team I manage who help me execute the vision, whether it's from an operational perspective or a creative perspective.
What do you ask people in interviews?
I'm a very transparent boss, so I'll sit people down in an interview and tell them that in order to make it within our company you have to be self-motivated, autonomous, and take initiative to solve problems and be productive. Because I have so much going on, I don't have time to babysit people. There's really no room for complacency or laziness in our industry today… like, you're going to get left behind.
When you think about the pieces you make, what's most important?
I want people to look at our pieces and think that they're beautiful. We are inspired by and develop collections that draw on classic design from different periods. And I'd like to think that all of our lines are somewhat transitional. We're not a company that really chases trends—we're about quality. We want people to buy our pieces and keep them for many years to come.
When do you say no?
I'm a terrible "no" sayer. I overextend myself all the time, particularly with personal requests from family and friends. What I do find easy to say no to are business ventures that would steer us off course. This was somewhat of a new industry for me when I started, and I always wanted to be the best at what I did. In order to do that, in order for anyone to do that, you have to be focused on your goal and create limits to keep you on track.
Is there anything I didn't ask you that you'd like to add?
I'm always striving for balance, whether it's emotional or spiritual, because you have to take care of yourself in order to be your best. This morning I had my masseuse come and give me a lymphatic massage, then I lay on my Bio-Mat to make sure that my energy is flowing properly. I'm gluten free, dairy free, and MSG free, which forces me to have a very clean lifestyle, and that allows me to have the energy to perform and do all the things I need to do in life and not burn out.