It may not officially be spring just yet, but adding seasonal motifs, lots of color, and of course, tons of light will make your living room look and feel like the season is already in full swing. Awaken your space from its winter slumber with these seven easy steps.
BEFORE
Heavy fabrics and textures, layered surfaces, and cozy colors are all a must for winter, but spring calls for a fresh approach.
Step 1: Lose the Weight
Swap heavy winter throws and pillows for breezier fabrics. Think linen and cotton where your room is currently sporting wool and cashmere.
Step 2: Let in the Light
Consider hanging simple translucent curtains or Roman shades to maximize every drop of sunshine. Neutral tones will have the lightest and airiest feel once hung.
Step 3: Think Pink
Or yellow or green for a little lift. Paint is the most transformative way to wake up your room, but if you don't want to paint you can add color in a few seconds with throw pillows.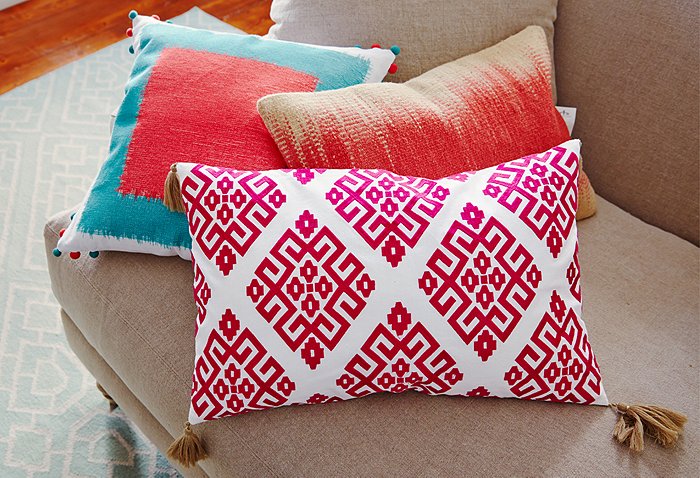 Step 4: Open Up
Where winter is all about getting cozy, spring makes you want to spread out and remove any unnecessary clutter (baskets of magazines, extras chairs).
Step 5: Spring-ify The Surfaces
For an easy, low-effort makeover with a lot of payoff, trade the dark books and objects on your tables for lighter, brighter ones featuring seasonal motifs. On walls, replace framed art with mirrors to catch the rays.
Step 6: Create Breathing Room
Open up a stuffed bookcase by decluttering and creating an airy area. Check out our tips on how to restyle your bookshelves for spring to get started.
Step 7: Show Some Leg
Removing slipcovers that extend to the ground and letting furniture legs show creates a more airy feel.
Pillow Combos Perfect For Spring