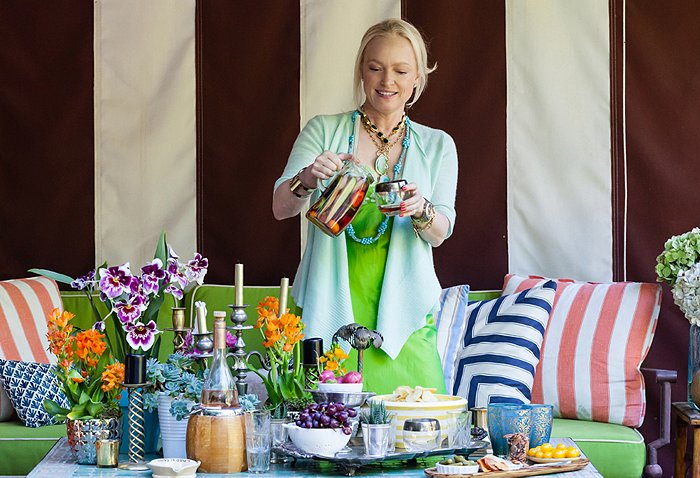 Entering the home of entertaining guru and celebrity chef Lulu Powers is like stepping into a world where creativity reigns supreme. "It's a happy house," says the Connecticut native of the 1927 West Hollywood bungalow she shares with her photographer husband, Stephen Danelian. With a growing entertaining empire and a new moniker, The Entertainologist, Powers has a free-spirited and fun-loving approach to food and hosting that beautifully translates into her decorating choices, with bold colors and daring wallpapers around every corner. It's the offhanded ease with which Powers pulls everything together, though, that really sets her home apart. "There is no rhyme or reason to how I do things, even in my cooking," she says. "If I think it will look or taste good I just add it."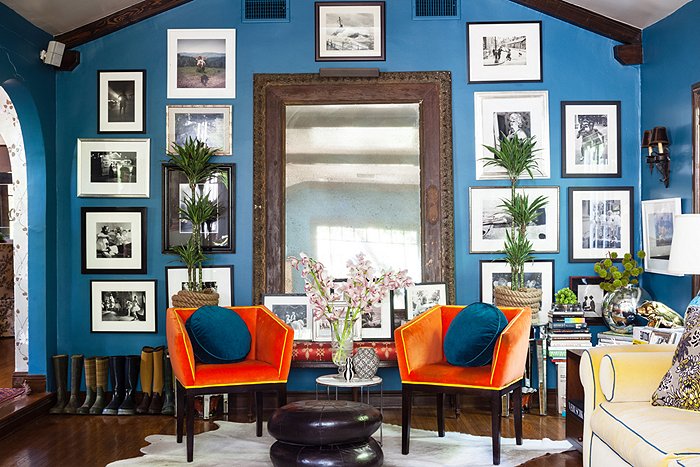 Living Room
Having lived in her house for almost 20 years, Powers has become a master at reinventing her interiors, which may explain her fearlessness when it comes to color. "I just picked a color from our living room rug, and I happen to love blue," she says of Benjamin Moore's Bainbridge Blue, the vibrant hue she chose for the walls. An oversize mirror from her husband's bachelor days anchors Powers's collection of black-and-white photography, which she's been amassing since she was 16. "If I like it, I get it," she says simply of her collecting strategy. After a friend cast them off, Powers re-covered the pair of chairs in her living room using orange velvet curtain panels she found at Ikea and stained the legs a dark brown to up the elegance. "The possibilities are so endless if you think outside the box," she says.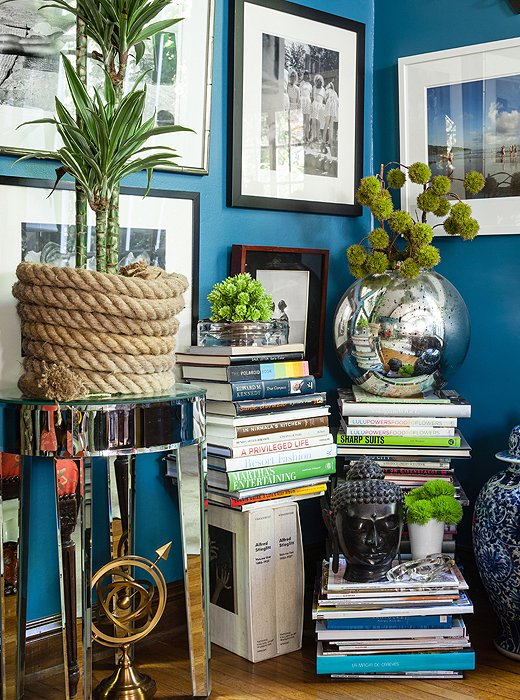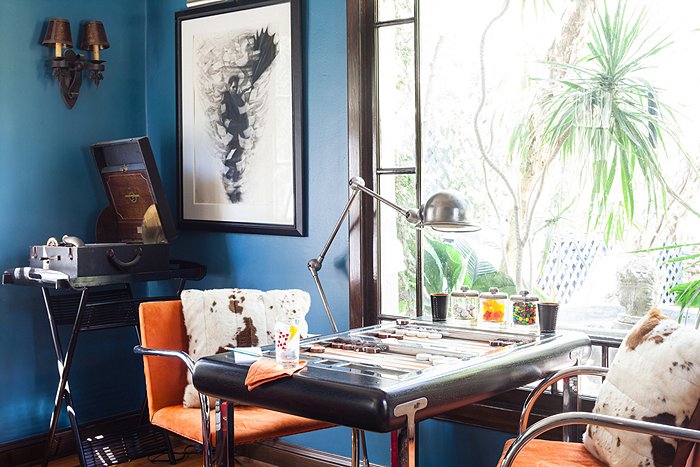 "When I see glasses that are not your norm I can't help myself. I have to get them. My parents always had an array of cocktail glasses on their bar, and I realize now it was so chic!"
—Lulu Powers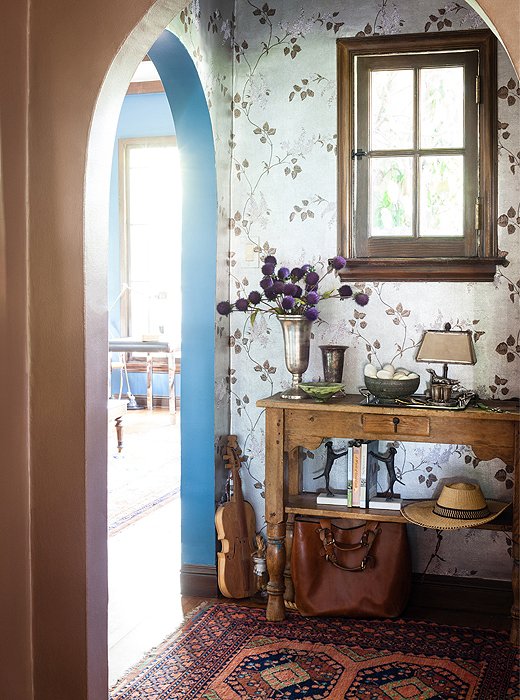 Entryway
To add impact to the house's diminutive entryway, Powers papered the walls in Cole & Son's Lilac Dove wallpaper, which she discovered at Walnut Wallpaper, her go-to source for all the wallpaper in her home. "I love that place," says Powers. "The owner, Norinne DeGal, is amazing. I could spend hours in there just looking." Keeping with her eclectic style, Powers tempered the glitz of the wallpaper's silver sheen with a rustic vintage console and antique rug.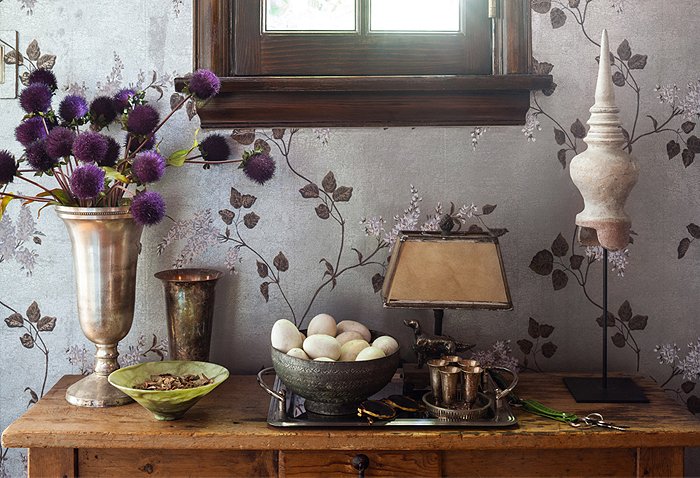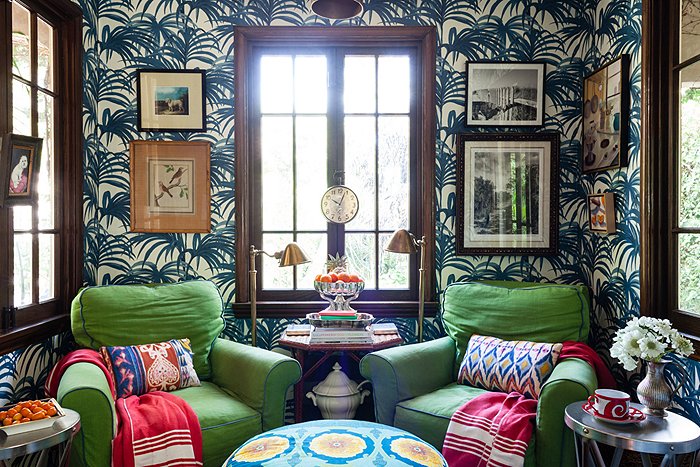 Breakfast Nook
Powers refers to the small breakfast nook off the kitchen as "the best room in the house. It's where we start our mornings and recap our days, and when people come over it's always where they end up." At first Powers was looking to change out the room's formerly yellow walls with a Beverly Hills Hotel-style paper, but once DeGal from Walnut Wallpaper offered up this Palmeral print by House of Hackney, Powers was sold. She had new green slipcovers made for the comfy armchairs and turned what was once a brightly patterned scarf into two small accent pillows to bring in a bit of the blue from the walls. "It's our hang place," she says.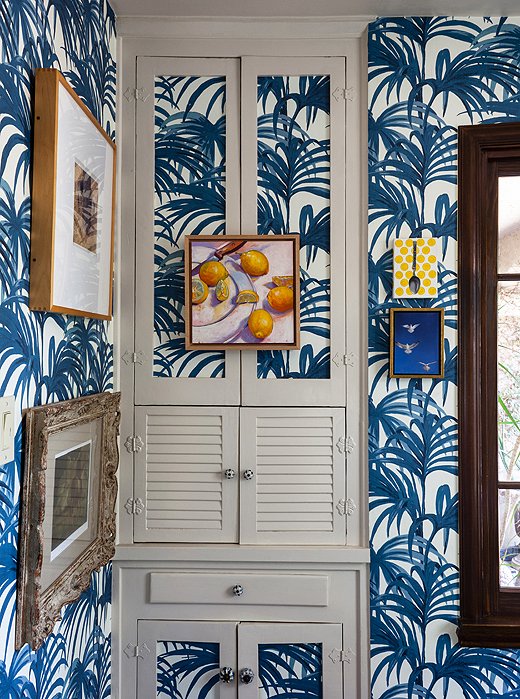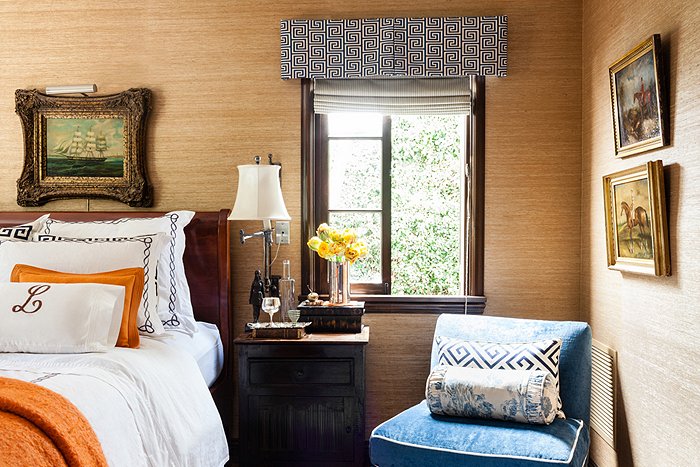 Master Bedroom and Bath
"Coziness" was the goal for the master bedroom, which Powers masterfully achieved by applying a textural grass cloth to the walls and repeating a Greek key pattern to "tie the room together." Despite its punctuations of orange and blue, this is the most subdued room in the house. As for the master bath, Powers once again skirts convention by using not only wallpaper in this notoriously damp environment but also hanging a pricey photograph in the space. "It makes me happy when I'm taking a bath to look at it," says Powers, whose ideal bath includes Epson salts, lavender, and a few drops of neroli oil. "My motto is 'You only live once.'"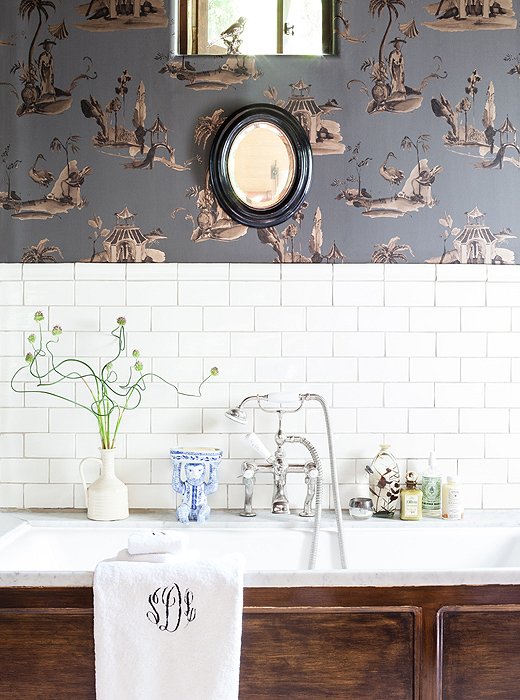 "I love monograms! My dear childhood friend owns a shop called Nantucket Monograms, and I have her monogram everything from sheets to towels for me. "
—Lulu Powers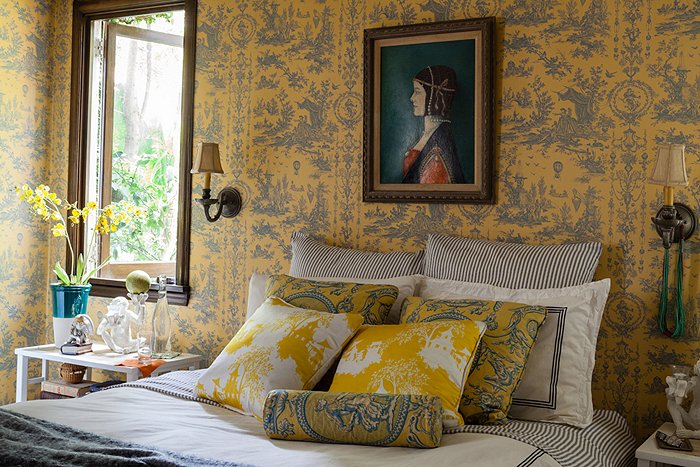 Guest Room
In the guest bedroom, Powers chose a traditional Pierre Deux toile pattern, but the overall effect feels more playful than proper thanks in part of the portrait hanging above the bed. "It's from an antiques market in Seattle, and I bought it for $125. It's genius," says Powers. "So many people ask me if they can buy it from me. My version of the Mona Lisa!" As a consummate hostess herself, Powers has a ready opinion when it comes to what a good guest room should include: "A bottle filled with water and a glass over it, a pad and pen, good lighting so your guests can read, a comfortable bed, and a good-smelling candle."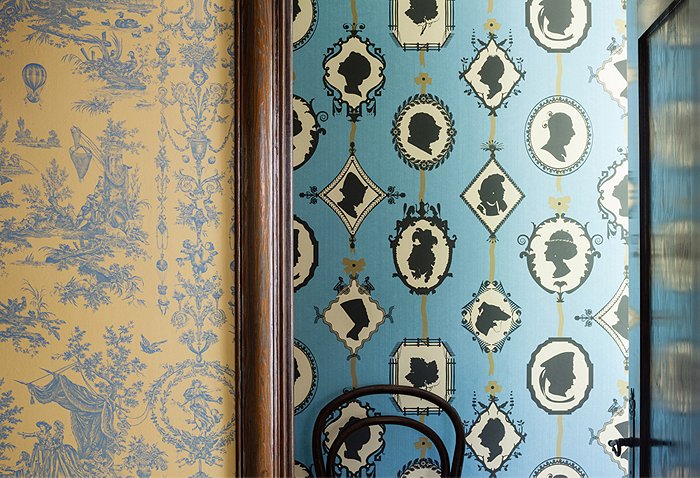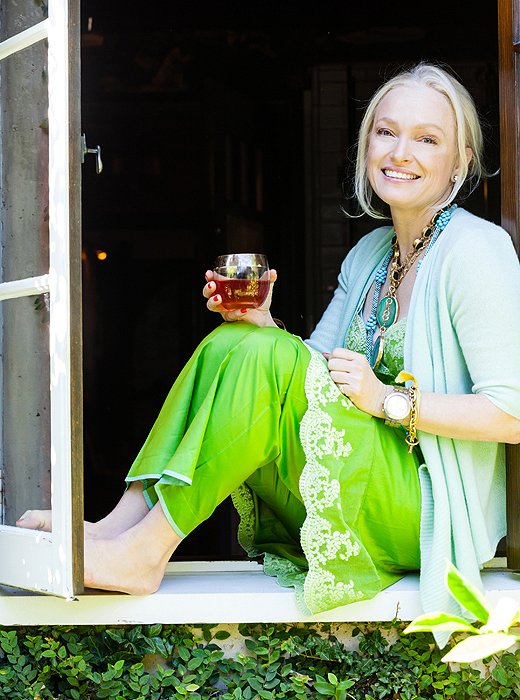 "Our house is little, but it seems bigger because we use every inch of it."
—Lulu Powers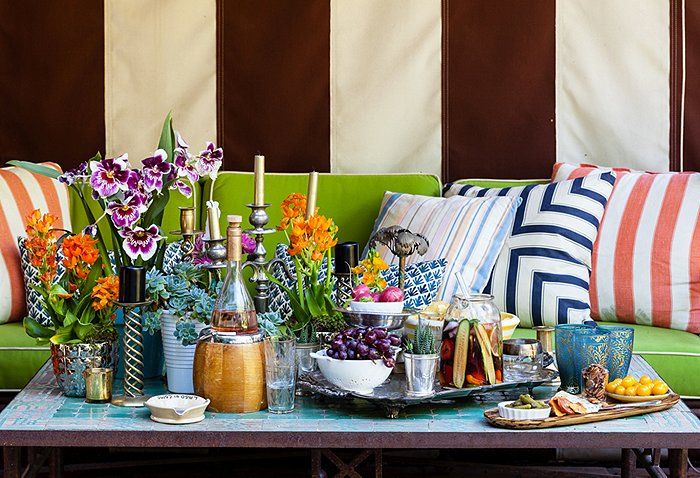 Outdoor Space
"I'm an East Coast gal, so my favorite thing about living in Los Angeles is being able to use the outdoor space year-round," Powers says of her tented seating area out back. Because tents are a common need for outdoor events, Powers has her own company where you can order customized pop-up tents. Her own version features a Dorothy Draper-esque stripe. As for outdoor entertaining, "I always put out some sort of provisions," she says. "I'm always prepared for an impromptu soiree, whether its coffee and cookies or margaritas and quesadillas. Last time I entertained under the tent I ordered pizzas and served rosé, and it was a blast!"
The Workbook:
Steal Lulu's Fearlessly Fun Style