With its jewel-tone furnishings, layers of animal prints and velvet, bedside bars, and bespoke serpentine hardware, Maison de la Luz captures the just-this-side-of-decadent extravagance associated with New Orleans. The interior of this 67-suite hotel is so glamorous and unconventional, it's difficult to believe the building was constructed in 1908 as an annex to New Orleans's city hall and that until a few years ago it housed law offices.
Yet when transforming the six-story structure into a pampering hotel, Atelier Ace and architecture and design firm Studio Shamshiri opted to retain many of the original features, including the elaborate facade and the grand staircase that curves up from the lobby to the top floor. The result is a medley of eras, styles, and provenances and a curated beauty that will never look dated.
The Living Room, for instance, has something of a Deco vibe, with objects and artworks that recall the 1920s Egyptian Revival craze. But when guests relax here over a restorative cup of tea during the day or a cocktail at night, they do so on bright velvet seating accented with button tufting and nail-head trim that reference both earlier and later eras.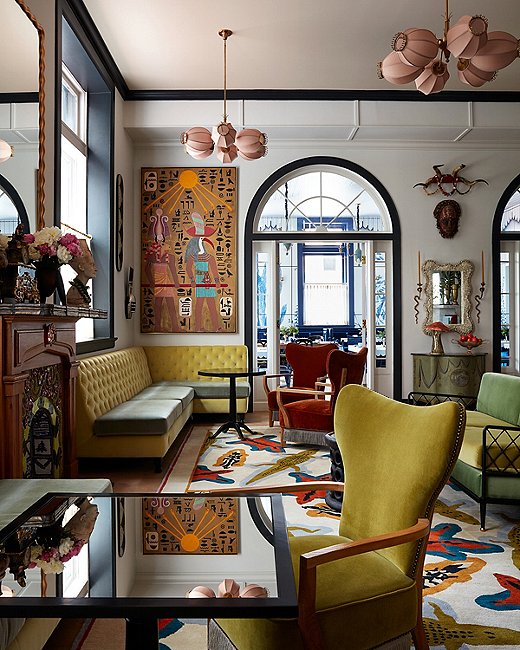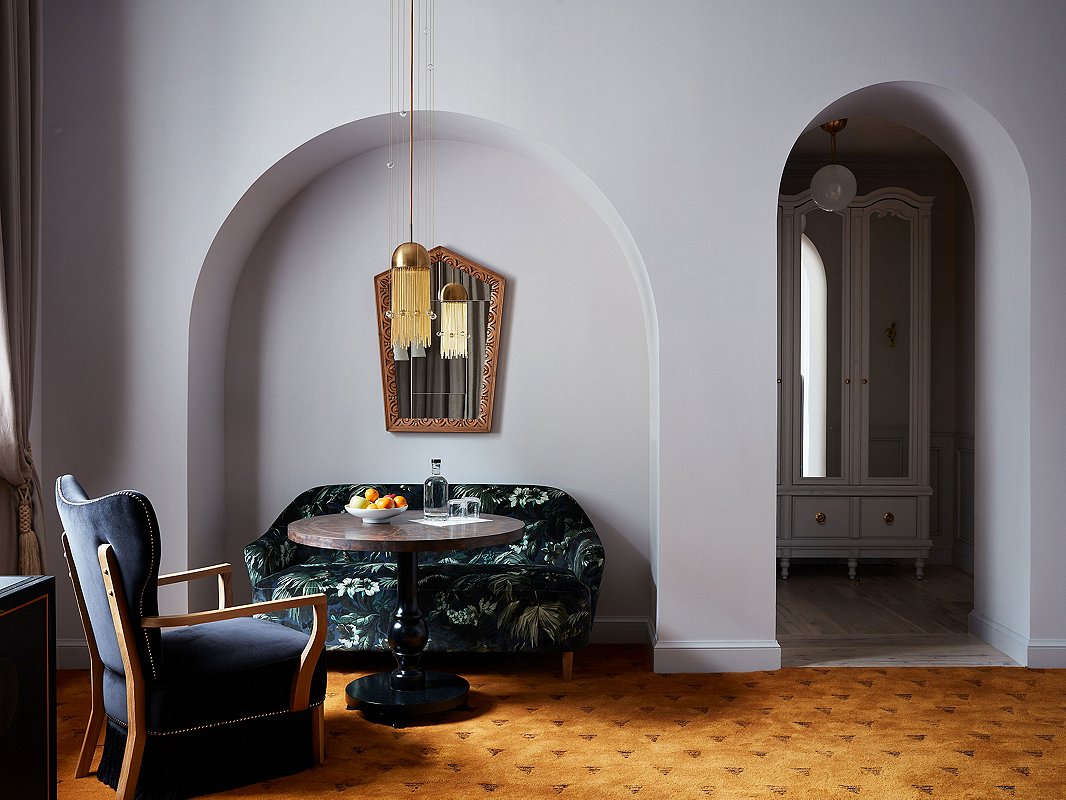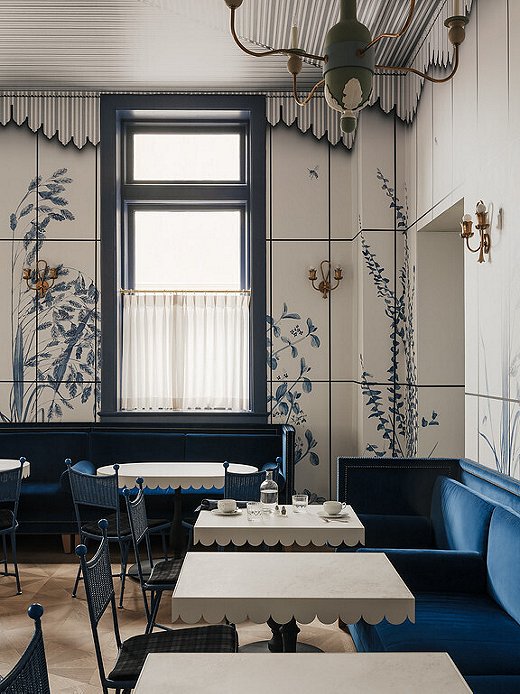 Decidedly simpler and more serene is the adjacent Breakfast Room. A study in blue and white, it features walls decorated with oversize depictions of flora so that you feel as if you're a child exploring a giant's garden. At the same time, the striped ceiling and awning-like trim give the sense of dining in a lawn tent.  
Even more tranquil are the guest rooms. Sunlight pours through the towering windows, accentuating the glimmer of the golden mirror frames and light fixtures. Sapphire blues, topaz yellows, and other opulent hues so abundant in the hotel's common areas are applied more sparingly here but are present nonetheless. So are the curvaceous shapes and sumptuous fabrics that help make the rooms a tactile as well as a visual delight. 
Maison de la Luz's use of rich colors, vibrant patterns, and lavish textures depicts the dichotomy that is New Orleans. Layered atop one another with abandon, as in its Bar Marilou, the elements mimic the anything-goes vibe that is New Orleans at night. Used judiciously among quieter, subtler furnishings, they speak to the laid-back daytime attitude that gave the city its nickname of the Big Easy. When you stay here, you don't have to sacrifice one for the other—you really can have it all.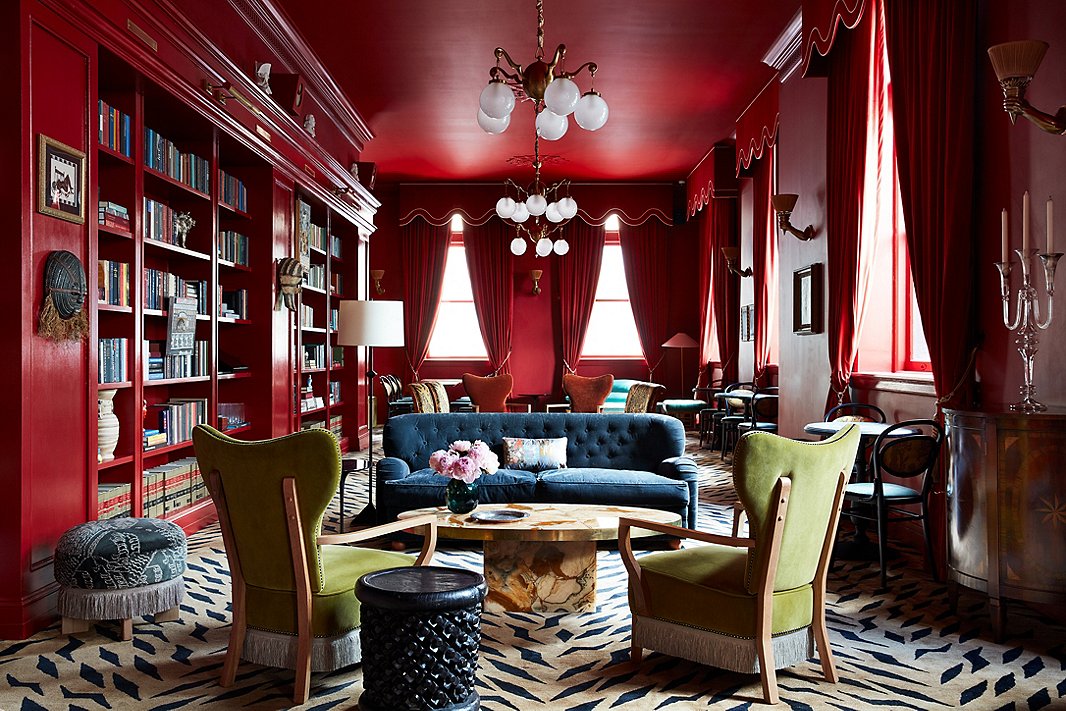 New Orleans Must-Sees
We asked Lauren Tulp Cichocki, founder of boutique travel consultancy Arbiter Travel Co. (and a One Kings Lane alum!), for tips on what to see and do while in the Crescent City.
To eat and drink:
• It's an institution a reason—coffee and beignets from Café du Monde should be enjoyed at least once during your visit.
• Have a fun jazz brunch at Galatoire's or Commander's Palace. Get dressed up (hats and costumes welcome!) and get ready to dance.
• Go off the beaten path for a delicious no-fuss lunch at Domilise's Po-Boy's.
• Top it off with dessert at Hansen's Sno-Bliz.
• Enjoy dinner at Lilette, Herbsaint, Cavan, or Marjie's Grill.
• Grab a drink at Carousel Piano Bar—it's kitsch in just the right way. Then stop by the Sazerac Bar in the Roosevelt Hotel to feel transported back in time. (Pro tip: Order a Manhattan; it's been described as "transcendent.")
• The best nights start at Bar Marilou, conveniently located in Maison de la Luz.
• Get a nightcap at Cure, the original "cool" bar in modern-day New Orleans.
To do:
• Your littles will love a classic streetcar ride, and slightly older ones may even fancy a ghost tour.
• If you want to get out of the city, an airboat tour of the bayou makes for a superfun few hours chasing gators.
• Explore the Garden District—and the shops—by strolling up Magazine Street. 
• Hit the town with a night out on Frenchman Street to take in the best live jazz. 
• 3 Keys at the Ace Hotel (next door to Maison de la Luz) is crushing it with live music.
Reach out to Lauren to curate your New Orleans getaway! When you're #bookedbyarbiter at Maison de la Luz, you'll receive an upgrade on arrival, subject to availability; daily breakfast for up to two guests per bedroom, served in the hotel restaurant; $100 food and beverage credit to be used during your stay (not combinable, no cash value if not redeemed in full); early check-in/late check-out, subject to availability; complimentary Wi-Fi; and exclusive rates and offers.