Sky blue, royal blue, baby blue, cornflower blue… There are said to be more than 200 shades of blue—the result of light waves between 450 and 495 nanometers long—recognizable by the human eye. While blue is all but ubiquitous in design, the moodiest of blues have often been snubbed in favor of sunnier, simpler shades. 
But not now. Darker, more-complex shades such as Prussian blue, midnight blue, and Oxford blue are now stealing the spotlight from their lighter counterparts. And little wonder: There's nothing like an injection of rich blue to make a room feel more luxurious. What's more, integrating darker blues into your decor is easier than you think.
Getting Started
Dark blue walls call to mind country manors or cozy libraries with shelves of leather-bound books—in other words, every New Traditionalist's dream. They can also transform a petite space such as a powder room into a pampering jewel box of a space. To ensure you don't feel that the dark walls are crowding in on you, consider a high-gloss or even lacquered paint finish, and keep the ceiling, moldings, or floor light in color. 
If painting your walls dark seems like too much of a commitment, try hanging oversize art with predominantly dark hues. (Benson-Cobb Studios offers a number of abstract options.) You might find that they sate your appetite for dramatic walls—or whet it enough to grab a paintbrush.
Another way to segue toward a moody palette is simply to swap out any lighter-blue furnishings for darker ones. Exchange your blue-and-white striped rug with the coastal vibe for a midnight-blue rug; replace your French blue upholstered headboard with a navy one. Just about any color that complements a lighter blue will look equally fabulous with a darker one—if not better. Golds and silvers, for instance, seem especially opulent when paired with sultry blues.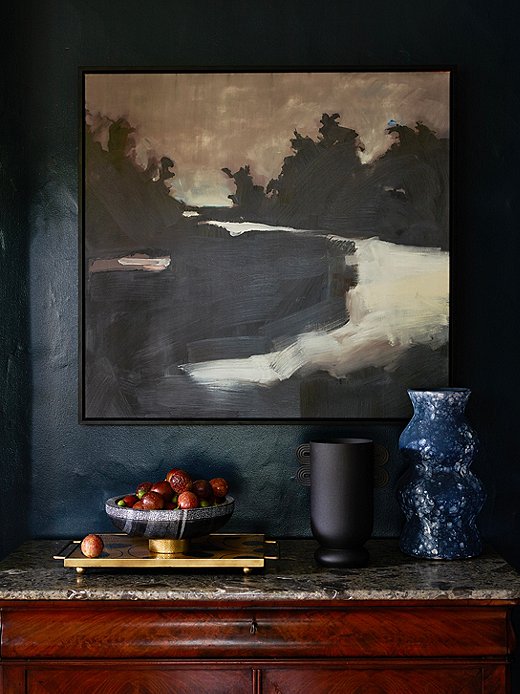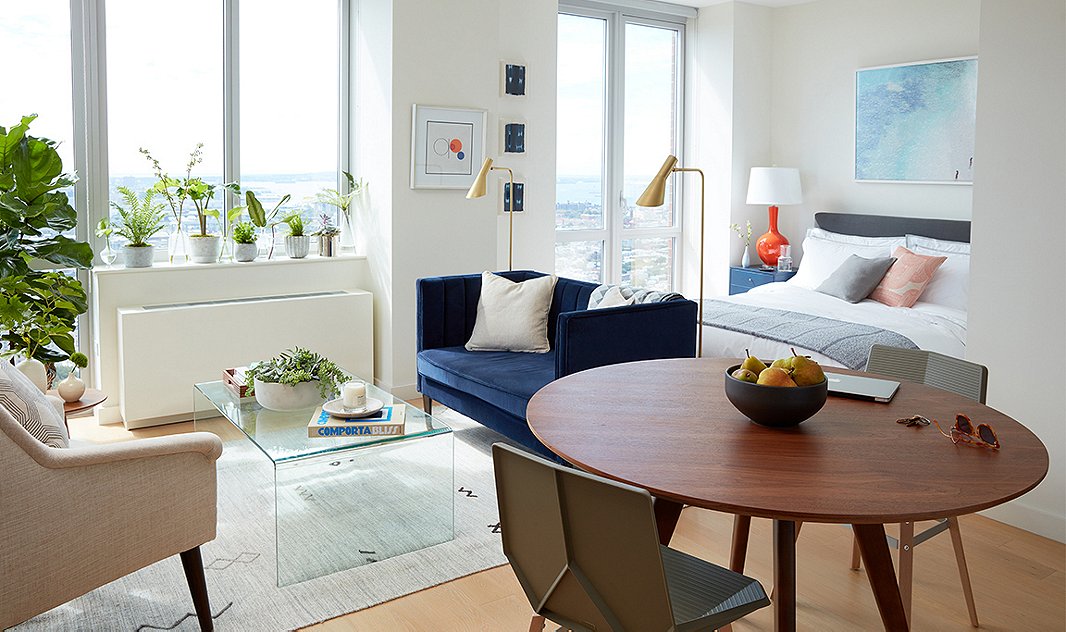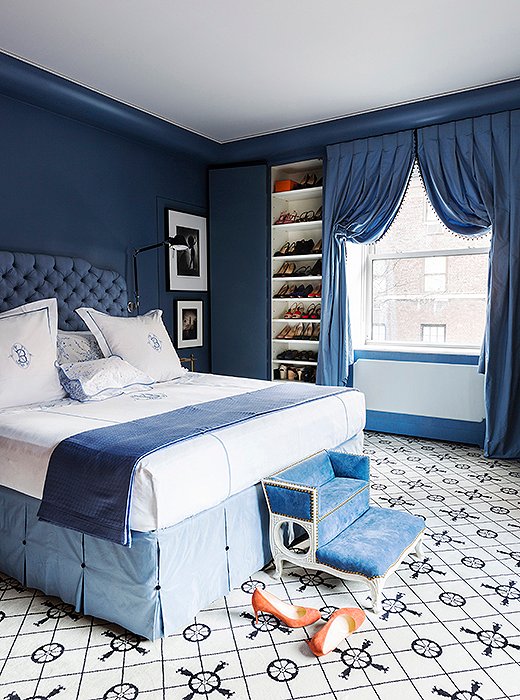 Moody Blues for Every Style
As mentioned above, deep blue walls fit right in with the New Traditionalist aesthetic. So does blue-upholstered seating, especially something classic like a camelback sofa, a chaise with button tufting, or a wingback chair. To heighten the stateliness, consider an option with nail-head trim. And don't forget that mainstay of New Trad style: chinoiserie ceramics. The patterns most associated with chinoiserie are rich blue in color.
Deep blues can lean staid and somber, which is counter to the Eclectic vibe. That doesn't mean Eclectics can't savor the sumptuousness of the hues, however. Layer a variety of blues, teals, and violets for a dash of insouciance, or if you're really daring, contrast the dark blues with bold oranges, vivid reds, or vibrant yellows. Let the mood of your moody blues be an upbeat one!
Naturalist style is most closely associated with pale woods and natural fibers. But that's not to say a laid-back, organic space couldn't benefit from a few judicious additions—an indigo linen throw at the foot of the bed, an ottoman or dining chair upholstered in shibori fabric, a jute-blend rug with navy embellishments. 
Deep blue's association with luxury, as well as how beautifully it complements metallics, makes it tailor-made for Curator chic. Think sumptuous dark-blue velvet upholstery—or at least dark-blue velvet pillows, especially when complemented by a rich blue alpaca throw. An animal-print rug woven with navy blue in lieu of black or brown is another way to give a room the rarified glamour that Curators love. And don't overlook cobalt-blue glassware, from goblets to art-glass vases to Murano chandeliers.