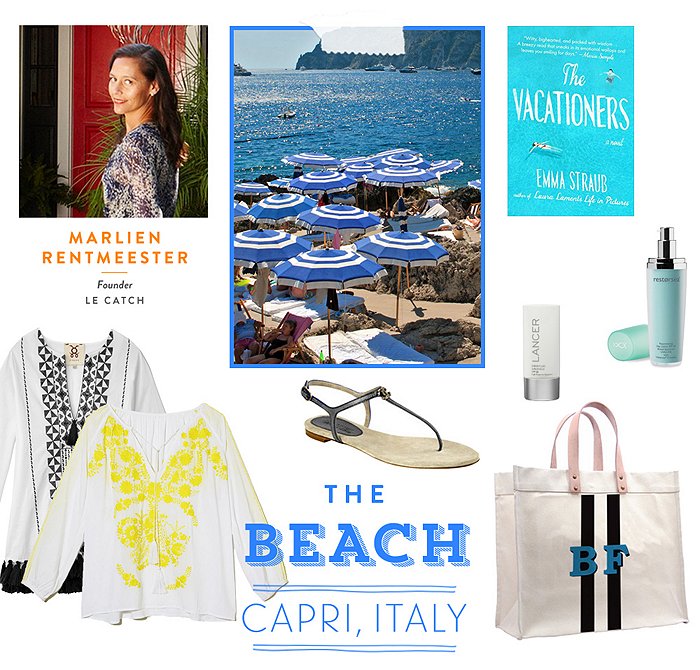 Why is Capri one of your favorite summer destinations?
There's so much to do: bobbing in the ocean, boating around the island, hiking the craggy cliffs—and shopping, of course. It's the essence of seaside glam.
Where do you stay when visiting Capri?
I love La Scalinatella. It's one of the island's most iconic hotels and for good reason: It's intimate, elegant, and perched atop a cliff, with the most spectacular views. Each room is different and beautifully appointed, and the service is top-notch.
What are some of your must-do activities or must-see spots?
Take the long steps down to Da Luigi or La Fontelina—both superchic "beach clubs"—for swimming in the sea, sunning on the rocks, and dining on quintessentially delicious Italian food. While everyone goes to Blue Grotto, I prefer the less crowded Green Grotto. Rent a private boat and swim inside the luminous, emerald-watered cave. It's magical—and forever memorable.
What summer drink would we likely find you sipping?
I love drinking a Bellini before dinner on the patio at the Hotel Quisisana, which is one of the most glamorous people-watching places in Europe. The drink is light, sparkling, refreshing, and so festive—quintessentially Capri!
"For me, summer is all about... indulging! "
—Marlien Rentmeester, Le Catch
What's on your summer reading list?
The Vacationers and The Invention of Wings.

We're obsessed with the outfits you post on Le Catch. Can you share a few summer wardrobe essentials?
Flat Chanel sandals that go from sightseeing to a swanky dinner, Figue caftans and tunics, and this Mexican bazaar top.
What are your summer travel essentials?
A roomy carry-on Gucci bag and a chic canvas beach bag.
What about summer beauty essentials?
Lancer sunscreen and Restorsea moisturizer. 

How do you like to unplug when on vacation?
Nap (which I never do), read a book, and swim in the ocean.

A huge thank-you to Marlien, and be sure to check out her amazing site, Le Catch, for your summer fashion fix.