Mother-daughter design duo Suzanne and Lauren McGrath, who head up design firm McGrath II, have a genius touch when it comes to crafting interiors that exemplify timeless style. Their designs manage to strike the perfect balance of old and new, luxurious and lived-in. "Our interiors tend to be a mix of both classical and modern influences, perhaps driven by our two perspectives," says mother Suzanne. "We curate every detail very carefully so that the spaces we design have a multilayered appeal that feels lived-in and curated."
That fine eye for blending high-style furnishings with modern-day comforts sets apart this Georgian home, which they outfitted for a young family in upstate New York. "They wanted the rooms to be very comfortable and not fussy, but they also hoped that the rooms would reflect the grandeur of the house itself," says Lauren of the homeowners. Here, the McGraths offer up six lessons for bringing timeless elegance to your rooms.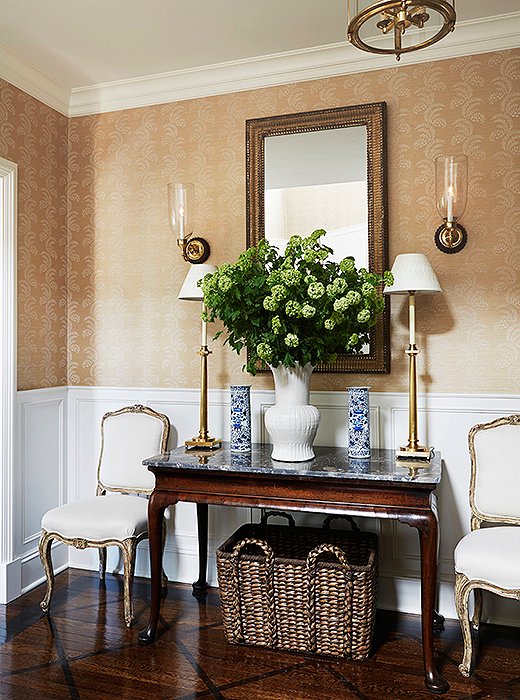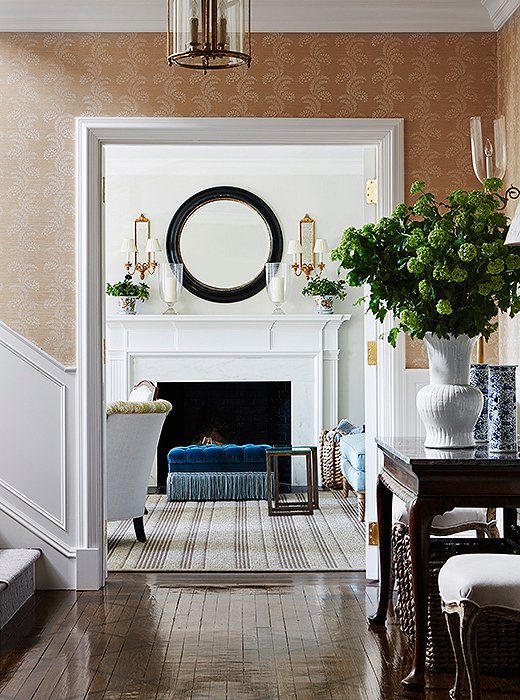 Lesson No. 1
Play Up Symmetry with a Twist
Symmetry is one of the oldest decorating tricks in the book, but Suzanne and Lauren decided to update the classic look with their own twist. "The painted floor, which we designed specifically to throw the symmetry off a bit, worked magically," says Suzanne of the diamond floor pattern that renders a set of antique chairs and a marble-top console ever-so slightly off-center. It's a subtle move that helps break up the formality of the space. "We're firm believers in making a good first impression, which is why it's so important to make the entryway beautiful," she adds. "Symmetry is often part of that." Our takeaway? Keep leaning into wonderful pairings, but also move things around to avoid creating spaces that feel too rigid.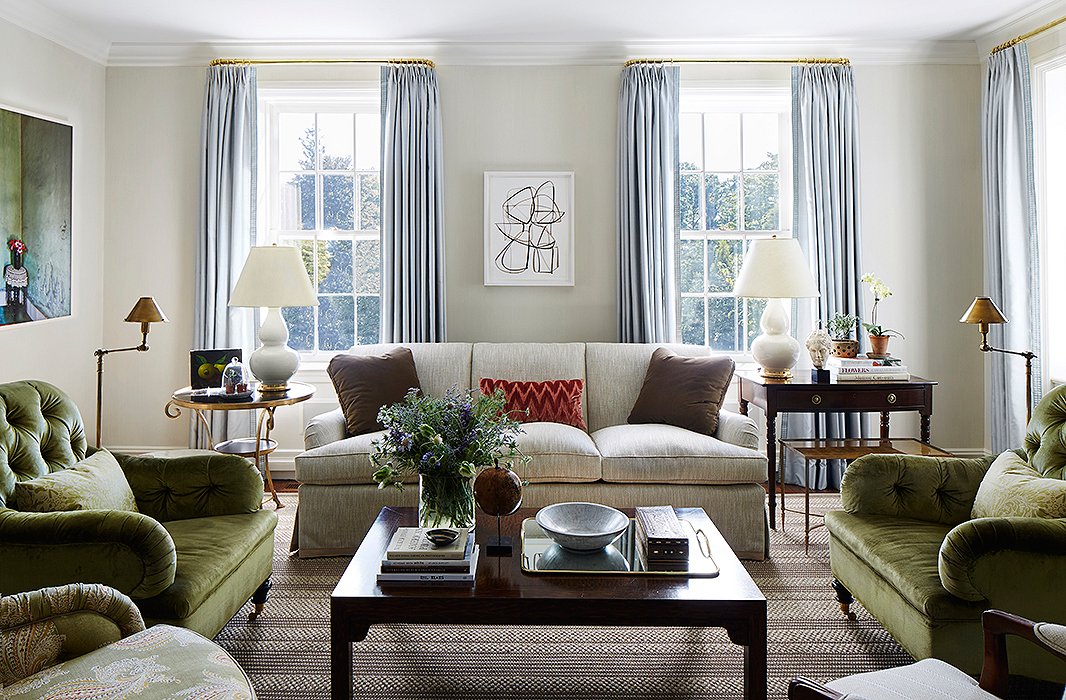 Lesson No. 2
Let Fabrics Lead the Way
What the living room lacks in wall color, it makes up for in luxe textiles, which the McGraths used on the classic seating throughout—from the green silk velvet and paisley of the armchairs to the heavy woven fabric of the sofa. "We started with the beautiful silvery pale-blue wool we found for the curtains," says Lauren of the color that can be found in both lighter and deeper shades elsewhere in the home. "Then we used a very neutral rug that let us take the color scheme wherever we wanted. Pairing green velvet with pale blue is somewhat unorthodox, and yet it just worked so well in this room."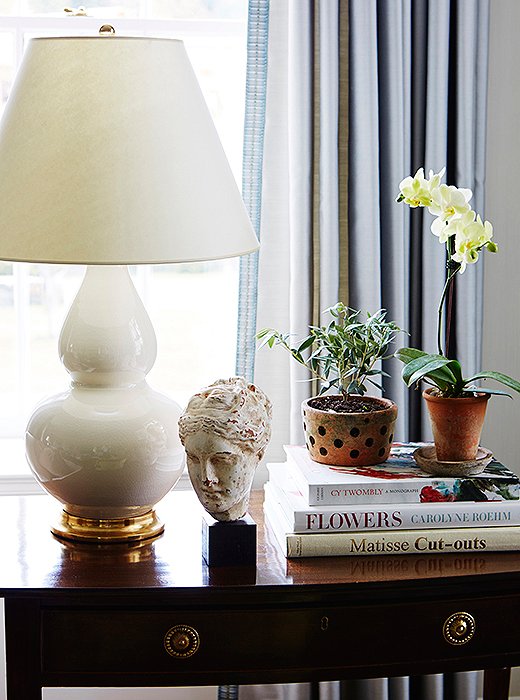 Antiques and traditional upholstery pieces will always be timeless. It's the mixing of prints, color combinations, and modern art that give this space a feeling of now.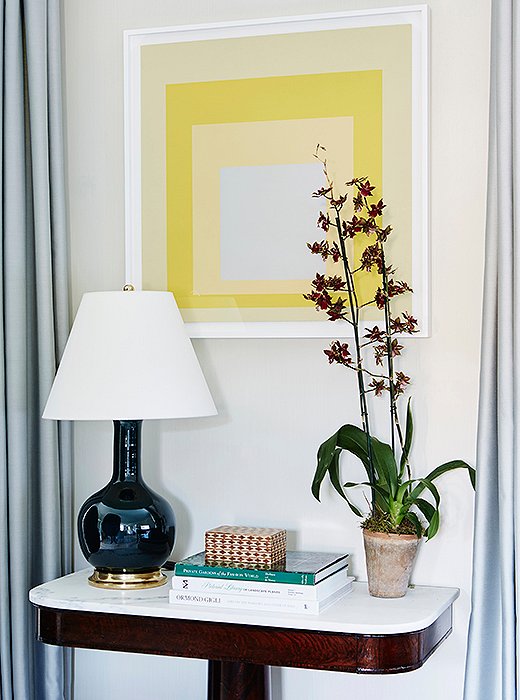 Lesson No. 3
Modernize with Art
"We believe that using modern and contemporary art is what makes any interior feel rooted in today, no matter the time period of the furnishings," says Lauren, who used a vivid photograph of a house in Cuba and a color-rich Josef Albers print to balance the room's vintage side tables, antique finds, and traditional furnishings. "We don't like to 'match' art to our interiors," she adds. "The photograph complemented the colors of the room, and the large-scale glossiness of a photograph brought in a fresh feeling that a traditional landscape painting wouldn't have."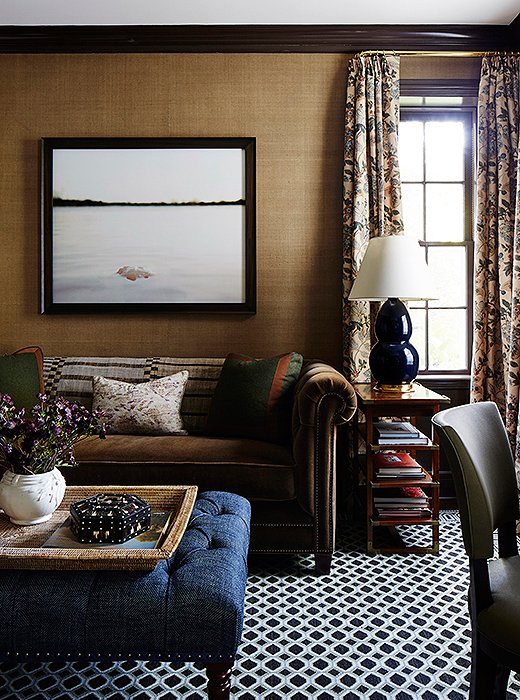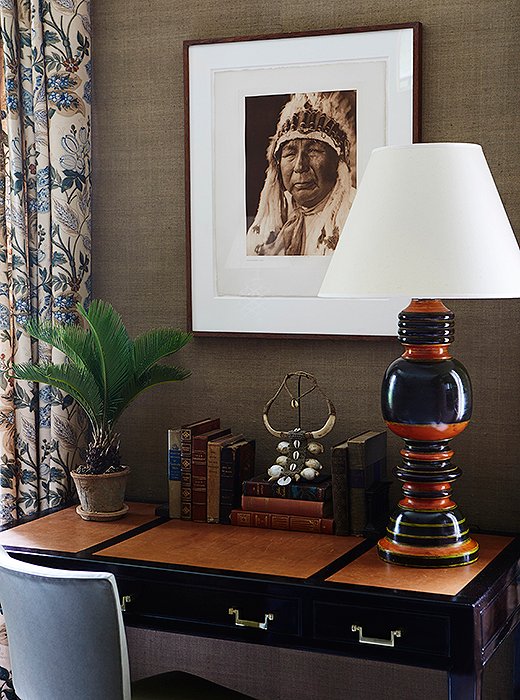 Lesson No. 4
Add (a Few) Worldly Accents
To brighten up the pattern-rich library/study, the McGraths opted for accents that could at once open up the space (cue the contemporary print and the bursts of off-white) as well as provide a more layered look. "We wanted to make it feel a little more traveled, so that it's more cultivated and not so decorator-y," explains Lauren. One piece that does the trick is the Indian balustrade lamp on the desk, which "was a way for us to throw things off a little bit in the room and make it feel a little bit more traveled and not too stuffy."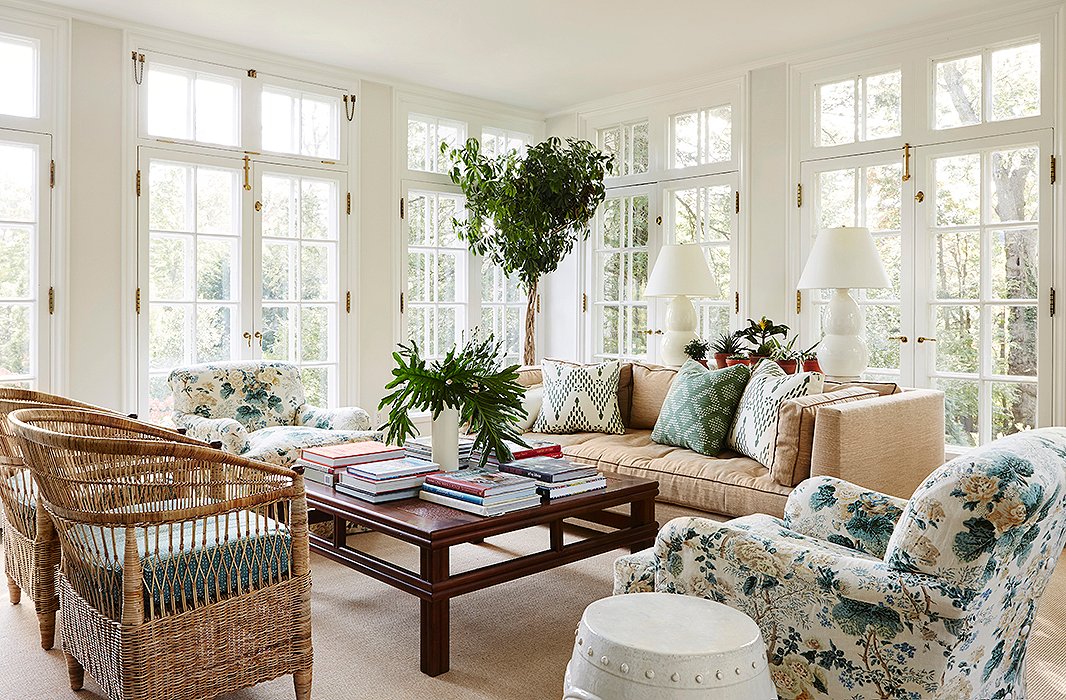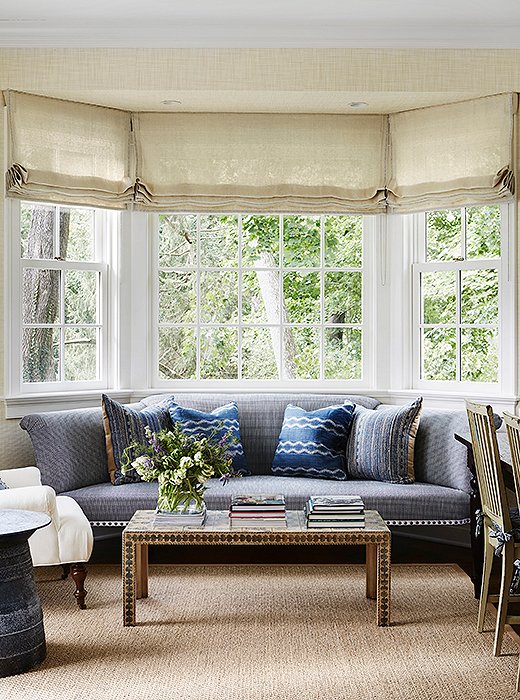 Lesson No. 5
Mix Trad Motifs with Clean Lines
The sunroom features a handful of timeless design elements arranged together to stunning modern effect. For instance, the McGraths chose a favorite chintz for a pair of armchairs, then offset it with bold chevron and diamond-pattern pillows in the same palette and pieces with simple, straightforward silhouettes. "The way to make really traditional prints feel more up to date is to mix them with other prints that are more graphic. If we had taken that same print and put it on the pillows on the sofa it would've looked like the room was coming out of 1985," Lauren laughs. "Having the Pop-y prints on the pillows, using a more modern-shape sofa that's just like a classic Billy Baldwin one, and then adding the rattan pieces that have a more modern shape, it makes the space feel immediately more updated." As Lauren proves, there's no need to shy away from a busy traditional pattern; simply ease it up with contemporary silhouettes for a timeless pairing.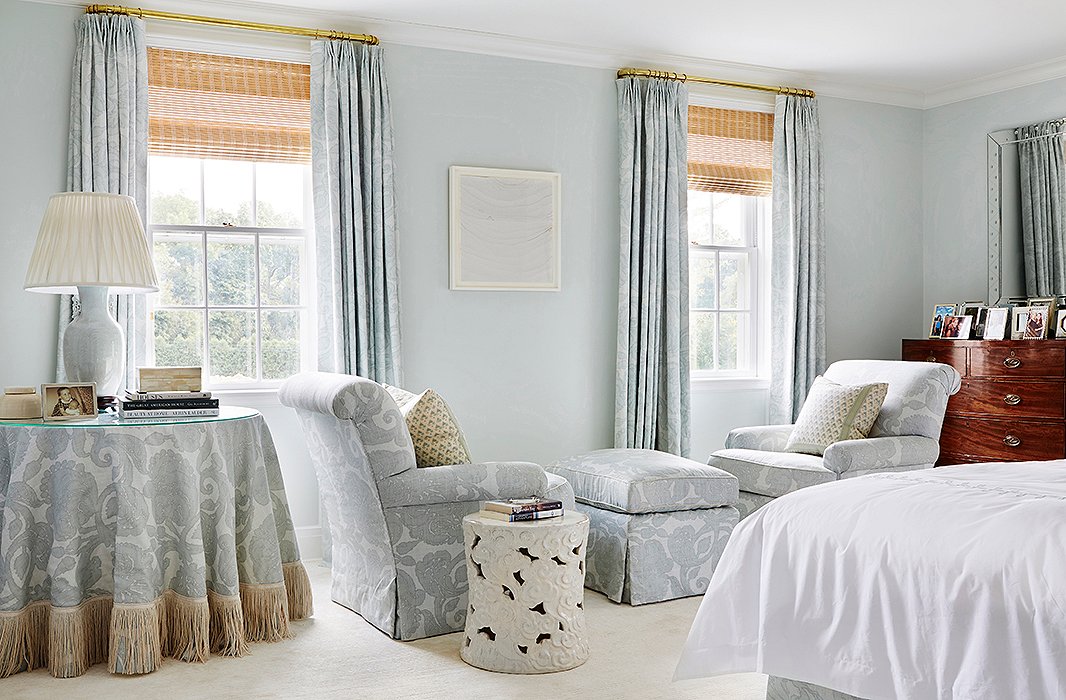 Lesson No. 6
Max Out on a Modern Print
Dressing a room in one pattern is a tried-and-true maximalist look we love. But instead of classic florals and trellises in the master bedroom, the McGraths chose to go big with a modern print that's easy on the eyes. "The room took its lead from the modern, hand-printed damask," says Suzanne, who explains that the print, once again, came from the fabric on the curtains. "It's not an old-fashioned fabric at all, and it looks like a silk screen." Against the white carpet and the baby-blue walls, the chairs, ottoman, and tablecloth in the soft-hued print blend seamlessly into the space, creating an atmosphere that's both serene and sophisticated.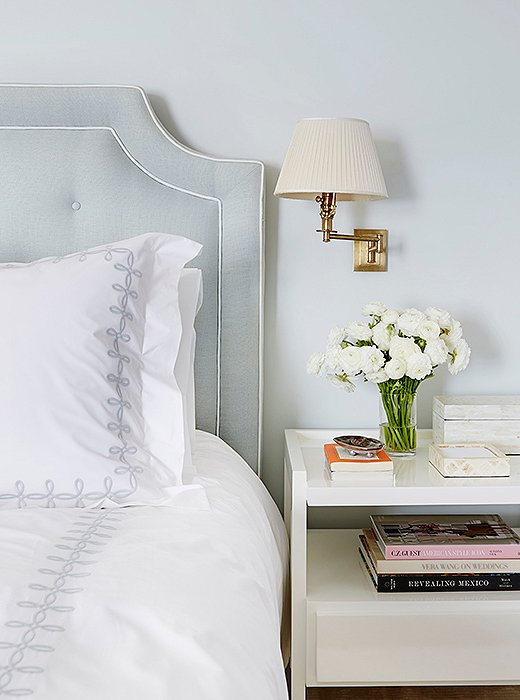 Decorating is truly a process, and one thing really does lead to another. The more flexible you are, the more interesting your rooms will be. Even though we always start with a furniture and color-palette plan, we always leave room for unexpected finds.