Once warm weather arrives, we like to take our meals outside every chance we get. (And we have plenty of tips for fuss-free but chic alfresco dining.) For holidays such as Memorial Day, however, we want to make the occasion extra special. So we called on two experts for suggestions: photographer/stylist Lucy Cuneo, who also runs an eponymous lifestyle blog, and baker extraordinaire Carrie Morey, founder of Callie's Biscuits.
Cook Up a Menu
For many, Memorial Day is their first opportunity to get grilling. Burgers and hot dogs, corn on the cob and veg kabobs… you could conceivably grill your entire meal. (Find a recipe for barbecued tri-tip beef here.) 
Not everyone enjoys laboring over a fire in the hot sun, however. What's more, urbanites don't always have a grill, and of course strong winds or rain can make barbecuing less than ideal. So you might want to have a backup or ancillary entrée. Cast-iron party shrimp, Carrie's go-to, is featured in her cookbook, Callie's Biscuits and Southern Traditions: Heirlooms from Our Family Kitchen.
"My mother adapted this from a Paul Prudhomme recipe and taught it to me," Carrie wrote, "and it was one of the first things I fixed for friends when I was living on my own and just starting to have people over. This dish is served right out of the skillet with warm bread, and it blends Southern and French flavors: the skillet and shrimp on one hand and the French bread and stock on the other. It's so easy, yet somehow it feels sophisticated to have everyone gathered around, eating right from the skillet with their bread sopping up the liquid, very European with an effortless sort of elegance. Skillets are considered no-nonsense workhorses in the kitchen, but their versatility and simple design makes them eminently stylish and tableworthy."
Cast-Iron Party Shrimp
Serves 8
Dry seasoning mix
2 teaspoons cayenne pepper
2 teaspoons freshly ground black pepper
1 teaspoon kosher salt
1 teaspoon crushed red pepper flakes
1 teaspoon dried rosemary leaves, crushed
3/4 teaspoon dried thyme
1/2 teaspoon dried oregano
4 dozen medium or large shell-on shrimp (about 2 pounds)
1/2 pound (2 sticks) plus 2 to 4 tablespoons butter
2 to 3 teaspoons minced garlic
2 teaspoons Worcestershire sauce
1 cup shrimp stock or chicken stock
¾ cup beer, at room temperature
French baguettes, warmed
Combine the first seven dry ingredients to make the seasoning mix, and set aside. Rinse the shrimp and drain well.
Melt 1/2 pound butter in a cast-iron or other large, heavy skillet. Add the garlic, Worcestershire sauce, and seasoning mix, then add the shrimp. Do not stir, but shake the pan back and forth for about 3 minutes.
Add the remaining 2 to 4 tablespoons butter (or to taste or preference) and the stock, and cook 2 minutes. Add the beer and cook 1 minute. Remove from the heat and let rest for 3 minutes.
Swish the shrimp in the pan sauce and serve with warmed baguettes.
(Another no-grill option, which you can make ahead of time, is gazpacho with crabmeat; find the recipe here.)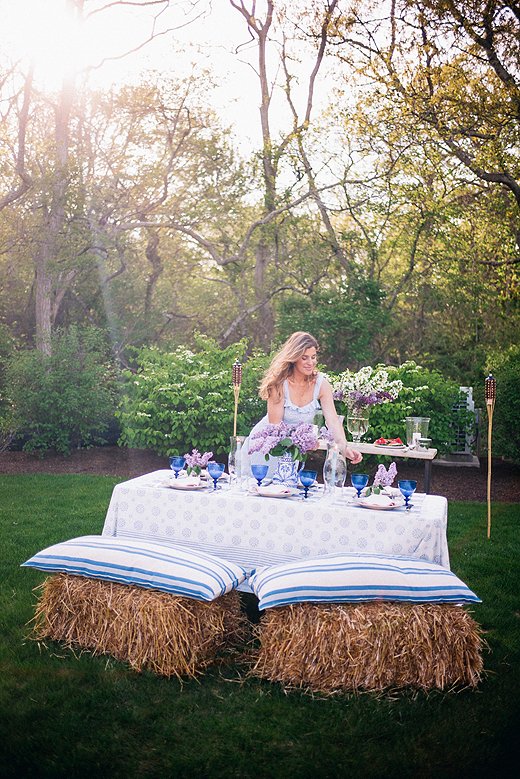 Set the Scene
Melamine tableware is an alfresco essential, as it's virtually shatterproof (important when you're walking around barefoot) as well as dishwasher safe. And it's now available in designs that are easily as chic as those of porcelain dishware. That said, using the good china outdoors can feel wonderfully indulgent. So can setting antique silverware alongside melamine (or even paper) plates and laying out a linen tablecloth rather than oilcloth.
Centerpieces also help elevate the setting. The number-one rule still applies: Don't opt for something so tall that you can't see the person sitting across from you. If you're lucky enough to have a garden in bloom, make a bouquet of your favorites or stick a few sprigs into small vessels that you can place throughout the table. At left, Lucy opted for "local lilac and cherry blossom, with early hydrangea from the garden."
If you have the space, set up a beverage station where guests can help themselves. Mother-of-three Lucy took a family-friendly approach. "We kept the margaritas virgin so that the children could join in on the fun," she says. "It ended up working a lot better than I anticipated: The adults just added a splash of tequila and Cointreau, but it allowed the children to salt the rim of their lime juice and enjoy with us." This option is also great if your gathering includes teetotal adults who might be tired of being relegated to sipping water or seltzer. (Find recipes for three more sophisticated alcohol-free beverages here.)
End on a Sweet Note
'Tis the season for fresh fruit, but special occasions call for a bit of decadence. If kids—or adults with the sweet tooth of a typical six-year-old—are part of your gathering and you have a grill or a fire pit, s'mores are a no-brainer. Grown-up versions of ice pops are fun too. 
Or add fruit to your indulgence, and impress your friends in the bargain, with a homemade cobbler. Carrie swears by the cobbler recipe in her cookbook: "When I need a dessert to take somewhere, there is nothing simpler nor more universally loved by all than this cobbler. It really is as easy as a cup of this and a cup of that. And it's incredibly versatile—you can experiment with different fruits and berries. You'll figure out which fruit or combination of fruits is your favorite, but I promise you they'll all taste good, especially served warm from the oven with a little ice cream on top."
A Cup, a Cup, a Cobbler
Makes 1 (9-inch) cobbler
8 tablespoons (1 stick) butter
1 cup white sugar
1 cup self-rising flour
2 tablespoons light brown sugar
1/8 teaspoon ground cinnamon
1 cup whole milk
1 teaspoon pure vanilla extract
2 cups berries and/or diced peaches (if frozen, do not thaw)
1 lemon wedge
Preheat the oven to 350°F. Melt the butter and pour into a 9-inch pie dish.
Combine the white sugar, flour, 1 tablespoon of brown sugar, cinnamon, milk, and vanilla in a bowl. Whisk just to combine. The batter will be lumpy. Pour the batter into the pie dish. Pour the fruit over the batter and give the dish a shake to even out the distribution.
Bake for 45 to 60 minutes, until golden brown. Remove from the oven and sprinkle with the remaining tablespoon of brown sugar. Let cool. Spritz with the lemon wedge just before serving.