Bon Appétit
The food-lovers' magazine is back with its annual grilling guide chock-full of recipes, ideas, and general drool-worthy content to make your weekend cookout unforgettable.
Food & Wine
Usually our motto is "Rosé all day," but this weekend we'll be fixing up a few of these cocktails made to complement dishes off the grill.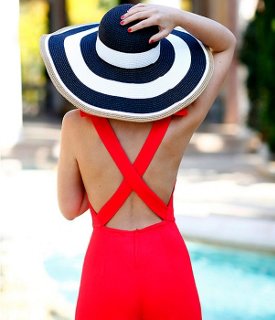 Attraversiamo-o
It's not yet July, but that doesn't mean rocking a red jumper with a wide-brim blue-and-white hat is out of the question!
Trendland
We're pretty sure Memorial Day weekend means throwing your summer diet plans out the window, so how about this Chocolate Mousse Pie with Peanut Butter Pretzel Crust?
Instagrammer to Follow (especially if you're stuck inside): Condé Nast Traveler
The feed of the beloved travel magazine accomplishes being everywhere at once due to its well-curated regrams from top IGers in the wanderlust game.