If you've ever perused her utterly enchanting blog, Manger, then you understand why it's hard not to be obsessed with Mimi Thorisson. Having abandoned the clutches of urban life in Paris for the quietude of the Médoc wine region in Bordeaux, Mimi and her family inhabit a worn château, where grand Old World architecture sets the stage for a life guided by simple, rustic comforts, each season's harvest, and artisanal delicacies found only in this relatively remote French area. "The dream was always there, but I never thought I'd actually do it," says Mimi. "Now we have created a home for ourselves where everything we do matches the mood of the house."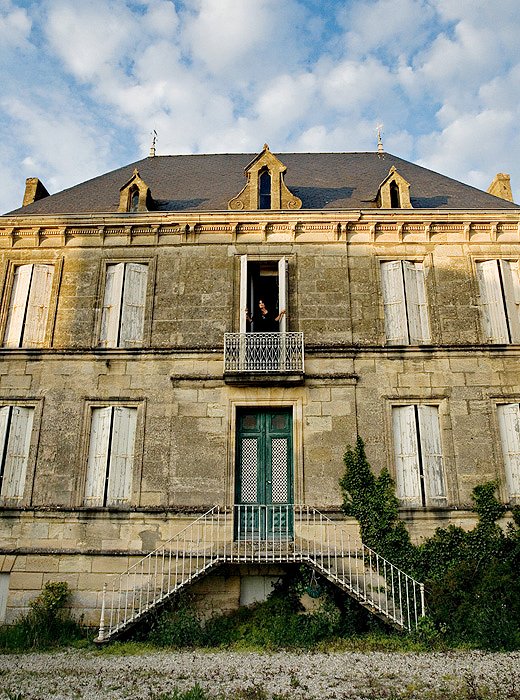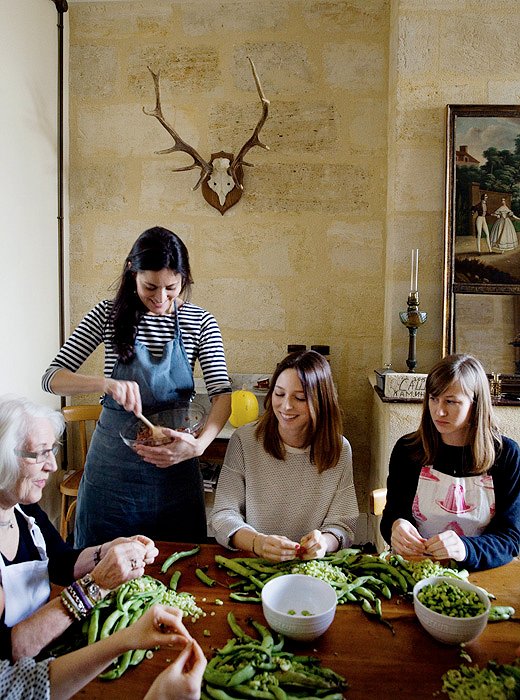 "I love preserving the classics in the way I cook," says Mimi, who shops daily to inform her French culinary creations. "I'm always inspired by my market trips. I like to cook with ingredients so fresh I know where they come from." Her recent cookbook, A Kitchen in France, chronicles a year of seasonally driven recipes perfected in her farmhouse-style kitchen, which she calls the heart of her home, the place where her family spends most of their time. Below, Mimi shares with us a treasured family favorite made with one of spring's fleeting delights—fava beans.
There's a magical spirit here that feels very special and inspires me to be a better cook.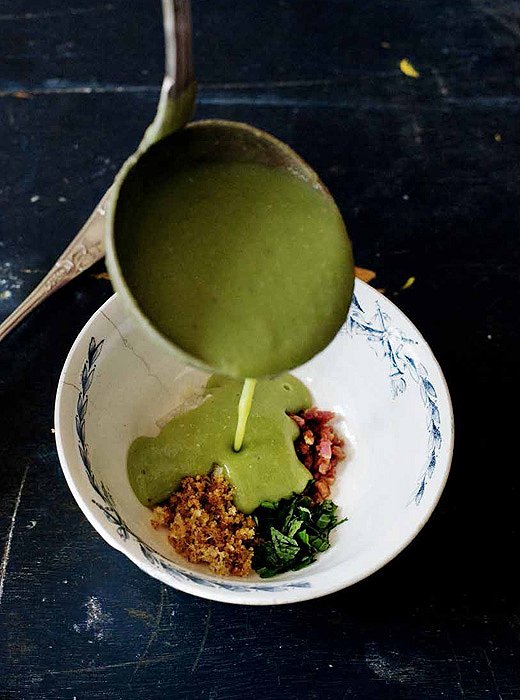 MY AUNT FRANCINE'S FAVA BEAN SOUP
Serves 4
For the soup:
1 pound large fava beans (about 4 pounds in the shell; if using small beans, blanch them quickly in boiling water so that they are easier to peel)
2 tablespoons extra virgin olive oil
1 onion, sliced
3 garlic cloves, sliced
1 large potato, peeled and diced
Fine sea salt and freshly ground black pepper
⅓ cup chicken or vegetable stock
For the garnishes:
5 thin slices of pancetta
1/2 of a stale baguette, sliced
1 garlic clove, cut in half
¼ cup extra virgin olive oil
Fine sea salt and freshly ground black pepper
½ cup mascarpone
A large handful of fresh mint leaves, finely chopped
2 shallots, minced
A pinch of piment d'Espelette (optional)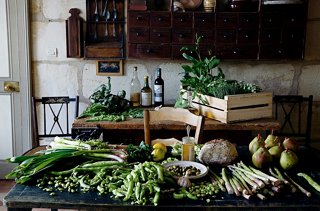 Start the Soup:
1. Snap off a tip of each pod and squeeze out the beans. Peel the outer layer off each fava bean and discard. In a large pot, heat the olive oil over medium heat and cook the onion until translucent, about 4 to 5 minutes. Add the fava beans, garlic, and potato, season with salt and pepper, and stir for a couple of minutes. Pour in the stock and enough water to cover the vegetables; season again with salt and pepper. Bring to a boil, then lower the heat and simmer until the potato is cooked through, 20 to 25 minutes.
Prepare the Garnishes:
1. Preheat the oven to 350°F. Fry the pancetta in a sauté pan over medium heat until golden and crisp. Scoop out with a spoon, and drain on a paper towel.
2. Rub the bread with the garlic clove and drizzle with the olive oil. Season with salt and pepper. Set on a parchment-paper-lined baking sheet and toast in the oven until golden and crisp, about 10 minutes. Set the croutons aside to cool.
3. Chop the pancetta and the croutons separately into little bits (you can use a food processor if you'd like). In a small bowl, whisk the mascarpone with 2 tablespoons of the chopped mint.
4. When the soup is done, purée it, in batches if need be, in a food processor or a blender, and return it to the pot. Reheat the soup over low heat for a few minutes, then season to taste.
5. To serve, scoop some shallots, the remaining mint, the croutons, and the pancetta into the bottom of each bowl. Pour in the hot soup, and top each serving with a scoop of the mascarpone. Sprinkle lightly with piment d'Espelette, if desired.