Since launching her popular blog, Manger, in 2012, Mimi Thorisson has inspired legions of readers to dream of dropping everything and decamping to the French countryside—taking up residence in a grand old château, spending days whipping up meals with the freshest of local ingredients. The woman making it all seem effortless reveals the real work that went into making a home in the Médoc region of France in her second book, French Country Cooking: Meals and Moments from a Village in the Vineyards.
Below, Mimi shares with us two winter-perfect recipes from French Country Cooking: one sweet, one savory, and both lovely additions to a festive holiday table. As for what to serve with them? "Always champagne!"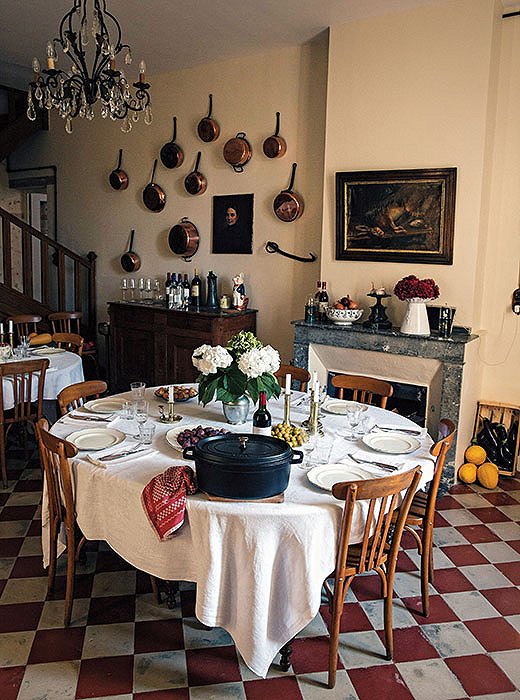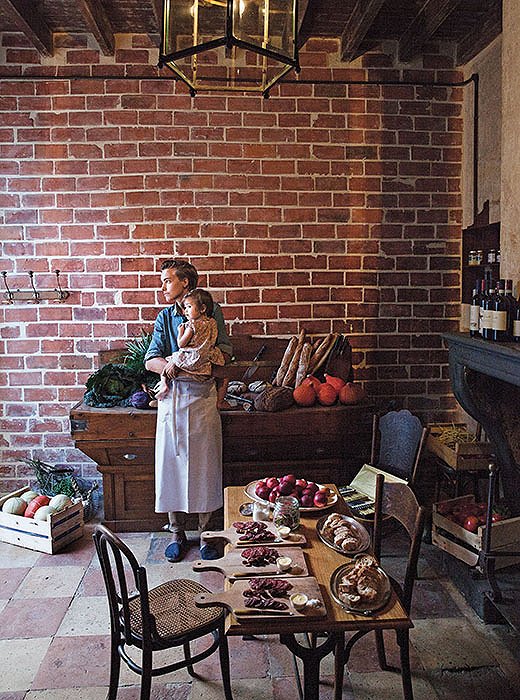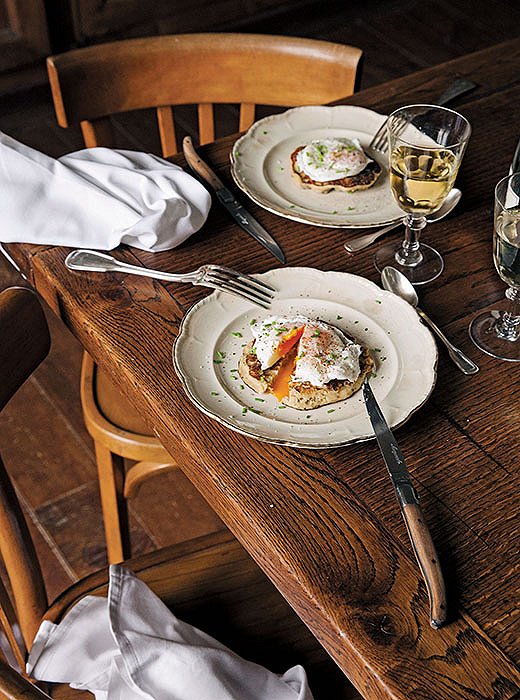 Chestnut and Potato Galettes
serves 10 to 12
1 pound russet potatoes
8 ounces peeled cooked chestnuts (bottled or vacuum-packed)
½ cup all-purpose flour
1 teaspoon baking powder
¼ teaspoon grated nutmeg
½ cup heavy cream
1/3 cup whole milk
2 large eggs, beaten
fine sea salt and freshly ground black pepper
extra-virgin olive oil
1. Preheat the oven to 250°F. Line a baking sheet with parchment paper.
2. Peel and wash the potatoes, and cut them into half-inch cubes. Put them in a saucepan, cover them with salted water, and boil until tender, about 15 minutes. Drain well and then mash with a potato masher. Separately, mash the cooked chestnuts with a fork; it's okay if they aren't perfectly smooth.
3. Put the potatoes in a large bowl, and add the flour, baking powder, nutmeg, heavy cream, milk, and eggs. Mix with a wooden spoon until you get a smooth dough. Season with salt and pepper, and then fold in the chestnuts.
4. In a small nonstick skillet, heat a little olive oil over medium-high heat. Once it's hot, pour in a small ladle of batter, just enough to coat the bottom of the pan, and cook about 3 minutes on each side until golden brown, flipping once. Put it on the lined baking sheet and transfer to the oven to keep warm while you repeat with the remaining batter to make about two dozen galettes. Serve warm.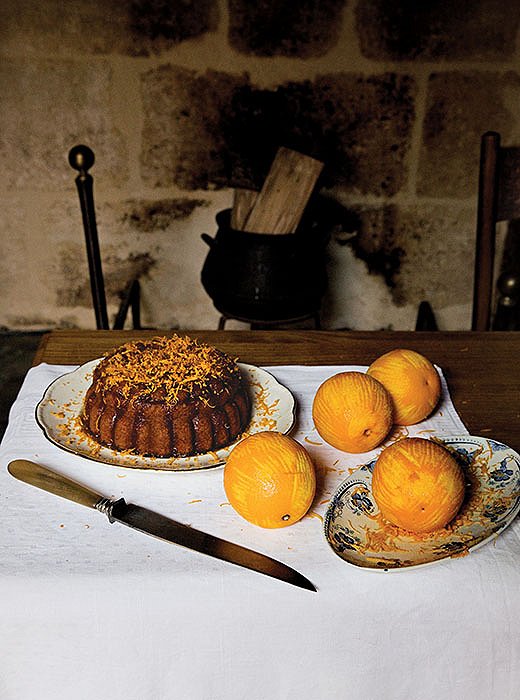 Old-Fashioned Orange Cake
Serves 8
15 tablespoons unsalted butter, melted, plus more for the pan
1 ¼ cups all-purpose flour
2 teaspoons baking powder
½ teaspoon fine sea salt
2 oranges, preferably organic
3 large eggs
1 cup plus 2 tablespoons sugar
¼ cup orange liqueur
1. Preheat the oven to 350°F. Grease a Bundt cake pan with butter.
2. In a medium bowl, sift together the flour, baking powder, and salt.
3. Peel one of the oranges, cut into chunks, and puree in a food processor.
4. In a large bowl, whisk together the eggs and sugar until light in color and fluffy. Mix in the pureed orange. Fold in the flour mixture and then mix in the melted butter and orange liqueur.
5. Pour the batter into the prepared pan. Bake 40-50 minutes, until golden brown and a knife inserted into the cake comes out clean. Let cool in the pan on a wire rack for 5 minutes before unmolding and letting cool completely.
6. Before serving, use a citrus zester to, zest the remaining orange and scatter the zest all over the cake.
Recipes reprinted from French Country Cooking. Copyright © 2016 by Marie-France Thorisson. Photographs by Oddur Thorisson. Published by Clarkson Potter/Publishers, an imprint of Penguin Random House LLC.