When La La Anthony was looking for someone to help her decorate her new Brooklyn townhome, she knew there was only one person she could turn to. "Nikki and I have known each other for years," says La La of Nikki Chu, One Kings Lane To the Trade member. "I trusted her wholeheartedly to turn my new place into a home. She knew exactly what I wanted and took the reins."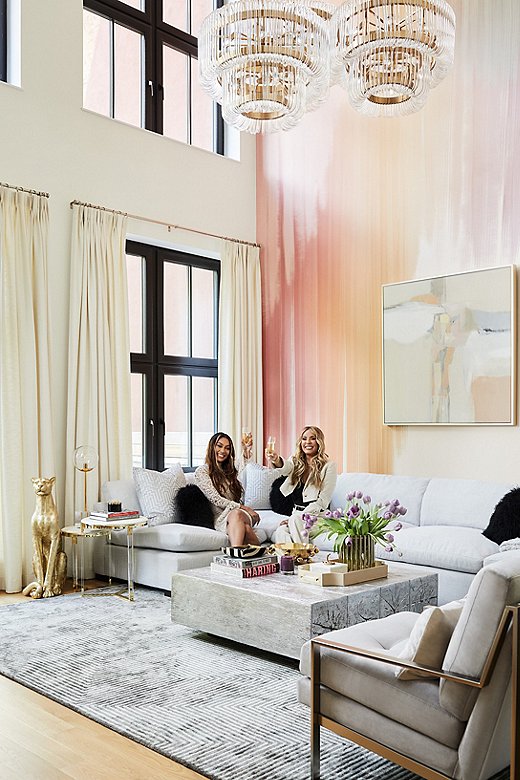 The pair had a clear vision for the space. "I wanted it to feel open and have a lot of light, a lot of neutral, fun colors," La La says. Nikki took that as her cue to bring in soft, feminine touches with loads of glam. "It was important that I found the balance between feminine and chic," says Nikki. She went with oversize sofas and soft textures—comfort and serenity were key elements of Nikki's design. "I brought in a lot of neutrals and soft, soft muted pink tones to get that serene feeling," she says. Her combination of feminine glamour and modern elegance was perfect for La La, who describes her style as "definitely modern and a little edgy, but also girly!"
Nowhere is that clearer than in La La's living room. The space feels airy, thanks in part to the double-height ceilings. Nikki went with a dreamy wall covering complete with hazy abstract forms in pastel hues to cover the walls and ground the space. "It really sets the tone for the room," says Nikki. An oversize sofa is the perfect lounging spot for La La and her son, Kiyan. Above it, Nikki placed an oversize abstract painting. "Scale is key when you're curating an art collection," Nikki says. And in a room with that much ceiling to contend with, Nikki had to get creative. She hung matching chandeliers from the ceiling to add weight to the space and make the room feel less loftlike. The drama of the twin chandeliers is just a bonus.
Nikki used art as another way to express La La's style and share what this home represents. In the dining room, she hung a photograph by Drew Doggett, Untitled 2: Omo, part of a collection by the photographer that chronicles the life of semi-nomadic groups in Ethiopia's Omo Valley. This piece, which is now a part of the Smithsonian African Art Museum's photography collection, is a favorite of La La's. "I love art that celebrates Black culture," she says. "It's a stunning piece that symbolizes strength, power, and perseverance."
For the foyer, Nikki chose Twilight Ombré, a limited-edition print by Dawn Wolfe that features a field of color that evolves from a happy turquoise to a dusty lavender. It perfectly encapsulates that serenity La La and Nikki wanted the house to exude. "I wanted to capture all the nuances of La La," Nikki says.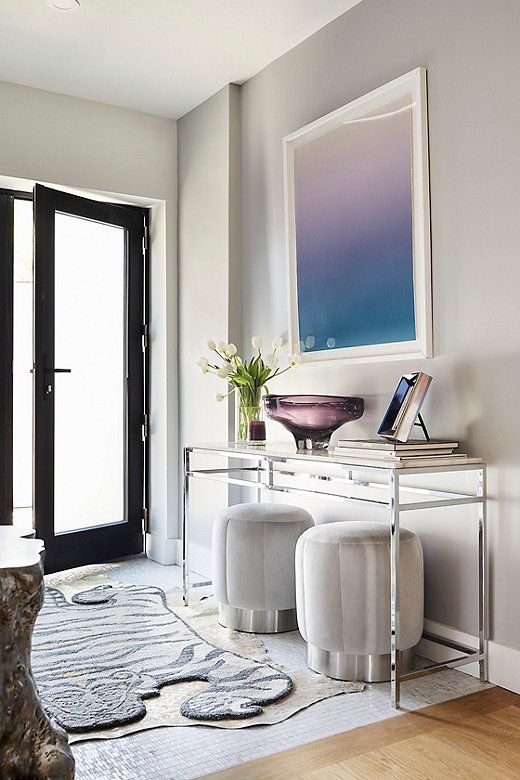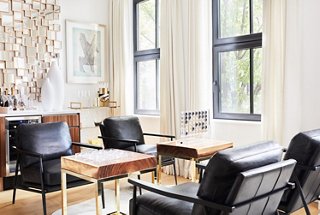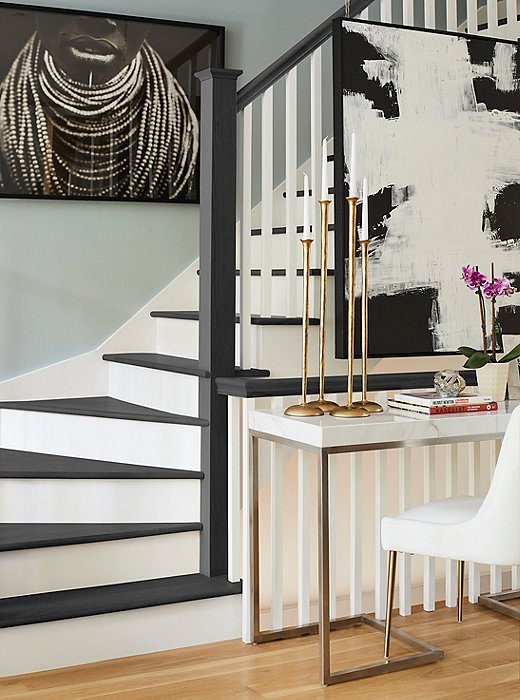 The Story Behind the Art
---
Photographer Drew Doggett is a storyteller first and a photographer second. He is also somewhat of an ethnographer, seeking to share the stories of the world one community at a time. His series Omo: Expressions of a People chronicles the life of the semi-nomadic people's of Ethiopia's Omo Valley. "The people of the Omo Valley's preserved sense of self-expression is etched deeply into the fabric of their identity," Drew notes. Through 23 images, he captures their story and tells it beautifully. In 2015, the Smithsonian Institute acquired the Omo collection and houses it as part of the permanent collection in the Eliot Elisofon Photographic Archives.