From cookies loaded with crunchy potato chips and salty pretzels to soft serve in Cereal Milk flavor, Christina Tosi's magical creations make her a real-life Willy Wonka. Her Milk Bar bakeries (there are six in New York City alone and another due to open in Washington D.C. this summer) draw lines down the block for their innovative and addictive cookies, cakes, pies, ice creams, and savory treats. "My biggest joy was seeing the line out the door on opening day and every day after," she says.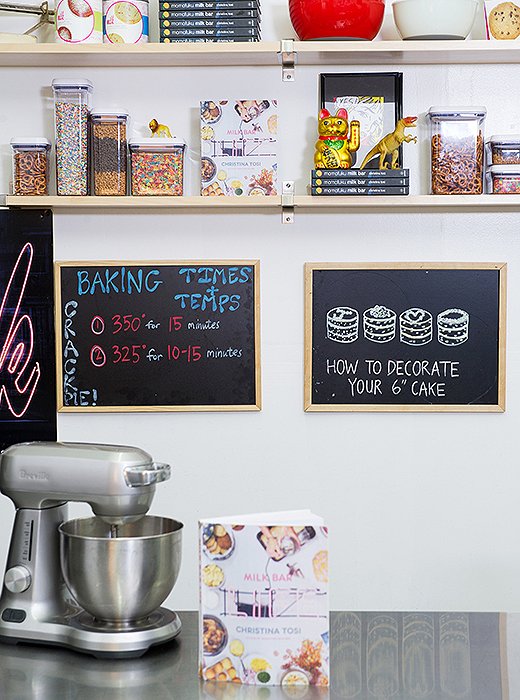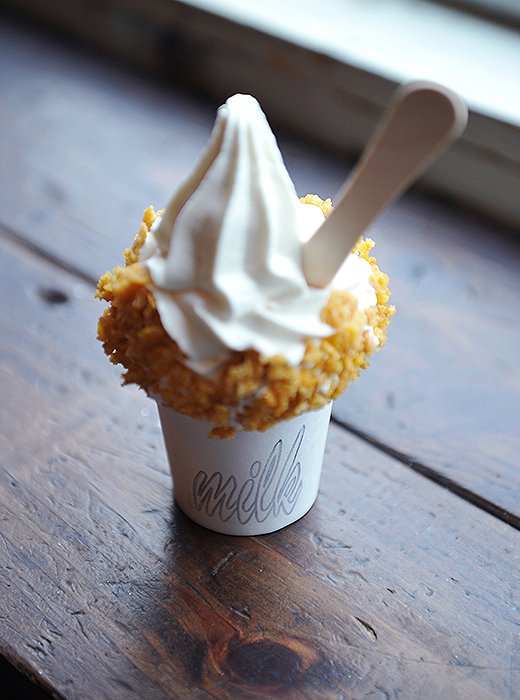 Milk Bar is rooted in Christina's childhood nostalgia: There are neon signs and chalkboard menus in hot pinks and greens. "Nearly everything we create has a point of inspiration, whether it's a classic bowl of cereal at the breakfast table or a Funfetti cake-mix cake that my mother would make for my birthday," she says. "We deliver warmth and care with a giggle, I suppose!" In time for the release of her latest book, Milk Bar Life, Christina hooked us up with her take on the classic sugar cookie dolled up as a sandwich with strawberry jam, plus some things she's learned about passion, cooking, and success along the way.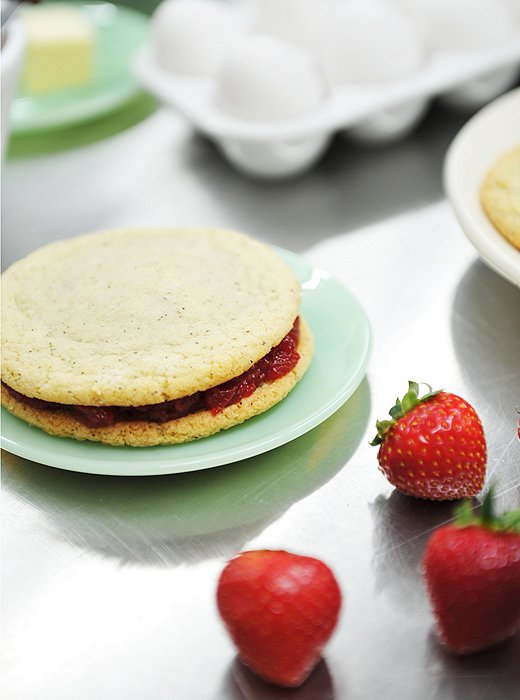 Salt-and-Pepper Cookies
Makes 1 dozen cookies
"I love serving these cookies on a platter or individually wrapped in a sweet little square of butcher or wax paper. They're great for breakfast, teatime (if that's your thing), on a picnic, or any sweet outdoor soiree."
Ingredients:
½ pound (2 sticks) unsalted butter, at room temperature
1½ cups sugar
1 large egg
2 cups all-purpose flour
1 tablespoon kosher salt
2 teaspoons black pepper
½ teaspoon baking powder
¼ teaspoon baking soda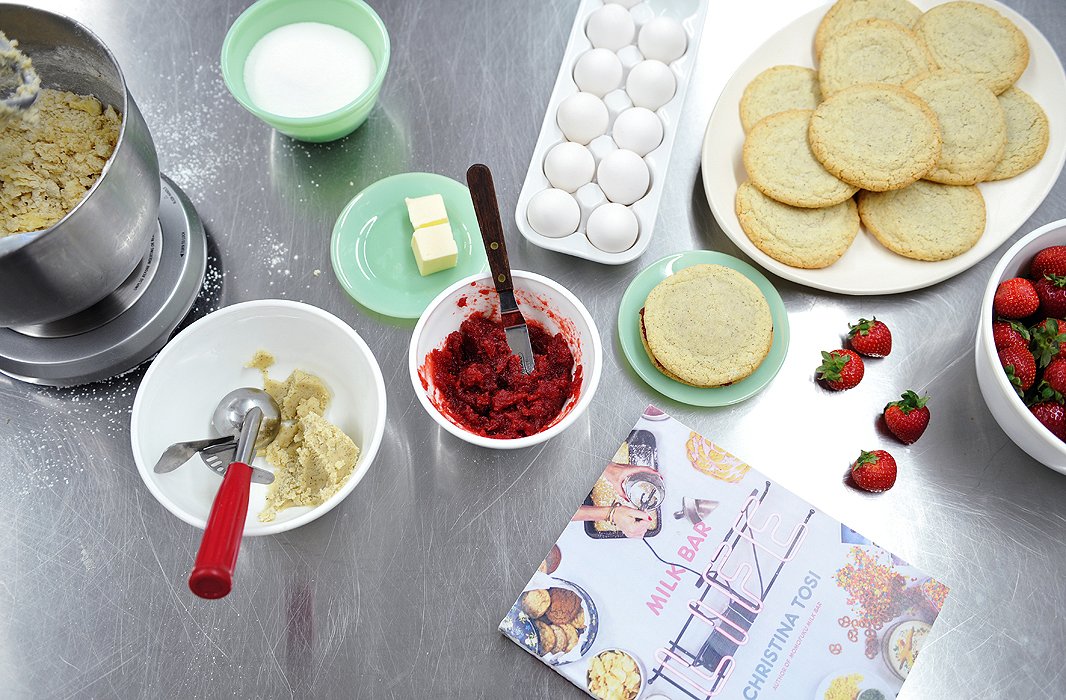 Instructions for Cookies:
1. Heat the oven to 375°F.
2. Combine the butter and sugar in the bowl of a stand mixer fitted with the paddle attachment, and cream on high until homogenous, about 3 minutes. Add the egg and mix until just combined, about 1 minute.
3. Add the flour, salt, pepper, baking powder, and baking soda, mixing until just combined, about 30 seconds.
4. Portion 2¾-ounce scoops of dough 2-3 inches apart onto a greased or lined baking sheet. Bake the cookies for 9-10 minutes, until golden brown. Cool completely on the pan.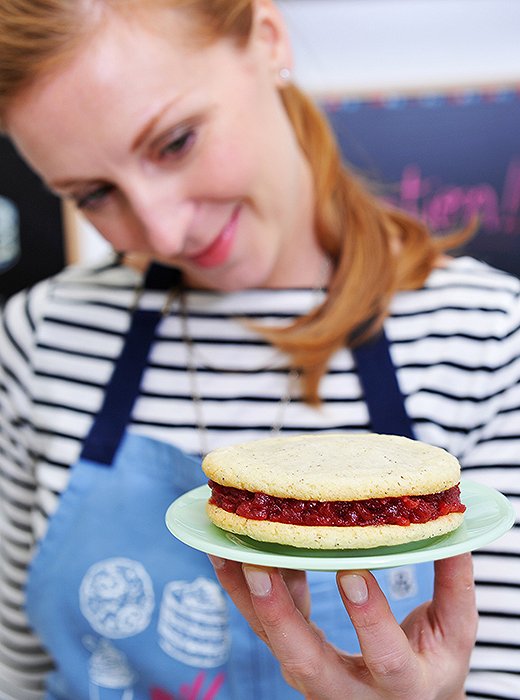 Pickled Strawberry Jam
Makes about 2 cups
Ingredients:
1 cup ripe strawberries, pureed and strained
½ cup sugar
2 tablespoons sherry vinegar
1½ tablespoons white-wine vinegar
1 teaspoon powdered pectin
½ cup sugar
½ teaspoon kosher salt
pinch of black pepper
½ cup strawberries, hulled and quartered (optional)
Instructions for Jam:
1. Whisk together the pureed strawberries, ½ cup sugar, and both vinegars in a medium saucepan, and warm over medium heat until hot to the touch.
2. Whisk the pectin with the remaining ½ cup sugar in a small bowl to combine, then whisk into the warming strawberry mixture. Bring to a boil, then reduce the heat and simmer for 2-3 minutes to ensure that the pectin is fully hydrated.
3. Stir in the salt, pepper, and quartered strawberries (if you please), and simmer for 1 minute more, or until the strawberries have softened. Let cool.
4. Spread jam on the flat side of a salt-and-pepper cookie, and top with another cookie.
We celebrate the highbrow, and we celebrate the lowbrow. Balance is important in kitchen and in life!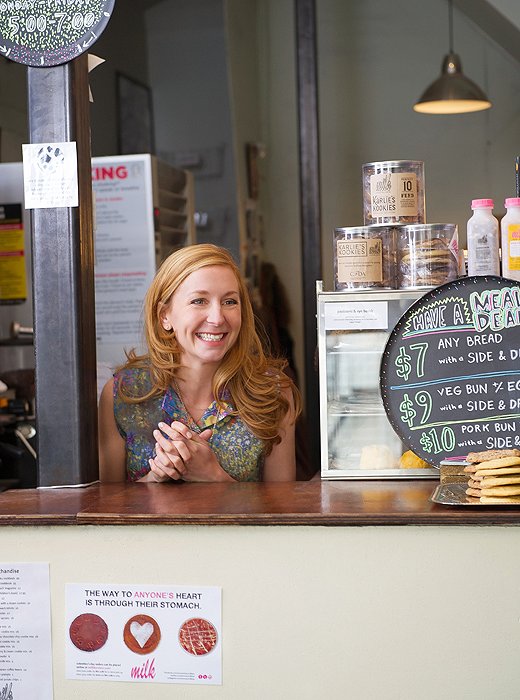 Christina's Tips for Sweet Success
Don't take "no" for an answer
"As a child, all I wanted was dessert for every meal. My mother stopped allowing me to only eat dessert, so I stepped into the kitchen to teach myself to bake. I loved it so much, I decided to go to culinary school and make it my profession." 
Cook with abandon
"Time spent in the kitchen should always be done with a sense of adventure! Improvising is a must in my opinion. It's how I taught myself to bake and more than anything how I taught myself to innovate. Approach creative time in the kitchen with a sense of boundless wonder!"
Conquer recipes and you can conquer life
"At Milk Bar we approach something as specific as a new recipe to something as vast as life in the same way: with a sense of vigor, open-hearted adventure, fearlessness, honesty, self-starting zest, focus, and seriousness when needed but hilarity and celebration throughout."
Work with people you love
"The Milk Bar team inspires me daily. I could never do it alone. Everyone has a love for food, a passion for hard work, and a heart full of integrity. We're up for anything and never more than five seconds away from cracking a joke. We challenge and push each other daily to be better than the day before."