Often called The End, the tiny (less than 20 square miles) beach town of Montauk is the easternmost point on the southern fork of Long Island. For everyone who ventures there—from young families to fashion stars (Cynthia Rowley) to salty fishermen—the allure remains the same: "There's just something magical about it," people say time and again. We agree.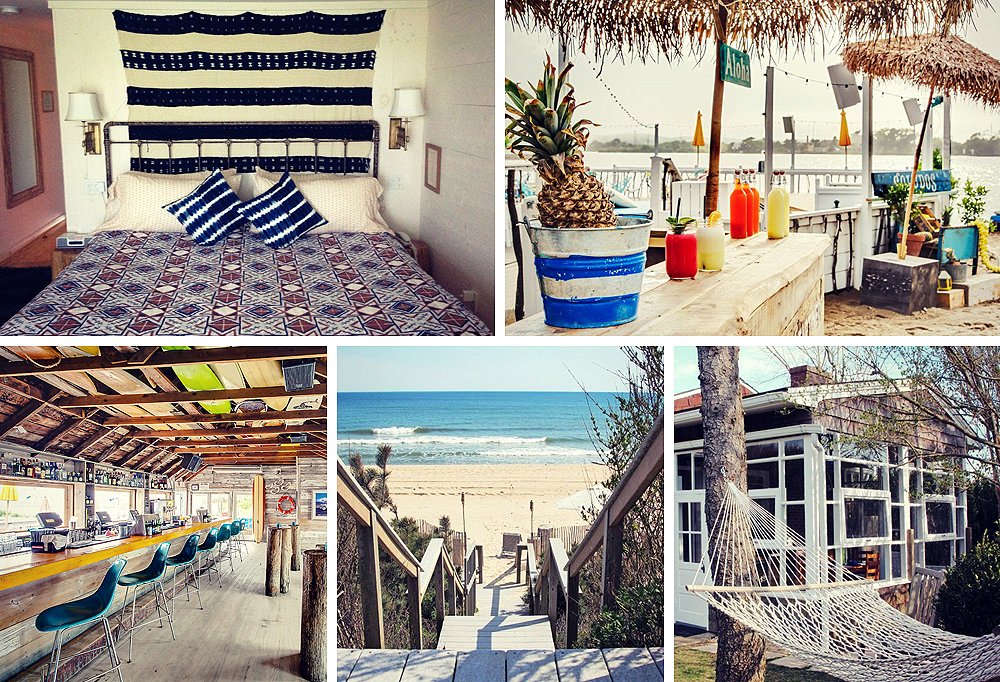 HOTELS
Drop your bags…
…at The Crow's Nest. One of the pricey ones for sure. But the curated rooms (Robshaw hand-blocked linens, copper trays) make you feel you've been shipwrecked with a stylist. The extras help too: free bikes and paddleboards (it sits on placid Lake Montauk), and gratis organic granola and fruit each morning.
…steps from the beach or the bay. While their rooms may be aesthetically lacking, these hotels are literally on the water. Each suite at Briney Breezes has ocean views (the dunes are just across Old Montauk Highway). And postsun cocktails are a snap thanks to each suite's full kitchen, plus you can enjoy them out by the heated pool. The recently renovated Haven Montauk is a cool sanctuary of white and blue that sits on Fort Pond Bay. Cruise to nearby restaurants on one of its bikes and end the evening around the fire pit. (It gets cool at night here, even in August.)
…in your very own (temporary) beach pad. VRBO (Vacation Rentals by Owner) has loads of inventory for the week or the month. A recent find is a wood-paneled cottage a stone's skip from the beach with a sunporch sporting a bar and BBQ, and a afternoon-stealing hammock.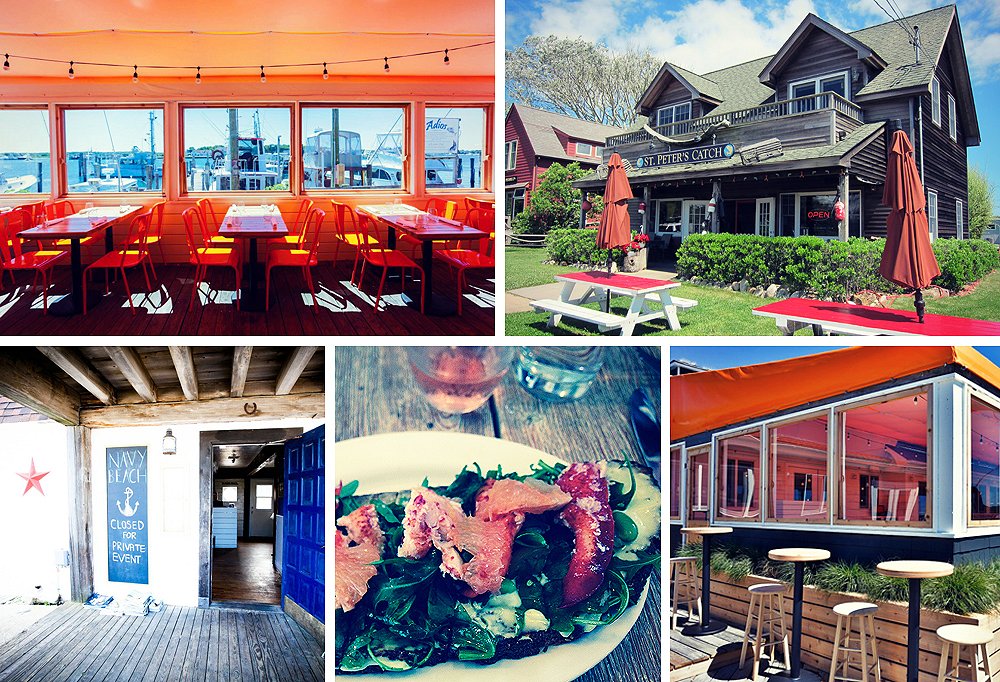 EATERIES
Head for…
…no-frills seafood and beer at Montauk Brewing Co. and neighboring St. Peter's Catch. Order a steamed lobster from St. Peter's, grab a picnic table outside, and ask for a growler of Driftwood Ale from the boys next door at the brewery. Insider tip: Don't leave without trying St. Peter's Fish Dip (aka "crack" dip).
…campgrounds gone posh. Tucked among three acres of woods, Ruschmeyer's bills itself as "a summer camp for grown-ups." Before dinner, work up an appetite playing ping-pong. After the meal (provided by the team behind NYC's Smile), catch a cult classic like Jaws on the lawn. No counselors in sight. 
…shrimp and grits with a side of ska. Swallow East is easy to spot off West Lake Drive. The inside looks like a ship's hull with a dose of industrial cool. The Sunday evening reggae bands are a draw for the seasonal staff and city weekenders not ready to face Route 27 traffic.
…sunset cocktails. There are two great options locals swear by: For a swankier scene, try Navy Beach. Plop down on one of the beachside sofas, order a Dark 'n' Stormy, and watch the orange globe fall below Fort Pond Looking for a saltier crowd? You can't beat the view outside of The Montauket. Just get there early to nab a seat or a place along the fence. They go fast.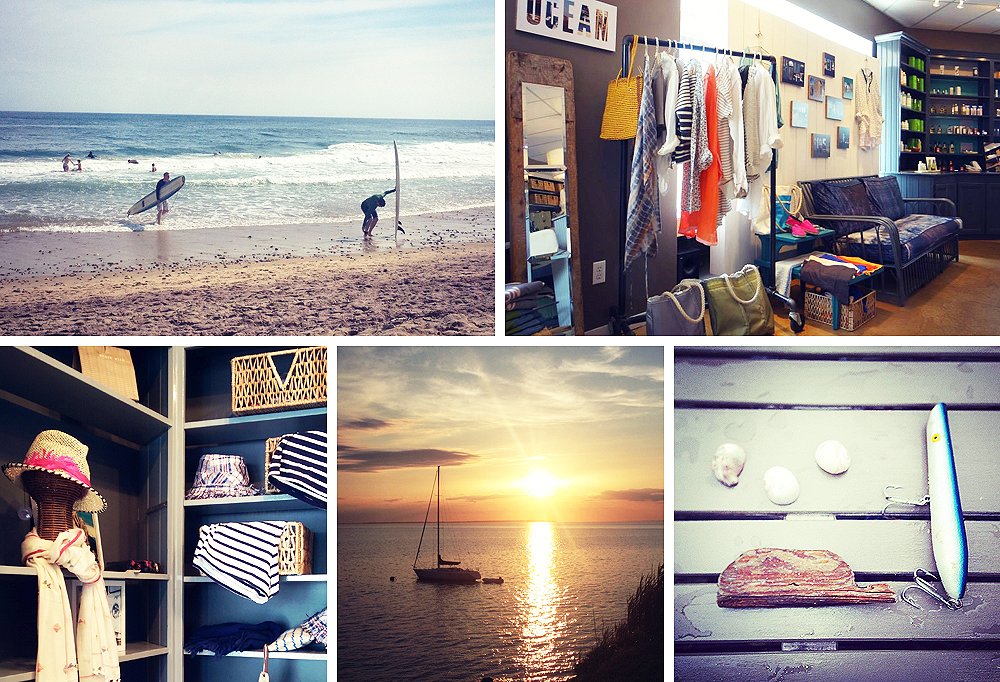 ACTIVITIES
Don't miss…
…separating the kooks from the shredders. Ditch Plains Beach, about two miles east of town, is a scene for two reasons: the surfers and those who want to be around the surfers. Plant yourself on the small strip of beach at the end of the dirt lot for the best views (of and out of the water).
…getting your feet (at least a toe) wet. If you're trying surfing and stand-up paddling, or just want to look like you did, duck into Air & Speed Surf Shop. Owner Stu and his crew will set you up with all you need and give you the lowdown on the best spots to hit.
…leaving without a new cover-up. While shopping is not the draw here, there are a few postage-stamp-size boutiques worth checking out. Even if you're not staying at The Surf Lodge, stop by its Surf Bazaar for a new bikini or Lemlem caftan. In the former Memory Hotel (yep, the place that inspired the Stones' song), Cynthia Rowley will hook you up with a pretty (if not practical) wet suit. And housed in a garage, Melet Mercantile is an achingly cool, curated shop of vintage clothing, antiques, and a rotating roster of art and photography.