One Kings Lane style guru (and resident Weekend Decorator) Megan Pflug is back with her latest crazy-cool creative DIY solution.
Eva McCausland, a senior buyer here at One Kings Lane, had a problem: a wacky wall with two doors and mismatched moldings in the bedroom of her Brooklyn apartment. Although she loves the vintage character of her space, it had fallen victim to some less-than-sympathetic remodels over the years, and she didn't want shabby (minus the chic) to be the only style note it was hitting. When she came to me for a renter-friendly solution, I scoured my Pinterest boards for inspiration. The sun-bleached colors and arches found in Moroccan architecture have been speaking to me lately, so I got to work translating that look to Eva's room. The result is a Moroccan-style painted doorway that disguises the molding mash-up but would also bring character to a blah new construction. Read on for my step-by-step how-to!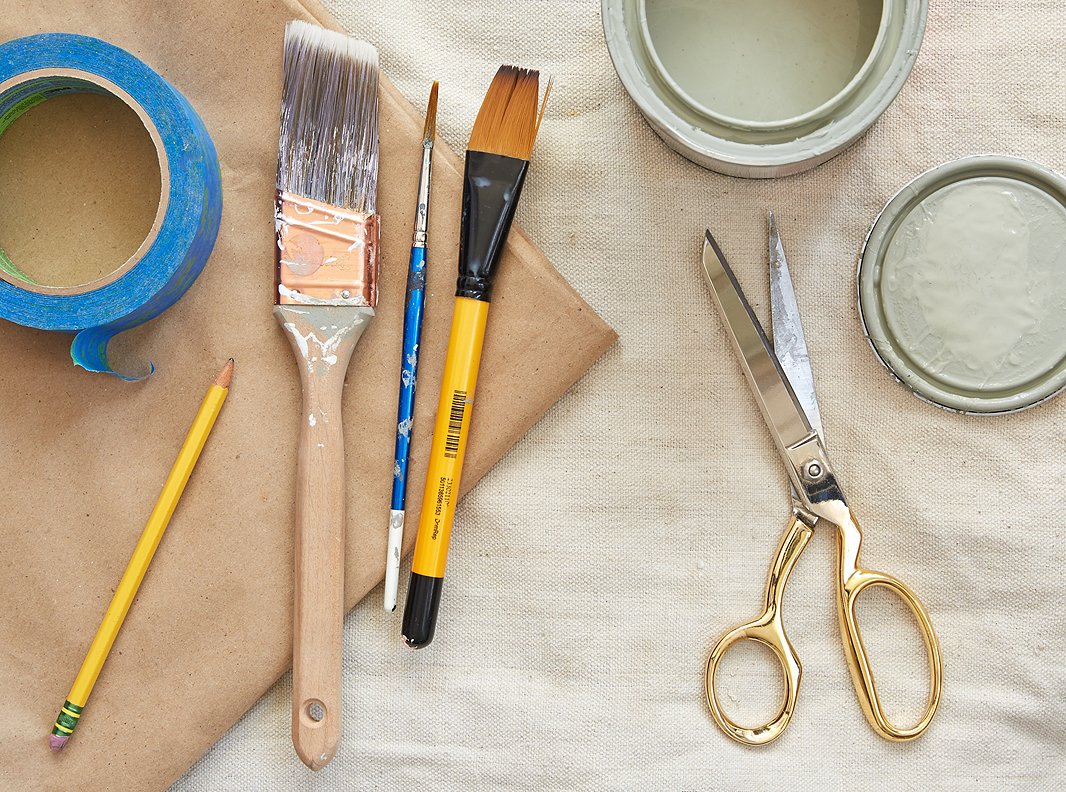 Here's What You'll Need
A large piece of Kraft paper
A pencil
Painter's tape
Scissors
Paint (the archway is Bayou MSL237; the wall is Nasturtium MSL043)
1-inch (or smaller) soft-bristle artist's paintbrush
2-inch painter's paintbrush
Drop cloth (to protect the floor)
Step 1: Create a Template
I cut a piece of kraft paper a couple of feet wider and about three feet taller than my door and folded it in half vertically ("burrito-style" for all of you who did crafts as a kid). Next, I used a pencil to draw one half of the outline based off the inspiration archway I'd found online. Once I was happy with the design, I cut it out, unfolded the paper, and voilà! I had my template. I positioned the template over the doorway using painter's tape and traced the curved outline of the archway onto the wall with a pencil. Then I used more painter's tape to line the straight edges of the design parallel to the the sides of the doorway (it's cleaner that way).
Tip: If drawing the design yourself sounds too intimidating, never fear! An easy way to create the outline of a perfectly scalloped archway is to arrange and then trace a collection of round objects such as plates and bowls on your paper.
Step 2: Paint
Once the outline of the arch was traced onto the wall, I used a small artist's paintbrush to paint the curved edges. Trust me—using a small brush for this part will save you a lot of headaches in the long run! It can be hard to get a clean line with a larger brush. The good news is that once the edges are done you can go up several brush sizes to paint both the inside of the outline and down the straight taped edges.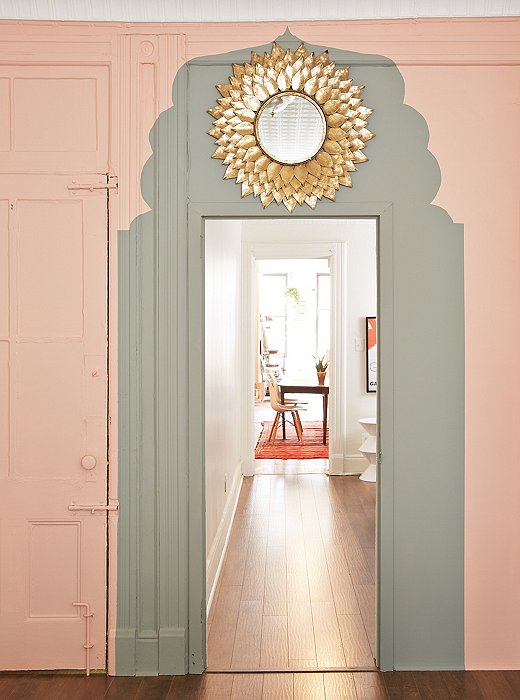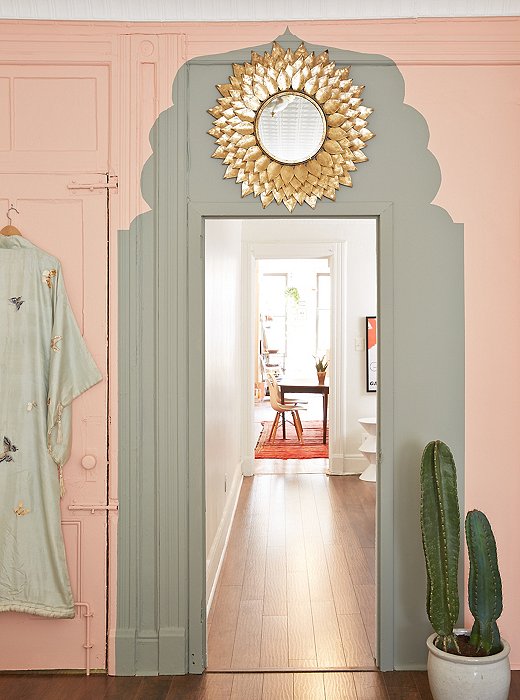 Step 3: Finishing Touches
Adding a couple of key accessories to the room is the secret to elevating this design from crafty DIY to chic decor. To help integrate the painted archway into the room, I centered a gold starburst mirror above the door. Then I placed a potted cactus off to one side and hung a vintage kimono off the other. It doesn't take much, but backing up bold design statements with the right accents is crucial.
We love to see what you're making! Share your weekend projects on Instagram using #WeekendDecorator, or follow @onekingslane to be sure you never miss a project.