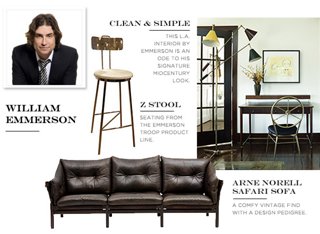 Accidental Shopkeeper
London-born William Emmerson had no intention of ending up in retail. "I'm an industrial designer who happens to have had a shop for 14 years," he says. Regardless, his L.A. gallery, Emmerson Troop, which focuses on midcentury design in addition to carrying Emmerson's own furniture collections, has been flourishing since 1997.
Treasure Hunting
With a store full of iconic modernist pieces (some of them museum-worthy), Emmerson has learned a thing or two about smart collecting. "For the blue-chip pieces—anything by Giò Ponti, Pierre Chareau, and Jean Prouvé—you're buying age, provenance, and look," he says. "I say, 'Love it or leave it.' Repainting, refinishing, or reupholstering a piece hurts its value."
Time & Study
For those looking to bone up on midcentury design he suggests hitting the books. "Modern-art books will lead you down an inspiring road toward midcentury design. Check out New Dimensions by Paul Frankl, or anything on Charlotte Perriand. Also, try reading Christie's and Sotheby's auction catalogs and talking to dealers to familiarize yourself with what's out there now," Emmerson says.
"When you research a piece, you often discover another interesting person. That's the exciting thing about Mid-Century Modern design."
—William Emmerson