Just in time for the holidays, designers John Dransfield and Geoffrey Ross, founders of the home accessories line Dransfield & Ross, reveal their favorite napkin-folding ideas. Read on for step-by-step instructions to create four unique and stylish napkin looks.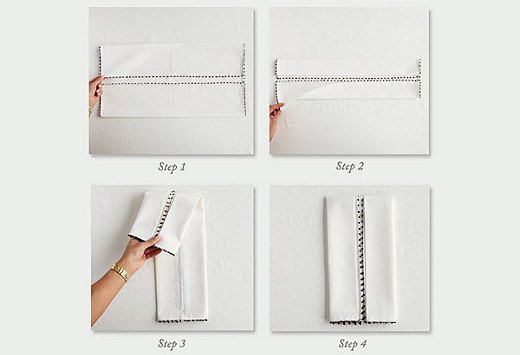 Box-Pleat Fold
How-to
Fold napkin into a rectangle, leaving a little space between the trimmed edges.
Repeat fold for an even skinnier rectangle (and what looks like the start of a paper fan).
Flip it over so that the smooth side is up, then grab the top edge and fold it toward you.
Line up your edges for a tailored look fit for any formal occasion.
This dressy, buttoned-up fold with the peek-a-boo trim is a fabulous option for New Year's and more formal occasions. Drape the folded napkin halfway off the plate for an extra-dramatic look.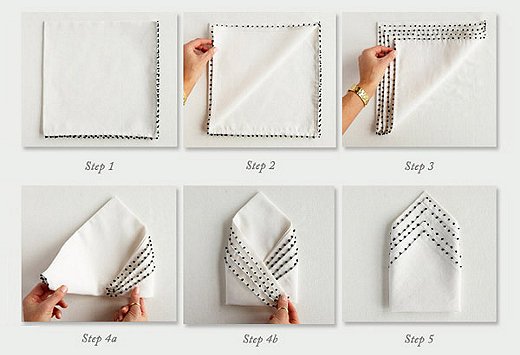 Handkerchief Fold
How-To
Fold napkin into a square.
Starting at the most open and decorated corner, bring the top layer toward the closed corner.
Repeat with the subsequent napkin layers, bringing each corner slightly lower than the previous one so that none of the trim overlap.
Turn the triangle over, smooth side up. Take one of the narrow corners and fold it halfway over; repeat with the other corner.
Flip back over for an architectural fold.
This architectural fold is so versatile! It could go with a traditionally formal table setting or work in a Mid-Century Modern environment that plays up the structured shape. Plus, the folds of the napkin also double as a place-card holder!
Roll Fold
How-To
Fold napkin into a square.
Roll napkin, starting from unadorned side.
Slip a napkin ring over the loose roll, exposing all four layers of trim.
Place napkin horizontally over the plate to give the setting a dynamic and unexpected look!
Spade-Shape Fold
How-To
Fold napkin with trim into a square.
Grab closed corner (the corner without trim) and pull a couple of inches of the fabric through the napkin ring.
Place the softly draped fold over the center of the plate for a sculptural spade shape.
Love the roll because it shows off a napkin's pretty edge; plus, it's a snap to do.
The orange velvet double-D ring matches the napkin trim for a sporty, preppy look that would be great for a luncheon or casual dinner party.