Today Show news anchor Natalie Morales is all about a fresh start. A mom of two, Natalie's day starts before the sun rises, at 4 a.m., and doesn't slow down. When it came to start anew with her sparse living room in her Hoboken, NJ, brownstone, there wasn't much time (and attention) she could spare.
The solve? Natalie asked us to help her update her living space into a place that suited her growing family as well as her style cravings. So in we came with our stylist, who helped transformed Natalie's living room into the place of her dreams—one that's equal parts glamorous and family-friendly.
Check our before-and-afters and see the transformation!
BEFORE: The Back of the Living Room

NATALIE'S CHALLENGE
"I have two boys who are very active. They like to play soccer in my living room, so I need a place that allows them to do that, but at the same time I also want a place for myself that feels like a grown-up living room," Natalie says about her 15-foot-wide living room, which is located between the front door and the kitchen.
She also dislikes how everyone always ends up in the kitchen rather than gathering in the living room. The main seating area near the kitchen felt uninviting even though it was the heart of the space and meant to be a comfy, family-friendly spot for lounging.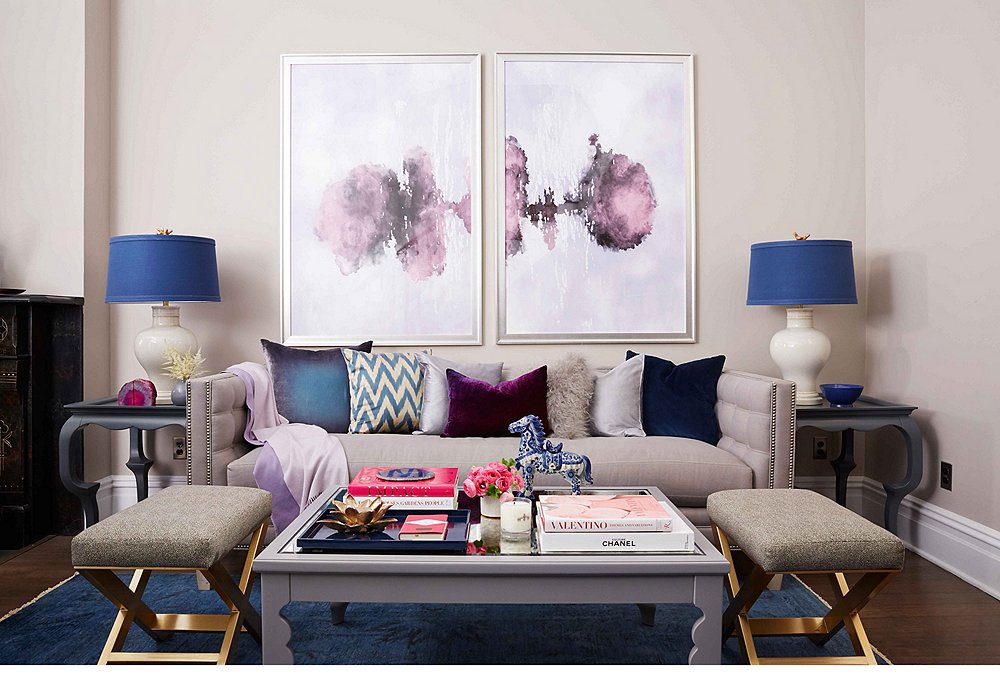 AFTER
The first thing we did was replace Natalie's sofa with a not-so-deep one, which instantly opened up the narrow space and made it feel less crowded. We also replaced Natalie's bulky hexagonal table with a smaller, rectangular coffee table for the same reason. But to really tie everything together and give the space the glamorous look that she desired, we layered in cozy accents and unified everything in a palette of cool blue, gray, and purple (Natalie's favorite color).
In the Blues
To balance out the neutral wall color that Natalie loved, we brought in a deep-blue overdyed rug. The perfect backdrop for all the pale furniture, it's family-friendly as well: It stands up to foot traffic and hides everything.
We also brought in books and accents with notes of blue, gray, and purple to brighten up the coffee table—from the agate pieces to the blue-and-white horse, which our stylist found in Natalie's library.
Art Space
The high ceilings worked in our favor for large-scale art, so we hung a watercolor diptych above the sofa to draw the eye toward the seating area. It helps tie together the colors in the space, adds symmetry, and immediately provides an elegant but inviting vibe.
Perfectly Petite
To avoid blocking traffic flow, we added slim chairs—or as we call them, "the perfect little big chairs." The small wings make them feel cozy, while their slender size keeps the space feeling open. Against the bright blue rug, the gray geometric pattern on the chairs strikes the perfect balance between bold and simple.
I love the color scheme in here, and these are all of my favorite colors right now—the mauves, the blues, the grays. It feels to me like it's a warm and inviting place. And it's elegant, but yet it's not so restricted or formal.
BEFORE: The Fireplace
NATALIE'S CHALLENGE
"My decorating style is very casual. I like a little bit of a modern flair, but I also like a home that feels like a home."
We wanted the fireplace to be a focal point, but we also wanted it to help seamlessly connect the back seating area with the front of the living room.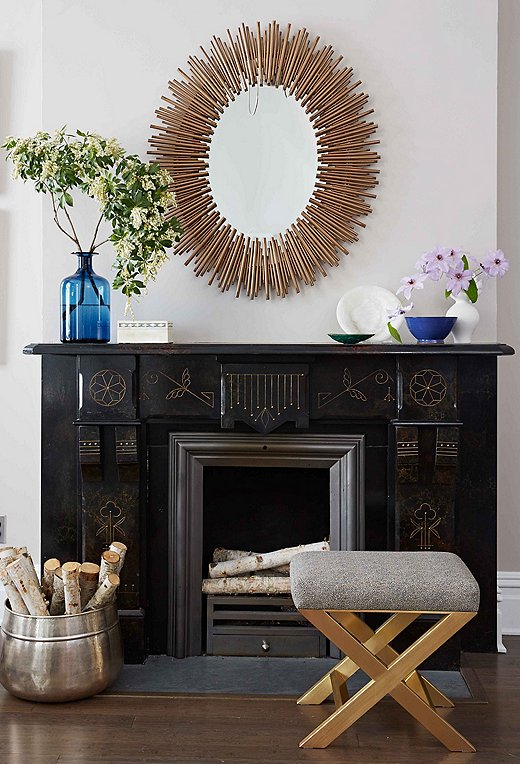 AFTER
The carved stone fireplace is original to Natalie's brownstone, so we wanted to make it a focal point without taking away from its gorgeous color and details. We offset the hard lines of the fireplace with accents in blues, grays, and hints of purple that reiterate the overall color palette. We also swapped out the bold gold pieces Natalie had for brass touches (cue the easy-to-move ottoman) and a large round mirror, which help soften the overall look.
Shining Moments
Metallic touches—gold, brass, nickel—helped us play up the glamour in Natalie's space. But we kept function in mind: This luxe X-stool (one of two) is a seat, a footrest, and when topped with a tray, a side table. What's more, it can be moved from one end of the long living room to the other with ease.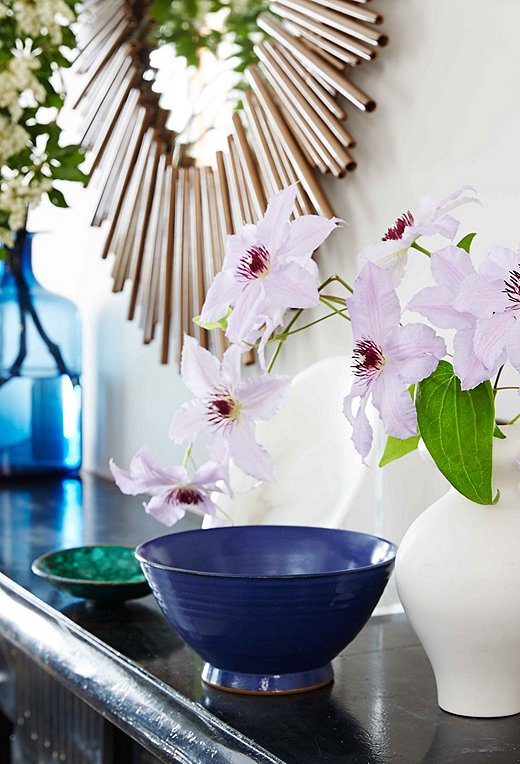 All in the Details
We swapped in blue and white accents to keep close to the overall color palette of blue, gray, and purple; the bowls and vessels also served as a crisp, bright contrast to the stone fireplace.
Everything is bold but traditional. And I think that's what the house reflects in itself because this house is an old historic home, a brownstone in Hoboken, NJ. You want to keep that sense of character but at the same time add a little bit more flair and pop.
BEFORE: The Front of the Living Room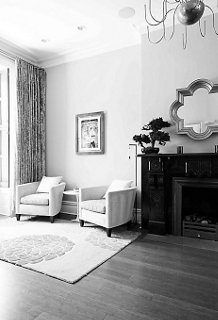 NATALIE'S CHALLENGE
"Originally what I had in here were great pieces, but it just didn't work as a mom with two kids—the coffee table had sharp edges, which is not a good thing to have, and it also was disorganized, and there wasn't a place for the kids to put their stuff."
The front area felt like a forgotten space broken out from the rest of the living room. Our goal was to turn it into an open yet cozy spot that works for Natalie as well as her kids and family.
AFTER
We made Natalie's favorite midcentury chair the centerpiece here for an instant reading nook. Then we added color through artwork, pattern with the pillow and the rug, and texture with a cashmere throw and a wooden side table—pieces that all recall the seating area in the back of the living room. "I love what we've created here. This feels like a much warmer and more inviting place, like a little bit of luxury in the middle of chaos."
In Her Style
The chair represents Natalie's style, but it had been tucked away in the back of the room. So we moved it to the front, warmed it up with a wood side table and a pillow, and added a shimmering cowhide for a luxe look that still feels inviting.
Picture Perfect
Natalie had a wonderful family photo that was hanging on its own, so we decided to build a gallery wall of artwork in large frames around it. The key was to make the wall feel as if it had evolved over time, so we mixed various frame styles and art featuring notes of brass, blue, and gray.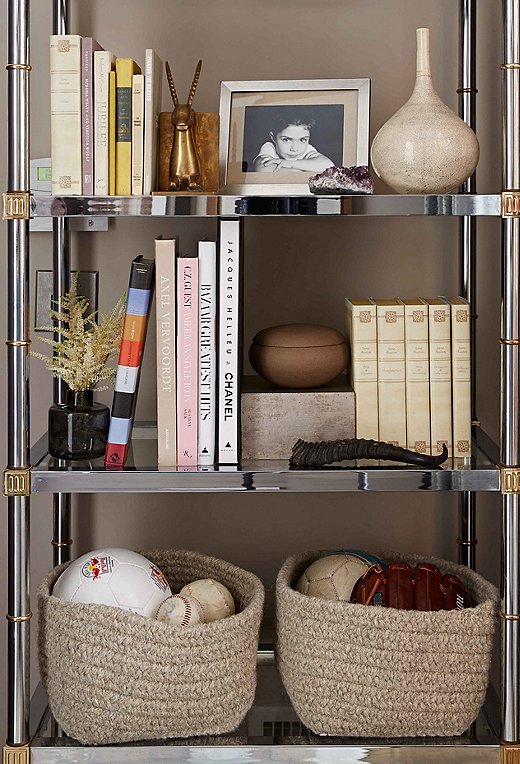 A Spot for Everyone
In place of a desk that wasn't being used, we added a vintage étagère for books (Natalie loves to read) and her sons' sports gear (baskets for soccer balls). Now Natalie has a mini library for herself as well as family-friendly storage. It was a small, simple touch that helped cozy up the front area so that it no longer feels like a forgotten space.
I love what we've created here. This feels like a much warmer and more inviting place, like a little bit of luxury in the middle of chaos. As every busy working mom knows, it's trying to find those little slices of peace and quiet during the day. It's what I live for.
Tips from Our Stylist
Rebecca Robertson, our stylist extraordinaire who helped Natalie transform her living room, left no detail unchecked. Here, she offers a few essential tips for decorating and updating your home—no matter how big or small the project or your space.
1. Measure, Measure, Measure. Whether you live in a spacious house or a small apartment, measuring is always the first thing you should do. For Natalie's narrow living room, I opted for a smaller sofa (not always a bad thing!) and leaner coffee table. I taped out the sofa on the floor first to make sure that it would work. And don't forget to measure your door openings to make sure you can get the furniture through the door. Once those pieces were set, everything just fell into place.
2. Go Big on Rugs. I always opt for bigger. A rug that is too small can make a space look poorly designed and dinky. For Natalie's space, it was the perfect way to define the seating area.
3. Have Wall Space? Use It! If you have the wall space, take advantage of it. Natalie's living room had walls that were quite high (probably 10 feet), and it was great because we could use large-scale art to create the gallery wall. If you're going big, opt for frames no smaller than 12 inches square.
4. Personality Shines Through. It's always nice to add in something personal like family photos, as we did in Natalie's case. I wanted the gallery wall to look like it has evolved and grown over time, so I mixed different styles of art with the family picture. And don't forget to measure! I laid the art down on the floor to create the composition and keep the distance between the frames consistent.
5. Mirror Mirror! We wanted Natalie's fireplace to stand out among the rest of the room without overwhelming the space, and the big windows let in a lot of light, so the round mirror over the fireplace was a clear choice. It's always a great way to reflect light into a space—no matter how big or small.