As long-time fans of The Luxury Collection Hotels and Resorts—their properties are some of the dreamiest escapes around—we were so excited to team up with them to send two of our favorite blogger babes to Hawaii. Caitlin Lindquist of A Little Dash of Darling, the wildly talented photographer Nicole Franzen, and the dreamy island of Oahu were a match made in heaven. "We had so much fun together!" says Caitlin.
After jetting west, the duo checked into the company's star Waikiki Beach resort, the breathtaking Royal Hawaiian (that's its historic stretch of Waikiki Beach pictured above!). There, they hooked up with expert concierge Cori Hara, who created an itinerary for them that included the best of the island's best, from sun-kissed beaches to under-the radar neighborhoods to one legendary luau. Follow along on their perfect day on Oahu below, and if you fall in love with their trip, you can book Luxury Collections' insanely cool, insider-y travel deal that includes a custom-curated local itinerary and a welcome gift from us!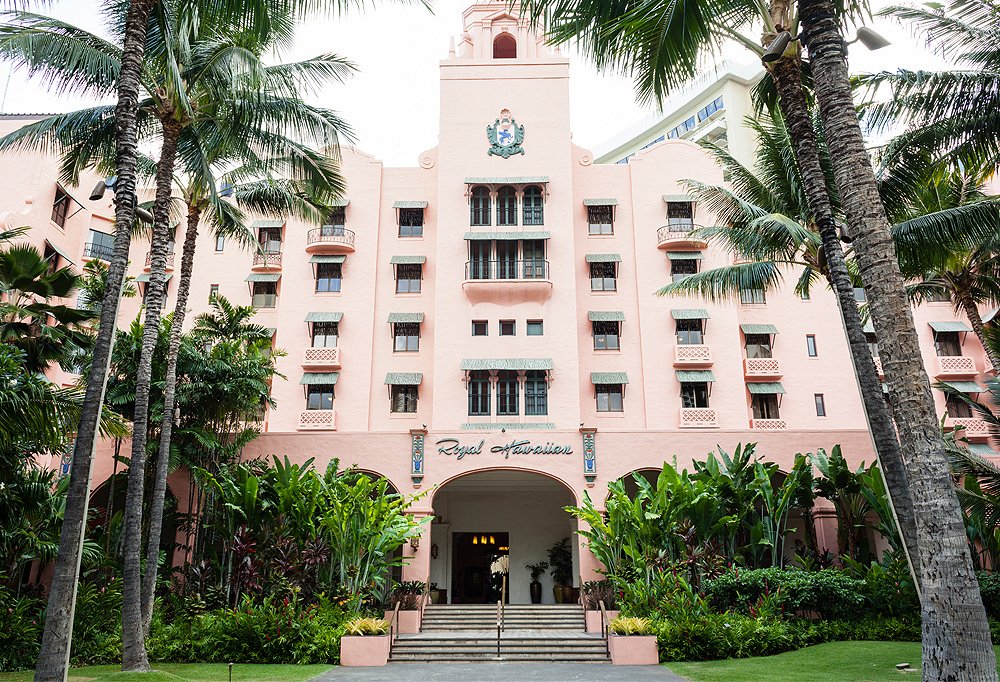 For more than 80 years now, the hotel has drawn people from all over the world eager to leave their everyday lives far behind.
I was blown away by my room. The first thing I noticed was the original carved-wood door, then I opened it and realized I had the most beautiful ocean view.
9:00 a.m.  In the early 1900s, surfing was introduced to the world by a group of dare-devil watermen called the Waikiki Beach Boys who rode wood boards and hobnobbed with the who's who of Hollywood when they'd come to Hawaii for a little R&R. The hotel has an amazing historic photo exhibit on them, and out front on the beach you'll find a desk full of modern Beach Boys still giving lessons. "This was the first time I'd tried to surf and I loved it!" says Nicole. "I wanted to be out on the water the entire time."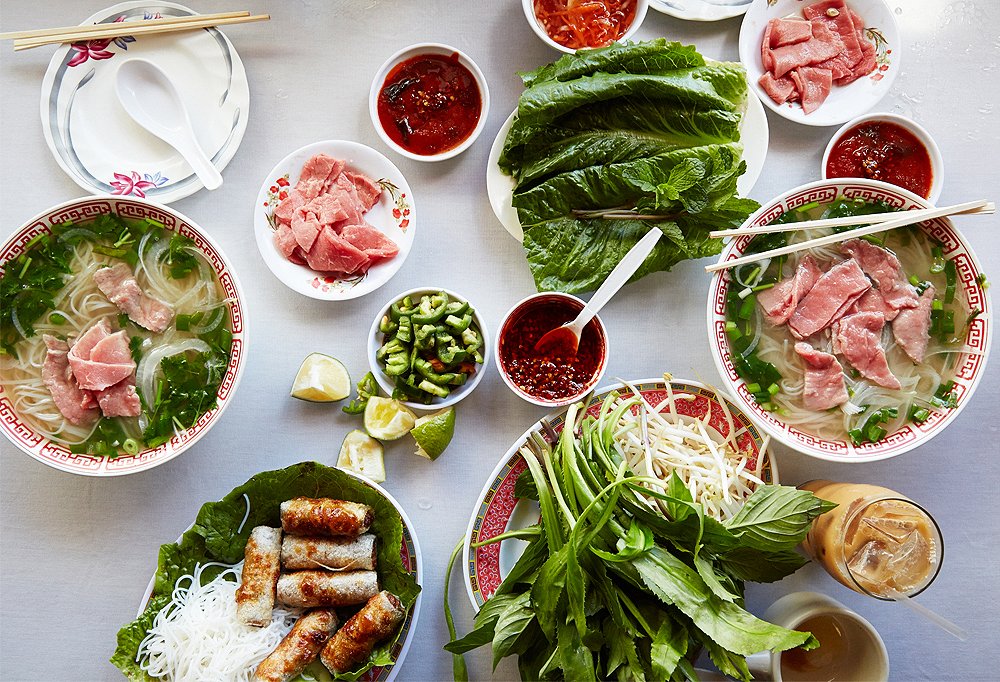 11:00 a.m.  Though it might seen like Honolulu is all beach bunnies and surf bros, there's a vibrant downtown calling out to be explored that includes a vibrant, historic Chinatown. It's inspired pop-culture characters including Charlie Chan, based on real-life detective Chang Apana, and has recently transformed into one of the city's most up-and-coming neighborhoods. "There are tons of little boutiques worth checking out and these fab hole-in-the-wall restaurants run by local people serving really good food," says Nicole. On the store front, she was a fan of the curated vintage clothing at Barrio Vintage and thought Owens & Co., a tropical-cool boutique stocking clothing and decor, was the bees' knees. And when it came time for a bite, she loved the pho at To-Chau, the ramen at Lucky Belly, and, well, everything at The Pig and the Lady.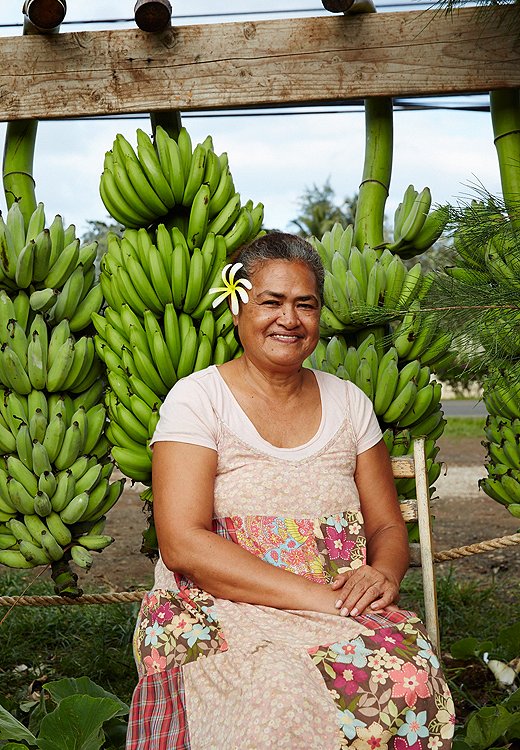 Not only was Oahu really, really beautiful, but I loved how the islanders treasure their culture and history.
2 p.m.  Hit the road headed northeast toward Lanikai Beach, stopping at every picture-ready scene along the way (and, trust us, there will be plenty). "If we ever get to go back, I'm dying to rent a paddleboard and see the green sea turtles," says Caitlin of the marine critters who congregate around this breathtaking stretch of sand. With a board (or kayak, also rentable) you can also paddle out to Moku Nui and Moku Iki, twin islands a little less than a mile offshore hiding a crescent beach.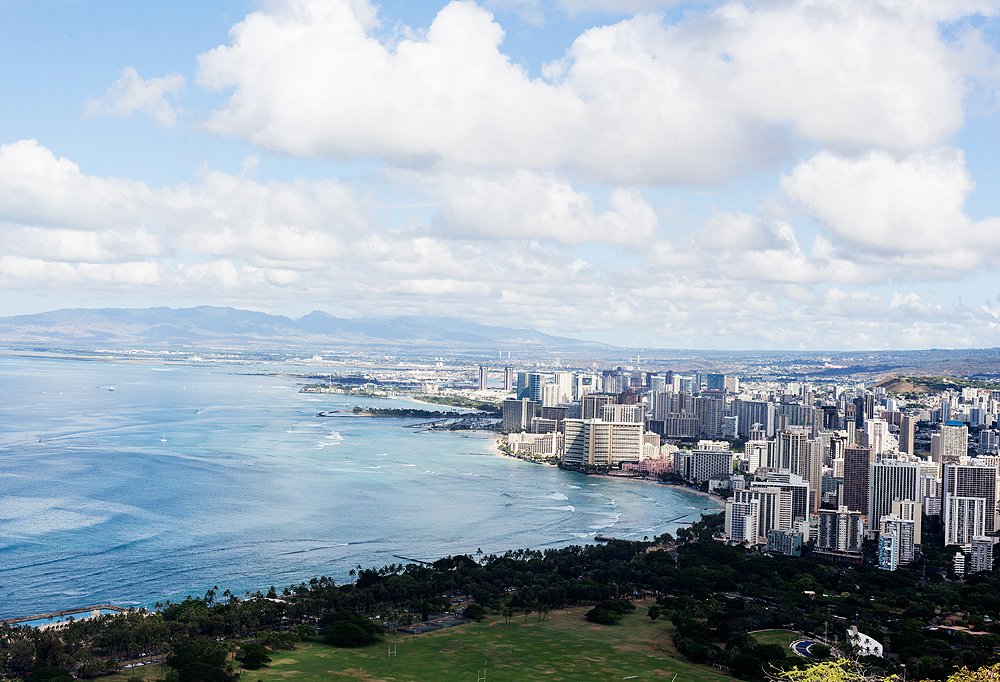 4 p.m.  "Driving around the island makes you realize just how diverse the landscapes are," says Nicole. "The north side is all pineapple groves and bright red soil, while the west is drier with lava tidepools, and the east is lush and jungle-like with clouds sitting on the mountaintops." On the way back to the hotel, stop by Diamond Head crater, known as Le'ahi in Hawaiian. Your reward? Unbelievably sweeping views of Waikiki. "I mean, you can see 360 degrees around Oahu," says Caitlin. "I loved the views—and the breeze! It was hot!" she laughs.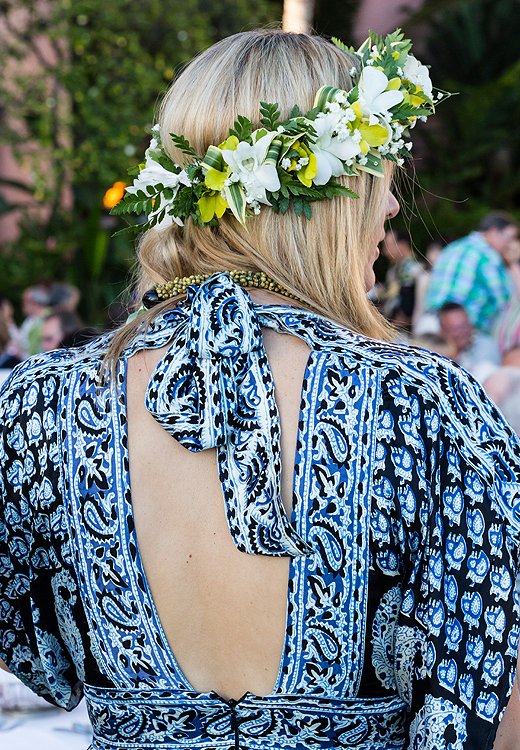 How do I describe the sand here? Wow. It was soft. Fine-grained. Felt like butter.
5:30 p.m.  No trip to Oahu is complete without a luau, and the one at The Royal Hawaiian, called Aha'aina, is both a lovely and authentic way to spend an evening. Think fresh twists on traditional foods including a local greens and poke salad and sake-braised short ribs, and enthralling entertainment that includes storytelling, fire dancers, and hula, of course. It's the perfect way to end your perfect day—what are you going to do tomorrow?